Indulge in the savory symphony of Instant Pot Cashew Chicken, a popular Chinese takeout favorite made easily in the pressure cooker in under 30 minutes! Easy to make with tender chicken, vibrant veggies, and a delectable sauce for the perfect busy weeknight dinner.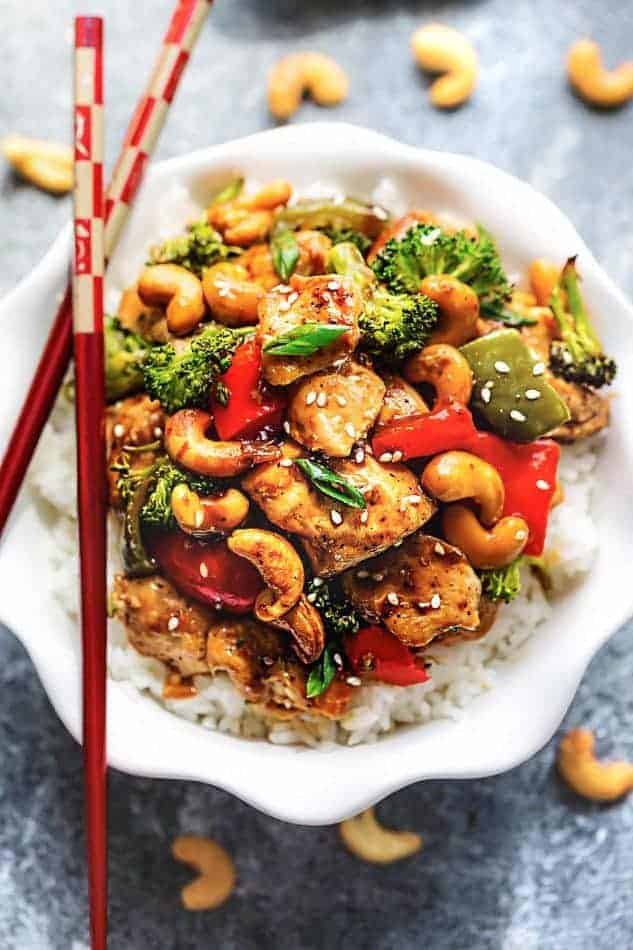 PIN HERE for later and follow my boards for more recipe ideas
Updated August 2023
Instant Pot Cashew Chicken: A Flavor-Packed Delight for Your Table
When it comes to quick and satisfying weeknight meals, the Instant Pot has become an essential kitchen tool. This Instant Pot Cashew Chicken has all the classic take-out elements you love and is sure to become a family favorit. Packed with tender chicken, vibrant veggies, and a savory sauce, this dish delivers on taste and convenience.
There you have it—a recipe that marries convenience, flavor, and nutrition seamlessly. Whether you're following a gluten-free, Whole30, paleo, low-carb, or keto lifestyle, we've got you covered with adaptable options. So, don your apron, fire up your Instant Pot, and get ready to create a masterpiece that'll have your loved ones asking for seconds!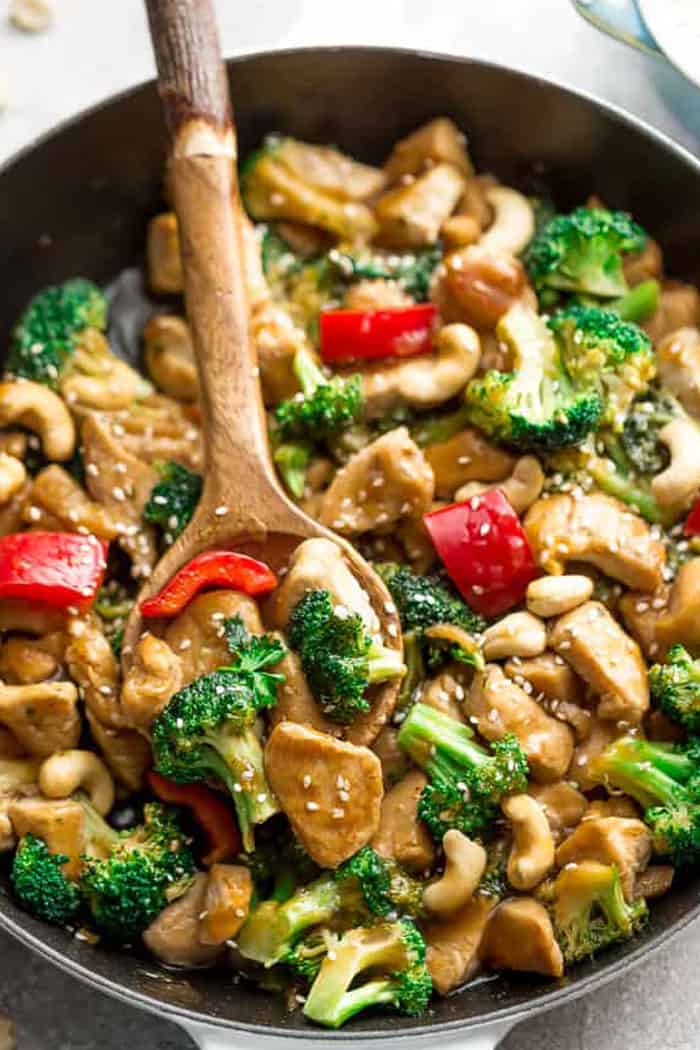 Why Choose the Instant Pot for Your Cashew Chicken 
The Instant Pot has swiftly become a staple appliance in modern kitchens, revolutionizing the way we approach cooking. Its multifunctionality and time-saving features make it an ideal companion for a wide range of recipes, including our irresistible Instant Pot Cashew Chicken.
Effortless Efficiency: The Instant Pot's pressure cooking function accelerates the cooking process, infusing flavors and tenderizing ingredients in record time. What might take hours on the stovetop can be achieved within minutes.
Flavor Infusion: Pressure cooking allows the Cashew Chicken to absorb the delectable sauce and seasoning intensively, resulting in a dish that's bursting with taste.
Set It and Forget It: The Instant Pot's hands-off cooking style frees you from constant monitoring. Once you've set the pressure cooking time, you can attend to other tasks or simply relax until it's done.
Convenience in Cleanup: With fewer pots and pans to clean up, the Instant Pot simplifies the post-cooking cleanup process, allowing you to savor your meal without dreading the aftermath.
Ingredients You'll Need
Embarking on a culinary journey with our Instant Pot Cashew Chicken recipe is an exciting endeavor. Each ingredient in our Instant Pot Cashew Chicken recipe has been meticulously selected to create a symphony of flavors, textures, and nutritional benefits. So, with your ingredients at the ready, let the culinary journey begin!
Chicken Thighs or Breasts: The canvas upon which our flavors are painted. Tender, skinless, boneless chicken pieces provide a protein-rich foundation.
Sea Salt and Black Pepper: Essential seasonings that enhance and balance the flavors, making each bite a delightful experience.
Avocado Oil or Olive Oil: A touch of oil is used for sautéing, ensuring that your chicken is cooked to perfection.
Broccoli Florets: Vibrant and nutritious, these florets introduce a satisfying crunch and contribute their own unique flavor.
Red Bell Pepper: Sliced into bite-sized chunks, the red bell pepper adds a pop of color and a hint of sweetness to the dish.
Arrowroot Starch (or Substitutes): This key ingredient serves as a thickening agent, transforming the sauce into a luscious, velvety delight. For a low-carb option, consider xanthan gum.
Water: Used to thin out the sauce to your desired consistency, ensuring that it coats each ingredient harmoniously.
Sauce and Marinade:
Coconut Aminos: A gluten-free alternative to soy sauce, delivering a savory umami punch to the dish.
Gluten-Free Hoisin Sauce (Optional): For a delightful depth of flavor. Skip for a low-carb or keto adaptation, or swap with this Vegan Oyster Sauce or fish sauce for an alternative taste.
Toasted Sesame Oil: Elevates the sauce with its distinct nutty aroma and rich essence.
Sweetener: Balancing sweetness with a touch of nature's goodness. Opt for coconut sugar or low-carb alternatives like erythritol or stevia.
Apple Cider Vinegar: A tangy component that brightens the flavors and adds depth.
Fresh Minced Ginger and Garlic: Aromatic powerhouses that infuse the dish with warmth and complexity.
Water or Chicken Broth: Elevates the sauce's texture and ensures a harmonious blend of flavors.
Optional Enhancements:
Red Pepper Chili Flakes: For those who crave a hint of heat, these flakes add a delightful kick.
Toasted Sesame Seeds: A sprinkle of these seeds introduces a nutty crunch and a visual touch of elegance.
Green Onion: Thinly sliced and added as a garnish, lending freshness and color to the final presentation.
Cooking Instructions: How to make Instant Pot Cashew Chicken 
Prepare to embark on a culinary adventure that promises a burst of flavors and textures in every bite. With your Instant Pot at the ready, let's dive into the step-by-step instructions for crafting the delectable Instant Pot Cashew Chicken:
Whisk the Sauce: Combine coconut aminos, hoisin sauce (optional), toasted sesame oil, sweetener, apple cider vinegar, minced ginger, and minced garlic. Set aside.
Marinate Chicken: Season chicken pieces with salt, pepper, and a tablespoon of the prepared sauce. Allow flavors to meld.
Sauté Chicken: Heat oil in Instant Pot's SAUTE mode. Sear marinated chicken for 1-2 minutes. Pour in remaining sauce and 1/3 cup water (or chicken broth). Seal with lid.
Pressure Cook: Set Instant Pot to MANUAL or PRESSURE COOK for 4 minutes. Quick release pressure after cooking time.
Thicken Sauce: Switch to SAUTE mode. Whisk arrowroot starch (or xanthan gum) with 2 tbsp water and stir into Instant Pot.
Add Veggies and Cashews: Introduce broccoli, red bell pepper, and cashews. Cook for 4-5 minutes until sauce thickens and veggies are tender.
Serve and Enjoy: Transfer Cashew Chicken to a platter. Serve over desired base (rice, zoodles, etc.), and garnish with optional toppings.
Tips for Success: Mastering Your Instant Pot Cashew Chicken
Marinate for Flavor: Allowing the chicken to sit in a marinade infuses it with the essence of the sauce. This step is crucial for maximizing taste.
Quick Release Method: To maintain the perfect texture of your veggies, opt for a quick release of pressure after cooking.
Perfect Pairing: Serve your Cashew Chicken over zoodles, cauliflower rice, quinoa, or regular rice for a well-rounded meal.
Storage and Freezer Instructions
Got leftovers or planning ahead? Store your cooked Cashew Chicken in an airtight container in the fridge for up to 3-4 days.
For longer-term storage, freeze individual portions in freezer-safe containers.
When reheating, add a splash of water or broth to restore the saucy consistency.
Serving Suggestions: Elevate Your Culinary Experience
Want to take your Instant Pot Cashew Chicken to the next level? Here are some serving ideas:
Garnish Galore: Sprinkle with toasted sesame seeds, red pepper chili flakes, and thinly sliced green onions for a restaurant-worthy presentation.
Healthy Base: Opt for cauliflower rice or zucchini noodles for a low-carb twist, or go classic with steamed jasmine rice.
Variations and Substitutions: Making It Your Own
Protein Swap: Not a fan of chicken? Try shrimp or tofu for an equally delightful alternative.
Veggie Delight: Mix up your vegetable lineup—snow peas, carrots, and water chestnuts make great additions.
Sauce Sensation: Experiment with different sweeteners like erythritol or stevia for a low-carb version without compromising taste.
Can I meal prep this in advance?
Absolutely, this recipe is a fantastic option for meal prep! Its combination of protein, vegetables, and flavorful sauce makes it a well-rounded and delicious meal that you can prepare in advance and enjoy throughout the week.
Cook in Batches: Prepare a larger batch of Instant Pot Cashew Chicken to ensure you have enough servings for your planned meals. You can easily double or triple the recipe as needed.
Portion Out: After cooking, divide the Cashew Chicken into individual meal-sized portions. This makes it convenient to grab and reheat when you're ready to eat.
Choose the Right Bases: Opt for meal prep-friendly bases like quinoa, brown rice, cauliflower rice, or zoodles.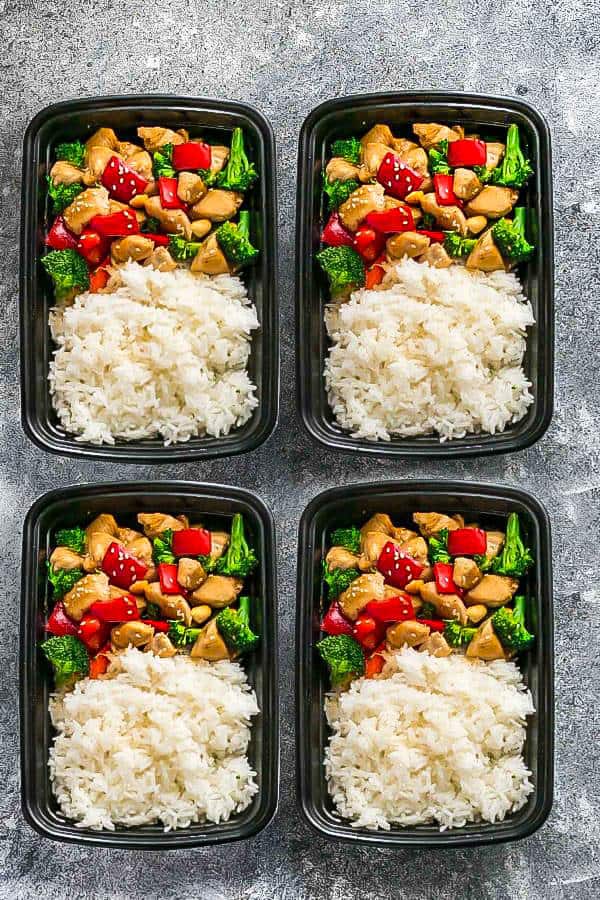 Frequently Asked Questions (FAQ)
1. Can I use a different protein? Absolutely! While this recipe highlights chicken, you can easily substitute with shrimp, tofu, or your protein of choice. Adjust cooking times accordingly.
2. How can I make the dish spicier? For some extra heat, add red pepper chili flakes to the sauce or garnish. You can adjust the quantity to suit your spice preference.
3. What side dishes pair well with Instant Pot Cashew Chicken? This versatile dish pairs wonderfully with steamed vegetables, a fresh salad, or even a side of stir-fried noodles.
4. How can I customize the veggies? Feel free to get creative with your vegetable choices. Snow peas, carrots, water chestnuts, or snap peas can all contribute their unique textures and flavors.
5. Can I make the sauce in advance? Absolutely! Prepare the sauce ahead of time and store it in the refrigerator until you're ready to cook. Just give it a good stir before using.
6. Can I use a different oil for sautéing? Certainly. Avocado oil and olive oil are recommended, but you can use other high-heat oils as well.
7. Can I make this recipe without an Instant Pot? While the Instant Pot expedites the process, you can adapt this recipe for stovetop cooking. Adjust cooking times accordingly and ensure the chicken is fully cooked before adding the veggies.
More Chinese take-out style Instant Pot recipes you will love:
Instant Pot Chicken and Broccoli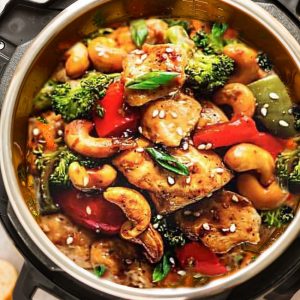 Instant Pot Cashew Chicken
Indulge in the savory symphony of Instant Pot Cashew Chicken, a popular Chinese takeout favorite made easily in the pressure cooker in under 30 minutes! Easy to make with tender chicken, vibrant veggies, and a delectable sauce for the perfect busy weeknight dinner.
Keyword:
asian food, cashew chicken, cashew chicken recipe, cashew chicken stir fry recipe, cashews, chinese chicken recipe, easy chicken recipe, how to make cashew chicken, stir fry
Ingredients
1 1/4

lb

skinless boneless chicken thighs or breasts

, cut into 1-inch pieces

sea salt and black pepper as needed

1-2

tablespoons

avocado oil or olive oil

3 1/2

cups

broccoli florets

1

red bell pepper

, cut into bite-sized chunks

1

tablespoon

arrowroot starch

, tapioca starch or cornstarch - can also sub 1 teaspoon xanthan gum for low carb

2

tablespoons

water plus more as needed

, to thin out sauce
For the sauce and marinade
6

tablespoons

coconut aminos

, can also sub with gluten free tamari or low sodium-soy sauce if not gluten-free

1

tablespoon

gluten-free hoisin sauce

, such as Lee Kum Kee, Kikoman or San-J, omit for low carb / keto / sugar-free and use the Vegan Oyster Sauce or swap with 2 teaspoons fish sauce instead

1

teaspoons

toasted sesame oil

1-2

teaspoons

coconut sugar

, can use low carb sweetener such as erythritol, stevia or granulated monk fruit sweetener for low carb

3/4

tablespoon

apple cider vinegar

1/2

teaspoon

fresh minced ginger

2

cloves

garlic minced

1/3 - 1/2

cup

water OR chicken broth
Optional for garnishing
red pepper chili flakes

toasted sesame seeds

1

green onion sliced thinly
Instructions
In a medium bowl, combine the tamari, hoisin sauce, sesame oil, sweetener (if using), vinegar, ginger and garlic for the sauce. Set aside.

Season chicken with salt, pepper and 1 tablespoon of the sauce/marinade. Allow to sit while you chop and prep your vegetables.

Turn your Instant Pot to SAUTE then add in oil. Once oil is hot, add the chicken and allow to cook for 1-2 minutes. Pour in the remaining sauce along with 1/3 cup water (or chicken broth). Cover with lid.

Press the valve to SEALING and press MANUAL or PRESSURE COOK for 4 minutes. The Instant Pot will take some time to come to pressure. Once the 4 minutes is up, use a long spoon and push the valve to VENTING for a QUICK RELEASE.

Once all the pressure is released, carefully unlock the lid. Press the SAUTE button, then whisk the arrowroot starch (or xanthum gum) with 2 tablespoons water until combined and stir into the Instant Pot.

Add the vegetables and cashews and cook for 4-5 minutes, or until the vegetables are crisp-tender and the sauce has thickened up. Adjust seasonings with salt, pepper or red pepper chili flakes an / or add more water as needed to thin out sauce. Give everything a final tossing to coat well.

Transfer to a platter and serve warm on a large platter or over zoodles, cauliflower rice (paleo), quinoa or regular rice or noodles. Sprinkle with sesame seeds and green onions if desired.
Disclaimer: This updated post was generated in August, 2023 by ChatGPT, an AI language model, and all info should be reviewed and validated by a human for accuracy and relevancy before implementation.