I was sent a Cosori 6 quart 8-in-1 Pressure Cooker to review but all opinions remain 100% my own.
WHAT IS A PRESSURE COOKER?
If you guys have been a regular reader on my site, you'll know that I am a big fan of getting dinner on the table quickly. That's why I am such a fan of using a pressure cooker.
So what are the pros of pressure cooking?
allows you to cook food at a higher temperature than you'd be able to through stovetop boiling.
preserves 90-95% of your food's vitamins using a pressure cooker.
A few months ago, Cosori was kind enough to send me their 6 Quart 8-1- Pressure Cooker to review. Having already owned an Instant Pot for a few years, I wanted to see how other pressure cookers compared.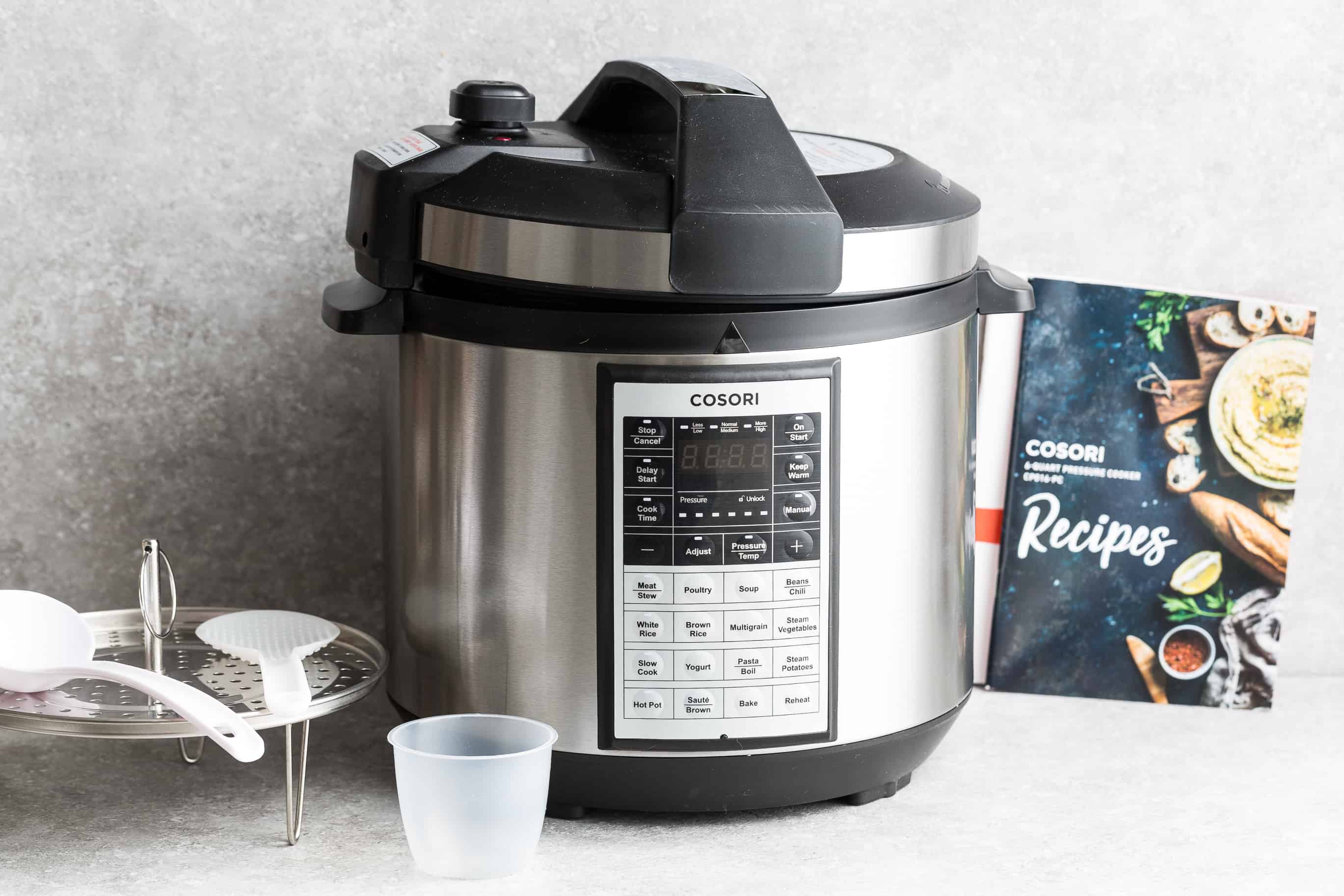 WHAT COMES WITH THE COSORI 8-IN-1 PRESSURE COOKER:
8-in-1 Multi-Functional Cooker: Pressure Cooker, Slow Cooker, Rice Cooker, Saute/Browning, Yogurt Maker, Hot Pot, Steamer & Warmer.

Silicone ring
Glass lid
Steamer rack
Ladle
Rice spoon
Measuring cup
Recipe booklet
WHAT WE LOVED ABOUT THE COSORI:
10 SAFETY MECHANISMS:
Pressure Limiter – ensures pressure is kept within safe operating levels.
Lid Lock Safety – prevents the lid from being opened while the cooker is pressurized.
Anti-Clog Protection – keeps food particles from blocking the pressure release valve.
Lid Position Monitor – prevents the pressure cooker from operating if the lid is improperly positioned
Micro Limit Switch Protection – Watches to ensure your lid is sealed and secure.
Pressure Auto-Control Guard always keeps pressure in a safe range.
Electrical Current Monitor – automatically turns off pressure cooker if the current exceeds safe operational levels.
Excessive Pressure Protection – internally releases pressure to avoid hazardous situations
Temperature Controller – ensures food is evenly cooked, but not burned
Excess Temperature Monitor – cuts power to temperature fuse if internal temperature exceeds safety limits.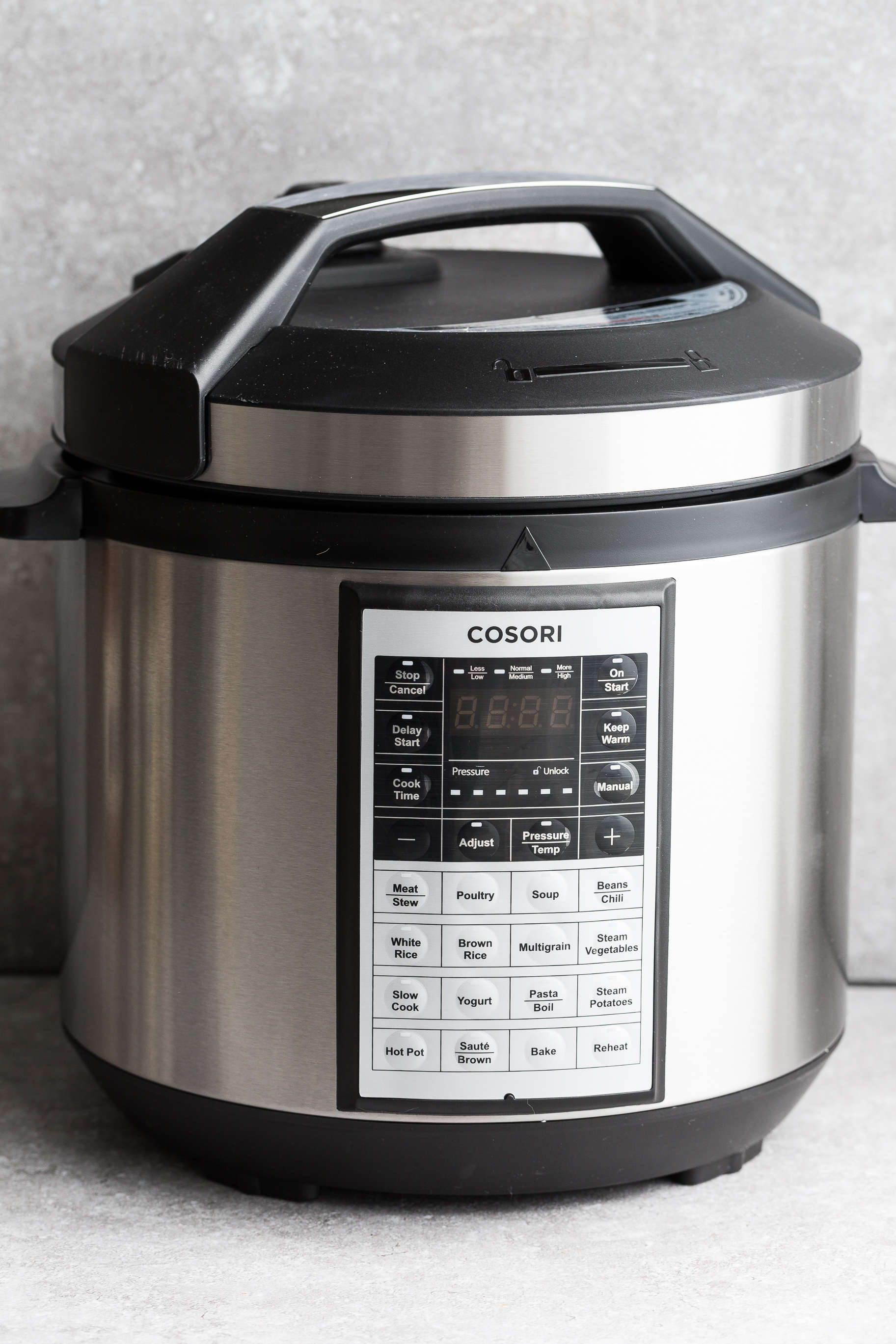 FEATURES OF THE COSORI 8-IN-1 PRESSURE COOKER:
equipped with one-touch settings, a patented design, and advanced steam technology.

Includes: 16 Smart Programs: Meat/Stew, Poultry, Soup, Beans/Chili, White Rice, Brown Rice, Multigrain, Steam Vegetables, Slow Cook, Yogurt, Pasta/Boil, Steam Potatoes, Hot Pot, Sauté/Brown, Bake, Reheat, Automatic Keep Warm. 3 adjustable temperatures for saute/brown, slow cook, hot pot and reheat

Ability to delay cooking time up to 12 hours;

Manual setting up to 12 hours of cook time;

6 different pressure levels; 2 manual cooking modes (pressure cooking & temperature); Unlock indicator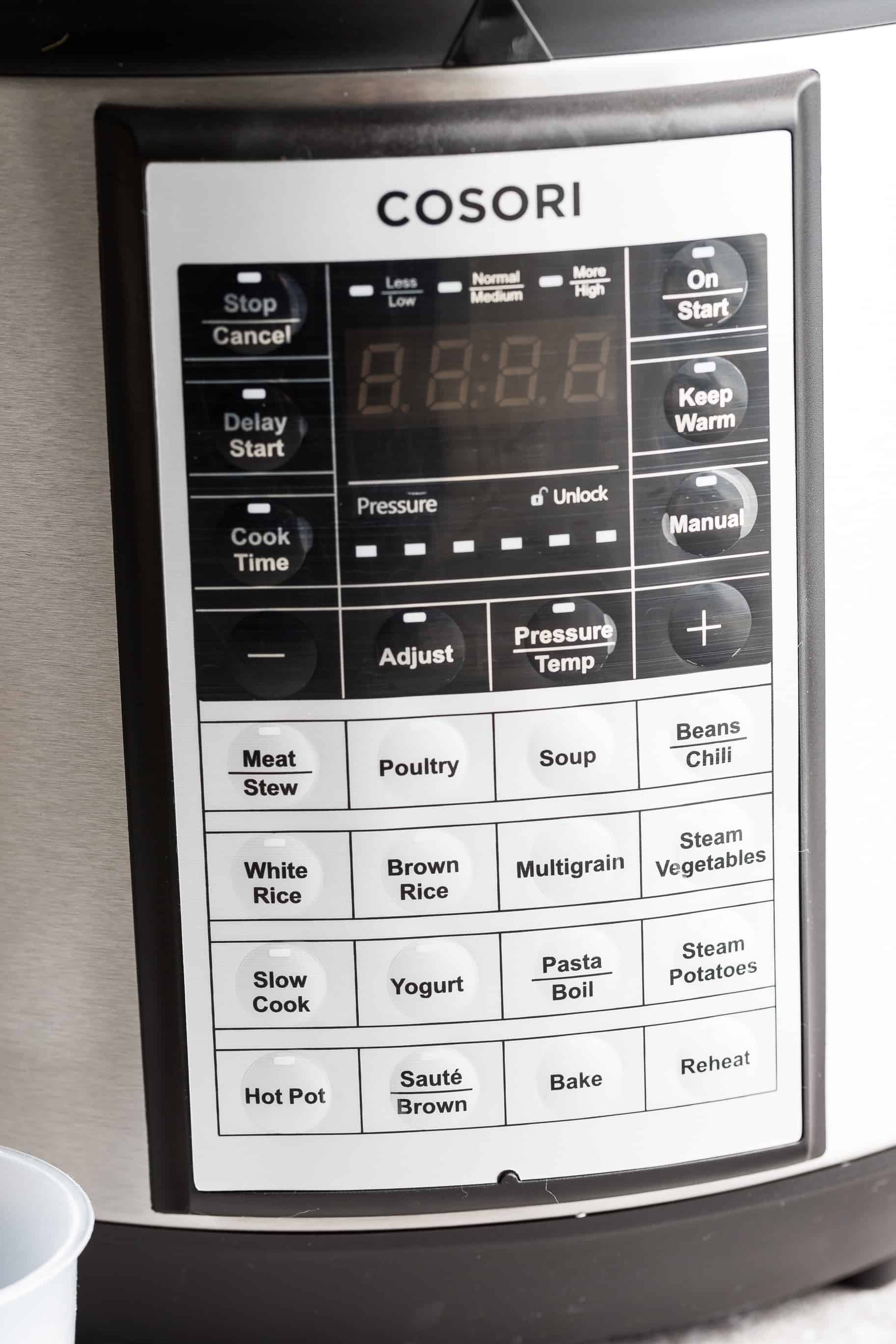 THINGS WE MADE IN THE COSORI 8-IN-1 PRESSURE COOKER: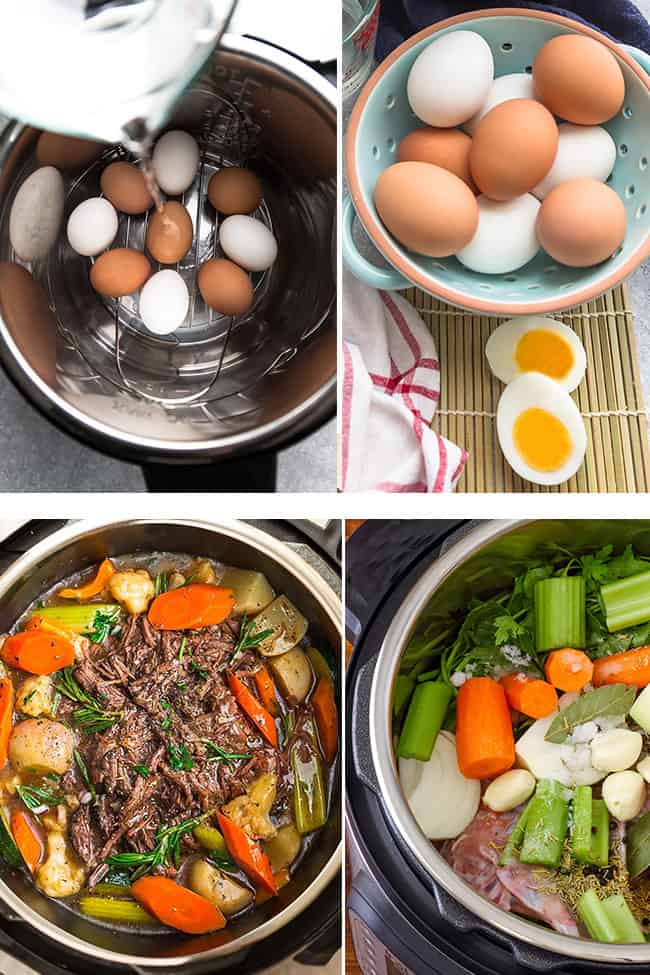 The pressure cooker is perfect for meal prep. You can make recipes that usually take hours in about a fraction of the time without having to stand at the stove.
We made boiled eggs, pot roast and chicken stock.
WHAT WE THOUGHT OF THE COSORI 8-IN-1 PRESSURE COOKER:
preset programs made meals easy to cook
had a little bit of trouble with manually entering the cook time but worked later on
delay start function is a very handy function that you can start and stop – even while you are away at work
eggs peeled perfectly
pot roast cooked up tender
chicken stock was flavorful and cooked in a 1/3 of the time it normally would take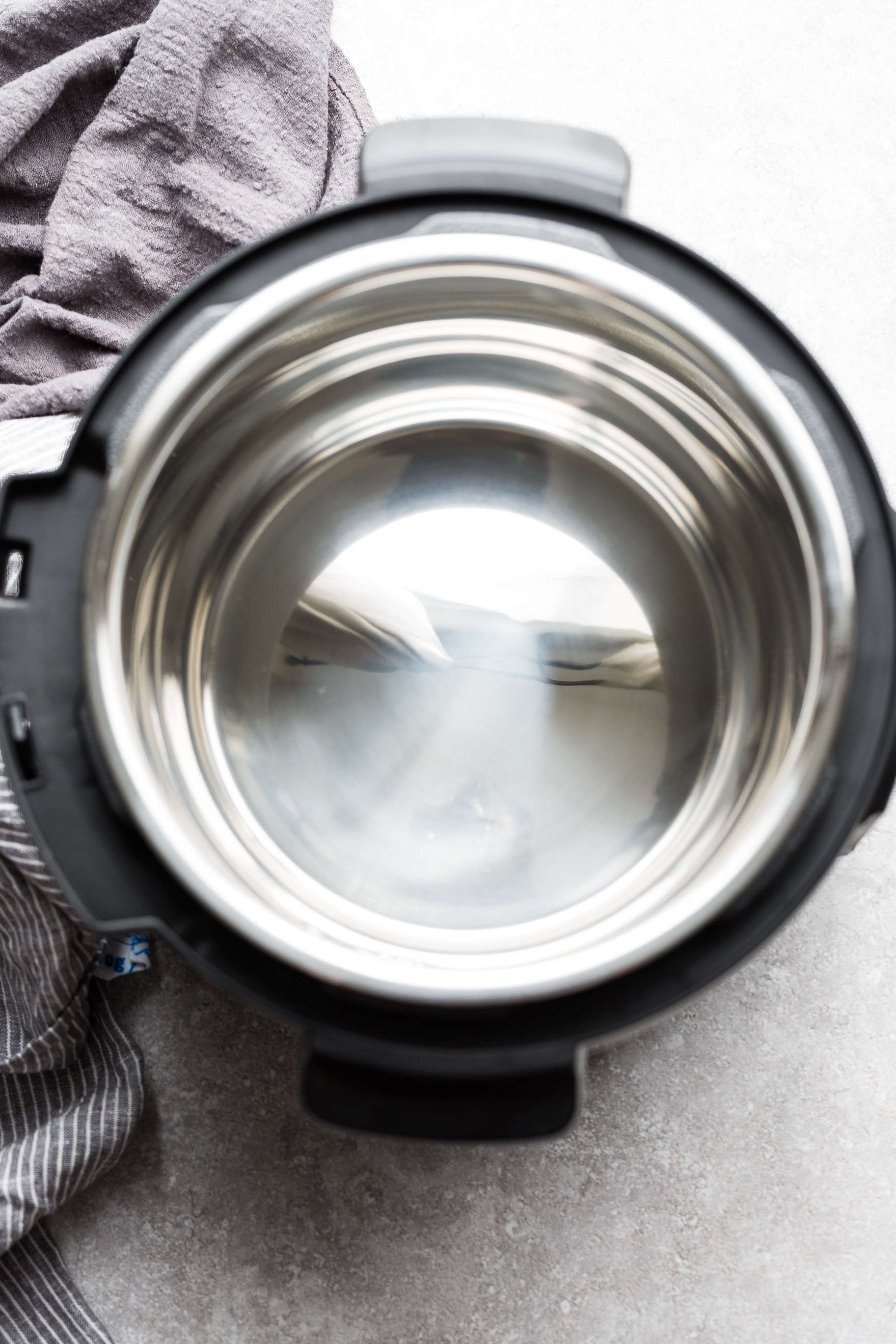 WHERE TO PURCHASE COSORI:
You can learn more about where to purchase the Cosori 8-in-1 Pressure Cooker on their website and along with their social media handles: Facebook, Twitter, Instagram and Pinterest.