Throwing a Despicable Me or Minion Themed Birthday Bash? These homemade desserts are sure to thrill your guests with the best Minion cake for the ultimate Minion party!
***Warning – picture and text heavy post
My son is a huge fan of the movie "Despicable Me 2" (he was even a Minion for Halloween)  so there was no question what the theme would be for his 3rd birthday party.
With the new Minions movie coming out in soon, I'm sure there are lots of others that are looking for ideas.
Here is what we did for our Minion Birthday Party
Invitations
My husband was in charge of putting together the invitations.  He added some minion images with a picture of our lil man dressed as a minion including all the party details and e-mailed them to our guests.
* these were heavily edited with our personal information removed
Minion Cake Pops
I made and decorated about 40 cake pops.
26 yellow ones and 14 purple that we handed out to every child that attended the party along with extras for whoever wanted them.
They were a big hit with all the guests!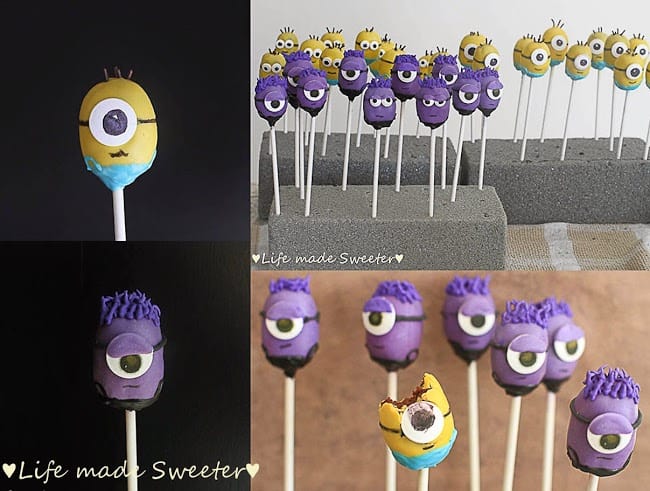 You can find more detailed info thanks to Bakerella's fantastic tutorial and inspiration.
(find the recipe here)
These were also a huge hit at the party and were the first treats to go. It was so much fun bringing these guys to life.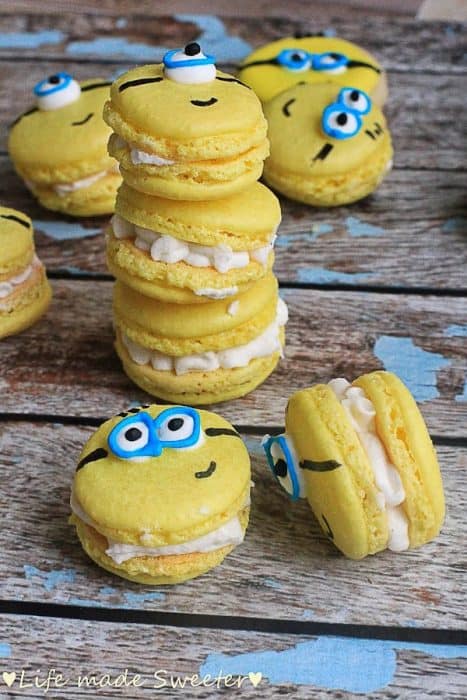 Minion Sugar Cookies
I made yellow and purple minions with my favorite sugar cookie recipe and royal icing recipe.
Each cookie was wrapped up in cellophane with a label we printed with:
"Thanks a Minion for celebrating E's party with us!"



Minion Donuts

I am totally in love with baked donuts so I just had to try making a few Minion Donuts (Vanilla Donuts with Vanilla Frosting) after spotting these guys on Pinterest: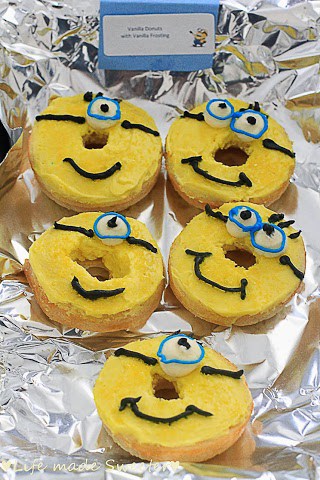 Minon Cupcakes
No kiddie party would be complete without cupcakes.
I had a mix of vanilla cupcakes and banana cupcakes (since Minions love bananas) with vanilla buttercream frosting and chocolate frosting.
Minion Loot Bags
My husband was in charge of making all the loot bags.  He found a ton of inspiration on Pinterest so he bought yellow and purple gift bags from Dollar Tree as well as blue and black craft paper for the overalls.  He printed the goggles from this template and used double-sided tape to stick them on the gift bags.
The boys got yellow bags while the girls got purple bags.
He printed labels with each child's name on it and stuck another label at the back of the bag with:
"Thanks a Minon for coming to E's party!"
The loot bags were filled with candy, stickers and little toys. The kids couldn't wait to open them as soon as we handed them out near the end of the party.



Minion Cake
And finally, this cake was the star of all the treats we made!
It was a true labor of love and what I was the most excited to make.
I started searching online for Minion Cake ideas a few months ago and found this tutorial from Sugar Sweet Company that I wanted to try making so I got started a few weeks ago and made a few batches of my go-to marshmallow fondant recipe and baked the 6″ cake layers and froze them.
We decided to make my husband's favorite chocolate cake recipe with a slightly adapted version of Jaclyn's Vanilla Buttercream frosting.
Two days before the party, I thawed out the marshmallow fondant and cake layers.
I assembled the cake and put a crumb coat of icing and parked the cake in the fridge.
Then I started kneading, rolling and covered the entire cake with yellow fondant.
Next I molded the arms, legs and shoes. I cut out the overalls, goggles, eyes and tongue with more fondant and used black licorice for the hair.
I used Americolor Soft Gel Paste to color all the fondant.
I cut out a big E and stuck it on the Minion's overalls using black fondant for my little man's first name.
I glued all the details using a brush with almond extract and stuck the arms, legs, shoes and goggles using a tooth pick.
You can see that the edges of the fondant weren't entirely smooth – it didn't bother me since I knew not everybody would notice at the party.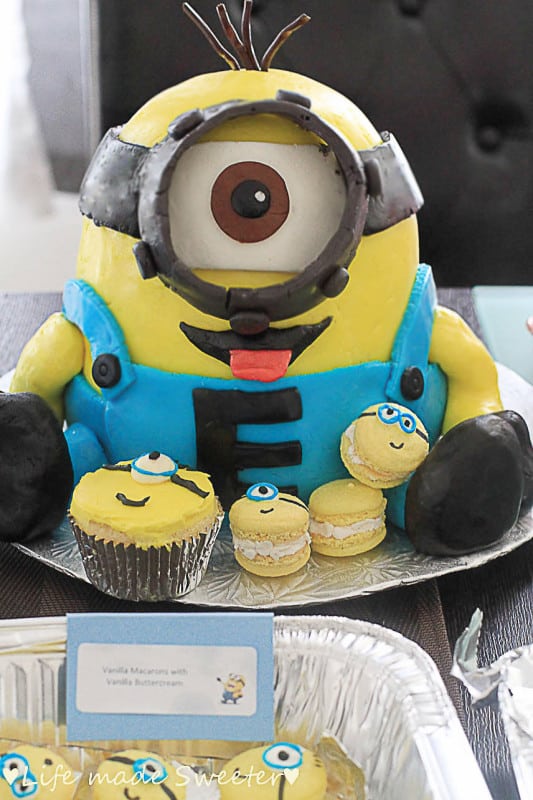 So after:
28 loot bags,
15 pounds of butter,
10 bags of flour,
10 bags of sugar,
8 bags of marshmallows and
umpteen hours of time spent
Was it all worth it you ask???
You betcha!
Especially after seeing how happy it made my little man who gave me this big hug and kiss after he saw everything I made – it was truly priceless!
Hope this helps anyone looking for ideas for their next party and feel free to drop me a line with any questions 🙂
Thanks for reading Life Made Sweeter, you can also stay connected with me here: 
Facebook  |  Twitter |   Pinterest  |  Google+ |  Instagram  |  Bloglovin