I truly love summer time for its fresh berry season. It's hard for me to choose a favorite but at the moment, blueberries seem to be stealing the show.
I usually buy bucket loads of them which I wash, dry, and then freeze in bagfuls so that I always have a stash of fresh blueberries that take me into part of the fall season.
If you're looking for ways to use up those blueberries besides eating them by the handful, this Blueberry Buttermilk Streusel Coffee Cake is quick and easy to whip up.
The softened butter gives this cake that rich and tender flavor while the buttermilk, Greek yogurt and smidgen of vegetable oil make this cake extremely moist and light.
The cake is packed with lots of juicy fresh blueberries (part of my frozen stash) which I threw into the batter still frozen. Using frozen blueberries in this case helps the colors to bleed less.
I finished off the cake by dusting it off with some powdered sugar.
I was making this for a group of people with different preferences, I decided to top half of the cake with a streusel topping and left the other half without it.
Personally, I can't decide which way I loved them more.
The streusel gives the coffee cake that extra crunch and sweetness while on its own, it tastes nice and light and very similar to a blueberry muffin top.
Blueberry Buttermilk Streusel Coffee Cake Squares
Soft and delicious blueberry coffee cake with a dusting of powdered sugar and a streusel topping.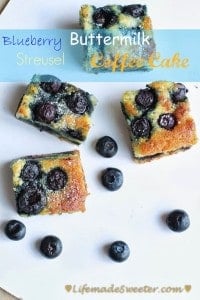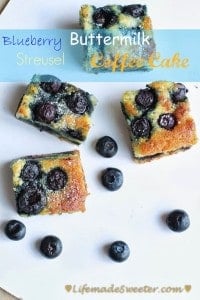 Ingredients
1

and 1/2 cups all-purpose flour

3/4

cup of granulated sugar

1/4

cup of unsalted butter, room temperature

1

egg, room temperature

1/3

cup buttermilk, room temperature

1/4

cup Greek yogurt (I used non-fat or substitute with sour cream)

2

tablespoons of vegetable oil

1

teaspoon pure vanilla extract

1

teaspoon baking powder

1/2

teaspoon baking soda

1/4

teaspoon salt

1

and 1/2 cups frozen blueberries

Optional: powdered sugar for dusting the top of cake

Streusel topping

1/2

cup all purpose flour

1/2

cup brown sugar, firmly packed

1

tablespoon of turbinado sugar (for extra crunch)

1

teaspoon cinnamon

1/2

stick cold, unsalted butter
Instructions
Preheat the oven to 350°F.
Make the streusel topping
In a medium bowl, whisk together the flour, brown sugar, turbinado sugar, and cinnamon.
Cut in butter with pastry blender or two forks until well combined and mixture resembles course crumbs.
Grease or line a 8x8 square pan with parchment paper.
In small bowl, whisk together the flour, baking powder, baking soda and salt together.
In the bowl of the stand mixer or a large bowl using a hand mixer, cream together sugar and butter about 2-3 minutes. Add egg and buttermilk until incorporated. Add vanilla, Greek yogurt and oil. Mix until combined.
Turn the mixer to low, add flour mixture and slowly stir until just incorporated.
Pour into prepared cake pan. Sprinkle blueberries on top.
Sprinkle the streusel topping on top
Bake for 40-45 minutes or until a toothpick inserted into the center of the cake comes out clean.
If using fresh blueberries, the cooking time will be slightly less. Check the cake often after the 30 minute mark to be safe.
Allow to cool at least 10 minutes before cutting it into desired sizes and dust with powdered sugar.
HAVE YOU MADE THIS RECIPE? 
I'd love to see! Just snap a photo and hashtag it #LIFEMADESWEETER or tag me @lifemadesweeter on Instagram!
Adapted from
Good Housekeeping
Thanks for reading Life Made Sweeter, you can also stay connected with me here: 
Blog | Facebook  |  Twitter |   Pinterest  |  Google+ |  Instagram  |  Bloglovin