Detox Vegetable Soup –  perfect for nourishing your body and getting back on track after the holidays. Best of all, this  one pot recipe is loaded with healthy vegetables and herbs.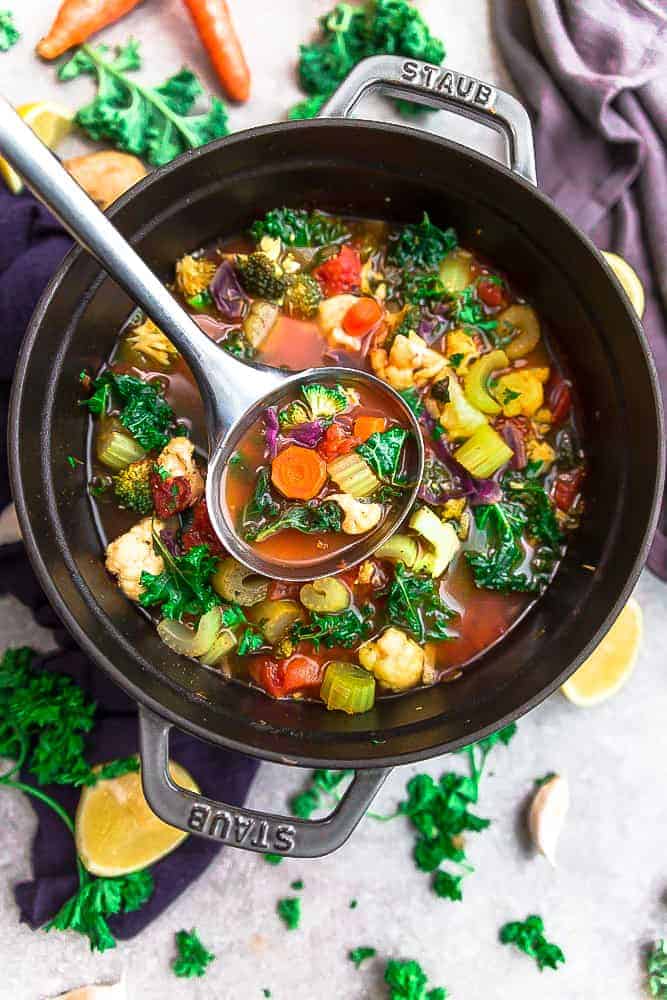 Pin HERE for later and follow me on Pinterest for more recipe ideas
Happy New Year! Hope you all had a wonderful holiday! We're kicking off the year with a healthy and colorful recipe. With the freezing temps this week, a hot bowl of this delicious Detox Vegetable Soup is all we've been craving.
It's the perfect way to help you get back on track if you've been indulging in too many sweets during the holidays. If nourishing your body with healthy foods and going low carb is one of your New Year's resolutions, this soup is an easy way to get started.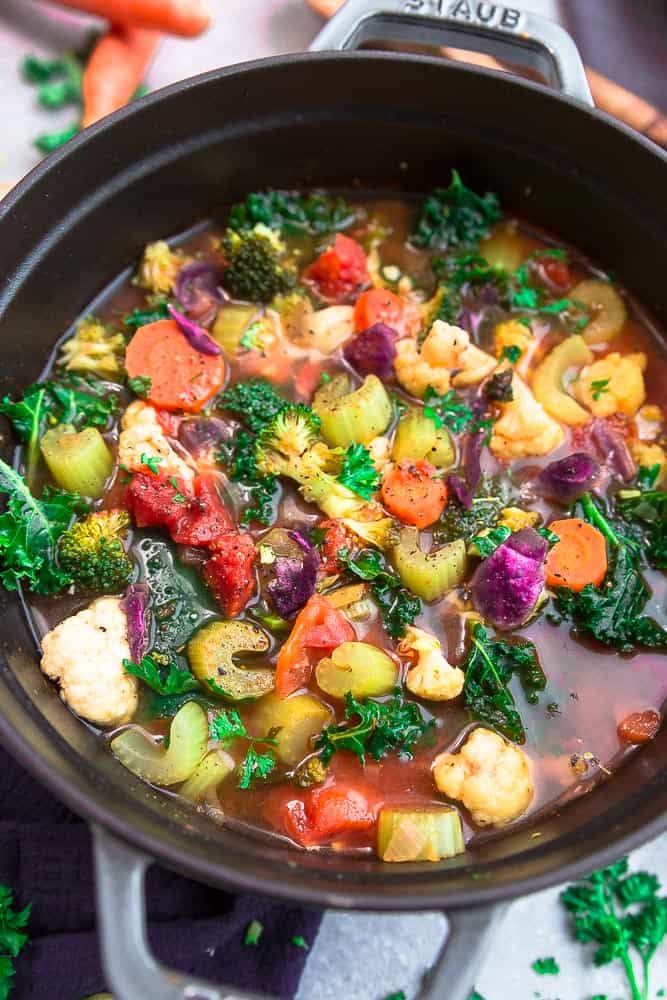 What I love about this  vegetable detox soup is that it's packed with so much goodness. It's vegan, low carb, whole 30 and paleo friendly.
Plus it's easy to customize & packed with detoxifying vegetables and leafy greens like kale, broccoli and celery.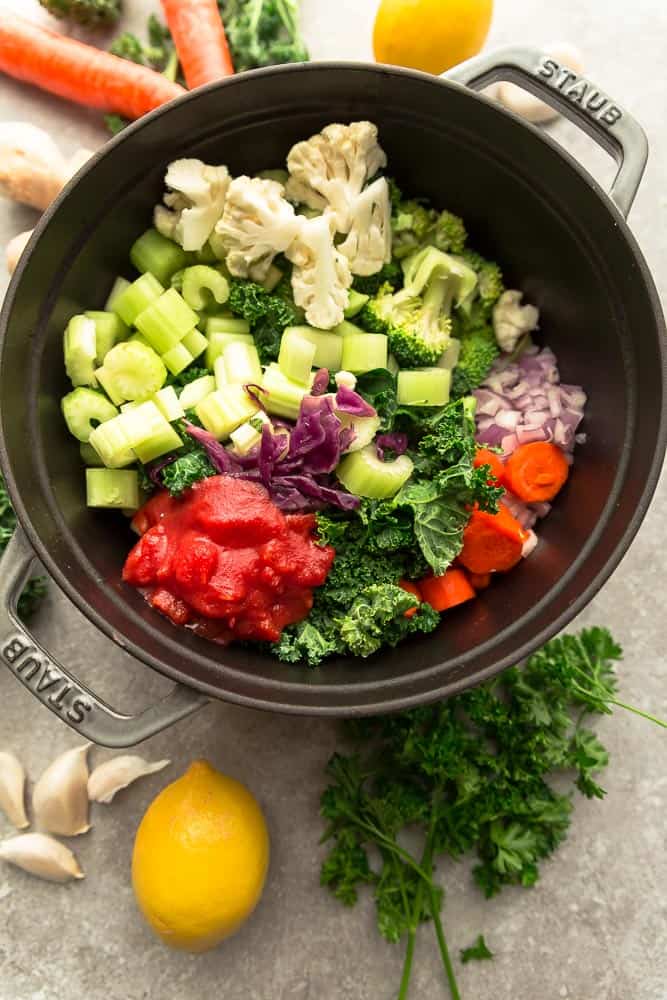 WHAT'S INSIDE THIS DETOX VEGETABLE SOUP?
What I love about this  vegetable detox soup is that it's packed with so much goodness. It's vegan, low carb, whole 30 and paleo friendly.
Plus it's easy to customize & packed with detoxifying vegetables and leafy greens like kale, broccoli and celery.
The purple cabbage and carrots add color and help to fill you up. While the lemon, turmeric and ginger add a nice zing and help to boost your immune system.
Turmeric is a natural anti-inflammatory, antioxidant, antiviral, a big-time immunity booster. Ginger helps aid digestion and can improve the absorption of essential nutrients.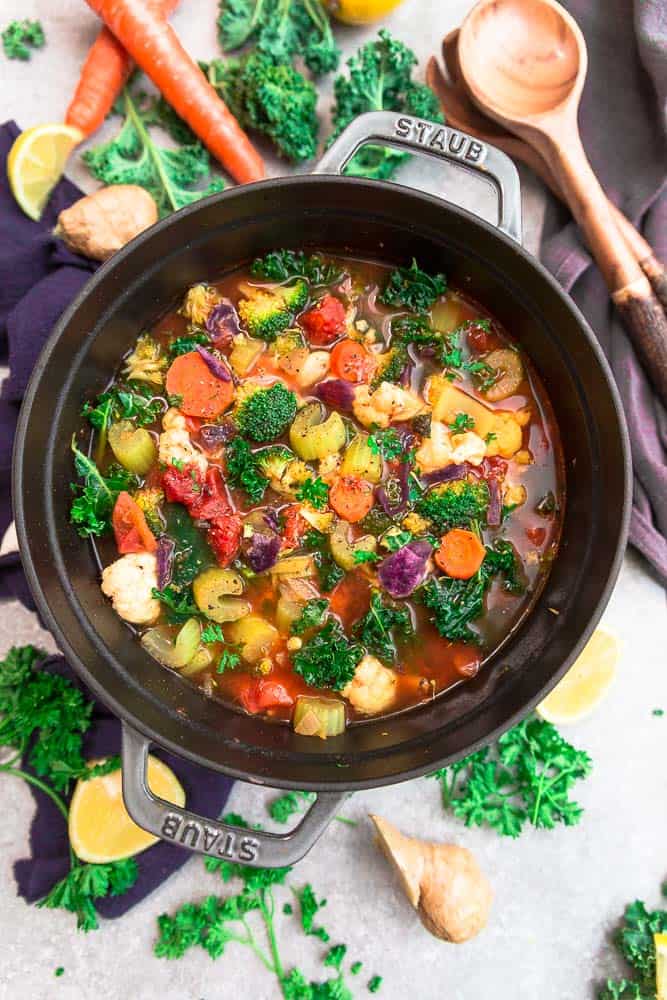 And finally, the spices and fresh herbs tie the flavors together.
To make this a complete meal, you can serve the soup as a side with a lean protein (such as chicken, turkey, or fish).
Or if you want to bulk it up even more, add the protein, beans or low carb noodles to the soup for a whole meal!
Recipe first appeared on The Recipe Critic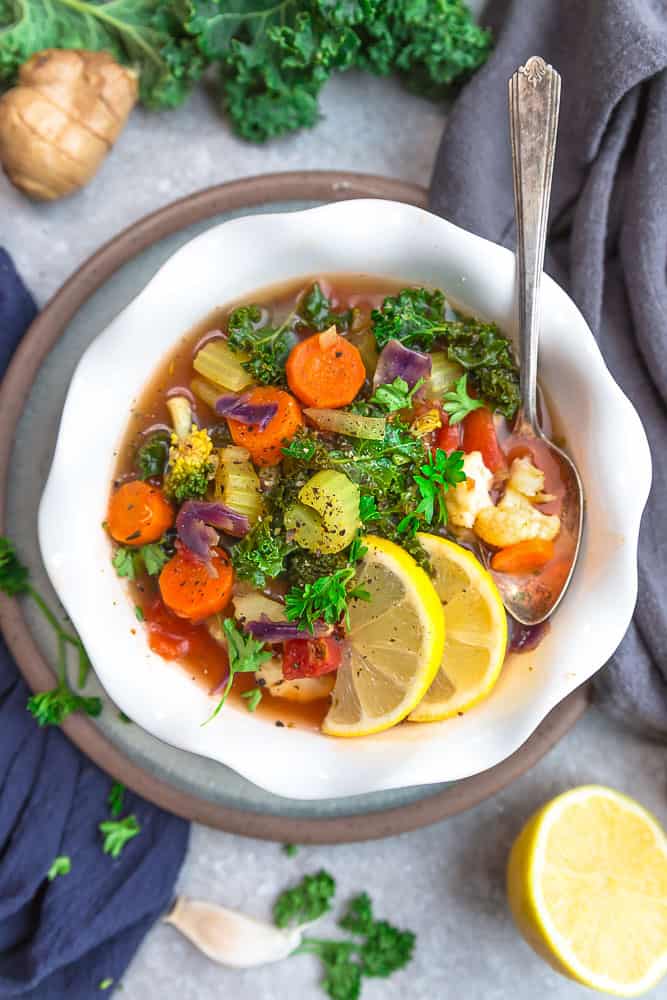 Detox Vegetable Soup
Vegetable Detox Soup - this one pot recipe comes together in just 30 minutes and is loaded with healthy vegetables and herbs..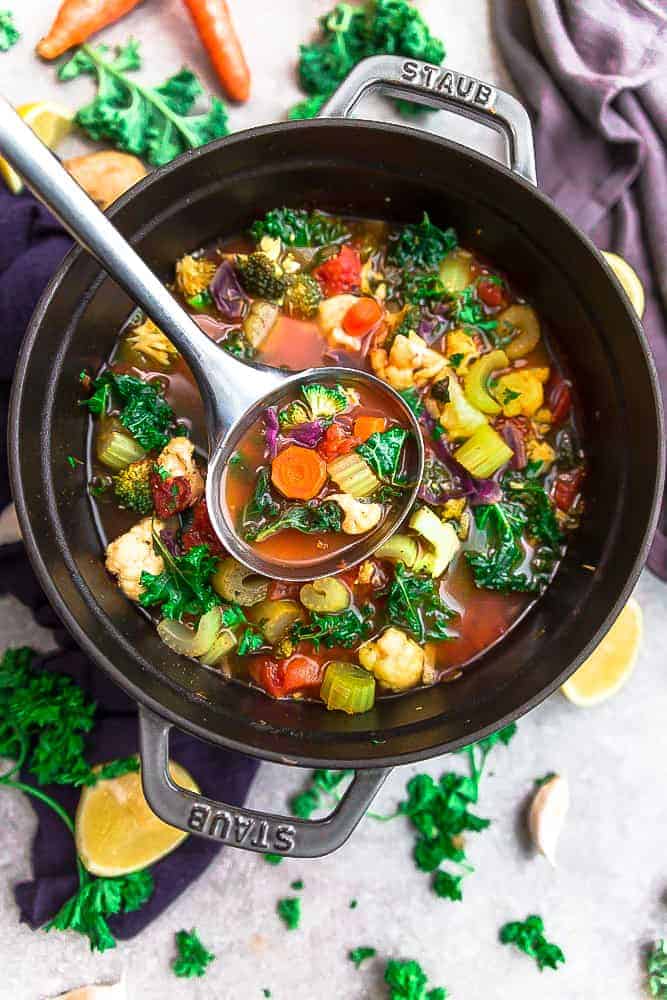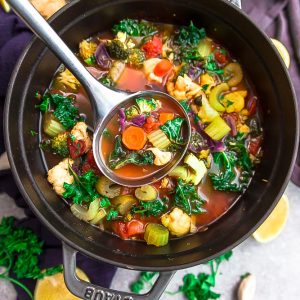 Ingredients
coconut oil or olive oil

1/2

of a red onion, diced

2

cloves garlic, minced

1

tablespoon fresh ginger, peeled and minced

2

cups chopped celery

1

cup chopped carrots

3

cups broccoli florets

1

cup cauliflower florets

1/2

teaspoon turmeric, optional or to taste

4

cups water

1

teaspoon Italian seasoning

pink Himalayan salt (or sea salt), to taste

fresh cracked black pepper, to taste

2

cups kale, de-stemmed and torn in pieces

1

cup purple cabbage, chopped

juice from 1/2 of a small lemon

handful chopped parsley, for serving
Instructions
In a large pot, add oil and turn on the heat to medium-high. Add the onion and garlic. Sauté for 2 minutes, stirring occasionally. Add the celery, carrots, broccoli, fresh ginger. Stir and cook for about 2-3 minutes, until slightly softened. Stir in the turmeric.
Add water and bring to a boil. Reduce heat and simmer for 10-15 minutes or until vegetables are soft. Stir in the Italian seasoning, salt and pepper to taste, kale, cabbage and lemon juice near the last 2-3 minutes of simmering.
Serve hot with chopped parsley.
HAVE YOU MADE THIS RECIPE? 
I'd love to see! Just snap a photo and hashtag it #LIFEMADESWEETER or tag me @lifemadesweeter on Instagram!
With the start of the new year, I wanted to get a little bit real today. Many of you have noticed that I haven't been as present around here as I used to be. The main reason is that I got pretty sick right before the holidays last year which affected my gut health.
Like lots of other young moms, I thought I was pretty healthy. I mean, I ate right and tried to fit in a workout whenever I had a free chance. Turns out I was pretty wrong. Trying to take care of everyone else in the family except for myself, overworking, stress and lack of sleep were all things that contributed to my condition. My body was no longer able to tolerate many of the foods that I was used to eating without breaking out in a severe allergic reaction. I started to feel exhausted almost every day and my vision was cloudy. My body was failing.
Dozens of doctors' appointments led to zero answers. So, that's when my husband and I started researching all of my symptoms. I changed my diet completely by cutting out ALL grains, sugars and was on a soup and bone broth diet for months before I was able to introduce other foods. Then I found out about the Keto lifestyle. It was tough at first since I am not a big meat or fat eater. But it turns out that those were the things my body needed to help me heal. I also started accepting help at home and with this blog which has allowed me to get some much needed rest that I was been missing.

I am happy to report that I am feeling much, much better. I have my energy back, I can enjoy the foods that were giving me those severe allergic reactions again and it's even helped me to lose that last bit of stubborn belly-fat I had since having my youngest child.
If you have been thinking about incorporating more whole foods into your diet or trying a low carb (Keto) lifestyle, we are launching a new menu and workout plan next week for anyone that is interested in taking charge of your health.
It's something that has been in the works for months because I really want to try to help anyone else that may be experiencing the same symptoms as I was. Following this way of eating was the only thing that has worked and is continuing to work for me. If you want to get a head-start, you can join my new Facebook group HERE.
I also just wanted to say a sincere thank YOU to everyone for your support during this time even though I've been absent. Wishing you all a happy and most importantly healthy 2018! xo