How To Start A Food Blog with step-by-step tutorial and photos.
Have you been thinking on how to start a food blog? This write up is a long time in the making.
Over the last while, I've been answering lots of blogging questions behind the scenes.
Back when I was in my corporate job, I used to always love reading food blogs during my lunch hour.
You see, I had just gotten married at the time and food blogs were still fairly new. A few years later, I thought it would be fun to start my own. I never imagined that it could become a full-time business let alone land me a cookbook deal.
I feel incredibly blessed and love hearing how many of you are inspired by my story to chase your dreams.
So I've enlisted the help of the lovely Shelby who will be able to help me to explain further. I hope this new series of Blogging Basics is helpful to many of you that have always wanted to start a food blog.
How to Start a Food Blog:
What will your blog be named?
Choose something you love, something that will be memorable and that you identify with.
Register it as a Domain:

Don't do it for free, don't use a free hosting site that will end up causing you more headaches – invest and believe in your dreams

You don't want someone to steal your ideas, or your domain name and great ideas.
As you grow, it is much harder to transfer all your hard work.

Make it easy to spell and easy for your readers to find and remember:

MAKE SURE IT WONT BE EASILY CONFUSED, if you are too similar to another brand it can create a lot of headaches and your readers and friends will get lost.

Sign up for a hosting platform:

There are many options available for web hosting, here are a few:
BigScoots – HIGHLY recommended but pricier (what I use now)
WPOT – recommended
Hostgator
Godaddy
WPOT – recommended
Sign up

Choose the best plan for you, paying upfront costs less in the long run and you don't have to worry about reoccurring payments.
Install WordPress
Install WordPress on your preferred hosting site
START the app, make it live to start posting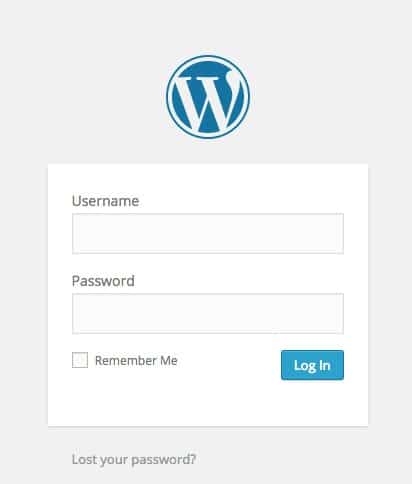 Protect your site and make it as high functioning as possible
ADD:

Plugins, here are some of the favorites:

Yoast SEO
Easy Recipe
Mailchimp
Google Analytics
Jetpack

Other "theme" plugins added later for added *fun* features

Soliloquy
Google fonts
Google Tools
Google Analytics
Make it pretty
Choose a theme! You can go with free or paid – we recommend you save your pennies for a paid as they are prettier and much more capable.

Favorite themes:

Genesis

Foodie Pro Theme

Restored 316
Elegant Themes

Cheaper alternative

Studiopress

Many diverse options!

Free themes

Found in many corners of the internet

Install the theme
If this is way too difficult and "techy" for you, there are many people for hire to help
To properly set up and design your site you can:

Hire a designer

This can be pricey depending on who you go with but if you value time over money or a headache this is your best option.
Here are a few:  Purr (very popular amongst bloggers but may be pricey), Shay Bocks, Deluxe Designs, Smitten Blog Designs, How Sweet Designs, Pixel Me Designs

DIY

If you don't want to or don't have the funds to pay – this is the option for you! There are many resources on how to make your blog perfectly pretty

Youtube, many articles and FB groups
Use free internet resources – chances are if your theme is on the internet, someone has created a how to and a detailed description of what you can do with it!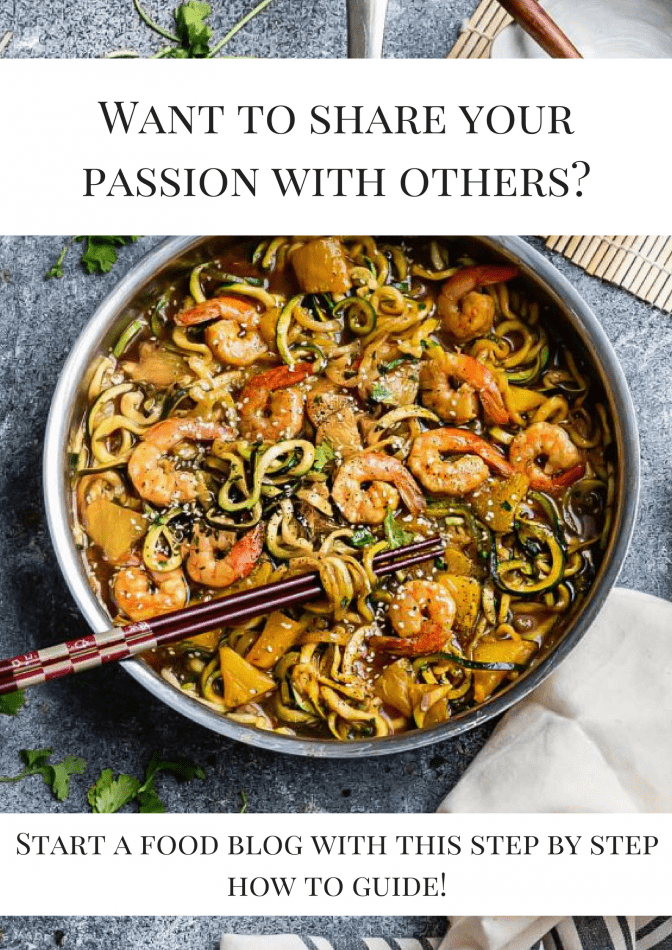 PROMOTE like crazy!
Facebook
Join FB groups
Start a blog fan page

Invite family and friends to "Like" it
Start posting on your brand new food blog!

Write interesting and original content
Engage your readers
Take gorgeous photos
 Twitter – Promote and Interact
 Instagram
Post those gorgeous food pics!
 Pinterest
One of the biggest sources of traffic ever for bloggers!
Make pinnable graphics on each post
Properly hashtag and link back to your site
Post on food sites like:
FoodGawker
Oh My Veggies – Potluck
Whole Yum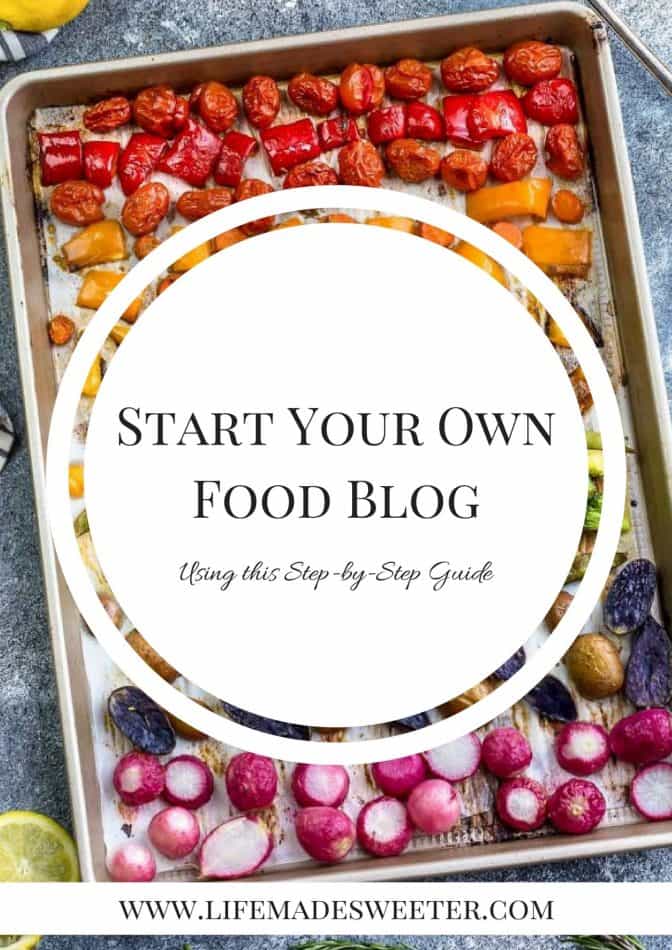 So, I hope this post on How to Start a Food Blog was somewhat helpful. Now, what are you waiting for? Go out there and show the world what your best recipes are made of and start your food blog today.
Stay tuned for the next part of the series where we talk about sponsored posts and various ad companies.
Happy Blogging!