Korean Pork Bone Soup with Potatoes (Gamjatang) is the perfect comforting dish. Full of rich, complex & authentic flavors – the best for warming up with on a cold day!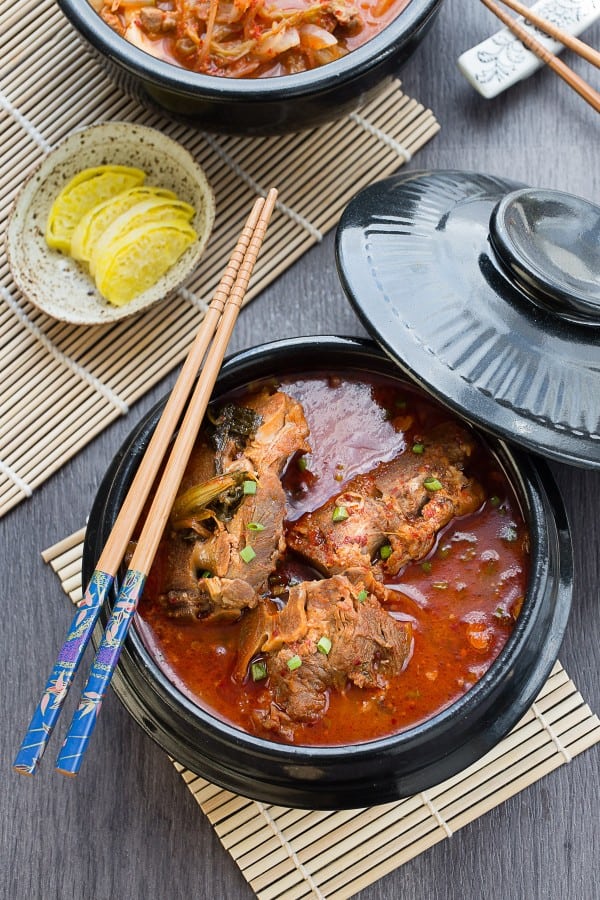 Updated with new photos May 2016 from original November 2013 post.
Nothing beats a steaming bowl of comforting soup once the weather cools down. Gamjatang or Korean Pork Bone Soup/Stew was one of our favorite soups we used to order out when we were living in a bigger city.  We didn't grow up eating Korean food but it immediately felt like comfort food to us the first time we tried it.
If you've never tried Korean Pork Bone Soup Gam ja tang before, you are in for a real treat.  It is considered a traditional Korean dish with its distinct hearty and rich flavors.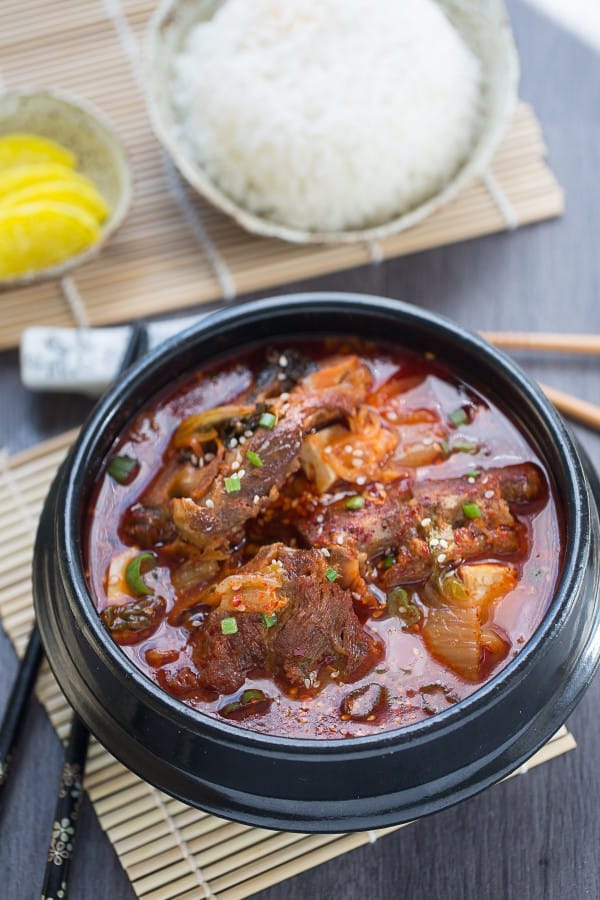 After we moved away to a smaller town, I decided to learn how to recreate this homey dish and after making this recipe for two years now, I can honestly say it's our family's favorite.
Be sure to set aside an entire afternoon if you are following the recipe exactly – or split it up and start the prep work the day before – the results are amazing and will definitely satisfy your Gamjatang craving.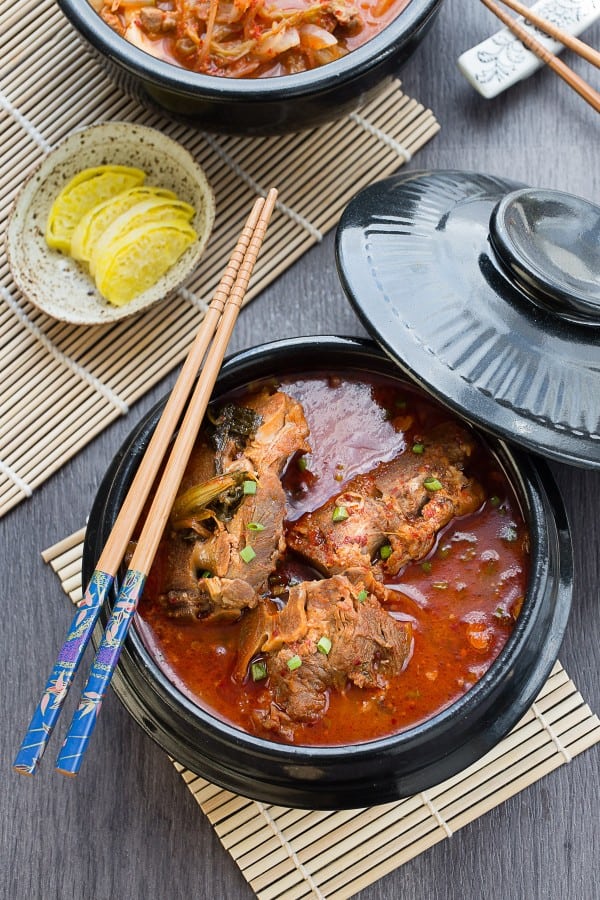 Most people might get frightened after seeing the amount of ingredients and time it takes to cook (the pork bones require 2 hours of soaking in water and around 2 hours for simmering).
I'll be honest, this soup does require some patience and tolerance and is a medium level of difficulty to cook but trust me when I say your efforts will be well worth the reward waiting for you.
If you have never tried Korean Pork Bone Soup, I urge you to either order it at a local Korean restaurant first to see if you like it (it used to cost around $6.99 where we lived) or set aside a day (4-5 hours) to make this delicious dish.
I now make large batches of the broth and freeze them flat in freezer bags so that we are able to enjoy this great comforting dish anytime we want.
IMPORTANT NOTE: You will need to purchase some of these ingredients at a Korean food mart or specialty Asian supermarket if you have one nearby.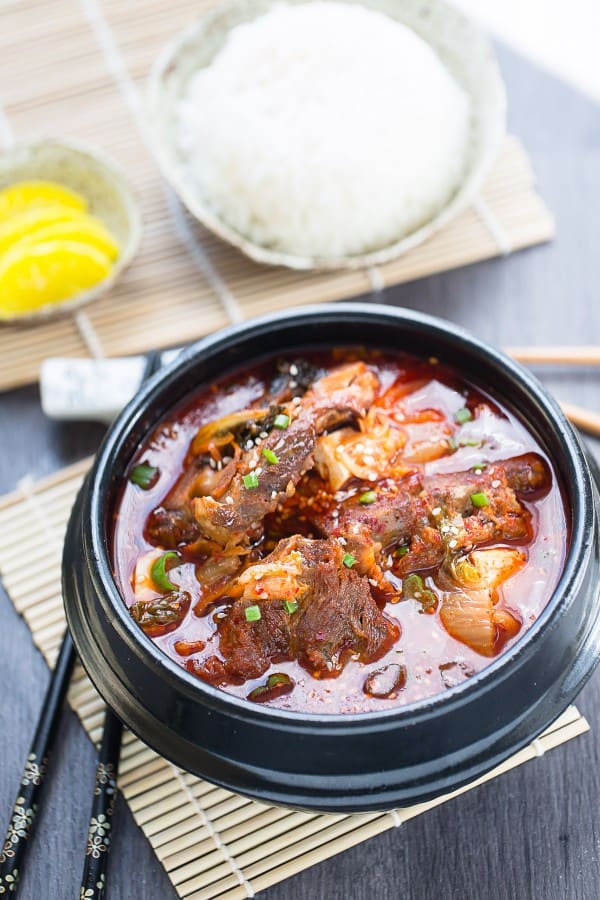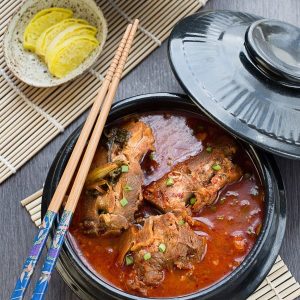 Korean Pork Bone Potato Soup/Stew (Gamjatang)
An authentic Korean Pork Bone soup (Gamjatang) is delicious, spicy, rich and full of flavor to warm you up on a cold winter day! My husband's favorite soup!
Keyword:
asian soup recipe, korean dinner, korean soup recipe
Ingredients
For the Soup:
6-8

pieces

pork neck bones

about 1.4 kg

10

cups

water

1

large onion

sliced

2

dried shiitake mushrooms

4-5

slices

ginger

to remove pork smell

1

tablespoon

minced ginger

1

dried red chili pepper

remove seeds

2

tablespoons

Korean soybean paste

Doenjang (found in Korean or Asian supermarkets)
For the Sauce to add to the soup after simmered for 1.5 hours:
6-8

cloves

garlic

minced

3

tablespoons

fish sauce

3

tablespoons

cooking wine

1

tablespoons

Korean red pepper paste

Gochujang (found in Korean or Asian supermarkets)

2

tablespoons

Korean coarse red pepper powder

Gochugaru (found in Korean or Asian supermarkets)
Vegetables:
4

large white potatoes

peeled, quartered

1/4-1/2

napa cabbage sliced in quarters

blanched

2

stalks of green onions

diced

1/2

cup

Asian chives

diced
Optional but enhances flavor:
10 Perilla leaves, sliced in thick strips

(found in Korean or Asian supermarkets)

Roasted sesame seeds

Black pepper
Instructions
Soak the pork bones in a large bowl in cold water for 2 hours to remove any blood. Drain water and wash bones.

Put the bones into a large stock pot and fill with enough water to cover the bones. Add 4-5 slices of sliced ginger (to remove the pork smell). Boil water and remove any scum that surfaces to top of water.

Drain water, discard ginger slices and rinse the pork bones.

Add 10 cups of new water to pork bones and boil again.

Add sliced onion, dried shitake mushrooms, minced ginger, soy bean paste and dried red chili pepper to pot. Boil the pot for 1-1/2 hours over medium heat.

About 1-1/2 hours later, take the red hot chili pepper and shiitake mushrooms out of the pot.

Slice shiitake mushrooms into bite sized pieces.

In a small bowl, combine the minced garlic, fish sauce, cooking wine, Korean red pepper paste and Korean coarse red pepper powder in a bowl.

Add the sauce, potatoes, Napa cabbage, green onions, asian chives, soy bean sprouts, Perilla leaves and the chopped shiitake mushrooms into the soup. Simmer on medium heat for another 30 minutes.

minutes later, transfer the soup into a serving bowl or Korean earthenware, top with sesame seeds and/or black pepper.

Serve with rice and/or Korean banchan (Korean side dishes).
Recipe Notes
This soup takes time and patience and requires some ingredients from a Korean or Asian supermarket but the flavorful broth combined with the fall of the bone pork will be well worth the effort. The total time from start to finish to complete will take around 4-5 hours.
Nutrition Facts
Korean Pork Bone Potato Soup/Stew (Gamjatang)
Amount Per Serving (1 bowl (about 1/6 of recipe))
Calories 733
Calories from Fat 450
% Daily Value*
Total Fat 50g 77%
Cholesterol 168mg 56%
Sodium 1048mg 44%
Potassium 1373mg 39%
Total Carbohydrates 23g 8%
Protein 44g 88%
* Percent Daily Values are based on a 2000 calorie diet.
You May Also Like: 
 Slow cooker / Crockpot Chicken Lo Mein Noodles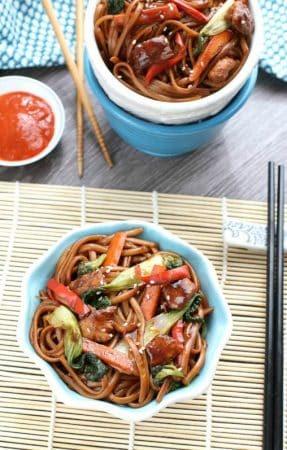 Shrimp Stir-Fry Lo Mein Noodles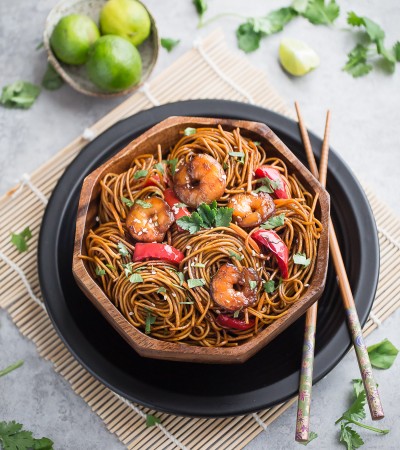 Vietnamese Pho – Beef Rice Noodle Soup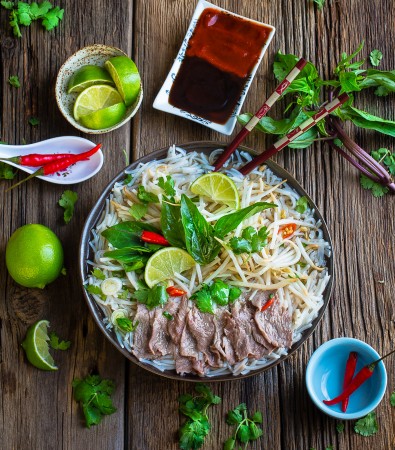 Stir Fried Shanghai Noodles with Ground Pork and Napa Cabbage