Mini Birthday Mango Mousse Cake is perfect for any special occasion. It's light, fruity and full of creamy mango mousse over a shortbread crust.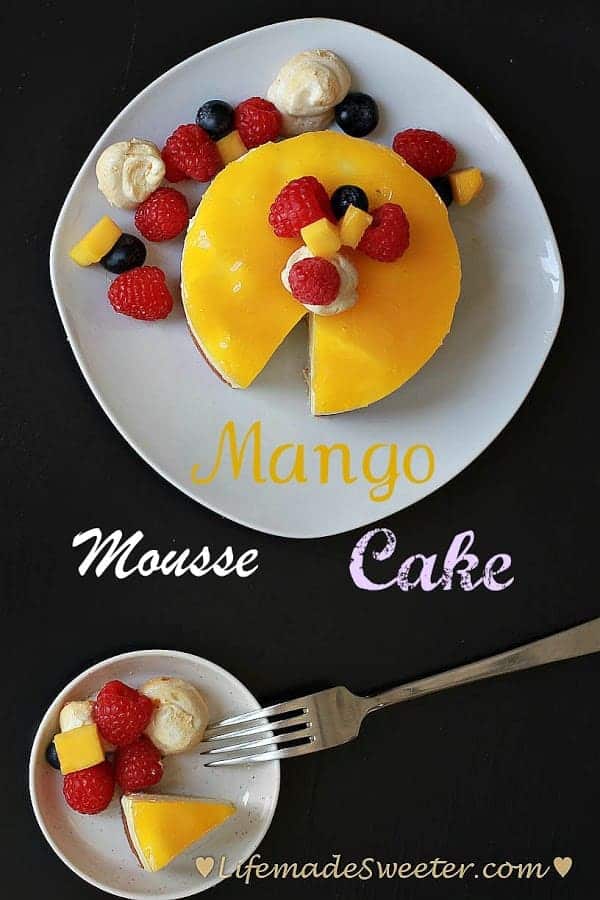 Birthdays are usually no big deal to me but every year as we get closer to the day, the husband likes to playfully tease remind me that I am getting older and catching up to him.
This year was no exception. Since tomorrow is my birthday, the teasing reminders have been going on for about a month already.
For as long as I can remember, my parents always got me this simple Sponge Fruit Cake that they purchased at a local Asian Bakery. It was a lighter cake with layers of whipped cream and fruit and to my dismay at the time, it wasn't overly sweet.
I would never tell them that I secretly wished for the sugary grocery store cakes that a lot of my school friends got for their birthdays.
You see, I really did feel fortunate that my parents with humble means actually purchased me and my brothers a birthday cake every year.
So back when I first started dating the hubs, he remedied that and would buy me a different type of birthday cake every year, even the sugary grocery store cakes I had longed for as a child.
Now that I am older, my ideal cake is whatever I am craving for at the moment. So this year, I wanted to make a cake to reflect the gorgeous hot and summery patio weather we've been having here.
This mango mousse cake definitely hit the spot. It is light and fruity but instead of a sponge cake, I made this with a tender almond shortbread crust with a soft crunch to contrast from the fruity pillowy clouds of mousse filling.
As if there aren't enough yummy elements going on, I also garnished this with piped almond meringues for an extra crunch.
Yields 6-8
Mini Birthday Mango Mousse Cake
Ingredients
Crust
1/2 cup blanched slivered almonds
1 cup all purpose flour
1/4 cup granulated sugar
1/4 cup icing sugar
1/4 teaspoon salt
1/2 cup (1 stick) chilled unsalted butter, cut into cubes
Mousse
1 cup of mango puree (I made my own puree with fresh mangoes but you can use frozen)
2 and 1/2 teaspoons of gelatin powder
1/4 cup Cold water
**reserve 1/3 of the mango gelatin mixture for the Mango Jelly topping
1/3 cup of granulated sugar
1 cup of heavy whipping cream, whipped to stiff peaks
Optional Almond Meringues
1/2 cup finely ground almonds
1/2 tablespoon cornstarch
1 large egg whites
pinch of salt
1/4 cup granulated sugar
2 tablespoons powdered sugar
Instructions
Crust
Grease and line bottom of 6-8 inch spring form cake pan with parchment paper. Preheat oven to 325°F
Grind almonds and granulated sugar in food processor. Blend until ground finely.
Add flour, powdered sugar and salt.
Add butter and blend, using on/off turns, until coarse meal forms.
Press dough evenly onto bottom of prepared pan.
Bake crust uncovered for about 25-30 minutes or until slightly brown and set (rotating pan halfway through).
Mango Mousse
In a small bowl, pour gelatin into 1/4 cup of cold water and let sit for 5 minutes until gelatin sets.
In a small saucepan on medium, heat mango puree and sugar until sugar dissolves and is warm.
Add the gelatin and mix well, till it is completely dissolved. Remove from heat and cool. Reserve 1/3 of this mixture for the Mango Jelly topping.
With a handmixer, whip the whipping cream till stiff peaks form.
Gently fold the 2/3 of the cooled mango puree into the whipped cream.

Almond Meringues

Preheat oven to 200 degrees F. Line baking sheet with parchment paper and set aside.
In a food processor finely grind the slivered almonds. Place ground almonds lined baking sheet and toast in the oven for 10 minutes. Remove from the oven. Place in a small bowl, toss in the cornstarch, and set aside to cool.
Using a hand or stand mixer on medium speed, beat egg whites and pinch of salt until soft peaks form. Gradually add sugar and beat until stiff peaks form.
Fold in ground almonds until incorporated.
Transfer meringue to a Ziploc or pastry bag and pipe onto baking sheet.
Bake in preheated oven for 50 minutes. Turn off the oven, open the door a crack, and leave meringues in the oven until they're completely dry. When cool, remove meringues from the baking sheet and enjoy.

Assembling

After the crust has baked, pour the prepared mango mousse over the crust. Let it set in the fridge for 30 minutes.
Pour the reserved mango jelly on top of the mousse. Let it sit in the refrigerator for at least 2 hours.
Gently remove cake from spring form pan.
Decorate and serve chilled.
7.6.4
27
https://lifemadesweeter.com/mini-birthday-mango-mousse-cake/
Adapted from
Canadian Living
and
Joy the Baker
You may also like:
Magnificent Mango-licious Ice Cream
Mango Orange Coconut Green Smoothie