Learn how to decorate cookies with royal icing using this step-by-step guide on how to make it, add colors and pipe it onto your sugar cookies!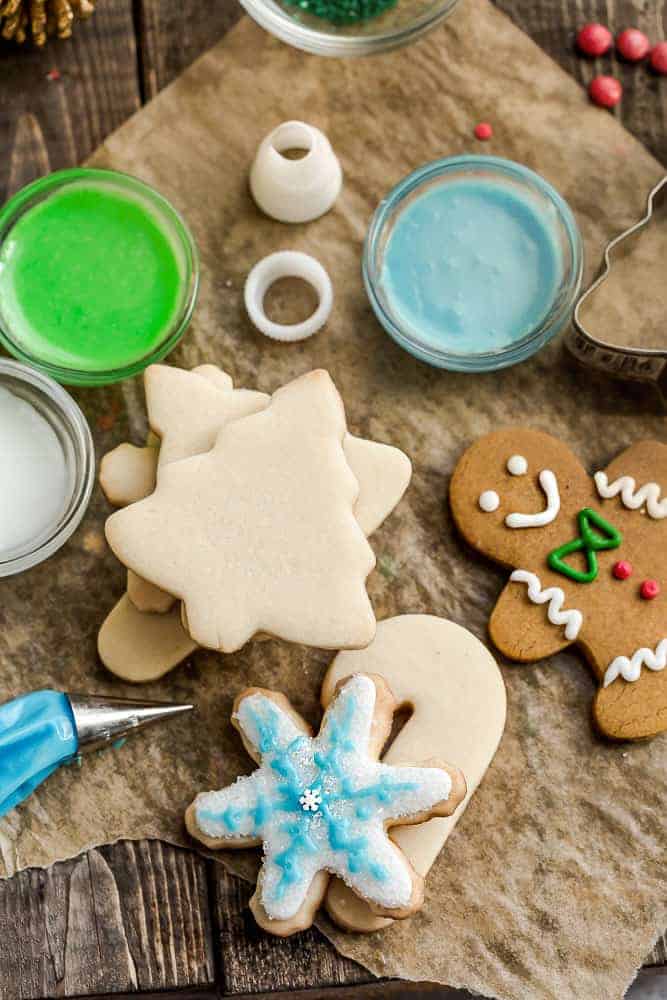 I recently shared my favorite sugar cookie and gingerbread cookies and now comes the fun part, the decorating!
If you are looking for some practical and straightforward decorating tips for your Christmas cookies, here are some that might be beneficial.
Once you finish baking your perfect cut out cookies, then it's time to decorate and dress those cookies up for the holidays.
Sometimes people think they have to be pros to decorate cookies, but when you use these tips, it will make decorating cut out cookies fun and not so much like a chore.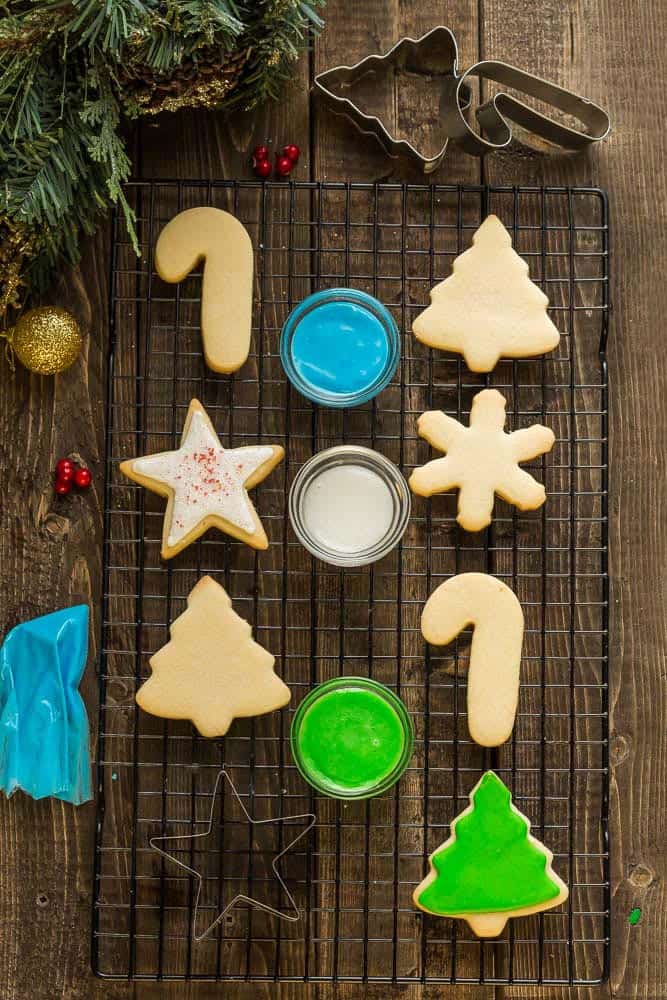 Royal Icing for Cut Out Cookies + Decorating Tips
There are a few different options when it comes to making royal icing. All of these start with some powdered sugar.
Some like to use either egg whites, corn syrup or meringue powder. These give the gingerbread and sugar cookies that bakery style look.
There is no right or wrong choice, but I personally use meringue powder. Where can you find meringue powder? It's located in the baking aisle at the grocery store, a baking specialty store or you can order it online HERE.
The key is to get the right consistency of your icing. If your icing isn't the right consistency, you will know by how it lays on your cut out cookies.
If your icing is too thin add in some powdered sugar, if too thick add a little bit of water at a time and stir in between.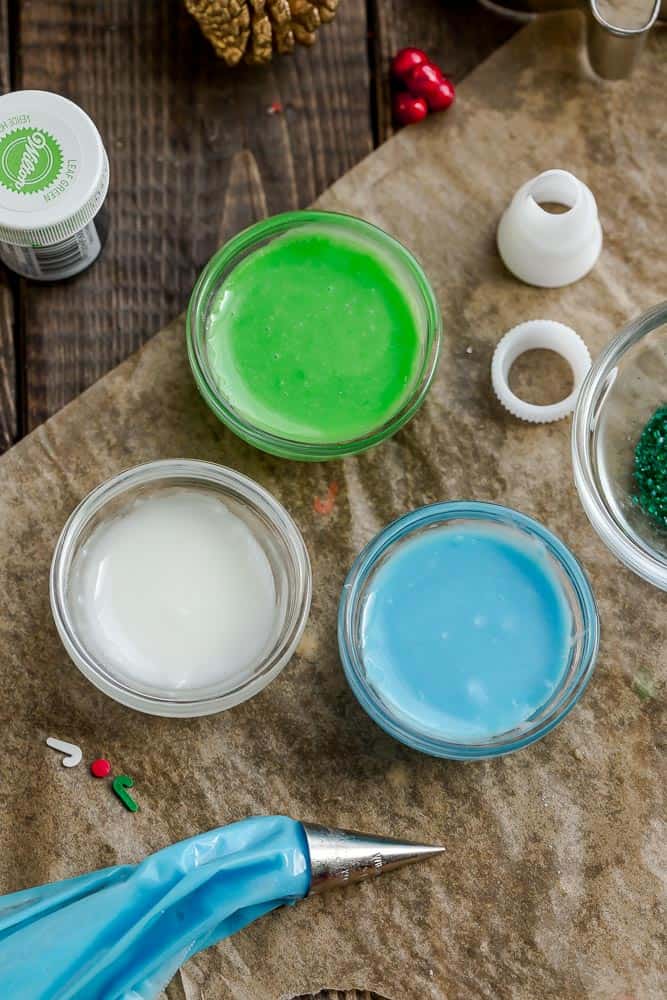 Work Fast
The most important tip I have to share is when you apply the icing, you will need to work quickly before the icing hardens.
I use a piping bag and make a border around the cookie. Then I fill in the border with icing; this will help it from falling off the edges of the cookie.
Use a spatula, paring knife, or even a toothpick to help spread the icing over the cookie.
Quickly do this as royal icing will set fast. And if you are too slow, the royal icing will smudge and look messy.
From the moment you pipe the icing onto the cookie, if you have the right consistency, you have about two minutes to frost them. The icing will begin to get tacky and fully set within 10 minutes.
Multiple Tips
When you go to pipe the icing on the cookies, try to aim to have tips and bags for each color. It will help you from having to change out tips and risk your icing drying out during this.
Cover Tips
Make sure to cover your icing tips. You can buy icing tip covers that quickly go on and off. This is good to have on hand so that your icing doesn't dry in the tip as you are in between using it. If you find your tip does get clogged use a toothpick to remove the hardened icing out of the tip.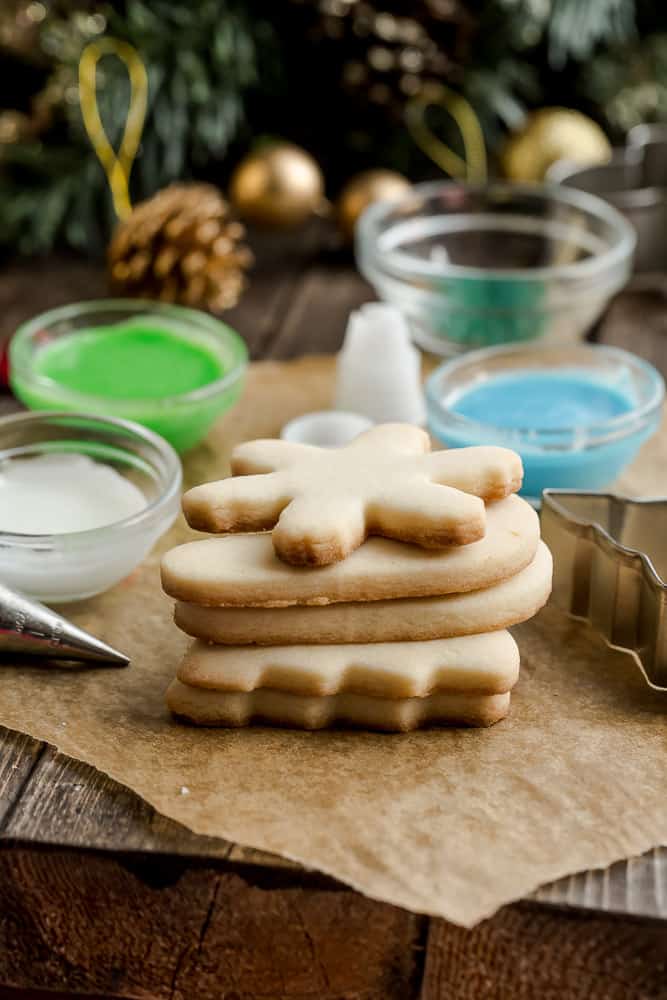 Pressure
Piping is something that takes practice. Just keep trying and practicing. The key is to have even pressure on your piping bag as you squeeze the icing out onto the cut-out cookie.
Try not to keep the icing tip to close too the cookie. I find if it is to close it can be a bit messier if I accidentally dip it on the icing on the cookie.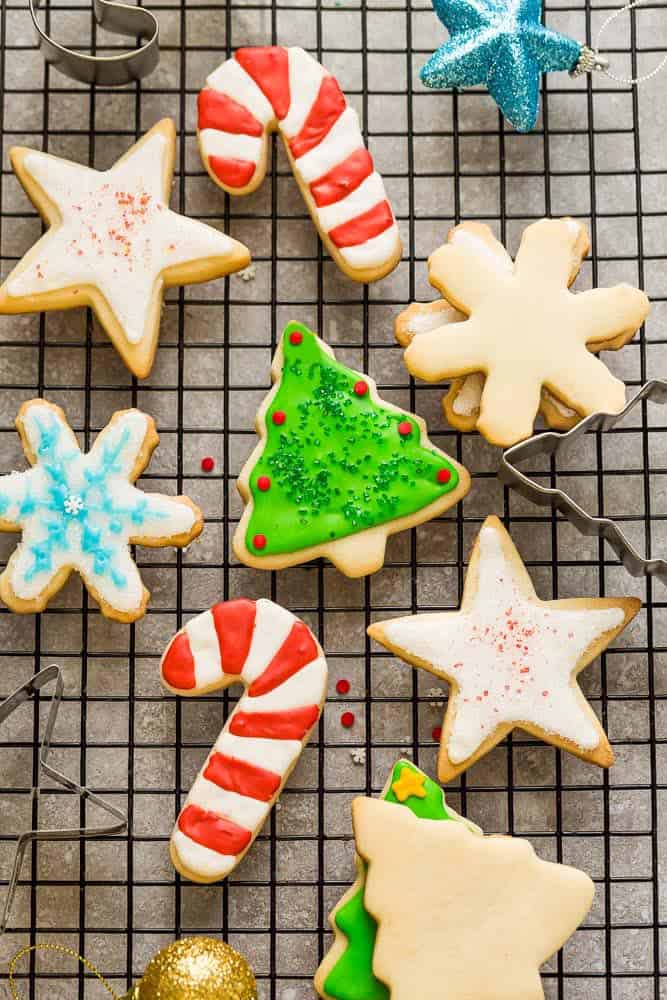 Sprinkles
If you decide to add in sprinkles, just add them on pretty quickly after you lay down all the icing. Whether you like crystal colored sugars or cute festive sprinkles. Use a piece of parchment paper underneath where you sprinkle. Then any excess sprinkles that fall you can create a funnel with the parchment paper and add to another cookie.
Multiple Colors
Using multiple colors on a cookie can add more design to your cookie. I recommend piping borders around the areas for the separate colors. This will help the icing stick in that designated area. Just making sure your icing is thicker, so it doesn't fall or spread when you pipe it.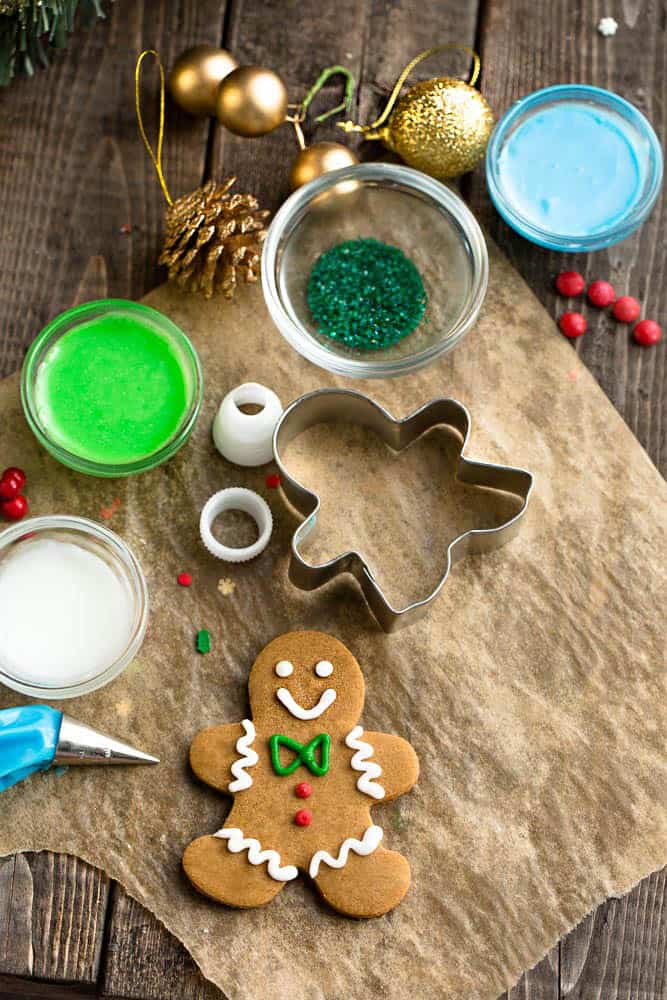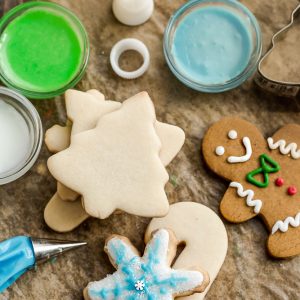 Royal Icing
Learn how to decorate cookies with royal icing using this step-by-step guide on how to make it, add colors and pipe it onto your sugar cookies!
Keyword:
how to decorate sugar cookies, icing for cookies, icing recipe, sugar cookie frosting, sugar cookie frosting recipe, sugar cookie icing recipe, sugar cookie recipe for icing
Ingredients
4

cups

sifted powdered sugar

3

Tablespoons

meringue powder

1/2

teaspoon

pure vanilla extract

6-8

Tablespoons

warm water

less for stiff icing and more for thin icing

Gel food coloring

optional
Instructions
Beat all ingredients together until icing forms peaks, about 7 minutes.

For different colors, divide icing into separate bowls. Tint each bowl with gel food coloring to the desired tone. Transfer to different piping bags and decorate cookies.

For thinner icing: add a little bit more water at a time, stirring after each addition until desired consistency.

For thicker frosting: add a little bit more powdered sugar at a time, stirring after each addition until desired consistency.
Nutrition Facts
Royal Icing
Amount Per Serving (1 Tablespoon)
Calories 58
% Daily Value*
Carbohydrates 14g5%
* Nutrition facts are provided as a courtesy using the WPRM recipe calculator. It is best to make your own calculations to ensure accuracy. We expressly disclaim any and all liability of any kind with respect to any act or omission wholly or in part in reliance on anything contained in this website. Percent Daily Values are based on a 2000 calorie diet.
YOU CAN USE YOUR ROYAL ICING FOR THESE COOKIES:
50+ Must Have Cookies for the Holiday Cookie Platter