This is the best sugar cookie recipe for making decorated cut out shapes with perfect edges. These chewy cookies bake up soft, flavorful, and are easy to make with just 6 ingredients.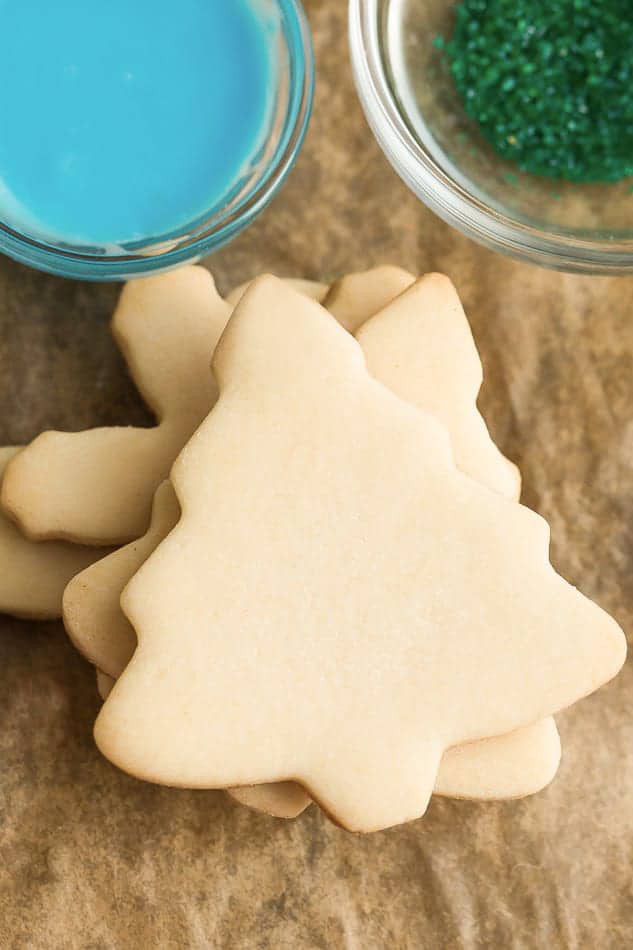 PIN for later and follow my boards on Pinterest for more recipe ideas
One of the first things I think of when the holidays hit is all the fun Christmas cookies.
Shortbread, snowballs, gingerbread and cut-out sugar cookies are a classic favorite when it comes to holiday baking. We usually set aside a week in late October or early November to make an assortment of cookies every year to package up for our friends, family and neighbors.
For the cut out sugar cookies, it usually takes a few days. One for baking and the next two or three days is for decorating with our favorite royal icing recipe.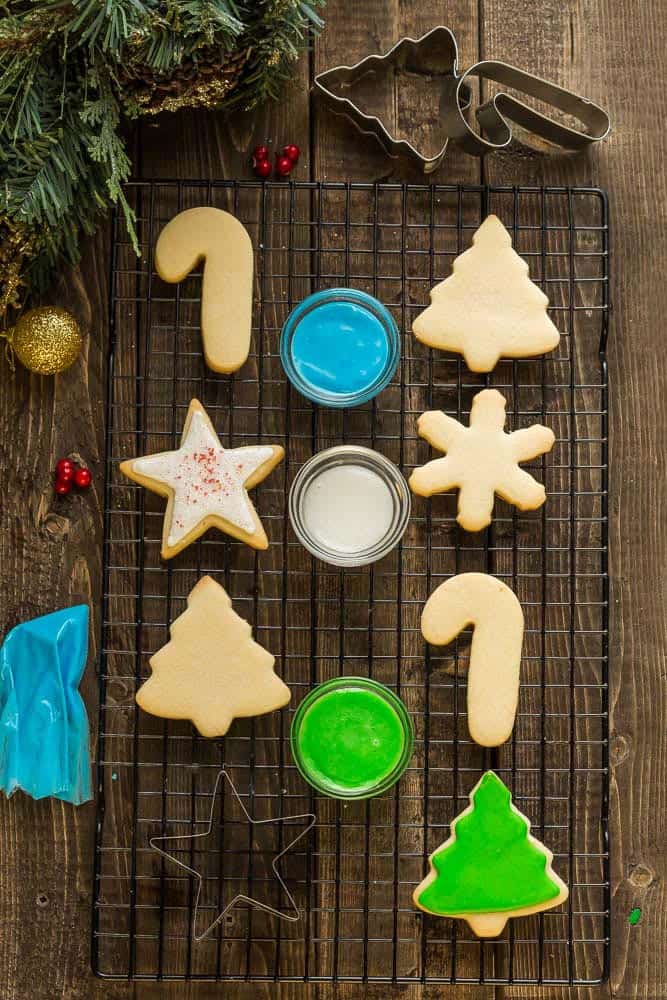 I love that my kids are a little bit older and can sit for longer periods of time now. It's makes it a lot more enjoyable to bake together than it was the previous years.
Their favorite part is rolling out the dough and using the different cookie cutters. The have tons of fun using the festive shapes – snowflake, star, tree, stockings, hats, etc.
I still remember the first time I whipped up a batch of sugar cookies, they all melted together in the oven as they baked. I pulled out what I thought would be cookies only to find a glob.
As I made more throughout the years, I am happy to report that they are actually not too hard to master with a little bit of patience.
If you struggle to perfect your cookie dough, I'm sharing some secret tips and tricks for the best no-fail homemade sugar cookies from scratch.
I came across this no-fail recipe from America's Test Kitchen and adapted the method slightly by chilling the dough twice.
How to Make the Perfect Sugar Cookies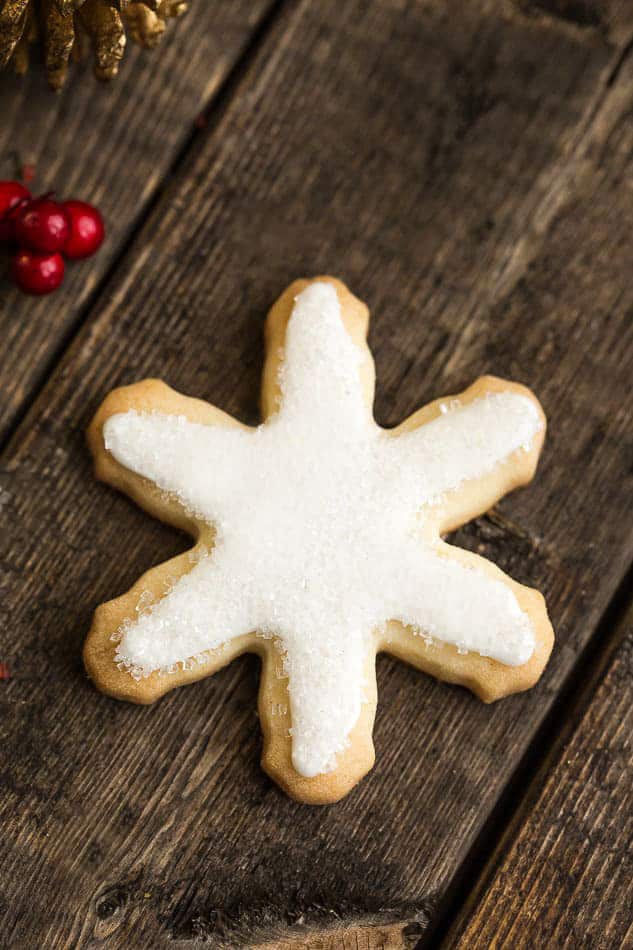 1. Measure Out Ingredients
One primary cause of a crispy, flat, or dried out cookies if you either added too much flour to your dough. Make sure you measure out each ingredient accurately. Or take it a step further and buy an inexpensive scale, so that you can weigh out ingredients to be accurate.
2. Sift Your Flour
It doesn't take too much time to whip out your sifter and sift the flour. That will help give you a very light and flaky cookie that will totally melt in your mouth! This is a must for me when it comes to no-fail sugar cookies.
3. Refrigerate Dough
Does the dough really need to be chilled?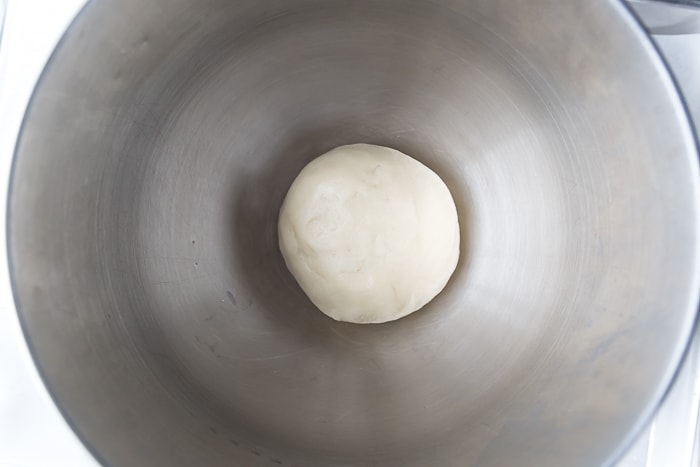 For this recipe, if you want a well-formed cookie at the end of it, then I recommend that you roll out the dough and then chill it before cutting into shapes.
Chilling the dough helps it to become stiffer and hold up. In fact, I chill my dough twice – once before cutting and then again after to ensure that the dough is cold so the cookies don't spread.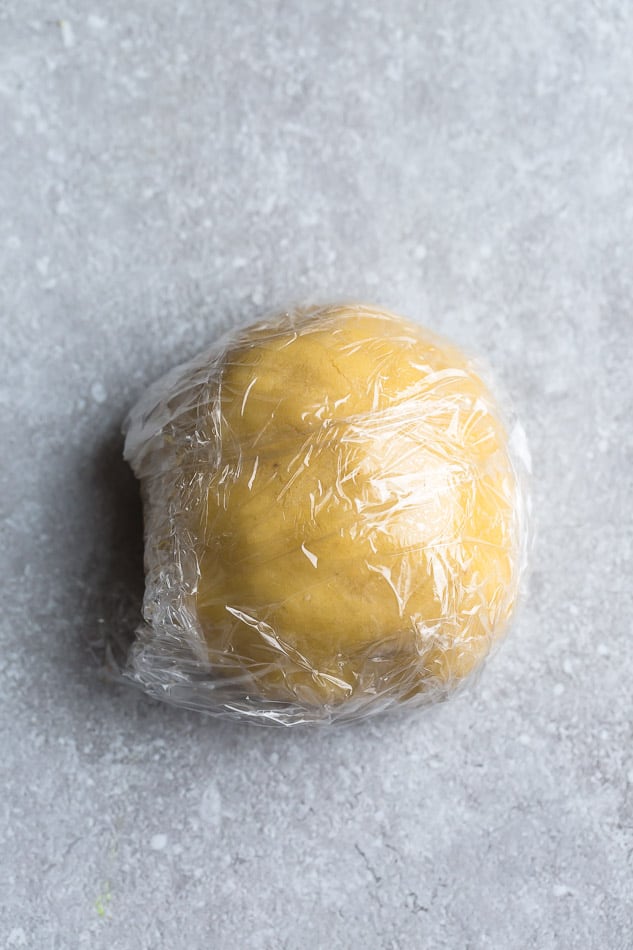 4. Work with Small Batches Of Dough
Instead of rolling out the entire batch of dough, section off into two (or four) sections. That way when you go to work with it, you will have that stiffer consistency, and it will roll easier. Just keep the dough you aren't using at the moment in the fridge until you are ready for it.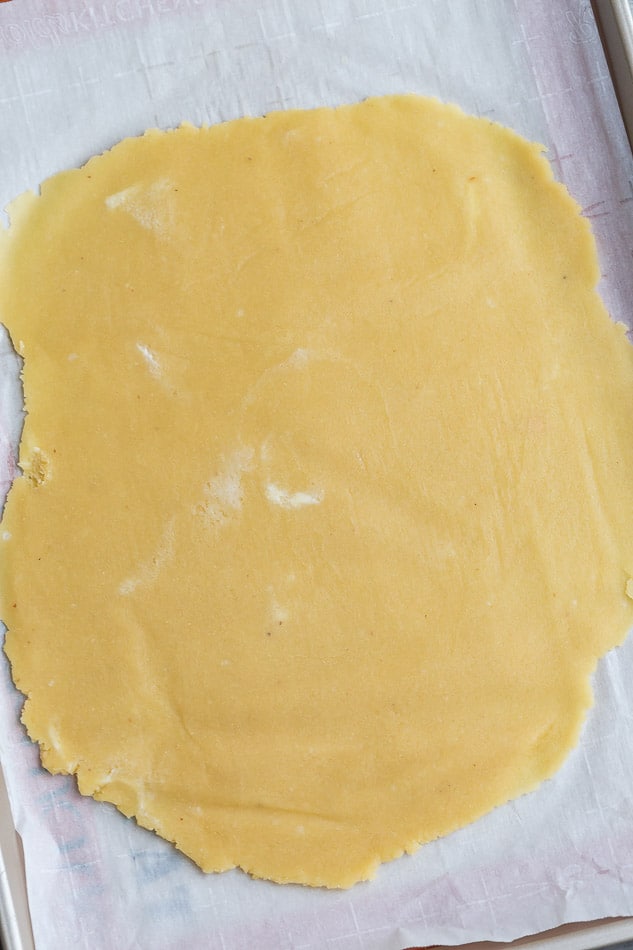 Parchment Paper
When you roll out your dough, try not to use an over-floured surface. I find that if you have too much flour out, it can begin to dry out your cookies because it will absorb some. So I actually like to roll my dough out between two parchment papers – this way the dough doesn't stick and you don't have to worry about drying the dough out with any extra flour.
Rolling Dough
Getting the right thickness of the dough can be a little complicated. If you roll your dough too thin, you will find you have a very fragile mixture that is going to fall apart easily.
If you roll it too thick, you will run into the cookies not baking through or evenly. Aim to roll your dough around 1/4 inch to inch thick. You will find it is easy to work with and cooks well.
5. Cutting into Shapes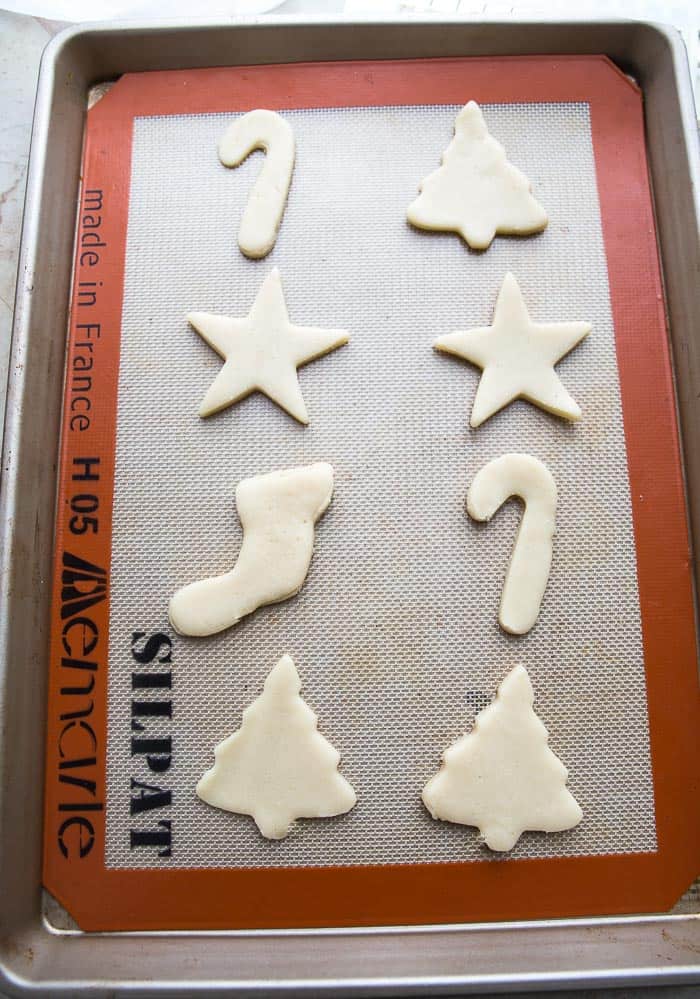 When cutting out your sugar cookies, try to keep your cuts as close together so that you re-roll any scraps in order to use all of your dough.
For thinner, crispier sugar cookies: Roll cookie dough thinner (about 1/8″) and look for the edges of the cookies to be turning golden brown to know that they are done.
For thicker, softer sugar cookies: Roll dough to about 1/4″, and watch for cookies to be just beginning to turn lightly golden around the edges. Let them cool completely on the cookie rack as they may break if you try to move them while they're still warm.
6. Rotate Pan
Rotating your pan(s) halfway through the baking process is a great way to have evenly baked cookies.
Some ovens don't cook evenly and turning the pan will give you the results you want.
One Pan at a Time
With cookies, I find if I over-crowd the oven it makes the cookies not bake as evenly. Some get done pretty fast, and others are still doughy in the center. I bake one pan at a time on the center shelf. That way I know, I will have consistent cookies each time.
7. Don't Overbake
Pretty much all cookies are done when you see they are golden brown. Well sugar cookies, are different.
You want them to be pale, and you can stick a toothpick in, and it comes out clean. If you cook your cookies to the golden stage, they will be hard and crunchy instead of soft and chewy.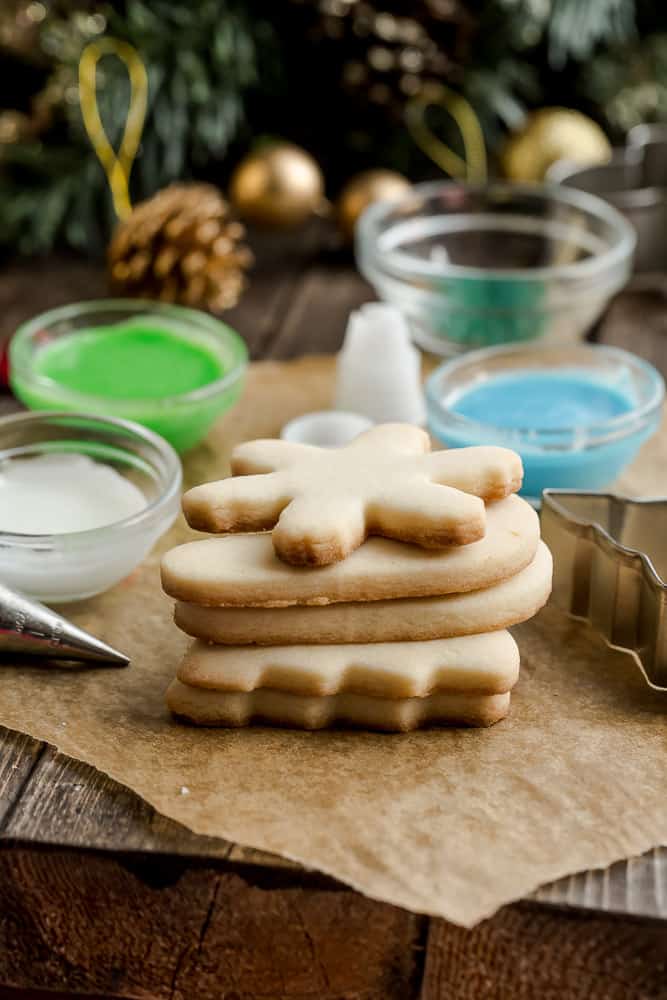 8. Cooling
Let the cookies cool for just a minute or two on your baking sheet, then transfer to a cooling rack.
I highly recommend using a cooling rack, as it helps stop the cooking process and cools the cookie easier. Make sure the cookies are fully cooled off before you decorate, or the frosting or icing can melt off the cookie.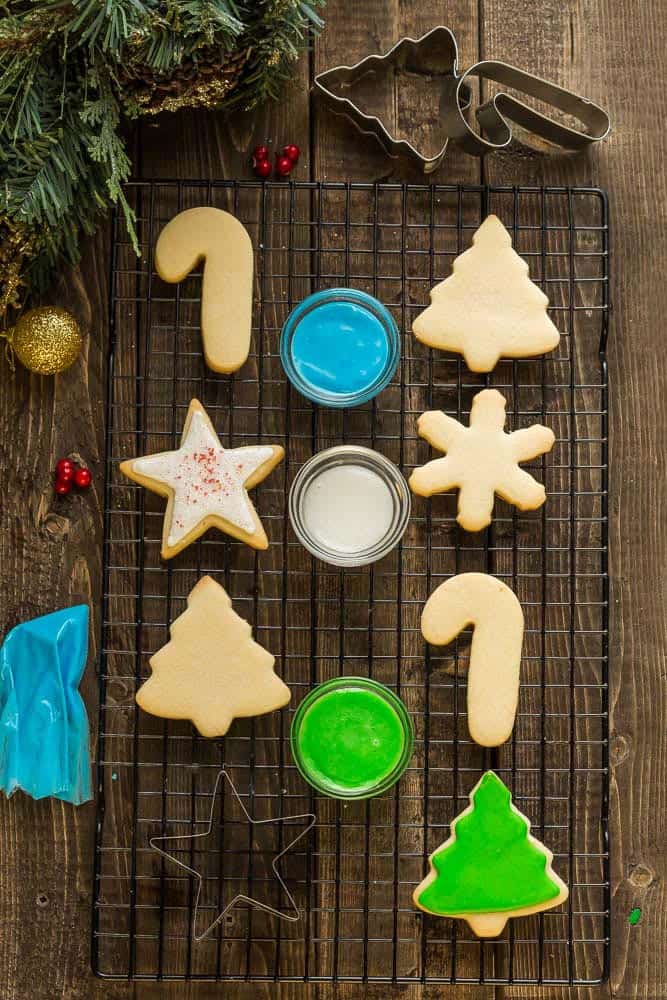 9. Buttercream Frosting VS. Royal Icing
So what's the difference between frosting and icing?
This Royal Icing recipe is our favorite. Royal Icing gives you that thinner look and will be a harder texture. If you make it too thin, just add more powdered sugar, and if it's still too thick, just add more milk!
Frosting, on the other hand, is thicker and won't harden up over time. The frosting method is excellent if you want to add sprinkles or decorate your cut-out cookies.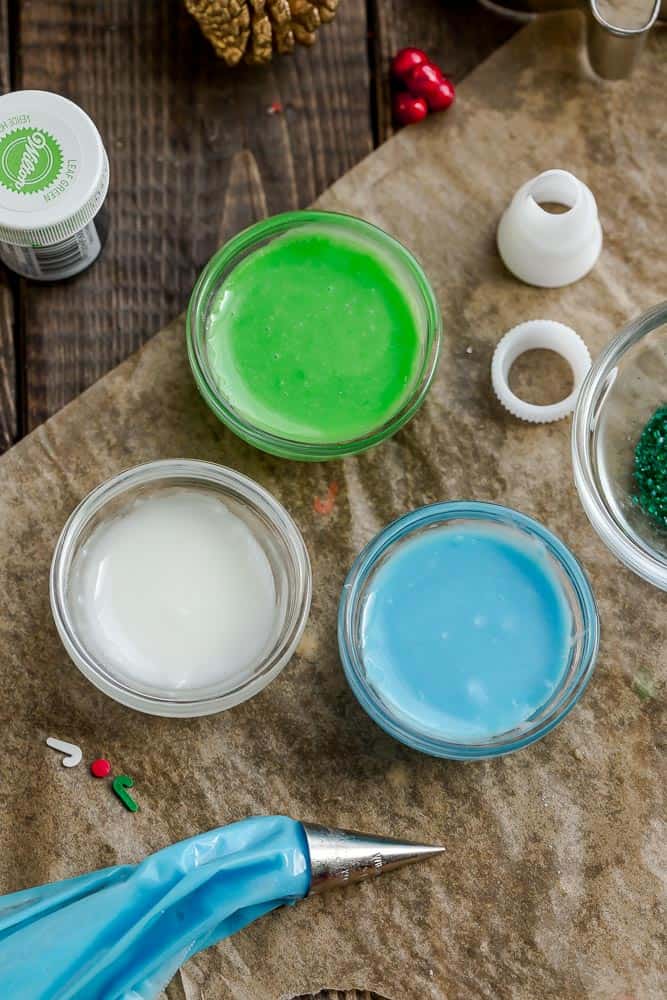 10. Storing Your Cookies
Now if you don't plan to decorate your cookies the day they are baked, just let them cool completely and then transfer to a container with a lid.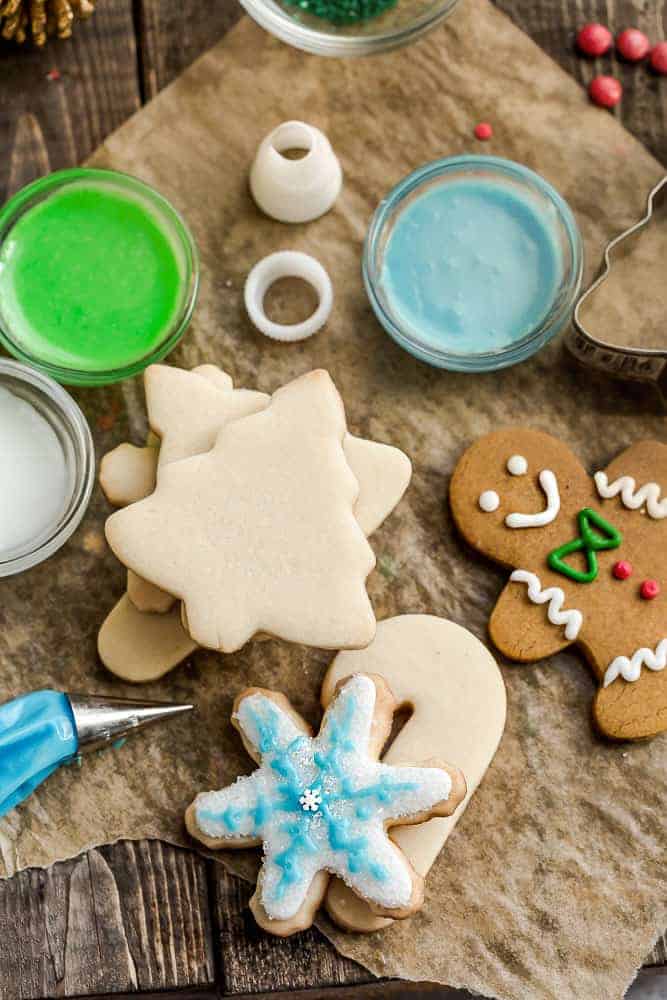 Lay parchment paper in between the layers to help them from sticking to each other.
You can freeze the cookies as is as well. Just place a sheet of parchment paper in between layers and freeze. You can lay them flat in a sealed bag or container.
More holiday cookies:
Royal Icing Recipe plus Decorating Tips
50+ Must Have Cookies for the Holiday Cookie Platter
Shortbread Thumbprint Cookies – 7 Ways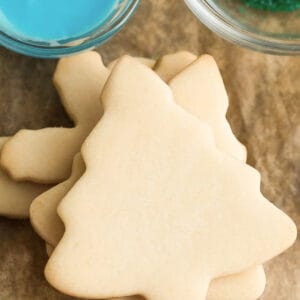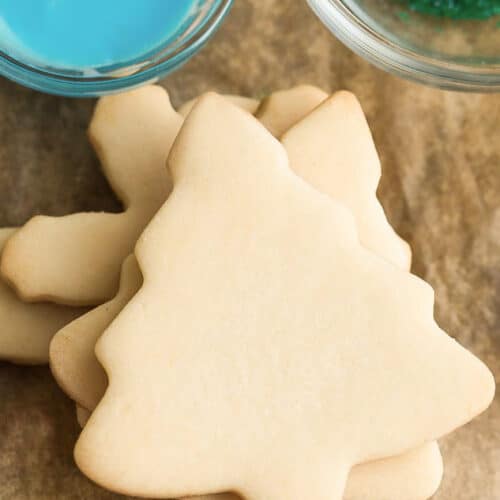 Perfect Sugar Cookies for Cut Out Christmas Shapes
This is the best sugar cookie recipe for making decorated cut out shapes with perfect edges. These chewy cookies bake up soft, flavorful, and are easy to make with just 6 ingredients. 
Keyword:
best sugar cookie recipe, best sugar cookies, christmas cookies, christmas sugar cookies, easy sugar cookie recipe, homemade sugar cookies, royal icing, sugar cookie recipe
Servings
:
32
cookies (depending on the size of your shapes)
Ingredients
2-1/2

cups

sifted all purpose flour

3/4

cup

superfine sugar

1/4

teaspoon

salt

1

cup

unsalted butter

cut into 1/2-inch pieces, softened

2

Tablespoons

cream cheese

softened

2

teaspoons

pure vanilla extract
For Decorating Cookies:
Royal Icing or Frosting in various colors

Sprinkles

Royal Icing

4

cups

sifted powdered sugar

3

Tablespoons

meringue powder

1/2

teaspoon

pure vanilla extract

6-8

Tablespoons

warm water

less for stiff icing and more for thin icing

Gel food coloring

optional
Instructions
In a stand mixer fitted with the paddle attachment turned to low speed, mix the flour, sugar, and salt together until combined.

Add the butter, 1 cube at a time, and mix until the dough looks crumbly and slightly wet about 2 minutes.

Add the vanilla and cream cheese and beat for another 30-60 seconds until the dough just begins to form large clumps, scraping down the sides of the bowl as needed.

Gather dough with hands and knead just until it sticks together. Divide dough in half and shape into discs. Wrap each half in plastic and chill in the refrigerator for at least 45 minutes (or up to 2 days).

Line two large baking sheets with parchment paper. Set aside. When ready to roll, remove and unwrap one dough disc from the fridge.

Place a large piece of parchment paper on a flat surface. Place dough in the center. Place another large parchment paper on top of the dough and using your rolling pin, roll into 1/4 inch thickness (1/8 inch for thinner cookies). Place the sheet in the freezer for 10 minutes and grab the other dough and repeat.

Remove the first dough sheet from the freezer and remove the top parchment paper. Cut into shapes with cutters of your choice. Place cut cookies on lined baking sheets, about 1 inch apart and place in freezer again for 10 minutes (to prevent spreading). Repeat with the other dough sheet and any scraps.

Preheat oven to 375° F.

Bake cookies, one sheet at a time, on the middle rack for 8-10 minutes, rotating the pan halfway, or until edges are light golden brown (do not overbake).

Allow cookies to cool on baking sheet for 3 minutes, then transfer to wire rack to cool completely.

Frost or decorate cookies as desired.

For royal icing: Beat all ingredients together until icing forms peaks, about 7 minutes.

Tint with gel food coloring as desired and frost cookies.
Recipe Notes
*Total time includes chilling
Adapted from America's Test Kitchen
Nutrition Facts
Perfect Sugar Cookies for Cut Out Christmas Shapes
Amount Per Serving (1 cookie (with icing))
Calories 166
Calories from Fat 54
% Daily Value*
Fat 6g9%
Carbohydrates 27g9%
Protein 1g2%
* Nutrition facts are provided as a courtesy using the WPRM recipe calculator. It is best to make your own calculations to ensure accuracy. We expressly disclaim any and all liability of any kind with respect to any act or omission wholly or in part in reliance on anything contained in this website. Percent Daily Values are based on a 2000 calorie diet.