How to make the best Holiday Cookie Box perfect for Christmas cookie exchanges, family holiday parties and get-togethers! This guide includes the best holiday cookie recipes with tips and tricks plus lots of options for gluten-free, low carb, keto, paleo, sugar-free and dairy-free.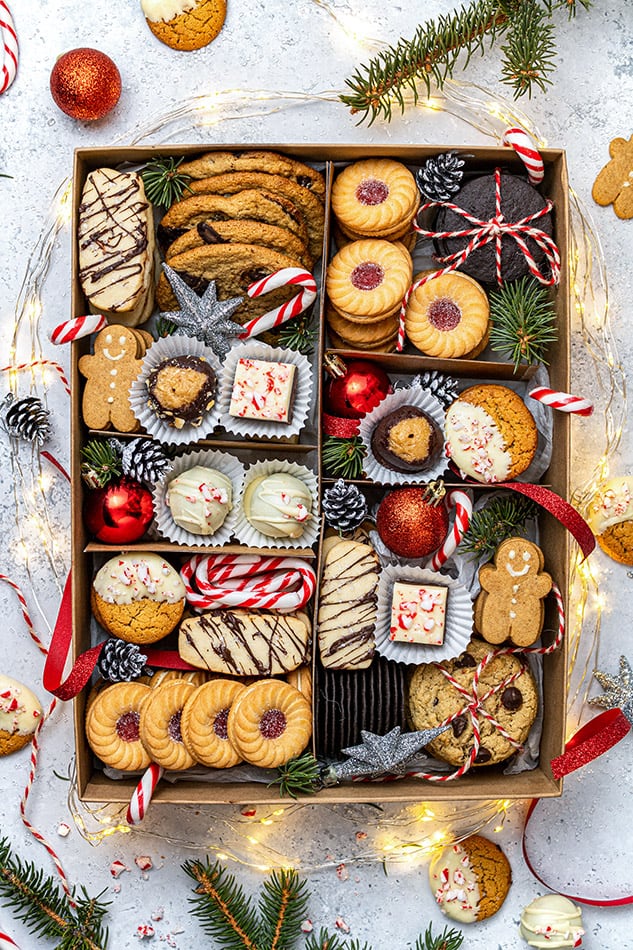 PIN HERE for later and follow my boards for more recipe ideas
Updated December 2022
Easy Holiday Cookie Box Guide
'Tis the season for cookie season and all the holiday cookie swaps. Have you ever wondered how to make the best Cookie Box? It's the perfect gift for Christmas or as a delicious addition to the dessert table at any December holiday party or all year long!
Plus, cookie boxes are actually pretty easy to put together and this guide will show you the key steps on how to make the perfect cookie box for Christmas including lots of helpful tips and tricks.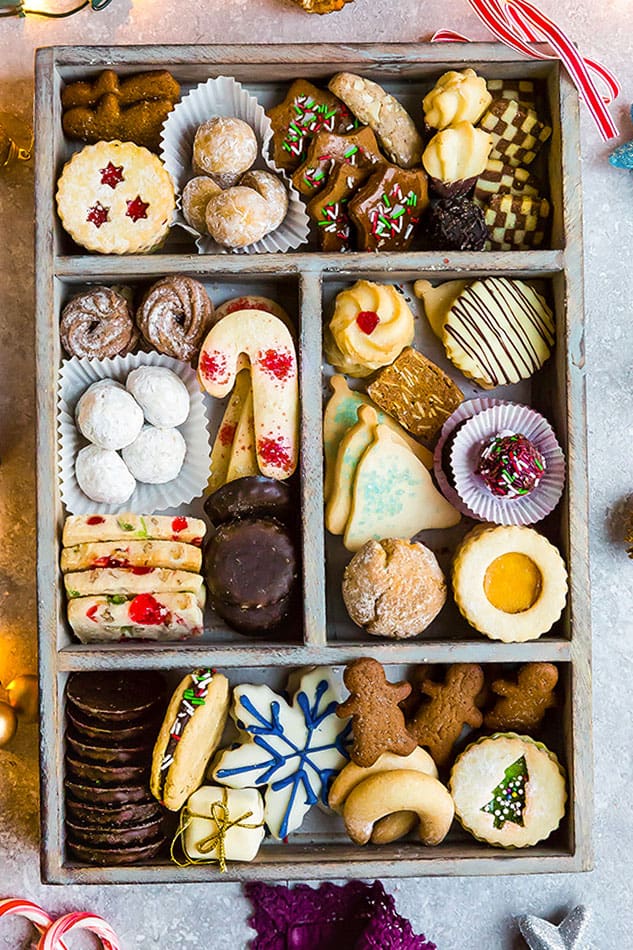 How to make a Cookie Box
When it comes to making the best holiday cookie box, there really is no right or wrong way.
Choose an assortment of cookies:

Pick a few of your favorite Christmas cookies, at least four to five in different shapes and sizes. You also want to choose cookies that are sturdy and will hold up well if you plan on shipping or transporting the box. You can fill your box with a medley of store-bought and homemade holiday cookies. This helps to give you a variety without having to bake everything from scratch.

Build your box:

Start with open wooden box and use dividers to separate your cookies. I found my box at Michaels but you can also try Hobby Lobby, Target or even Walmart in the craft section. If you don't have a wooden box, you can also use a sturdy heavy-duty cardboard box or cookie tins and add dividers or tissue paper.

For the dividers – you can either make your own cardboard dividers or you can also use cupcake or parchment paper liners.

Organize your cookies:
Best cookies for your cookie box
You want to choose sturdy cookies that will hold up but also cookies that are visually appealing so that your Christmas cookie box will pop! Here our some of our favorite Christmas cookies. They are all gluten-free, paleo with low carb, keto and vegan options: