Easy Apple Cider is the perfect festive homemade drink for fall and the holiday season. Best of all, this stovetop version is made with a blend of juices and infused with warm cinnamon and cloves.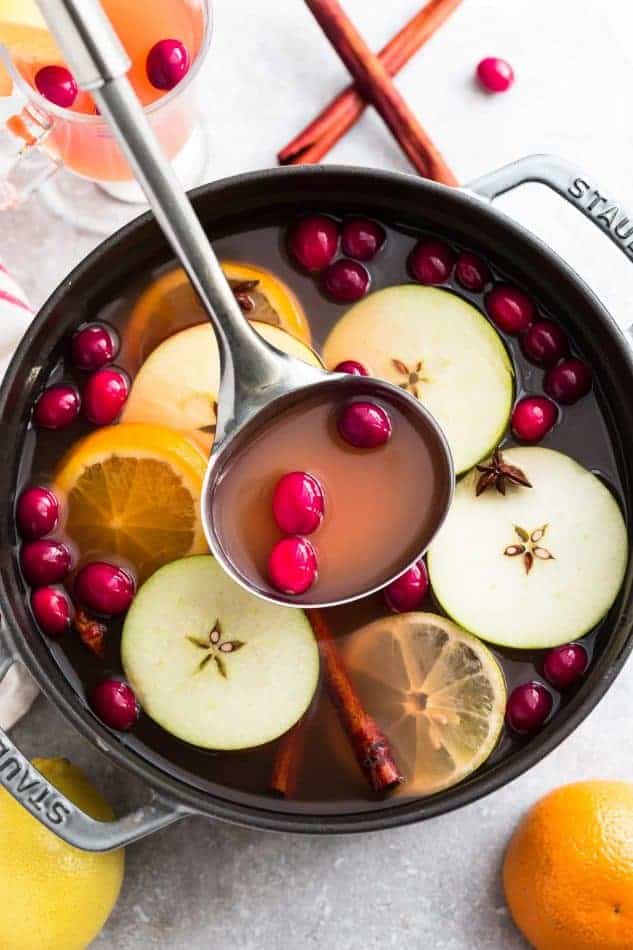 With all the holiday festivities happening, no holiday party is complete without a festive drink to sip on. Homemade apple cider is a classic favorite and tastes amazing whether you serve it hot or iced.
We've already shared this Instant Pot and slow cooker from scratch version.
But since the holidays can be somewhat crazy, today I'm sharing a super easy Apple Cider made on the stovetop.
If you've never made homemade apple cider, you totally have to try it!
For the sake of convenience, I absolutely support buying a big gallon of apple cider from the store. But if you're making it for a party or the holidays, this homemade stovetop version is a sure way to impress all of your friends, family and any guests.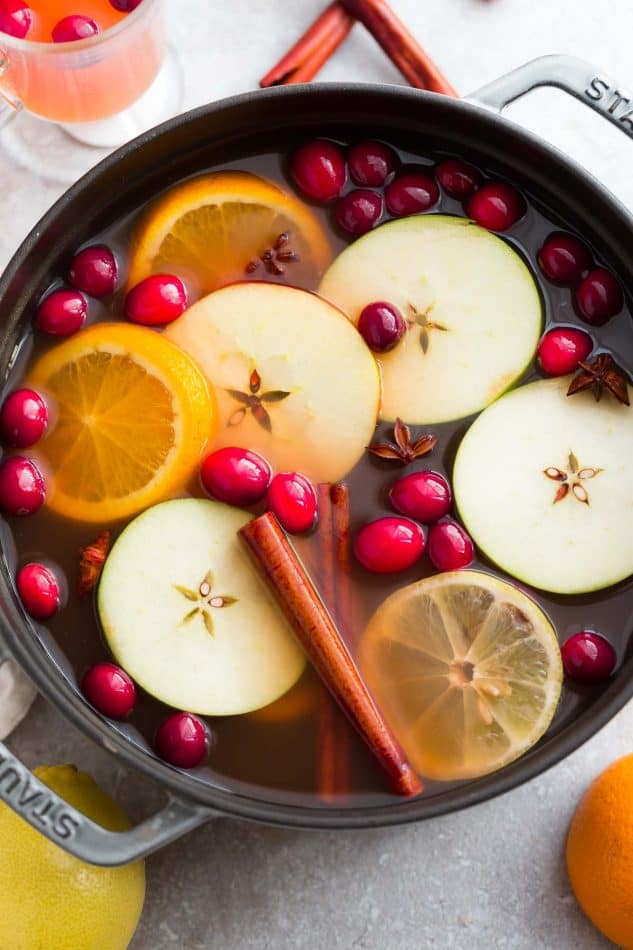 HOW TO MAKE THIS EASY APPLE CIDER ON THE STOVETOP
This easy apple cider starts off with some apple juice, cranberry juice and orange juice.
Wrap up some cinnamon cloves and a star anise into a cheesecloth and then just simmer away on your stovetop for 30 minutes or so.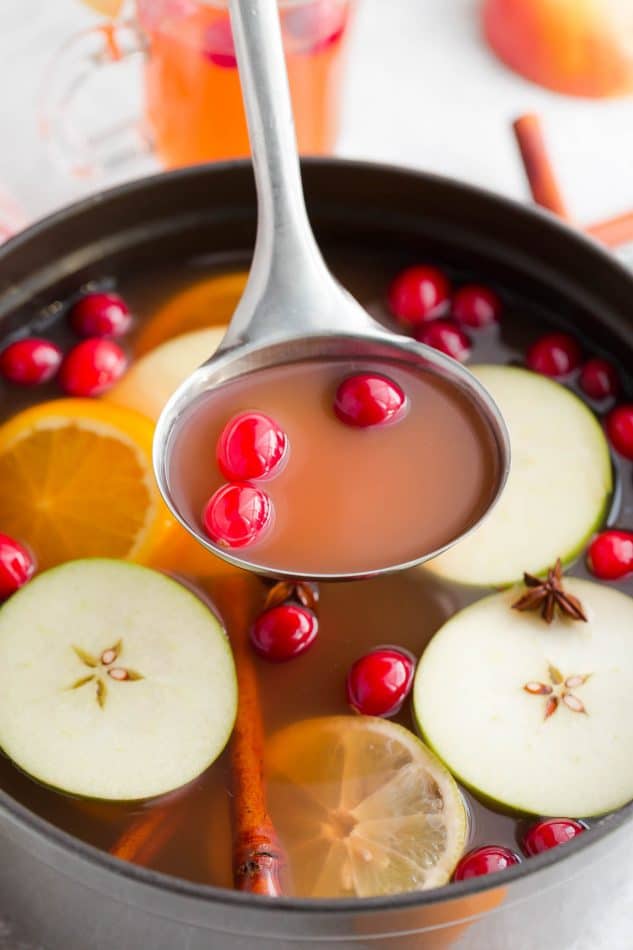 I just love the combination of apples, orange, cranberries during the holidays. And when you infuse them with those warm spices, it's going to make your house smell absolutely amazing.
Grab a warm mug and cuddle up by the fireplace. Or add some caramel and whipped cream for a dessert drink.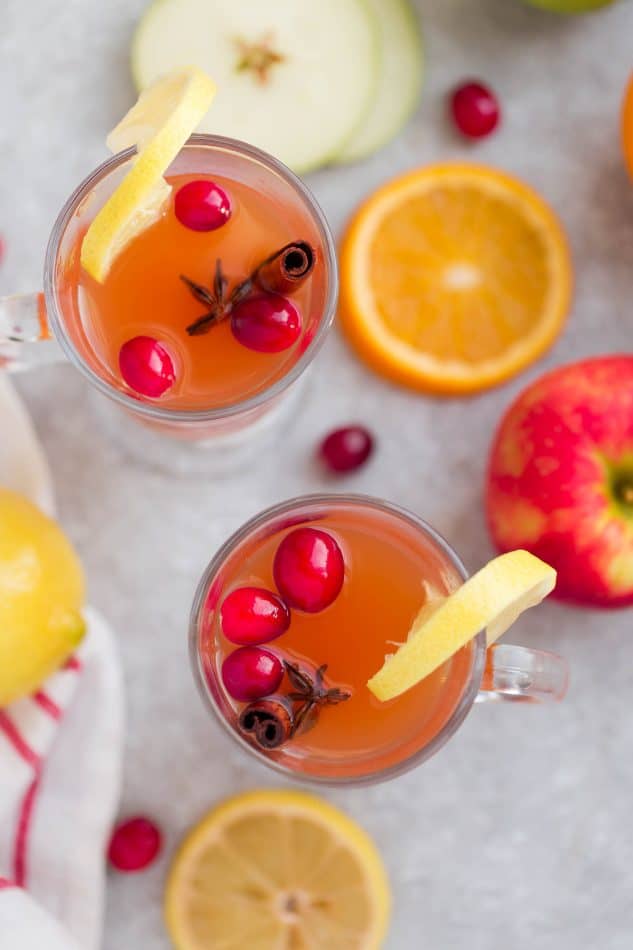 Easy Apple Cider with Cranberry and Orange
Stovetop Easy Apple Cider is the perfect drink for fall and the holidays!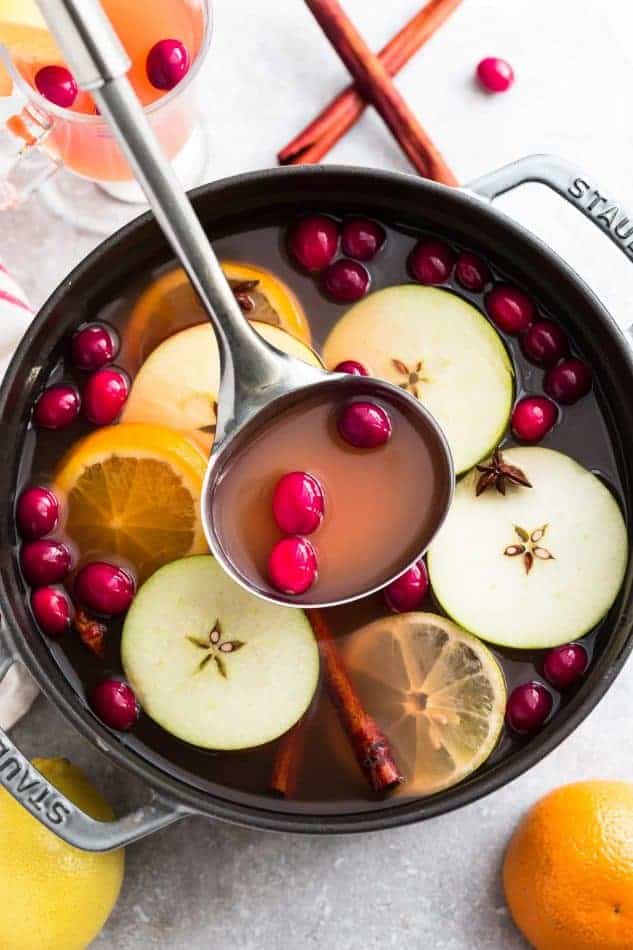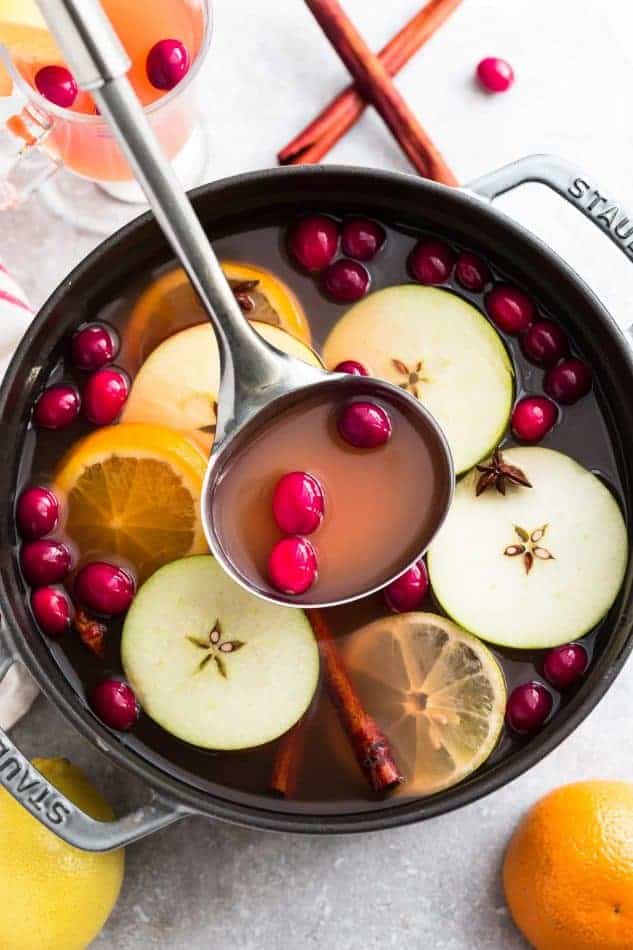 Ingredients
6

cups apple juice

2

cups cranberry juice

freshly squeezed orange juice from 2 oranges

2

cinnamon sticks

1/2

teaspoon whole cloves

1/2

star anise

1/4

cup sweetener or your choice, to taste (honey, maple syrup, brown sugar etc.)

cheesecloth, for tying the spices together

1

apple, unpeeled and cut into quarters
Instructions
Heat the apple juice cranberry juice and orange juice in a dutch oven or large pot. Once heated, stir in sweetener to dissolve.
Tie the cinnamon sticks, cloves and star anise into the cheesecloth and drop in the pot. Add the remaining fruit. Bring to a low boil then lower heat and allow to simmer for 30 minutes.
Discard cheesecloth and any solids. Serve hot.

HAVE YOU MADE THIS RECIPE? 
I'd love to see! Just snap a photo and hashtag it #LIFEMADESWEETER or tag me @lifemadesweeter on Instagram!
More apple cider: