This vibrant and nutritious Broccoli Salad is packed with crisp florets, red onions, shredded cabbage, grated carrots, and a delightful medley of seeds and nuts, topped with a tangy dressing that brings all the flavors together for a perfect blend of taste and health. Indulge in this refreshing salad for lunch or bring it as a side dish to your next summer gathering.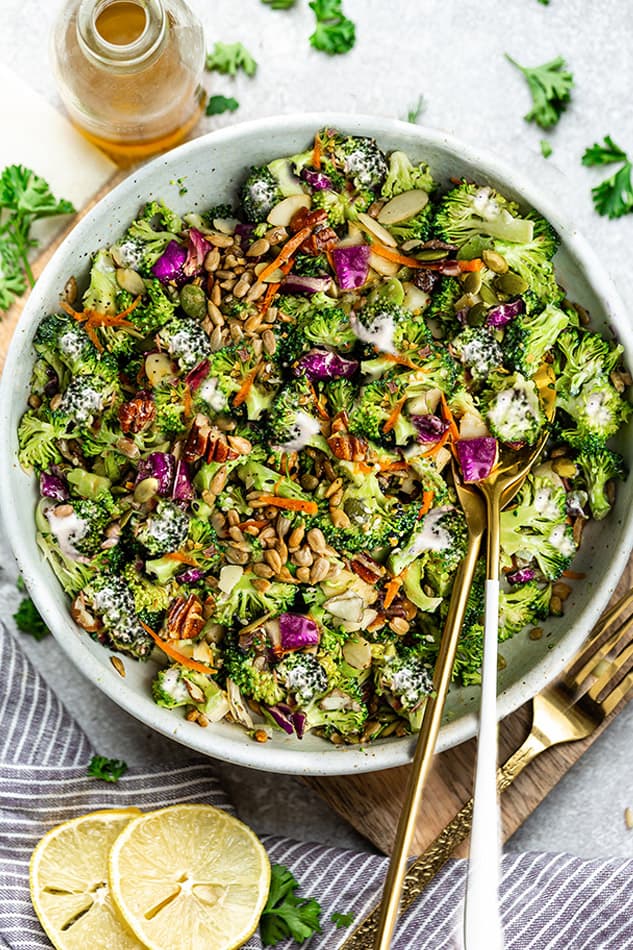 Pin HERE for later and follow my boards for more healthy recipes
Updated July 2023
Favorite Broccoli Salad Recipe
Elevate your salad game with our delectable Broccoli Salad recipe. This refreshing and wholesome salad is bursting with vibrant colors, satisfying textures, and a tangy dressing making it perfect for summer barbecues, picnics and potlucks.
Whether you enjoy it as a main course, a side dish, or at a picnic, it's bound to impress. Customize it with your favorite add-ins, explore different variations, and enjoy the nutritious benefits of this delightful salad. Whether you're a dedicated health enthusiast or simply seeking a delightful dish, this recipe is a must-try and always a crowdpleaser. Say goodbye to boring salads and hello to a refreshing and nourishing dish.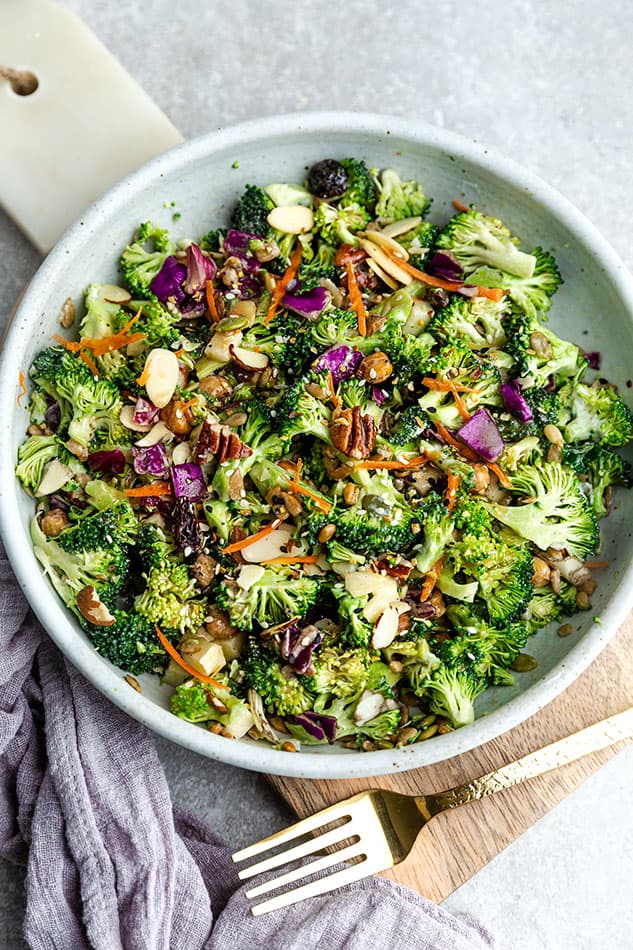 What Makes This Salad Healthier?
Unlike the classic favorite salad hat you may have grew up with in the midwest, this healthy broccoli salad stands out as a healthier choice due to the inclusion of nutrient-dense ingredients, minimal added sugars, healthier dressing options, and the opportunity for customization. It doesn't contain canola oil mayo or cheese.
It's dairy free and also Whole30 compliant, keto, low in carbs and includes a vegan option but you can also add in any protein of your choice to make it a complete meal. Plus, we love that it's make-ahead friendly and perfect for meal prep.
Is broccoli salad good for you?
Definitely! Broccoli is loaded with a ton of healthy vitamins, nutrients, high in fiber and folate and this keto broccoli salad is loaded a whopping 5 cups of broccoli. You can read more about broccoli's benefits here.
Recipe Ingredients
Fresh Broccoli: The star of our salad, broccoli, is a nutritional powerhouse packed with essential vitamins, minerals, and antioxidants. Its tender florets provide a delightful crunch, making each bite refreshing and satisfying.
Red Onions: Finely diced red onions add a mild and tangy flavor to the salad. They offer a subtle kick that perfectly complements the other ingredients, enhancing the overall taste profile.
Red Cabbage: With its vibrant hue, red cabbage not only adds visual appeal but also brings a crisp and slightly peppery taste to the salad. It provides a satisfying contrast to the other ingredients, making each forkful enjoyable.
Carrots: Grated carrots introduce a touch of natural sweetness to the salad. They not only enhance the flavor but also offer a boost of beta-carotene, an antioxidant that promotes healthy skin and eyes.
Roasted Sunflower Seeds: These nutty and crunchy seeds contribute both texture and flavor to the salad. Packed with healthy fats and protein, they provide a nutritious element to the dish.
Sliced Almonds: Sliced almonds lend a delicate nuttiness and a satisfying crunch to the salad. Known for their heart-healthy fats and vitamin E content, they are a wholesome addition.
Chopped Pecans: Chopped pecans bring a buttery richness to the salad, enhancing its flavor profile. Alongside being a great source of antioxidants, pecans contain healthy monounsaturated fats that are beneficial for heart health.
Optional Add-Ins:
Cooked and Chopped Bacon: If you enjoy a savory twist, consider adding cooked and chopped bacon. Its smoky flavor complements the other ingredients, elevating the taste of the salad.
No Sugar-Added Cranberries or Raisins: For a touch of sweetness, you can incorporate no sugar-added cranberries or raisins. They provide bursts of fruity flavor and a pleasant chewiness.
Dressing
To complete the Broccoli Salad, we have a tangy dressing that brings all the ingredients together. Here's what you'll need:
Compliant Avocado Oil Mayo or Dairy-Free Plain Yogurt: This ingredient serves as the creamy base for the dressing, adding richness and texture. We recommend Primal Kitchen avocado oil mayo or Kite-Hill dairy-free plain yogurt.
Sunflower Seed Butter or Tahini: Adding depth and nuttiness, sunflower seed butter or tahini can be used interchangeably in the dressing. They infuse the salad with a delightful flavor.
Apple Cider Vinegar: Tangy and slightly sweet, apple cider vinegar brings a zing to the dressing. It acts as a balancing element and enhances the overall taste of the salad.
Garlic Powder: A touch of garlic powder provides a savory kick and adds depth to the dressing's flavor profile.
Fine Sea Salt: Adding a perfect balance of saltiness, fine sea salt elevates the taste of the dressing and complements the other ingredients.
Black Pepper: A pinch of black pepper adds a subtle hint of heat and complexity to the dressing, rounding out the flavors.
The dressing ties all the components of the salad together, delivering a tangy and creamy sensation that will make your taste buds dance with delight.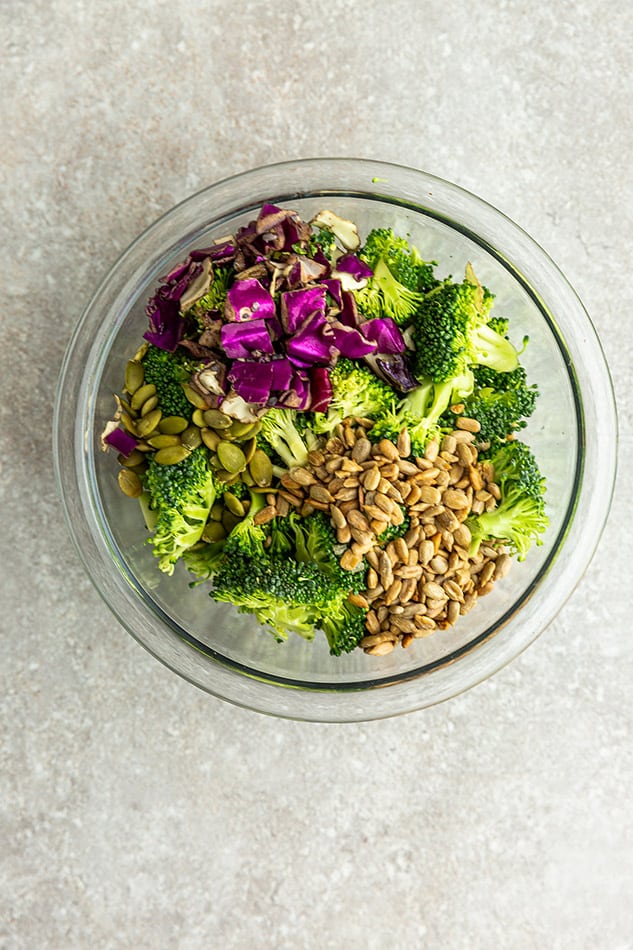 How to make Broccoli Salad
Prepare the Broccoli: Wash and cut the broccoli into bite sized pieces and drain well! If you prefer your broccoli slightly cooked, you can blanch it in boiling water for 1 minute. This will enhance their color and texture for the salad.

Cut the Vegetables: Chop the red cabbage and onions.
Add to a Bowl: Toss all of the salad ingredients into a large bowl.
Make the Dressing: Mix together the sunflower seed butter, apple cider vinegar, salt, pepper and either the compliant mayo or dairy-free yogurt.
Toss with the Dressing: Drizzle half the dressing into the bowl and toss all the ingredients together. Reserve the rest to drizzle on the salad just before serving.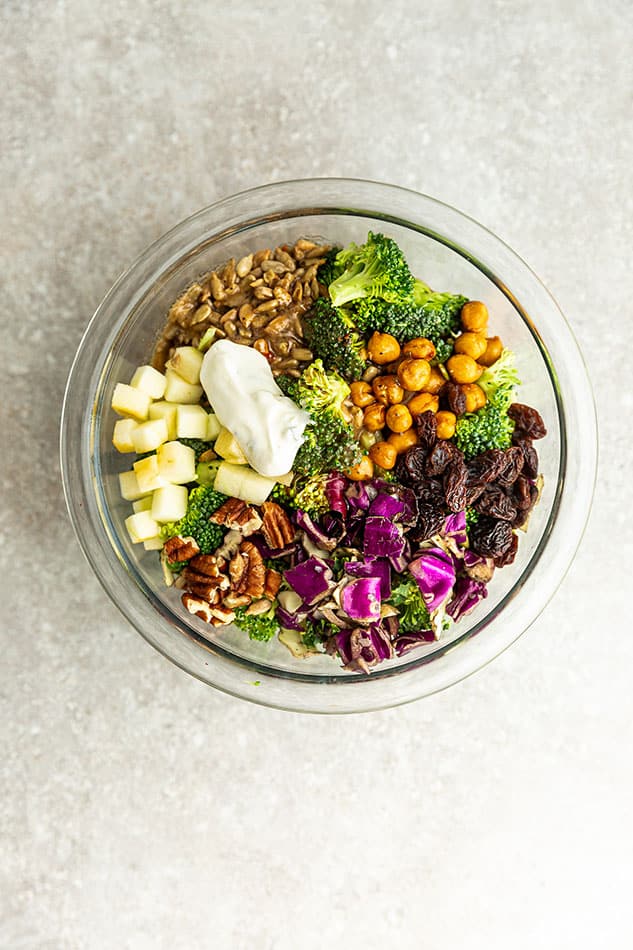 Tips for Success:
Choose Fresh Ingredients: To ensure maximum flavor and nutritional value, select fresh and crisp broccoli florets. Look for vibrant red onions, firm red cabbage, and plump carrots, as they will contribute to the overall appeal of the salad.
Customize the Dressing: Our recipe offers a delectable dressing using compliant avocado oil mayo or dairy-free plain yogurt. However, feel free to experiment and use your favorite dressing. You can substitute sunflower seed butter with tahini to explore different flavor profiles.
Adjust the Dressing: After whisking the dressing ingredients together, take a moment to taste and adjust the flavors as needed. You can add more salt, pepper, or apple cider vinegar to suit your personal preferences.
Allow Time to Chill: To enhance the flavors and allow the ingredients to meld together, chill the salad for at least 40 minutes before serving. This step ensures a refreshing and well-marinated salad.
Blanching Broccoli: If you prefer a softer texture or have difficulty digesting raw broccoli, blanching is an excellent option. Simply blanch the florets in boiling water for one minute, then transfer them to a large ice bath. Drain well before adding them to the salad.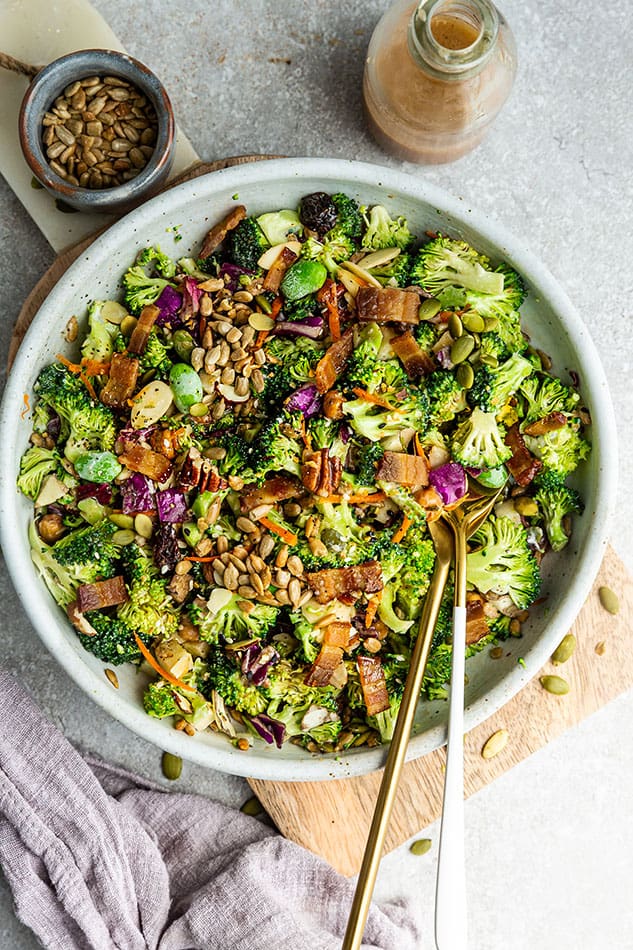 Is raw broccoli good in salad?
Yes, raw broccoli is delicious in this paleo broccoli salad since it gets coated with the dressing which helps to soften it up. An important tip if you don't like raw broccoli is to chop up your broccoli florets into smaller pieces.
Another option is that you can blanch the broccoli florets first.
How to blanch broccoli
To blanch raw broccoli to use in a vegan broccoli salad, simply bring a pot of water to a rolling boil, add the florets into the water for 1 minutes. Then transfer the florets to an ice bath. This helps to stop the cooking process immediately to avoid soggy broccoli. Drain well before using.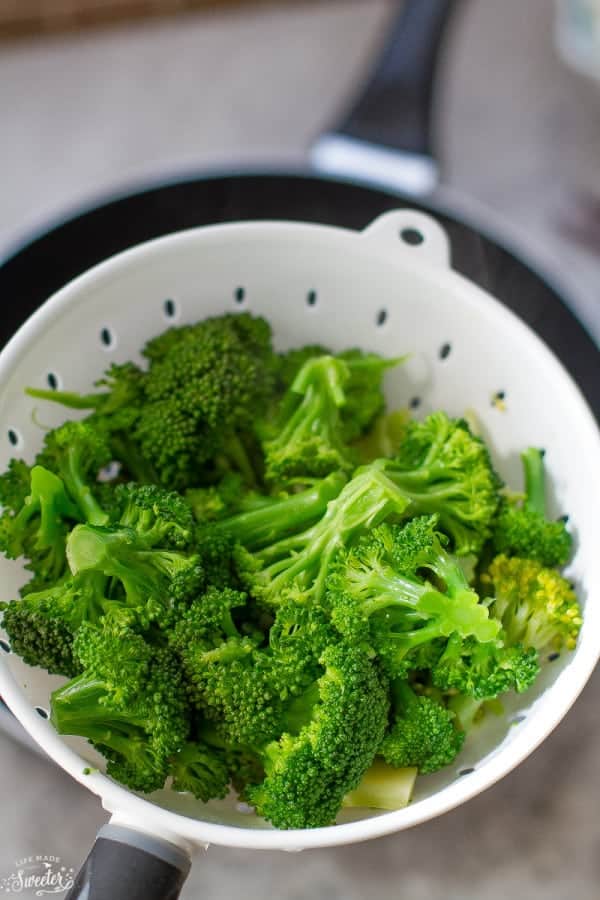 Storage and Freezer Instructions:
Refrigerate: If you have leftovers, store the Broccoli Salad in an airtight container in the refrigerator. It will remain fresh for up to three days. However, keep in mind that the texture of the salad may slightly change over time.
Freezing: Unfortunately, due to the delicate nature of the fresh ingredients, this salad is not suitable for freezing. To enjoy its vibrant flavors and textures, it's best to consume it fresh.
Serving Suggestions:
As a Main Course: Our Broccoli Salad can take center stage as a satisfying and nourishing main course. Serve it alongside grilled chicken or baked salmon for a well-rounded and wholesome meal.
Side Dish at BBQs: The vibrant colors and refreshing flavors of this salad make it an excellent addition to any BBQ or potluck gathering. It pairs perfectly with grilled meats, sandwiches, or veggie burgers.
Picnic Perfect: Pack this salad for a delightful picnic in the park. Its crunchy textures and vibrant colors make it an ideal accompaniment to sandwiches or wraps.
Variations and Substitutions:
Mediterranean Twist: To infuse a Mediterranean flair into the salad, add sliced Kalamata olives, crumbled feta cheese, and a sprinkle of dried oregano. Drizzle with a lemon-olive oil dressing for a zesty twist.
Asian Fusion: For an Asian-inspired version, incorporate chopped fresh cilantro, sliced scallions, and toasted sesame seeds. Toss the salad with a soy-sesame dressing to experience an explosion of umami flavors.
Vegan Adaptation: To make this recipe vegan-friendly, use dairy-free yogurt instead of avocado oil mayo. Additionally, substitute maple syrup for honey in the dressing for a touch of sweetness.
More broccoli recipes you will love: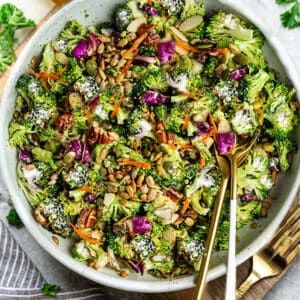 Broccoli Salad
Keyword:
barbecue side dish, BBQ side dish, broccoli salad recipe, pot luck side dish
Ingredients
1

medium head broccoli

, cut into bite-size florets (about 5 cups)

1/4

cup

finely diced red onions

1/4

cup

shredded red cabbage

3

Tbsp

grated carrots

3

Tbs

roasted sunflower seeds

2

Tbs

sliced almonds

2

Tbs

chopped pecans
OPTIONAL ADD-INS
cooked and chopped bacon

no sugar-added cranberries or raisins
FOR THE DRESSING:
2

Tbsp

compliant avocado oil mayo (we like Primal Kitchen)

OR dairy-free plain yogurt (we like Kite-Hill)

3

Tbsp

sunflower seed butter

, (can also sub with 2 tbsp tahini)

3

Tbsp

apple cider vinegar

1/2

tsp

garlic powder

1/2

tsp

fine sea salt

Pinch

of black pepper

water

, only as needed to thin out dressing
Instructions
Wash, drain and cut your broccoli into florets.**

Add to a large bowl with diced onions, cabbage, carrots and half of the seeds and nuts.

Whisk together dressing ingredients. Taste and adjust as needed.

Pour half of the dressing over salad and toss well to coat. Chill for at least 40 minutes.

Add remaining sunflower seeds and chopped nuts then drizzle on remaining dressing then toss again before serving.
Recipe Notes
**If you don't like raw broccoli, you can blanch in boiling water for 1 minute, then transfer to a large ice bath and drain well.
Nutrition Facts
Broccoli Salad
Amount Per Serving (1 serving)
Calories 192
Calories from Fat 117
% Daily Value*
Fat 13g20%
Carbohydrates 12g4%
Protein 7g14%
* Nutrition facts are provided as a courtesy using the WPRM recipe calculator. It is best to make your own calculations to ensure accuracy. We expressly disclaim any and all liability of any kind with respect to any act or omission wholly or in part in reliance on anything contained in this website. Percent Daily Values are based on a 2000 calorie diet.
Disclaimer: This updated post was generated on July 4 2023 by ChatGPT, an AI language model, and all info should be reviewed and validated by a human for accuracy and relevancy before implementation.