This Burger Bowl is a delicious and wholesome twist to satisfy that classic burger craving. Packed with vibrant greens, flavorful ground turkey, and a medley of toppings, this dish brings all the burger goodness without the bun.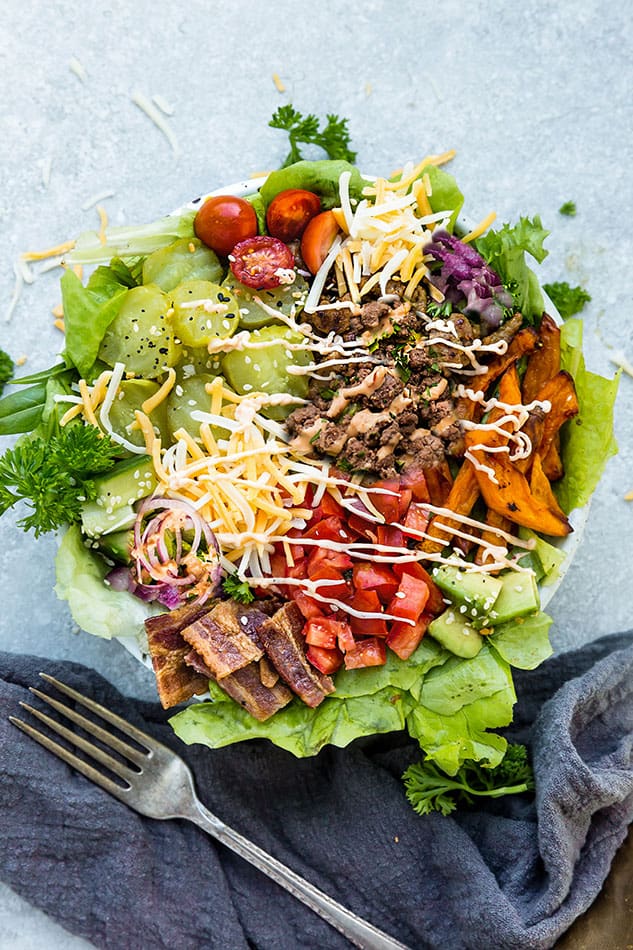 PIN HERE for later and follow my boards for more recipe ideas
Updated August 2023
Delicious and Nutritious Burger Bowl Recipe: A Flavorful Twist on Classic Burgers
Looking for a satisfying and healthy meal that's easy to prepare? This delectable Burger Bowl is packed with flavors and nutrients and a modern take on the traditional burger, minus the bun.
Whether you're aiming for a quick weeknight dinner or a delightful weekend lunch, this recipe has got you covered. With customizable options and a burst of flavors in every bite, it's time to savor the joy of a burger in bowl form. Plus, it works even if you're following a Whole30, Paleo, or just a wholesome eating plan, this deconstructed  burger in a bowl is the perfect choice.
Ingredients You'll Need
Creating the perfect Burger Bowl starts with the right ingredients. Each component plays a crucial role in delivering a satisfying and nutritious meal:
Ground Turkey: Lean and protein-packed, ground turkey serves as the foundation of our Burger Bowl, delivering a savory and juicy bite.
Avocado Oil: A heart-healthy oil that's perfect for sautéing the ground turkey, adding a hint of richness to the dish.
Garlic Powder: This aromatic seasoning infuses the meat with a burst of savory flavor, enhancing the overall taste.
Salt and Black Pepper: Essential seasonings that elevate the taste of the ground turkey and create a well-balanced flavor profile.
Green Leaf Lettuce: A refreshing bed of greens that adds a crisp texture and a boost of vitamins and minerals to the bowl.
Crispy Bacon: For a satisfying crunch and a smoky, indulgent touch.
Sliced Cucumbers: These cool and hydrating slices add a refreshing contrast to the warm components of the bowl.
Pickles: Tangy and briny, pickles bring a burst of flavor and a satisfying zing to every bite.
Avocado: Creamy and nutrient-dense, avocado provides healthy fats and a luscious, buttery texture.
Cherry Tomatoes: These sweet and juicy gems add color, freshness, and a burst of acidity to balance the dish.
Red Onion: A pungent and vibrant addition that contributes a mild bite and layers of flavor.
Crispy Sweet Potato Fries: No burger is complete without a side of fries. Feel free to top your burger bowl with our Air Fryer Fries if you're not a fan of sweet potatoes.
Shredded Cheese (Optional): For those looking to indulge a bit, shredded cheese adds a melty, gooey element to the bowl. Use dairy-free or omit for Whole30.
Optional Sauce: A delicious blend of Whole30 compliant avocado oil mayonnaise, ketchup, and coconut aminos, enhancing the taste experience.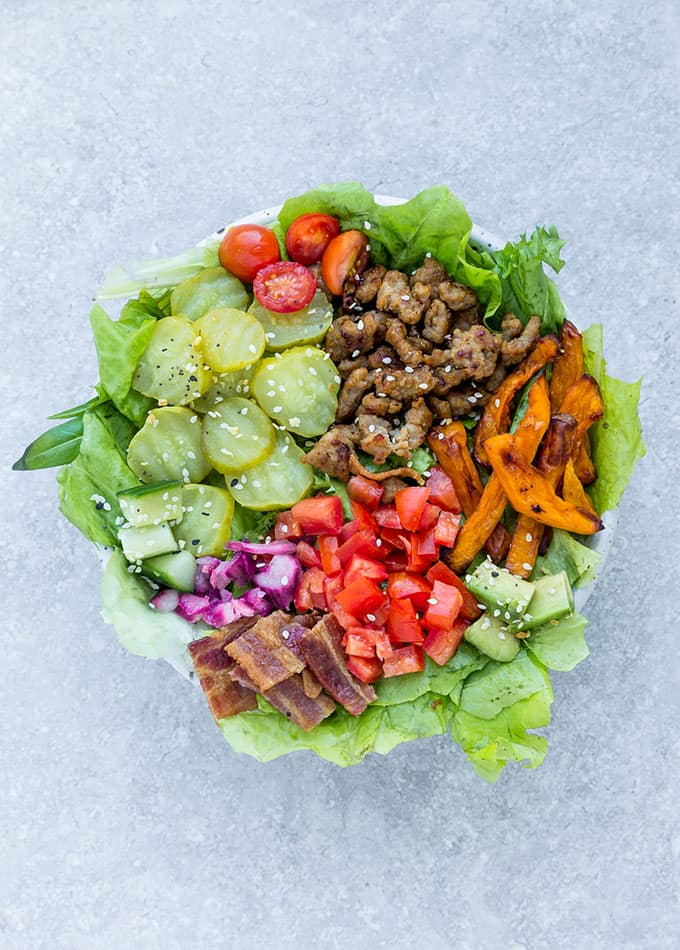 Instructions: How to make a Burger Bowl
Cook Ground Meat: Heat avocado oil in a skillet over medium heat. Add ground meat and season with garlic powder, salt, and pepper. Cook until browned, breaking it apart as it cooks. Drain any excess grease.
Assemble the Bowl: Begin with a bed of fresh greens like lettuce. Place the cooked ground meat in the center of the bowl. Arrange bacon, cucumbers, pickles, avocado, cherry tomatoes, and red onion around the meat.
Prepare Optional Sauce: Mix Whole30 compliant avocado oil mayonnaise, ketchup, and coconut aminos to create a flavorful sauce.
Drizzle and Serve: Drizzle the optional sauce over the Burger Bowl. Your masterpiece is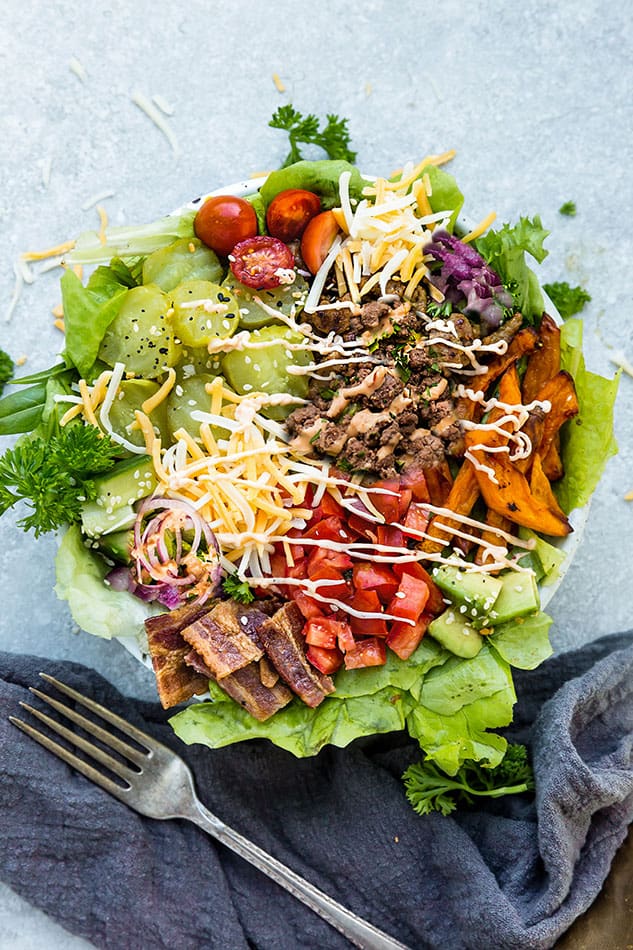 Tips for Success
Sautéing the Ground Turkey: Heat up a skillet with avocado oil and cook the ground turkey with garlic powder, salt, and black pepper until beautifully browned. Remember to crumble the meat as it cooks for a perfect texture.
Layering the Bowl: Start with a base of fresh green leaf lettuce. Arrange the cooked ground turkey in the center and artfully position the bacon, cucumbers, pickles, avocado, cherry tomatoes, red onion, and shredded cheese (if using) around the meat.
Saucy Delights: Mix up the optional sauce ingredients – avocado oil mayonnaise, ketchup, and coconut aminos. Drizzle this irresistible blend over your Burger Bowl for an extra layer of lusciousness.
Storage and Freezer Instructions
If you find yourself with leftovers, fear not! Your Burger Bowl can be stored in an airtight container in the refrigerator for up to 2 days. To freeze, pack individual portions in freezer-safe containers and enjoy within 2-3 months. Simply thaw in the refrigerator before reheating.
Serving Suggestions
The beauty of the Burger Bowl lies in its versatility. Feel free to get creative with your toppings – try diced bell peppers, shredded carrots, or even a sprinkle of your favorite nuts for added crunch. The optional sauce can also be adjusted to your taste, creating a personalized flavor sensation.
Variations and Substitutions: Tailoring to Your Taste
Vegetarian Twist: Swap the ground turkey for plant-based crumbles or grilled portobello mushrooms for a satisfying Veggie Burger Salad.
Protein Power: Experiment with ground chicken, lean beef, or even ground pork for diverse flavor profiles.
Dairy-Free Delight: Skip the cheese or opt for dairy-free alternatives to accommodate dietary preferences.
Frequently Asked Questions (FAQ) 
Q1: What is a Burger Bowl? A Burger Bowl is a creative take on the classic burger. It's a deconstructed version where all the components of a burger – such as ground meat, veggies, and toppings – are arranged in a bowl, providing a wholesome and satisfying meal without the bun.
Q2: What ingredients are typically found in a Burger Bowl? A Burger Bowl typically includes a base of fresh greens (lettuce, spinach, etc.), cooked and seasoned ground meat (beef, turkey, chicken, or plant-based options), toppings like bacon, avocado, tomatoes, pickles, and onions, and an optional sauce for added flavor.
Q3: Is a Burger Bowl a healthy option? Absolutely! A Burger Bowl allows you to enjoy the flavors of a burger while incorporating nutrient-rich ingredients like greens and colorful veggies. It can be tailored to various dietary preferences and is a great way to pack in vitamins, minerals, and protein.
Q4: Can I meal prep Burger Bowls in advance? Absolutely! Burger Bowls are excellent for meal prepping. You can prepare the cooked meat, chop the veggies, and assemble the components in separate containers. When you're ready to eat, simply arrange the ingredients in a bowl and enjoy.
Q5: How can I make my Burger Bowl more kid-friendly? Getting creative with presentation can make Burger Bowls more appealing to kids. Let them customize their own bowls by offering a variety of toppings and encourage them to build their perfect "burger" in a bowl.
We hope these FAQs have provided you with valuable insights into the world of Burger Bowls. Remember, this versatile and flavorful dish is all about enjoying the goodness of a burger in a unique and health-conscious way. Happy Burger Bowl crafting!
More burger recipes you will love: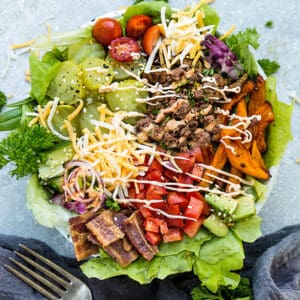 Burger Bowl
This Burger Bowl is a delicious and wholesome twist to satisfy that classic burger craving. Packed with vibrant greens, flavorful ground turkey, and a medley of toppings, this dish brings all the burger goodness without the bun.
Keyword:
burger bowl, burger in a bowl, keto burgers, low carb burgers, paleo burger
Ingredients
1/3

lb

ground turkey

1/2

teaspoon

avocado oil

2

teaspoons

garlic powder

salt and black pepper

, to taste

2

cups

green leaf lettuce

, butter lettuce or greens of choice

2

strips

cooked crispy bacon

, roughly chopped

1/4

cup

sliced cucumbers

3

sliced pickles

1/2

avocado

, sliced

2

cherry tomatoes

, cut into halves

1

tablespoon

red onion

, chopped

1-2

tablespoons

shredded cheese

, use dairy-free if needed or leave out for Whole30 and Paleo

1/4

cup

crispy sweet potato fries
Instructions
In a large skillet, heat avocado oil over medium heat, add ground meat and season with garlic powder, salt and pepper. Cook until brown, while crumbling and drain any excess grease.

Assemble bowl starting with greens then add browned meat and arrange remaining toppings around meat.

Mix the ingredients together for the sauce, top over burger bowl and serve.
Recipe Notes
Please note the nutritional info is without the cheese and sauce. 
Nutrition Facts
Burger Bowl
Amount Per Serving (1 serving)
Calories 581
Calories from Fat 342
% Daily Value*
Fat 38g58%
Carbohydrates 19g6%
Protein 46g92%
* Nutrition facts are provided as a courtesy using the WPRM recipe calculator. It is best to make your own calculations to ensure accuracy. We expressly disclaim any and all liability of any kind with respect to any act or omission wholly or in part in reliance on anything contained in this website. Percent Daily Values are based on a 2000 calorie diet.
Disclaimer: This updated post was generated in August, 2023 by ChatGPT, an AI language model, and all info should be reviewed and validated by a human for accuracy and relevancy before implementation.