These Cabbage Dumplings are a savory twist on traditional crispy dumplings featuring Napa cabbage, mushrooms, tofu, and more. Satisfy your Chinese take-out style dumpling cravings with this delectable fusion of flavors!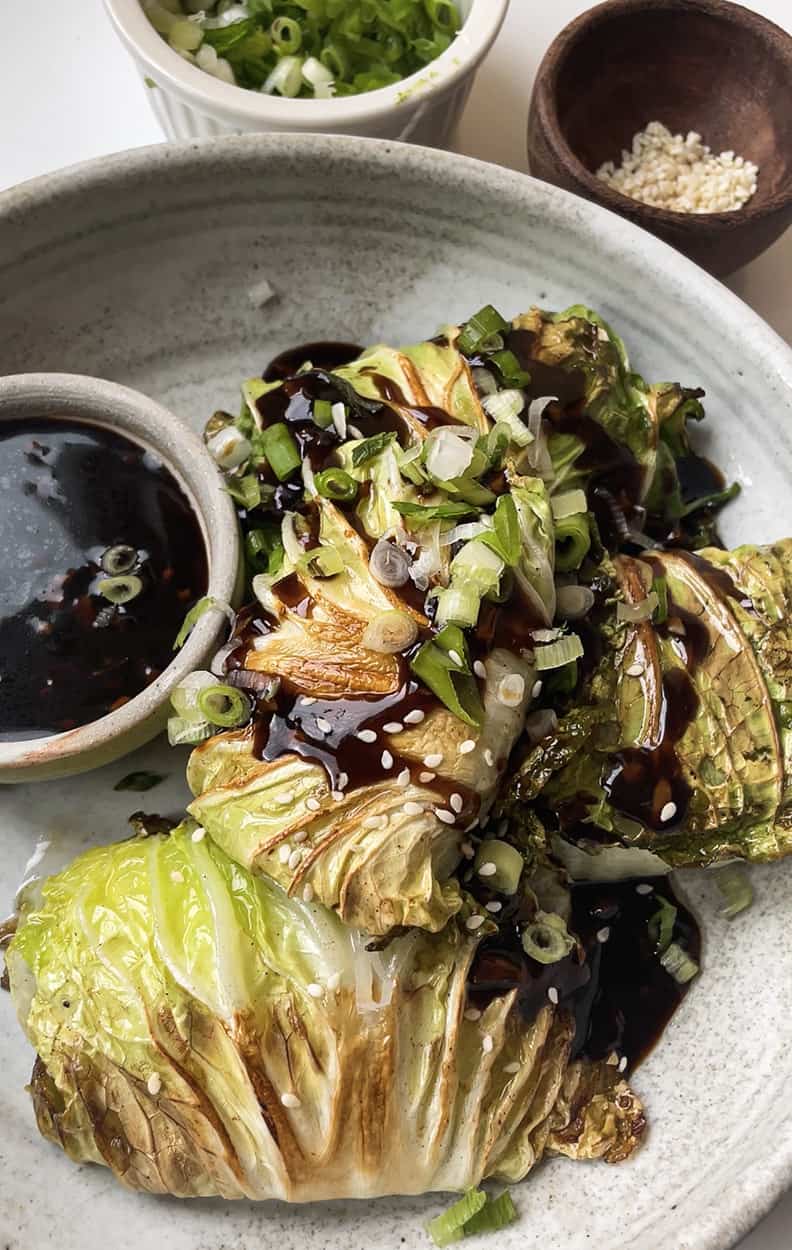 Cabbage Dumplings: A Flavorful Delight for Dumpling Lovers
If you're a fan of dumplings, get ready to be amazed by this delectable Cabbage Dumplings recipe. These cabbage roll dumplings are a healthy and unique twist to traditional Chinese dumplings. They are not only packed with flavor but also loaded with nutritious ingredients. Made with a harmonious blend of flavors and a satisfying crunch, these mini cabbage rolls are a delightful treat that blends textures, Asian-inspired flavors, and aromas.
With their delicate cabbage exterior and a flavorful filling that's a fusion of ingredients, these Chinese cabbage dumplings are a testament to the art of Asian cuisine. Craft them for a family feast, a gathering of friends, or simply to satisfy your dumpling cravings, this recipe is perfect for any occasion.
Whether you're a seasoned dumpling enthusiast or a newbie looking to expand your culinary repertoire, these Chinese cabbage rolls will leave you craving for more.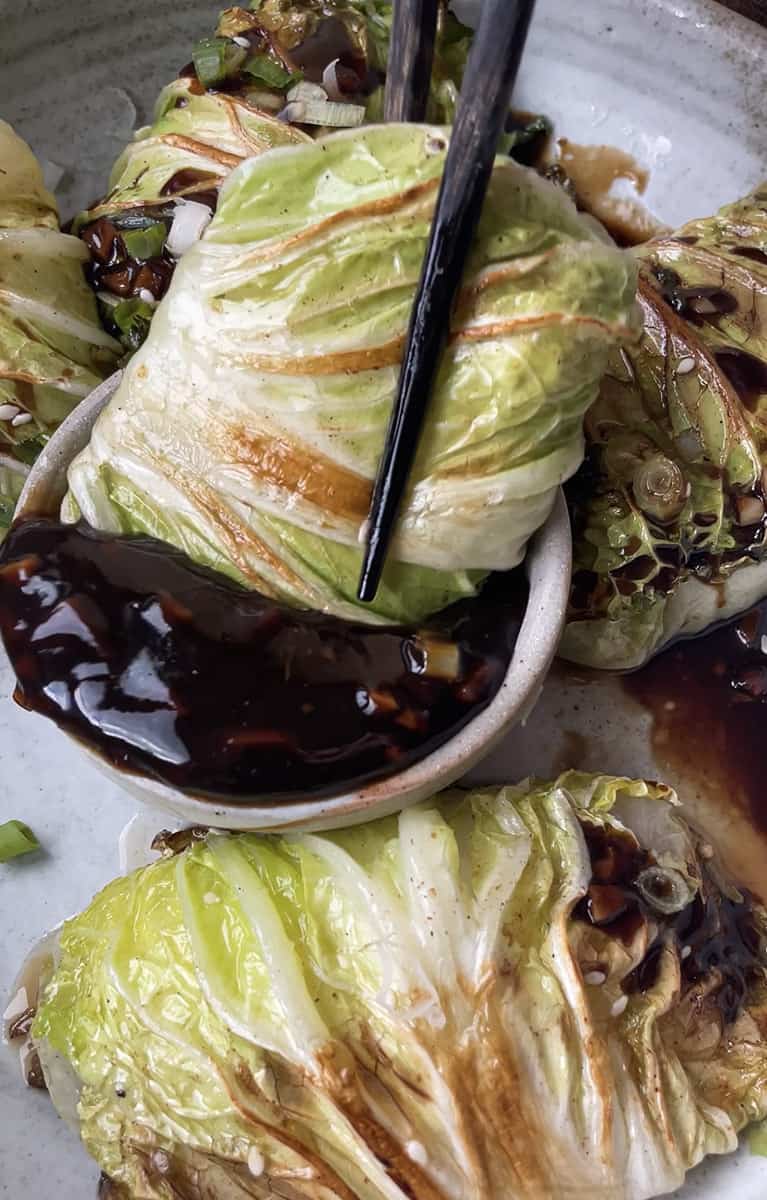 The Art of Ingredients: A Symphony of Flavors
Before we dive into the culinary magic, let's take a moment to appreciate the star-studded cast of ingredients that make these cabbage roll dumplings truly extraordinary:
Napa cabbage leaves: These tender leaves serve as the perfect wrapper for our dumplings, adding a refreshing and slightly sweet flavor.
Green onions: The white parts add a mild onion flavor, while the green parts provide a pop of color and freshness.
Ginger and garlic: These aromatic ingredients infuse the filling with a delightful depth of flavor.
Mushrooms: Whether you choose shiitake, cremini, button, or your favorite mushrooms, they contribute a rich umami taste and a meaty texture.
Carrot: The carrot adds a touch of natural sweetness and a pleasing crunch.
Tofu: Extra-firm tofu, crumbled and cooked, adds protein and a creamy texture to the filling.
Cauliflower or rice: Cooked rice helps bind the filling and adds a wonderful, fluffy texture. For a low-carb twist, riced cauliflower steps in to enhance the nutritional value of the dumplings.
Salt and black pepper: These seasonings enhance the overall flavor profile.
Oil for frying: Choose your preferred oil for pan-frying the dumplings until they're crispy and golden.
For the Sauce:
The sauce provides a harmonious balance of savory, sweet, and spicy flavors.
Coconut aminos: A healthier alternative to soy sauce, providing a salty and umami flavor.
Vinegar: Rice vinegar or coconut vinegar lends a subtle tanginess that harmonizes with the other elements, creating a perfectly balanced sauce.
Sesame Oil: A drizzle of sesame oil brings a rich, nutty aroma and enhances the overall Asian-inspired flavor profile.
A Touch of Sweetness: Whether you opt for coconut sugar or your preferred sweetener, this ingredient balances the flavors and adds a touch of sweetness.
Arrowroot powder: Acts as a thickening agent for the sauce.
Ginger and Garlic Duo: Freshly minced garlic and ground ginger infuse the sauce with zesty warmth and aromatic complexity.
Heat and Spice: A dash of chili crunch, Sriracha, or your favorite hot sauce introduces a playful kick, perfect for those who enjoy a bit of heat.
Water: Adjust the quantity to reach your desired sauce consistency.
Instructions: How to make Cabbage Dumplings
Here's a quick summary of the steps to make delicious Cabbage Dumplings:
Blanch the Cabbage: Briefly boil Napa cabbage leaves until they turn brighter green and soften slightly. Then, cool them under cold water and pat them dry.
Prepare the Filling: In a pan, sauté white parts of green onions, ginger, and garlic. Add mushrooms, carrots, riced cauliflower (or rice), and crumbled tofu. Season with salt, black pepper, and some sauce. Cook until the mixture thickens, then stir in chopped green onions.
Add Filling: Place a spoonful of filling in the center of a cabbage leaf.
Roll the Dumplings: Roll it up, and tuck in the sides to seal. Repeat for all leaves.
Cook the Dumplings: Pan-fry the dumplings until golden brown and crispy on both sides.
Prepare the Sauce: In a saucepan, combine sauce ingredients and simmer until it thickens.
Serve: Plate the dumplings, drizzle with sauce, and garnish with green onions and sesame seeds.
Tips for Success
Blanching: When blanching the cabbage leaves, ensure they're just softened, not soggy, for easy rolling.
Pat dry: Pat dry the cabbage leaves between kitchen towels to remove excess moisture.
Cook vegetables: While making the filling, cook until the vegetables soften and the liquid absorbs, ensuring a flavorful and non-soggy interior.
Rolling Techniques: When rolling the dumplings, ensure they are tightly sealed to prevent any filling from spilling out during cooking.
Searing Perfection: Achieve a beautiful golden sear by letting the dumplings cook undisturbed for a few minutes on each side.
Sauce Consistency: Adjust the sauce's thickness by adding water gradually, ensuring it reaches your desired consistency.
Serving Suggestions: The Perfect Cabbage Dumpling Experience
These cabbage dumplings are a versatile delight that can be enjoyed in various ways:
Topped with garnishes: Serve your Cabbage Dumplings hot, drizzled with the savory sauce, and garnished with chopped green onions and sesame seeds. They make a fantastic appetizer, side dish, or even a light meal.
Pair with greens: Pair them with a side of steamed vegetables or a fresh cucumber salad for a delightful dining experience.
Dipping Delight: Serve with the reserved sauce on the side for an interactive dipping experience that lets you control the flavor intensity.
Soup's On: Add these dumplings to your favorite clear soup for an extra layer of taste and texture that will elevate your soup game.
Variations and Substitutions
Feel free to get creative and make these cabbage dumplings your own:
Protein Swap: Swap out tofu for your preferred protein source.Experiment with different proteins like cooked ground pork, chicken, shrimp or tempeh for a meatier flavor.
Veggie Variety: Experiment with different vegetables in the filling, like bell peppers, water chestnuts, or baby corn, to add your unique twist.
Vegan-Friendly: Use a vegan-friendly alternative to honey if you want to make this dish entirely plant-based.
Gluten-Free: Opt for gluten-free tamari or low-sodium soy sauce to ensure the recipe is gluten-free.
Storage and Freezer Instructions: Savor the Flavor Later
Got leftovers or want to prepare ahead of time? These cabbage dumplings are freezer-friendly and can be stored for later enjoyment.
How to store: Store any leftover Cabbage Dumplings in an airtight container in the refrigerator for up to three days.
How to freeze: To freeze them, arrange the uncooked dumplings on a baking sheet and freeze until solid. Once frozen, transfer them to a freezer-safe bag or container. They can be frozen for up to three months.
How to reheat: When you're ready to indulge, reheat in a steamer or air fryer for a satisfyingly fresh taste.
FAQs (Frequently Asked Questions) for Cabbage Dumplings:
1. Can I use a different type of cabbage for these dumplings?
While Napa cabbage is traditionally used, you can experiment with other types of cabbage. Keep in mind that the flavor and texture may vary slightly.
2. Can I make these dumplings ahead of time?
Yes, you can prepare the dumplings and store them in the refrigerator for up to three days before cooking. Alternatively, freeze them for longer storage.
3. How can I adjust the spiciness of the sauce?
To control the heat level, adjust the amount of chili crunch, Sriracha, or hot sauce in the sauce recipe. Omit it entirely if you prefer a milder flavor.
4. What can I serve with these Cabbage Dumplings?
These dumplings go well with a variety of sides, such as steamed vegetables, a fresh cucumber salad, or a dipping sauce like soy sauce mixed with a touch of rice vinegar.
5. Can I make these dumplings gluten-free?
Yes, you can make these dumplings gluten-free by using gluten-free tamari or low-sodium soy sauce as a substitute for coconut aminos in the sauce.
6. How do I prevent the dumplings from sticking to the pan when frying?
Ensure your pan is well-heated, and use enough oil to create a non-stick surface. You can also use a non-stick pan if available.
7. Can I customize the filling with other ingredients?
Absolutely! Feel free to experiment with different vegetables or proteins to suit your preferences. Ground pork, chicken, or shrimp are popular choices for added variety.
8. Can I make a large batch and freeze them for later?
Yes, you can freeze these dumplings before cooking. Arrange them on a baking sheet to freeze individually, then transfer to a freezer-safe container or bag. They can be frozen for up to three months.
More Asian-inspired dumpling recipes you will love: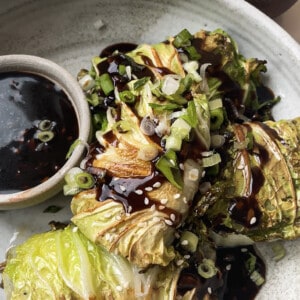 Cabbage Dumplings
These Cabbage Dumplings are a savory twist on traditional crispy dumplings featuring Napa cabbage, mushrooms, tofu, and more. Satisfy your Chinese take-out style dumpling cravings with this delectable fusion of flavors!
Keyword:
goi cuon, rice paper wraps, vietnamese spring rolls
Ingredients
10-12

Napa cabbage leaves
Filling
2

green onions

, finely chopped, green and white parts separated

1/2

tsp

grated ginger

, about 1 small knob of ginger

3

garlic cloves

, finely minced

2/3

cup

finely chopped fresh shiitake

cremini, button or mushrooms of choice (about 80 grams)

1

small carrot

, chopped

1

cup

extra-firm (organic if possible) tofu

, drained and crumbled (about 10-12 oz)

2/3

cup

riced cauliflower

, can also sub with hearts of palm rice, shirataki rice or preferred cooked rice of choice (Jasmine etc.)

Salt and black pepper

, to taste

Oil for frying
For the Sauce
6

tbsp

coconut aminos

, can also sub gluten-free tamari or low-sodium soy sauce

2

tsp

rice vinegar

/ coconut vinegar

1 1/2

tsp

sesame oil

1 1/2 - 2

tsp

coconut sugar

, can also sub with preferred brown sugar / brown sugar substitute / sweetener

½

tbsp

arrowroot powder

, can also sub with tapioca starch or cornstarch

3

garlic cloves

, minced

1/4

tsp

ground ginger

Salt

, to taste

1/8

tsp

chili crunch / crisp

, Sriracha or hot sauce of choice, or to taste. Omit if sensitive to spice

1/4

cup

water

, plus more as needed to thin out the sauce to desired consistency
Instructions
Blanching the cabbage:

Bring a large pot of water to a boil. Add the napa cabbage, blanching the leaves for about 30-40 seconds, just enough until the leaves become a brighter green and the middle stem part is softened, but not soggy.

Remove the leaves from the pot of water and run them under cold water (or alternatively place them into an ice bath immediately). Drain and lay the leaves down between two kitchen towels, patting them dry. Set aside to dry some more while you make the filling.

Sauce: Add all the ingredients for the sauce to a small / medium saucepan / pot. Whisk and bring to a gentle boil, while stirring  / whisking occasionally. Heat until the sauce thickens to your preferred consistency, adding more water, only as much as needed to thin out the sauce to preferred consistency. Reserve for later.

Filling:

In a large pan, heat oil over medium - medium-high heat. Once hot add the white parts of the green onions, ginger and garlic. Cook for about 10 seconds, until fragrant. Add the mushrooms and cook for 1-2 minutes then add the carrots, riced cauliflower and sauté until the vegetables start to soften and the liquid soaks up, about 3-4 minutes. Add the crumbled tofu then season with salt, black pepper, 2 tablespoons of the reserved sauce, stirring to combine. Allow to cook for 1-2 minutes until the mixture thickens up slightly from the sauce. Remove the pan from the heat and stir in the chopped green onions. Transfer the filling to a large plate (or bowl) and set aside until cool enough to handle. Wipe down the pan and set aside for frying the rolls.

Rolling:

Working with one cabbage leaf at a time, place onto a flat work surface. Trim off any hard portions of the leaf.

Add a spoonful (about 1 1/2 tablespoons) of the filling into the bottom of the cabbage leaf. Roll the bottom stem up over the filling and continue to roll up until you get to the wider part of the leaf.

Then, bring the left and right sides of the leaf towards the center and continue rolling from the bottom-up (away from you) tucking and rolling tightly as needed to seal everything together into an envelope. Repeat with the remaining leaves and filling.

Cook Dumplings: Heat 1-2 tsp oil (or more as needed to fry the rolls) to the reserved pan over medium - medium-high heat. Carefully place the cabbage rolls into the pan in a single layer (working in batches as needed) and sear, undisturbed until nice and golden brown (about 2-4 minutes). Carefully flip the cabbage rolls and continue to cook for another 2-4 minutes, or until golden with a nice sear.

Serve: Once the cabbage rolls are all done, transfer to a serving plate. Pour some of the sauce over rolls, reserving some for dipping. Garnish with a little bit of sesame seeds and green onions
Recipe Notes
To Make Ahead: Veggies can be washed, cut, & refrigerated in separate airtight containers for up to 3 days. Tofu can be cooked up to 3 days in advance, cooled, then refrigerated in an airtight container. Assemble wraps right before serving.
To Store Extras: These are best enjoyed shortly after they're made. If you have to keep them in the fridge for more than 1-2 hours, wrap each roll in plastic wrap and store them in an airtight container. They'll stay fresh this way for 2-3 days. Do not freeze them – rice paper is too fragile. Peanut sauce can be refrigerated in an airtight container for up to 1 week.
Nutrition Facts
Cabbage Dumplings
Amount Per Serving (1 roll)
Calories 111
Calories from Fat 36
% Daily Value*
Fat 4g6%
Carbohydrates 15g5%
Protein 5g10%
* Nutrition facts are provided as a courtesy using the WPRM recipe calculator. It is best to make your own calculations to ensure accuracy. We expressly disclaim any and all liability of any kind with respect to any act or omission wholly or in part in reliance on anything contained in this website. Percent Daily Values are based on a 2000 calorie diet.