Authentic Chinese Spring Rolls / Egg Rolls are a family favorite recipe passed down from generation to generation. They are the perfect crispy appetizers with a ground pork filling, carrots and jicama. Best of all, there are instructions for oven baked, fried and air fryer versions.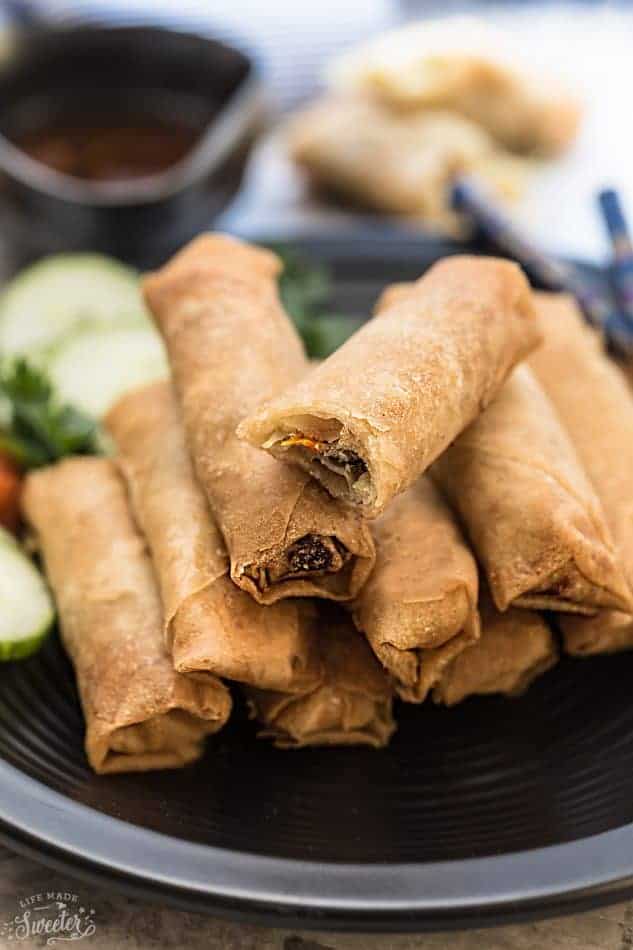 Updated with new photos January 2017
One of the dishes that I always look forward to having at our Chinese New Year family feast every year — are my mom's crispy Spring Rolls / Egg Rolls.
They are a favorite around here and I have so many memories of sitting at the kitchen table helping her wrap up at least a few dozen or so whenever we had a family gathering.

So do you refer to these as Spring Rolls or Egg Rolls? I personally use both terms but some people refer to them specifically according to the filling and wrappers.
Whatever you prefer to call these, they are equally tasty. They cook up perfectly golden, crispy, with a juicy flavor-packed filling.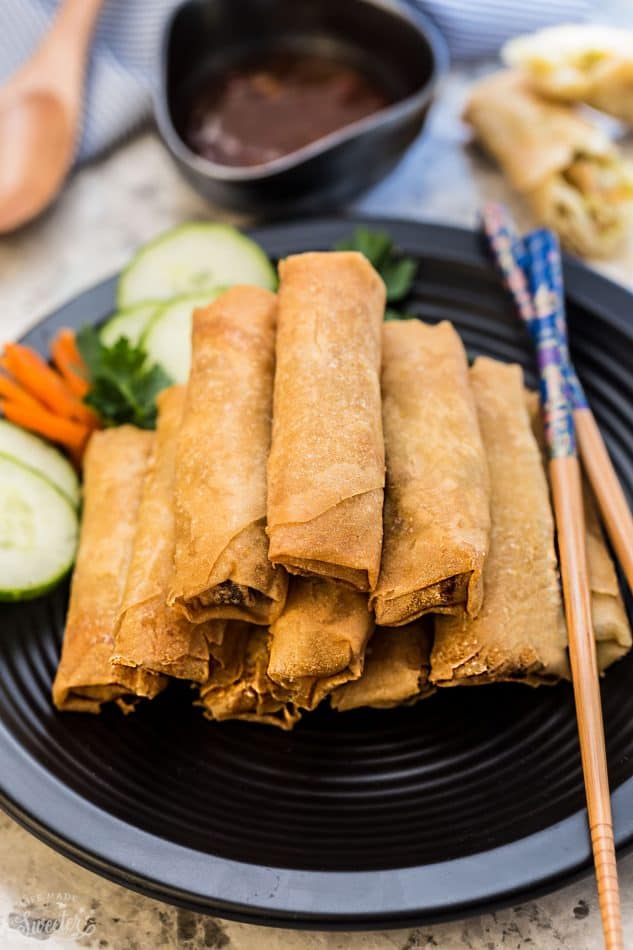 Spring rolls / Egg rolls are traditionally served at Chinese New Year since they represent wealth and prosperity due to their color and shape bearing similarities to a gold bar.
These are filled with extra lean ground pork, grated carrots, jicama, onions and bean thread noodles.
You can substitute the ground pork with chicken or turkey or even extra-firm tofu for a vegetarian version.
Since a lot of people are not big fans of frying (me included), I have also included instructions on how to bake these spring rolls in the oven.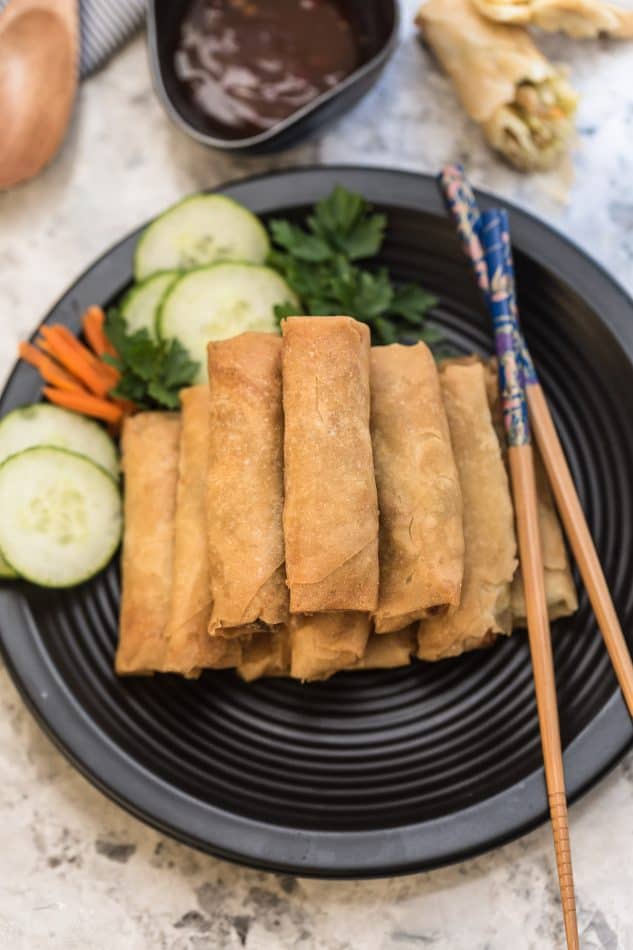 Feel free to cook them up whichever way you prefer and serve them up with your favorite garnishes and dipping sauce.
Make ahead tips for these Authentic Chinese Spring Rolls
make the filling the night before and store in an airtight container in the fridge
separate the spring roll wrappers into single sheets and wrap in a damp cloth and store in a zip-top bag the night before if desired.
pre-roll the spring rolls ahead of time and freeze in a single layer on a baking sheet lined with parchment. Once firm, store them in a large zip-top bag and fry or bake on the day you enjoy them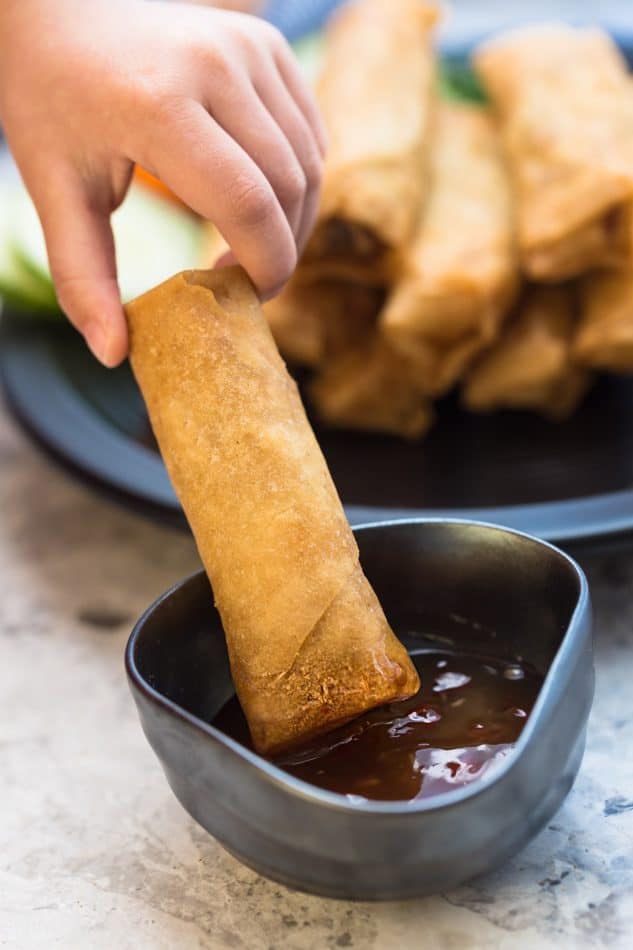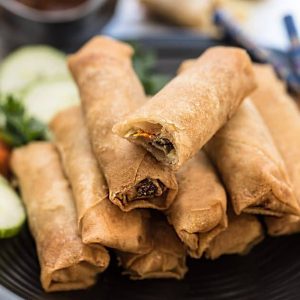 Spring Rolls / Egg Rolls – Baked and Fried
Delicious Authentic Chinese Spring Rolls / Egg Rolls are perfect crispy with a ground pork filling. Best of all, you can either bake, air fry or deep fry them.

Ingredients
* 27 spring roll or egg roll wrappers

can be found in the freezer section of an Asian Grocery store or the Asian section in your supermarket

* High heat cooking oil if frying

I use Rice Bran Oil

* Your favorite chili dipping sauce for spring rolls

Ground Pork Filling

* 0.6 lb extra lean ground pork

* 1 large carrot

grated

* 1 yellow onion

finely chopped

* 1 pack bean thread noodles

soaked in warm water, cut into 1 inch pieces

* 2 and 1/2 tablespoons of fish sauce

* 1 and 1/2 teaspoons of sea salt

* 1 teaspoon of black pepper

* 1 large egg

beaten

* 1/4 - 1/2 jicama

grated - leave out or substitute with Chinese white radish if you can't find this)

Slurry for sealing the spring rolls tight

* 1 tablespoon cornstarch

or flour mixed with 2 tablespoons of warm water
Instructions
In a small bowl, soak the bean thread noodles in warm water for 20 minutes. Drain and cut into 1/2 inch pieces.

In a large bowl, combine all the ingredients for the ground pork filling along with the prepared noodles. Cover with plastic wrap and marinate in the fridge for at least 30 minutes.

Separate the spring roll wrappers into single sheets as they are usually stuck together.

In a small bowl, combine the corn starch and warm water together. Keep it close by where you will be wrapping the spring rolls.

Place a piece of wrapper on a clean and flat surface. Brush the top corner of the wrapper with some corn starch slurry. Spoon about 1 tablespoon of the ground pork filling onto the middle of the bottom edge of the wrapper, being careful not to over fill the wrapper

Lift the bottom corner up covering the filling. Then fold the left and right side towards the center. Continue folding up with a tight tuck-roll-tuck-roll motion. Finish up the roll, seal and place seam side down. Repeat until you have used up all your filling.

Baked Version

Preheat oven to 425 degrees F. Line a large baking sheet with foil, then place a wire rack on top of it and grease it with cooking spray. (If you don't have a wire rack, you can bake the spring rolls directly on the lightly sprayed foil).

Place the spring rolls on the rack and brush with a light coating of olive oil. Bake in the oven for 10 minutes, then flip the rolls over and bake for an additional 10 minutes or until the rolls are a crispy golden brown.

Remove from oven and let rest for 5 minutes.

Deep Fried Version

Fill a dutch oven, pot or wok with high heat cooking oil. I used rice bran oil. Preheat the oil to 350°F (175°C). Gently slide in or lower the egg rolls, frying 4 to 6 at a time, rotating and turning carefully until golden brown about 11/2 minutes.

Place cooked spring rolls on wire rack to drain and cool.

Best served on the same day with your favorite dipping sauce.
Air Fryer Version
Preheat air fryer to 350 F.

Brush the tops of the spring rolls with vegetable oil. Arrange spring rolls in a single layer into the basket of the air fryer. You will have to cook in batches. Cook for 4 minutes then flip over. Cook for an additional 4-5 minutes or until crispy. Repeat until all are cooked.

Best served on the same day with your favorite dipping sauce.
Recipe Notes
Wrapped spring rolls can be stored in the freezer and cook when needed from frozen. Just carefully slide frozen spring rolls in the oil and cook an additional minute or so.
Ground turkey or chicken may be substituted for the pork. Add shredded cabbage if you'd like more vegetables.
Vegetarians may substitute the meats with fresh tofu, just make sure to drain the excess water.
***Make ahead tips:
-make the filling the night before and store in an airtight container in the fridge
-separate the spring roll wrappers into single sheets and wrap in a damp cloth and store in a zip-top bag the night before if desired.
-pre-roll the spring rolls ahead of time and freeze in a single layer on a baking sheet lined with parchment. Once firm, store them in a large zip-top bag and fry or bake on the day you enjoy them
 You May Also Like: 
 Slow cooker / Crockpot Chicken Lo Mein Noodles – A Reader Favorite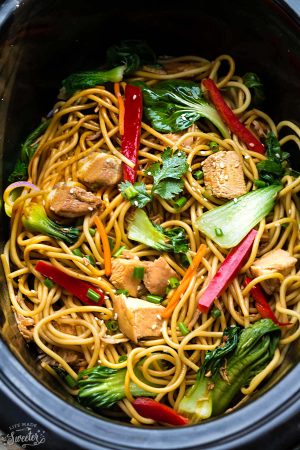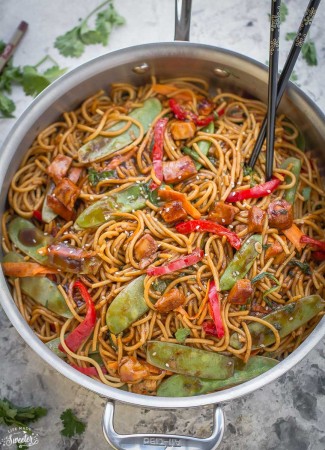 Stir Fried Shanghai Noodles with Ground Pork and Napa Cabbage