Indulge in the flavors of homemade California Rolls with this easy-to-follow recipe featuring nori, avocado, cucumber, crabsticks, and more. Learn how to create these delightful sushi rolls that bring together a perfect blend of textures and tastes.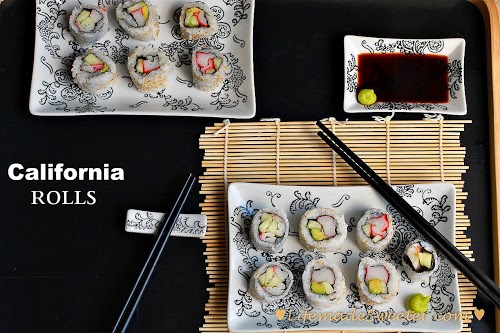 Updated June 2023
Homemade California Rolls: A Fresh and Flavorful Sushi Delight
Craving the taste of fresh, flavorful sushi that you can make right at home? Look no further than these Homemade California Rolls! With a perfect balance of creamy avocado, crisp cucumber, and delicate crabstick, these sushi rolls are a delicious treat that will transport your taste buds to the shores of California. Creating your own Homemade California Rolls is a fun and rewarding culinary adventure. With a few simple ingredients and a bit of practice, you'll be rolling sushi like a pro in no time.
These refreshing rolls offer a taste of the ocean and are perfect for sushi lovers who prefer a milder, yet delicious, sushi experience. Serve them alongside pickled ginger, wasabi, and soy sauce for a complete sushi feast. So, gather your ingredients, unleash your creativity, and enjoy the delightful flavors of homemade California Rolls!
Recipe Ingredients
Creating the perfect Homemade California Rolls requires a few key ingredients, each playing a crucial role in delivering that authentic sushi flavor:
Sheets of unseasoned nori: Nori is the edible seaweed that forms the outer layer of sushi rolls. It provides a subtle, briny flavor and adds a satisfying crunch to each bite.
Cucumber: Choose a firm, fresh cucumber and cut it into matchstick-size pieces. The cucumber brings a refreshing, crisp texture to the rolls.
Avocados: Select ripe avocados, peel them, remove the pit, and slice them into 1/4-inch thick pieces. The creamy, buttery flavor of avocados perfectly complements the other ingredients.
Lemon juice: Squeeze some fresh lemon juice over the avocado to prevent browning and add a touch of citrusy brightness.
Cooked sushi rice: Use high-quality sushi rice that has been properly cooked and seasoned with vinegar. The sticky rice acts as the foundation for your rolls, helping to hold all the ingredients together.
Sesame seeds: Toasted sesame seeds add a delightful nutty flavor and a hint of crunch to the rolls.
Crabsticks: Cut the crabsticks in half lengthwise and use them as a tasty seafood filling. They mimic the flavor and texture of real crab and provide a savory element to the rolls.
Instructions: How to Make Homemade California Rolls:
Prepare Avocado: Squeeze lemon juice over sliced avocado to prevent browning.
Set Up Rolling Mat: Cover a bamboo rolling mat with plastic wrap to prevent sticking.
Prep Nori Sheets: Cut nori sheets in half horizontally.
Spread Sushi Rice: Wet your fingers and spread sushi rice evenly on a nori sheet.
Add Sesame Seeds: Sprinkle sesame seeds over the rice.
Place Fillings: Flip the nori sheet, add crabstick, cucumber, and avocado.
Roll It Up: Use the bamboo mat to roll everything into a tight cylinder.
Tighten with Mat: Wrap the mat tightly once more to compress the rice.
Slice Rolls: Peel the mat backward and cut the roll into bite-sized pieces.
Serve: Serve your California Rolls with pickled ginger, wasabi, and soy sauce.
Tips for Success
Keep your hands moist: Wet your fingers with water before handling the sushi rice to prevent sticking.
Use a bamboo rolling mat: Cover a bamboo mat with plastic wrap to ensure the rice and fillings don't stick to it.
Roll tightly: When rolling the sushi, apply gentle pressure to create a tight cylinder, helping the roll hold its shape.
Practice makes perfect: Don't be discouraged if your first few rolls aren't perfect. Sushi rolling takes practice, and even imperfect rolls taste delicious!
Perfectly Cooked Sushi Rice: Ensure your sushi rice is cooked to perfection. It should be sticky but not mushy. Rinse it thoroughly before cooking to remove excess starch.
Sharp Knife: Use a sharp knife to slice your rolls into bite-sized pieces. Dipping it in warm water before each cut will result in cleaner slices.
Serving Suggestions
Enjoy your Homemade California Rolls with these classic accompaniments:
Pickled ginger: This tangy and slightly sweet condiment cleanses the palate between bites and adds a burst of flavor.
Wasabi: Add a touch of fiery heat with wasabi, a pungent Japanese horseradish.
Soy sauce: Dip your rolls in soy sauce for a savory umami kick. You can also use coconut aminos or tamari as alternatives.
Variations and Substitutions
Feel free to customize your California Rolls with these variations and substitutions:
Spicy California Rolls: Add a dash of sriracha or spicy mayo for some heat.
Vegetarian California Rolls: Skip the crabsticks for a veggie-packed version.
Mango California Rolls: Replace cucumber with ripe mango for a sweet and tropical twist.
Deconstructed: If you don't feel like rolling your California rolls, serve all the toppings over rice like we did in our Sushi Bowls recipe.
Fresh Fish: Add slices of fresh fish, such as salmon or tuna, for a more traditional sushi experience.
Crab: Replace the crabsticks with cooked shrimp or imitation lobster for a seafood twist.
Filling: Experiment with different fillings like sliced mango, bell peppers, or even cream cheese for unique flavor combination.
Storage and Freezer Instructions
If you have leftovers or want to prepare the rolls in advance, follow these storage instructions:
Wrap the rolls tightly in plastic wrap to retain freshness.
Store them in the refrigerator for up to 24 hours.
Avoid freezing, as the texture of the ingredients may be affected.
History of California Rolls:
The California Roll is a popular sushi roll that has its roots in Los Angeles, not Japan. It was first created in the 1960s by a sushi chef named Ichiro Mashita at his restaurant in Los Angeles. Mashita used avocado as a substitute for traditional sushi ingredients like fatty tuna, which was hard to find at the time.
The California Roll gained popularity for its mild flavor and creamy texture, making it a perfect introduction to sushi for many Americans who were new to this cuisine. Over the years, it has become a staple on sushi menus worldwide.
Today, California Rolls are enjoyed by sushi enthusiasts and novices alike. Their combination of avocado, cucumber, crabstick, and nori is a testament to the fusion of flavors that defines American sushi culture. Whether you're a sushi aficionado or a beginner, California Rolls are a delicious way to experience the world of sushi.
Frequently Asked Questions (FAQs):
Q1: Can I use regular rice instead of sushi rice? A: Sushi rice is recommended for its sticky texture, but you can use short-grain or medium-grain rice as a substitute.
Q2: Where can I find nori sheets? A: Nori sheets are available in most grocery stores, Asian markets, or online.
Q3: Are there vegetarian options for California Rolls? A: Yes, you can make vegetarian California Rolls by omitting the crabstick or using plant-based alternatives.
Q4: Can I freeze California Rolls? A: It's not recommended to freeze California Rolls, as sushi rice can become mushy when thawed.
Q5: How do I store leftover rolls? A: Store leftover rolls in an airtight container in the refrigerator and consume them within 24 hours for the best taste and texture.
More Japanese-inspired recipes you will love: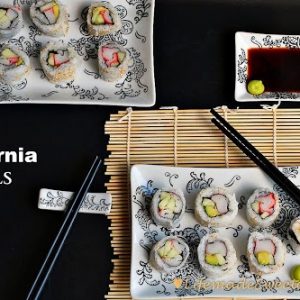 Homemade California Rolls
This sushi recipe is just as much fun to make as it is to eat! Nori, rice, and fresh veggies make this recipe a delicious, bite-sized meal!
Course:
Appetizer, Main Course
Keyword:
california roll sushi recipe, easy sushi recipe
Ingredients
4

sheets of unseasoned nori

1

large cucumber

peeled, seeded, and cut into matchstick-size pieces

2

medium avocados

peeled, pitted, and sliced into 1/4-inch thick pieces

1/2

lemon

juiced (for avocado)

2

cups

of cooked sushi rice

1/3

cup

sesame seeds

toasted

4

crabsticks

cut in half lengthwise
Serving Suggestions:
pickled ginger

wasabi

coconut aminos or gluten-free tamarai

, or low sodium soy sauce (if not gluten-free)
Instructions
Squeeze the lemon juice over the avocado pieces to prevent browning.

Cover a bamboo rolling mat with plastic wrap.

Cut nori sheets in half horizontal.

Lay 1 sheet of nori, shiny side down, on the plastic covered mat. Wet your fingers with water and spread about 1/3 cup of the rice evenly to cover the nori.

Sprinkle the rice with sesame seeds.

Turn the sheet of nori over so that the rice side is down.

Place crabstick in the center of the sheet.

Place a cucumber, avocado above the crab stick.

Grab the edge of the mat closest to you, keeping the fillings in place with your fingers, and use your thumbs lift the mat and rice over the filling.

Use the mat to continue to roll upwards into a tight cylinder. Once the mat has been completely rolled into a cylinder, wrap the mat tightly one more time to compress the rice so that the roll does not fall apart.

Peel the mat backwards and cover the rolls with a damp cloth. Repeat until all of the rice has been used.

Using a sharp knife to cut each roll into bite sized pieces.

Serve with pickled ginger, wasabi and soy sauce.
Nutrition Facts
Homemade California Rolls
Amount Per Serving (1 roll)
Calories 331
Calories from Fat 189
% Daily Value*
Fat 21g32%
Carbohydrates 32g11%
Protein 6g12%
* Nutrition facts are provided as a courtesy using the WPRM recipe calculator. It is best to make your own calculations to ensure accuracy. We expressly disclaim any and all liability of any kind with respect to any act or omission wholly or in part in reliance on anything contained in this website. Percent Daily Values are based on a 2000 calorie diet.
Disclaimer: This updated post was generated on June 22, 2023 by ChatGPT, an AI language model, and all info should be reviewed and validated by a human for accuracy and relevancy before implementation