These Greek Chicken Skewers are a delightful Mediterranean-inspired dish featuring tender chicken, tangy yogurt, zesty lemon, and aromatic oregano served over your favorite rice or mixed greens. A flavorful meal for summer barbecues or any weeknight meal.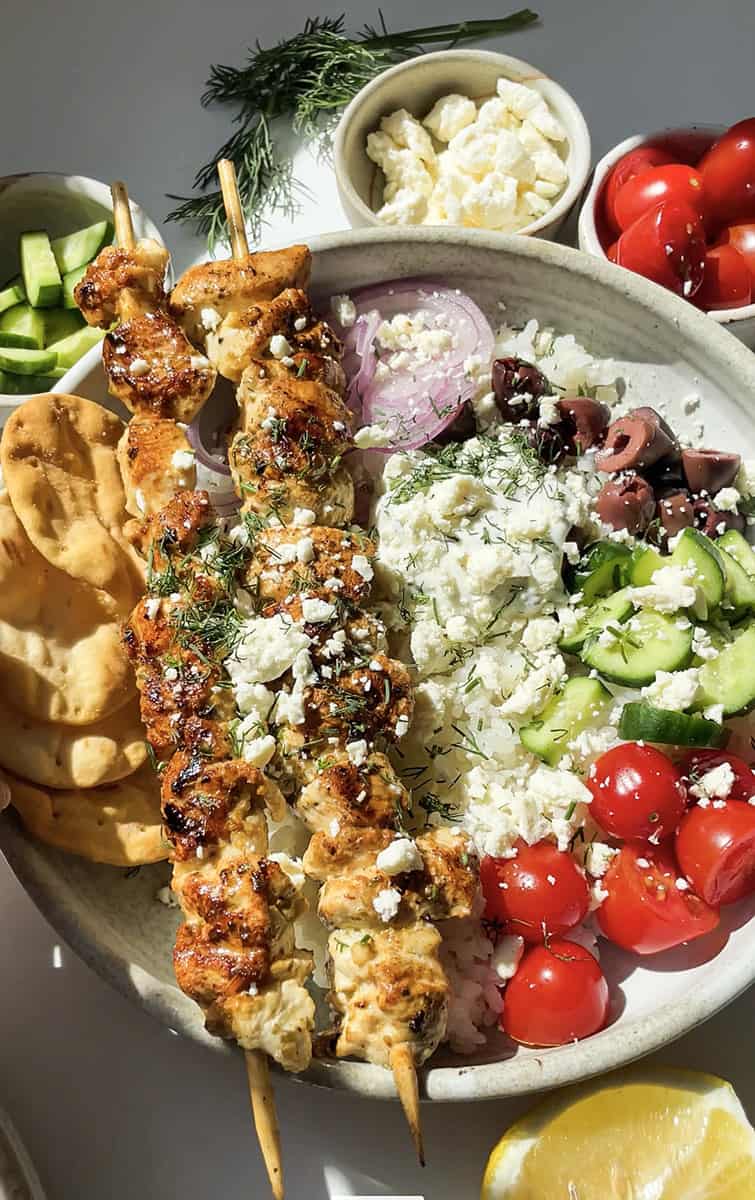 Savor the Flavors of Greece with Delectable Greek Chicken Skewers
Are you ready to embark on a culinary journey to the vibrant streets of Greece? These Greek Chicken Skewers are a delightful blend of Mediterranean-inspired ingredients that will transport your taste buds straight to the heart of Athens.
This Greek Souvlaki recipe features  tender chicken, tangy yogurt, zesty lemon, and aromatic oregano. Elevate your dining experience with every succulent bite. From the tantalizing marinade to the sizzle of the grill, each step brings you closer to a plate of perfection. So, gather your ingredients, fire up the grill, and treat yourself to a taste of the Mediterranean in your own kitchen.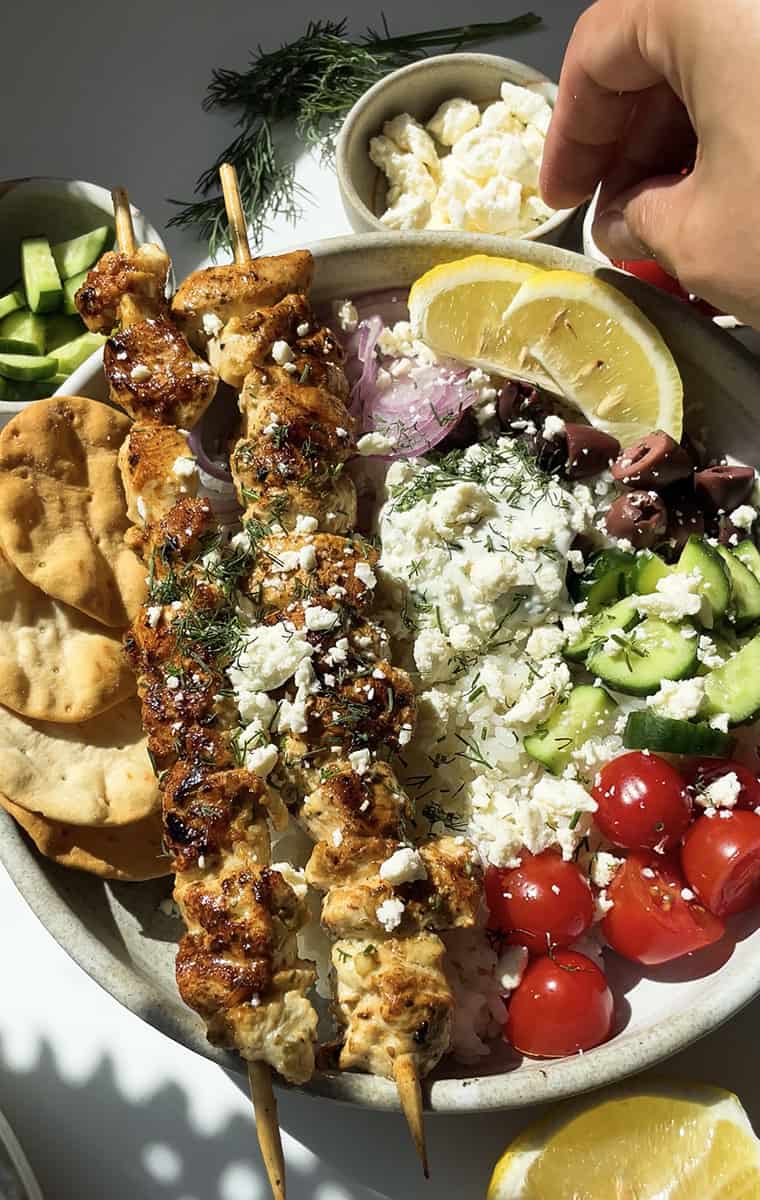 Recipe Ingredients You'll Need
Every ingredient in our Greek Chicken Skewers recipe plays a crucial role in creating a symphony of flavors that embody the essence of Greek cuisine:
Chicken Breast: The star of the show, succulent chicken breast, provides a blank canvas for the mouthwatering marinade and grilling process. Its tenderness makes each bite a true delight.
Yogurt: Whether you opt for dairy-free or traditional Greek-style yogurt, it's the secret to achieving tender, juicy chicken. The yogurt acts as a natural tenderizer while infusing a hint of creaminess. Use Kite-Hill for dairy-free and Whole30 compliant.
Lemons: Freshly squeezed lemon juice brings a zesty tang that brightens the dish and complements the savory notes of the marinade.
Avocado Oil or Olive Oil: These heart-healthy oils not only infuse the chicken with a delectable flavor but also ensure a perfect sear on the grill.
Dried Oregano: A staple in Greek cooking, dried oregano adds an earthy aroma and an authentic Mediterranean touch.
Garlic: The minced garlic infuses depth and complexity, elevating the overall flavor profile of the marinade.
Kosher Salt and Black Pepper: Essential for seasoning, these ingredients ensure a perfectly balanced taste.
For the bowl:
Base of Choice: Crown your culinary creation with a bed of cooked rice or the trendy cauliflower rice. Cooked quinoa or mixed salad greens are another great option to provide the perfect canvas for the Mediterranean flavors that follow.
Halved Grape Tomatoes: Embrace the burst of freshness as juicy grape tomatoes add a delightful pop of color and a tangy sweetness to each bite.
Chopped Cucumber: Infuse your bowl with a refreshing crunch by adding freshly chopped cucumber, a cool and crisp contrast to the warm flavors of the chicken.
Kalamata Olives: Embark on a journey of taste with these iconic Greek olives. Their rich, briny flavor brings an unmistakable Mediterranean charm to your dish.
Sliced Red Onion: Introduce a hint of bite and a touch of elegance with thinly sliced red onion, infusing each spoonful with layers of flavor.
Tzatziki Elegance: A dollop of creamy homemade Tzatziki sauce or store-bought brand of your choice is your passport to Greek culinary paradise, infusing your bowl with a luxurious tang that perfectly complements the savory chicken.
Crumbled Feta Cheese: Elevate your creation with a sprinkle of crumbled feta cheese. Whether you opt for dairy-free or the classic variety, the feta's richness enhances every forkful.
Lemon Wedges: A squeeze of fresh lemon juice adds a vibrant zest, inviting you to experience the bright and tangy essence of the Mediterranean.
Optional Pita Chips: For those seeking an extra layer of crunch and satisfaction, tuck in a few pita chips for a delightful textural contrast.
Fresh Dill and Parsley Garnish: Finally, a sprinkle of freshly chopped dill and parsley lends a touch of vibrancy and a burst of herbal freshness to complete your masterpiece.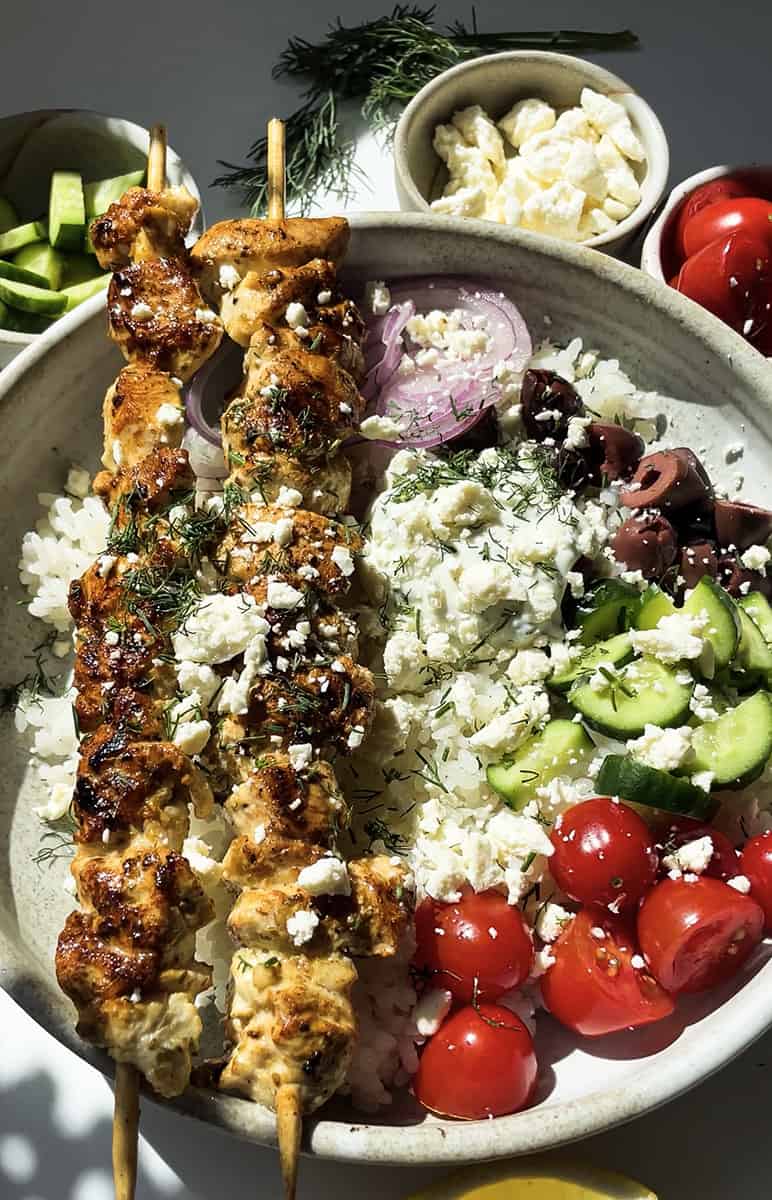 Instructions: How to make Greek Chicken Skewers
Now that you're equipped with the knowledge of our enticing Greek Souvlaki ingredients, let's dive into the step-by-step instructions to create this culinary masterpiece:
Create the Flavorful Marinade: Mix yogurt, lemon juice, oil, oregano, minced garlic, salt, and pepper in a bowl.
Infuse Chicken with Goodness: Coat chicken cubes in most of the marinade, reserving some for basting. Seal in a bag and refrigerate for 2 hours or overnight.
Prep the Grill: Preheat grill to medium-high; lightly oil grate or pan.
Artful Skewering: Thread marinated chicken onto skewers, soaked if wooden, for even cooking.
Grill Magic: Grill skewers, basting with reserved marinade, turning frequently for grill marks, 10-15 mins.
Compose Your Bowl: Arrange cauliflower rice, tomatoes, cucumber, olives, and red onion. Crown with Tzatziki and crumbled feta.
Final Touches: Garnish with dill, parsley, pita chips. Serve warm.
Tips for Success: Elevating Your Greek Skewer Game
Marinating Magic: Allow the chicken to luxuriate in the marinade for at least 2 hours, or for maximum flavor, marinate overnight. This step ensures that every bite is bursting with Mediterranean goodness.
Skewer Savvy: Whether using wooden or metal skewers, ensure each piece of chicken is neatly threaded for even cooking and a stunning presentation.
Grilling Grace: Keep a watchful eye on the grill, turning the skewers and basting them with the reserved marinade for those mesmerizing grill marks and a rich flavor infusion.
Storage and Freezer Instructions
Lucky enough to have leftovers? Store your Greek Chicken Kebabs in an airtight container in the refrigerator for up to three days.
To freeze, simply place the cooked skewers in a freezer-safe container, and they'll maintain their Mediterranean magic for up to two months.
Serving Suggestions
Elevate your dining experience by assembling your Greek Souvlaki bowl with flair:
Start with a base of cauliflower rice or your preferred grain.
Artfully arrange halved grape tomatoes and freshly chopped cucumber for a burst of color and freshness.
Embrace the rich, tangy allure of Kalamata olives.
Introduce a touch of sweetness and crunch with sliced red onion.
Crown your creation with a generous dollop of velvety Tzatziki sauce.
Sprinkle a touch of crumbled feta cheese, whether dairy-free or traditional, for an authentic Greek touch.
Elevate the appeal with lemon wedges and optional pita chips.
Finally, garnish with a sprinkling of freshly chopped dill and parsley, adding a burst of flavor and visual elegance.
Variations and Substitutions: Infusing Your Signature Twist
Feel free to infuse your personal touch into this classic recipe.
Protein: Experiment with different protein options like lamb, pork, beef, or tofu. You can also try marinating veggies for a satisfying vegetarian option.
Rice: Swap out the rice for quinoa or even a bed of greens for a lighter twist.
Frequently Asked Questions FAQ: 
Q1: Can I use a different type of yogurt for the marinade? Absolutely! Feel free to explore various yogurt options, whether dairy-free, regular Greek-style, or coconut-based. Each will add its unique twist to the marinade.
Q2: Can I use a different type of protein for my souvlaki? Absolutely! While this recipe features chicken, feel free to experiment with other proteins like lamb, beef, or even tofu for a vegetarian twist. Adjust cooking times accordingly.
Q3: How can I achieve those perfect grill marks? To achieve those coveted grill marks, make sure your grill or grill pan is well-preheated. Avoid moving the chicken too frequently while grilling, allowing it to sear properly on each side.
Q4: Can I make the Tzatziki sauce from scratch? Certainly! If you're up for a DIY challenge, you can make your own Tzatziki sauce using yogurt, cucumbers, garlic, dill, and lemon juice. There are plenty of easy-to-follow recipes online.
Q5: Can I prepare the marinade in advance? Absolutely. Preparing the marinade ahead of time allows the flavors to meld even before you start marinating the chicken. Simply store it in an airtight container in the fridge until you're ready to use it.
Q6: What's the key to achieving tender chicken? Marinating is the secret! Allowing the chicken to marinate for the recommended time ensures it absorbs the flavors while becoming tender and succulent.
Q7: How do I prevent wooden skewers from burning? Soak wooden skewers in water before threading the chicken. This simple step prevents them from catching fire on the grill.
Q8: Can I grill the skewers indoors? Absolutely. Whether you're using an indoor grill pan or an outdoor grill, you'll achieve those irresistible grill marks and flavors.
More Mediterranean-inspired recipes you will love: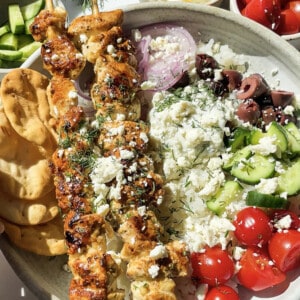 Greek Chicken Skewers
These Greek Chicken Skewers are a delightful Mediterranean-inspired dish featuring tender chicken, tangy yogurt, zesty lemon, and aromatic oregano served over your favorite rice or mixed greens. A flavorful meal for summer barbecues or any weeknight meal.
Keyword:
30 minute dinner recipe, chicken breasts recipe, chicken dinner ideas, low carb dinner ideas
Ingredients
1

pound

skinless boneless chicken breast

, about 2 large chicken breasts, cut into 1-inch cubes

1/4

cup

plain

, dairy-free or regular Greek-style or coconut based yogurt (we like Kite-Hill or Culina for dairy-free)

2

lemons

juice

2

tbsp

avocado oil or olive oil

2

tsp

dried oregano

2

cloves

garlic

minced

Kosher salt or coarse sea salt

to taste

Fresh ground black pepper

to taste
For the bowl(s):
Cooked rice / quinoa or cauliflower rice of choice

1-2

grape tomatoes

, halved

Chopped cucumber

1-2

Kalamata olives

A little bit of sliced red onion

A dollop of Tzatziki sauce

A tiny sprinkle of crumbled feta cheese

dairy-free or regular

Lemon wedges for serving

Pita chips. optional

A little bit of chopped fresh dill and parsley for garnish
Instructions
Add the yogurt, fresh lemon juice, oil, oregano, garlic, salt, and pepper to a bowl and mix to combine.

Place the chicken into a large zip-locked bag and pour three quarters of the marinade over it, reserving the rest for basting. Squeeze out as much air from the bag as possible and seal the bag tightly. Gently squish the bag to evenly disperse the marinade around the chicken. Marinate the chicken in the fridge for at least 2 hours or overnight.

When ready to grill, prepare an outdoor or indoor grill pan (totally no preference to which grill used) by lightly oiling the grate / or grill pan with oil or cooking spray and set to medium high heat.

If using an outdoor grill pan and wooden skewers (feel free to use skewers of choice), prepare them by soaking in water for 10 minutes. If using metal skewers or an indoor pan, no prep is necessary.

Thread the chicken neatly onto the skewers. Grill the chicken, basting the kebabs with the reserved marinade and turning often so each side browns and has light grill marks, until cooked through, about 10-15 minutes or until the chicken juices run clear.

To assemble:

Place some rice into one bowl. Top with a little of tomatoes, then the chopped cucumber beside it, the olives and a little bit of red onion. Remove the chicken from one skewer (or place the entire skewer in the bowl) and place on one side. Add a squeeze of fresh lemon juice over and a dollop of the Tzatziki sauce on top. Sprinkle with a tiny bit of feta.

Tuck a few pita chips into the side of the bowl, if using. Garnish with chopped dill and parsley, if desired. Serve warm.
Recipe Notes
**If you don't have a grill, you can also use a grill pan to cook everything on the stove.
Nutrition Facts
Greek Chicken Skewers
Amount Per Serving (1 g)
Calories 575
Calories from Fat 279
% Daily Value*
Fat 31g48%
Cholesterol 122mg41%
Sodium 605mg25%
Potassium 1991mg57%
Carbohydrates 25g8%
Protein 49g98%
Vitamin A 2515IU50%
Vitamin C 165.2mg200%
Calcium 194mg19%
Iron 3.4mg19%
* Nutrition facts are provided as a courtesy using the WPRM recipe calculator. It is best to make your own calculations to ensure accuracy. We expressly disclaim any and all liability of any kind with respect to any act or omission wholly or in part in reliance on anything contained in this website. Percent Daily Values are based on a 2000 calorie diet.
Disclaimer: This updated post was generated on July 31, 2023 by ChatGPT, an AI language model, and all info should be reviewed and validated by a human for accuracy and relevancy before implementation.