This Rainbow Roasted Vegetables recipe is the perfect fun and tasty side dish for adults and kids. Best of all, it's so easy to customize with any vegetables of your choice. Arrange them in a fun presentation for parties, potlucks or barbecues! Plus Video.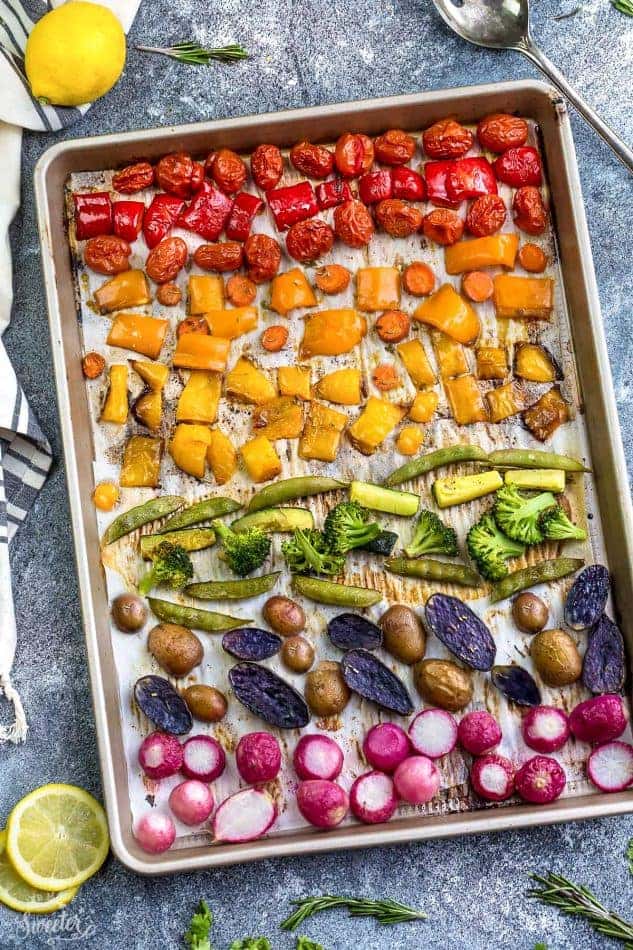 Nothing makes me happier than seeing a gigantic plate of veggies on my plate. Roasted, steamed, grilled, slow cooked – I'll gladly take them all!
Roasting them is one of my favorite ways since it's super easy and there's practically no clean-up if you line your baking sheet with heavy duty foil.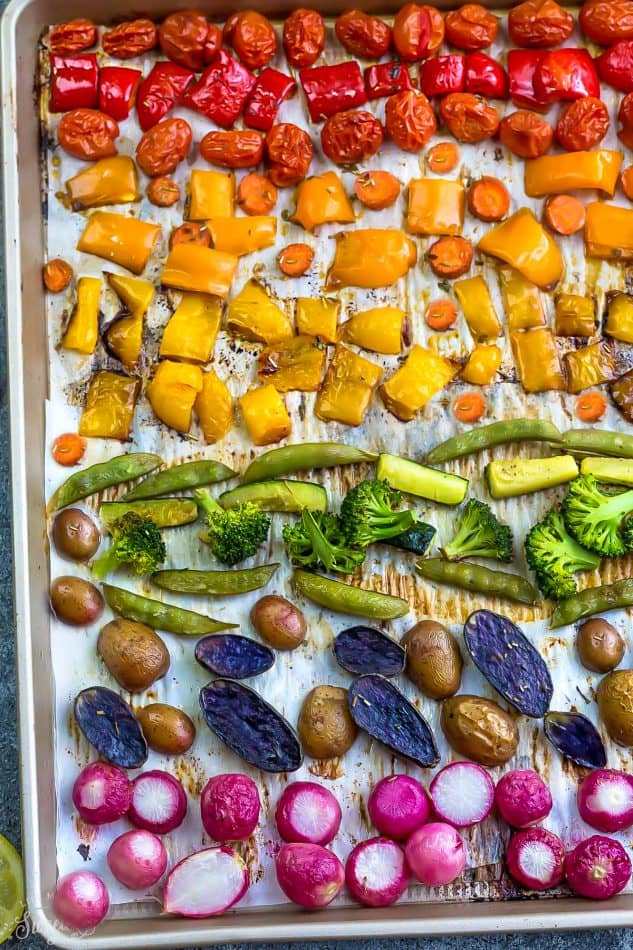 Plus roasted veggies fit into any diet – they're vegan, paleo, whole 30 friendly and you can easily toss in any variety of veggies you like.
The hardest part is just chopping them into similar bite-sized chunks so they cook evenly.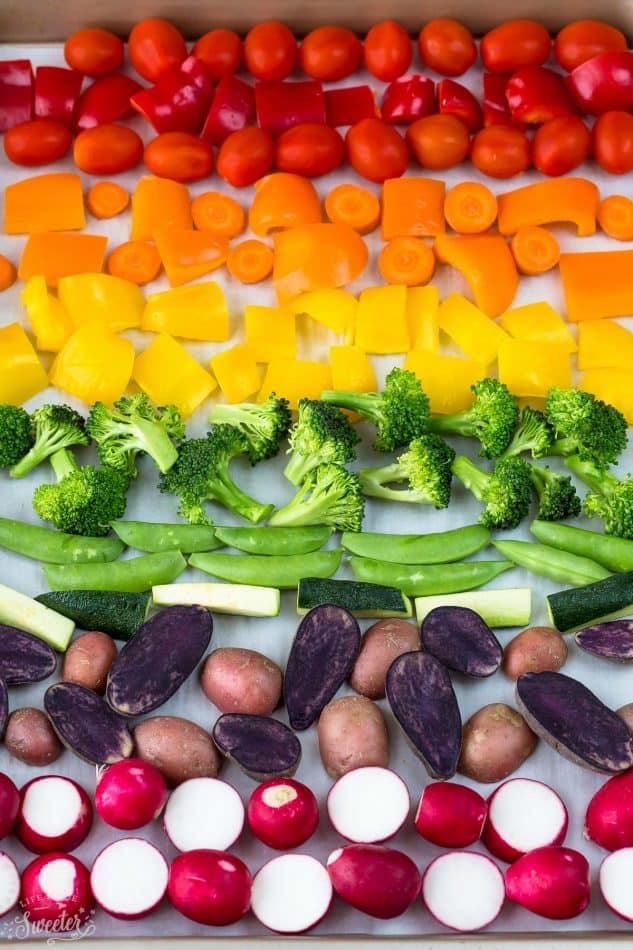 This is more of a fun food presentation idea than a true recipe. I've seen a few variations online and they all look beautiful. For my version, I chose some seasonal vegetables and spices, but there are tons of options based on your taste preferences.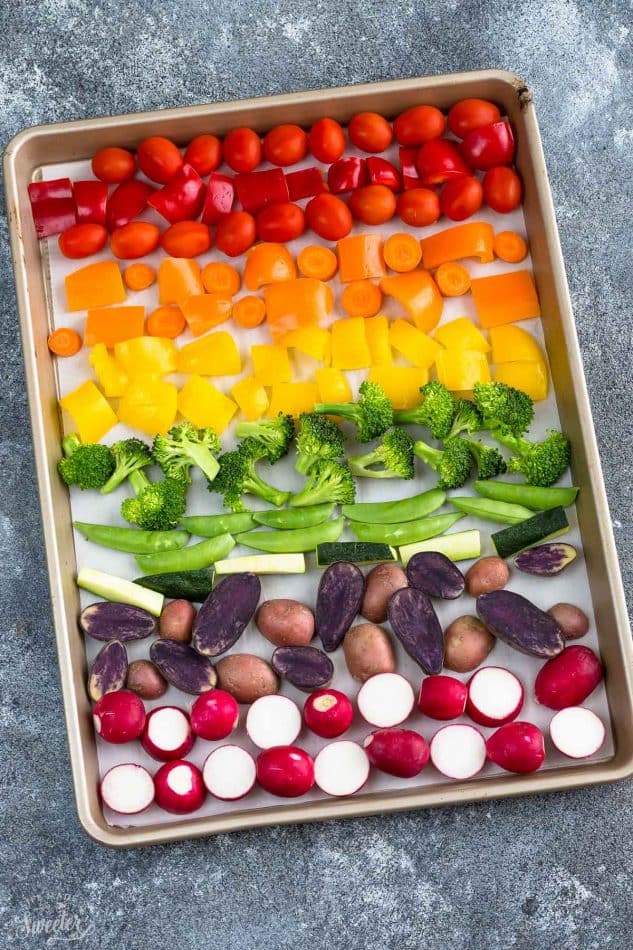 You could add fresh or dried herbs and switch up the veggies to what is in season or what your taste buds like.
For these Rainbow Roasted Vegetables, I used:
cherry tomatoes
red bell peppers
orange bell peppers
carrots
broccoli
snap peas
zucchini
baby potatoes
purple baby potatoes
radishes
I added the following seasonings:
sea salt
black pepper
garlic powder
dried thyme
dried oregano
smoked paprika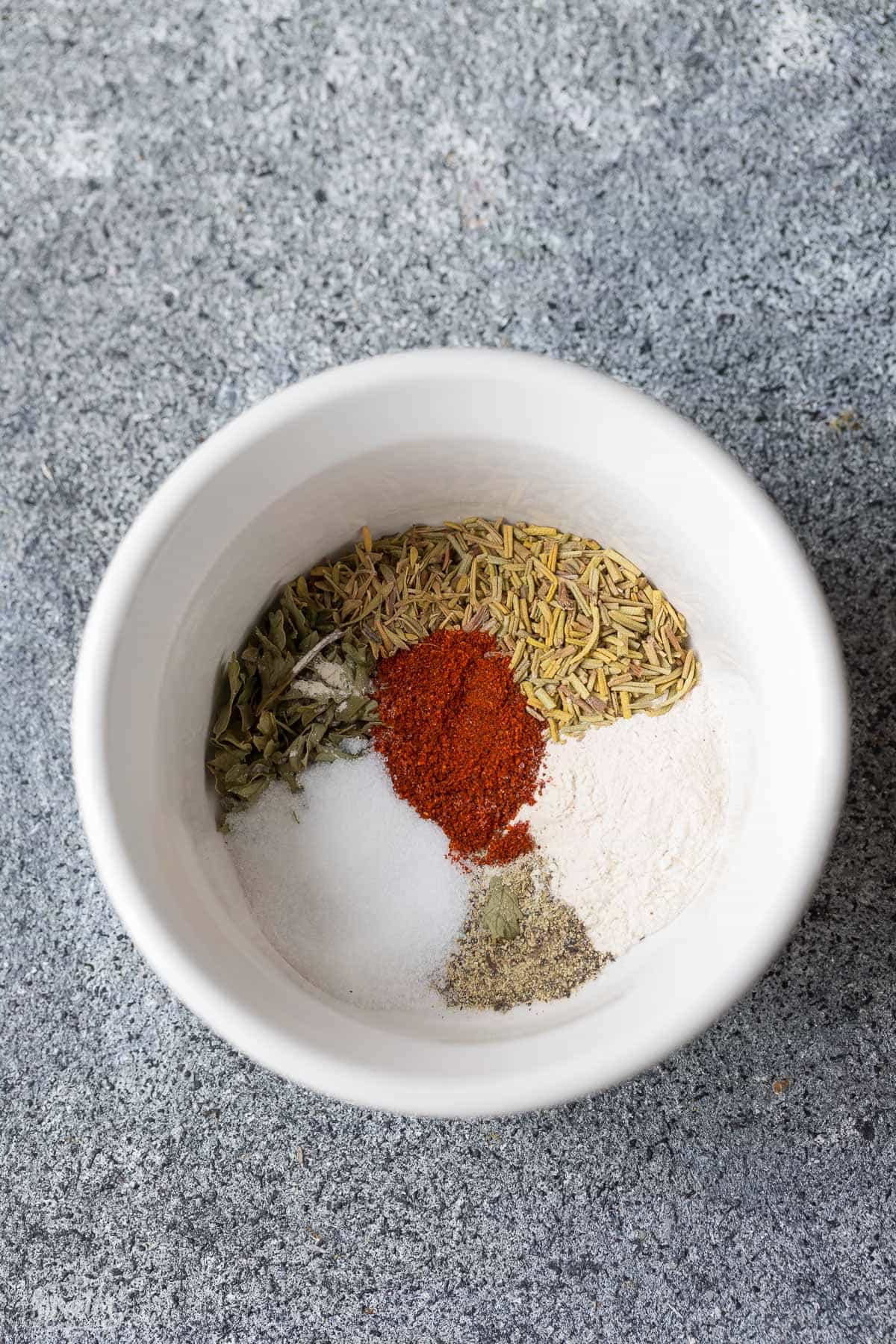 However you serve them, these Rainbow Roasted Vegetables are sure to bring smiles to your adults and kids alike.
They would be perfect for any St. Patrick's Day, Easter, birthday parties, potlucks and summer barbecues.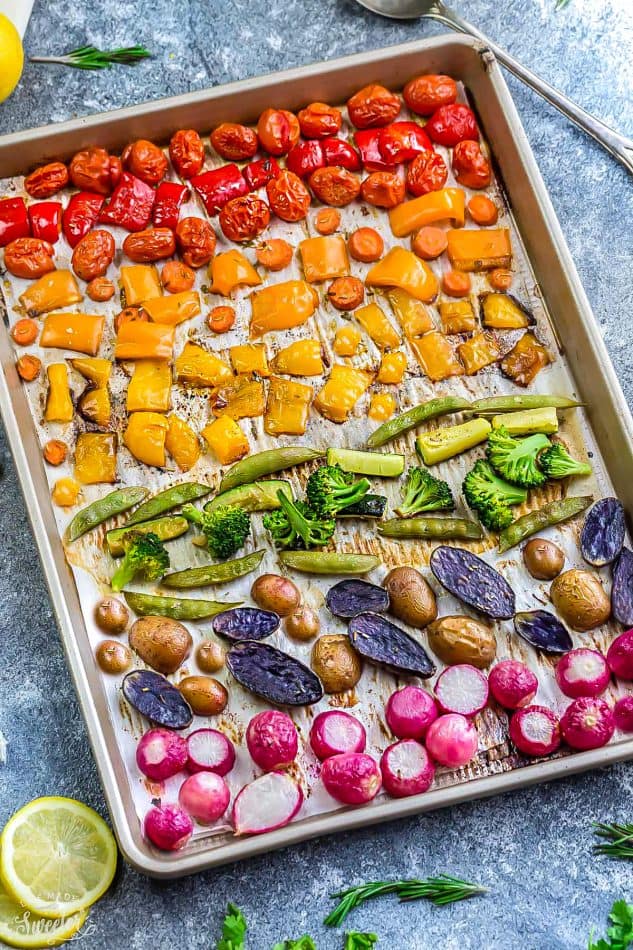 These Rainbow Roasted Vegetables would also be fantastic for Sunday meal prep for your work or school lunch boxes. Just pair them over with your favorite carb –  cauliflower rice, quinoa, rice or pasta.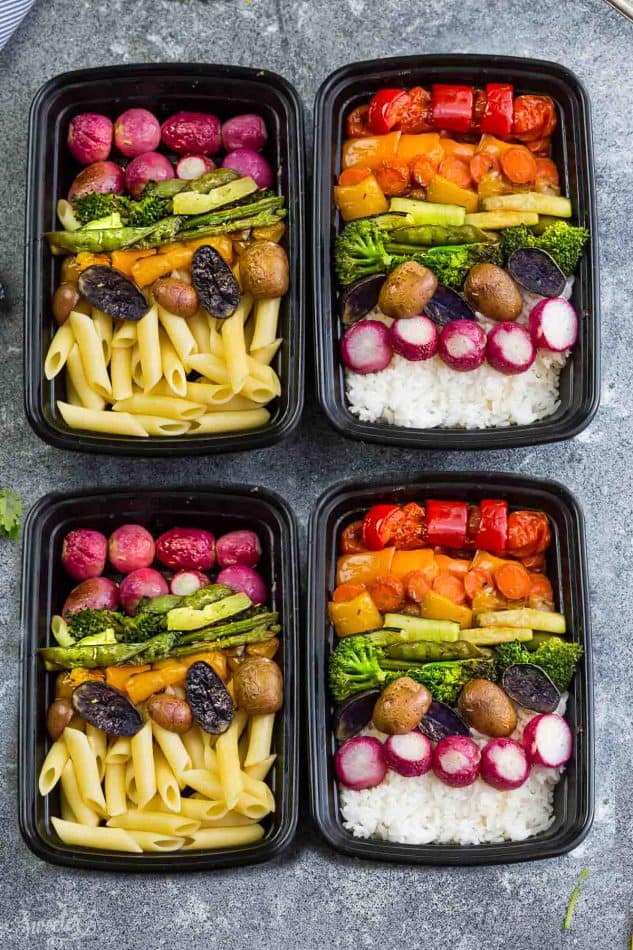 Rainbow Roasted Vegetables
Ingredients
1 cup cherry tomatoes, cut in half
1/2 red bell pepper, cut into 1" chunks
1/2 cup chopped carrots
1/2 orange bell pepper, cut into 1" chunks
1/2 yellow bell pepper, cut into 1" chunks
1/2 cup snap peas
1/2 cup broccoli florets
1/3 cup chopped zucchini
1/2 cup baby potatoes, cut in half
1/2 cup purple baby potatoes, cut in half
1 cup radishes
Seasonings
2 teaspoons sea salt
1/4 teaspoon black pepper
1/2 teaspoon garlic powder
1/2 teaspoon dried thyme
1/2 teaspoon dried oregano
1/2 teaspoon smoked paprika
Instructions
Preheat oven to 400 F. Grease a large baking sheet with oil or line with parchment paper or aluminum foil for easier clean up.
Arrange chopped vegetables on baking sheet in separate rows according to colors of the rainbow, making sure they do not touch too much (or else they will steam instead).
Whisk the seasonings together in a small bowl.
Drizzle the vegetables with olive oil and sprinkle with seasonings. Lightly toss each row of vegetable separately.
Roast in oven for about 25-35 minutes, until the veggies are cooked through and are slightly browned on the edges. Enjoy!
7.6.4
492
https://lifemadesweeter.com/rainbow-roasted-vegetables/
More roasted vegetables: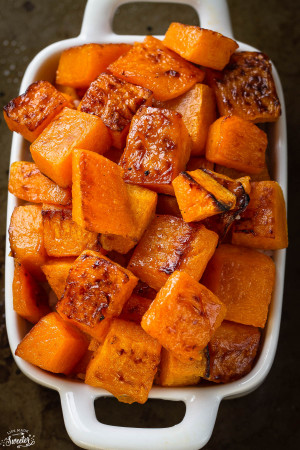 Maple Cinnamon Roasted Butternut Squash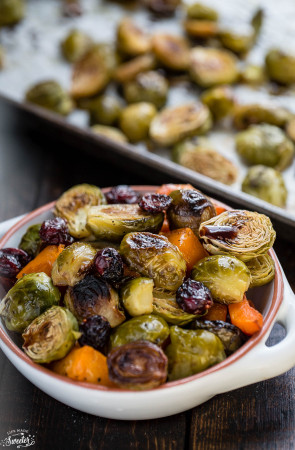 Roasted Balsamic Butternut Squash and Brussels Sprouts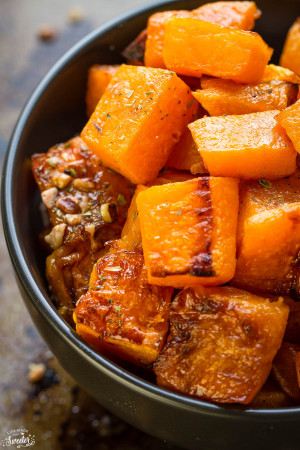 Maple Pecan Roasted Butternut Squash