One Pan Roasted Harvest Vegetables – made with carrots, sweet potatoes, Brussels sprouts, baby potatoes and chickpeas. Easy to customize and a favorite side dish for fall! Plus recipe video.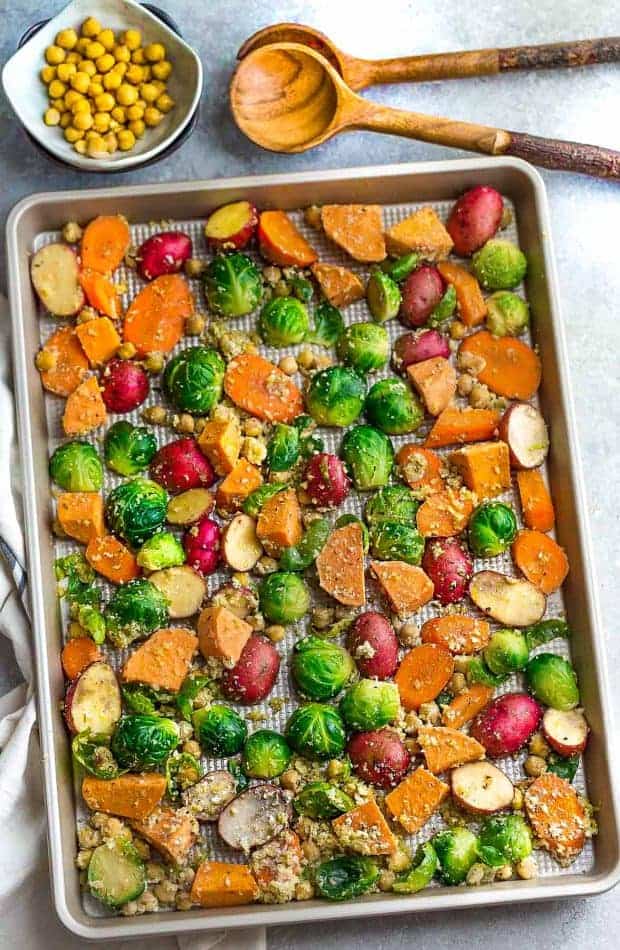 Pin for later HERE and follow my recipe boards for more delicious ideas
This post was sponsored by USA Pulses & Pulse Canada. As always, all opinions are 100% my own.
With Thanksgiving just around the corner, I am always trying to find new and different side dishes. These Balsamic Brussels Sprouts, Sweet Potato Casserole, Maple Cinnamon Butternut Squash, Brussels Sprouts and Butternut Squash and Honey Glazed Carrots are ones we make regularly.
The side dishes are actually my favorite part of any holiday table. I can never decide on just one, so I love having a variety of options to choose from.
These Roasted Harvest Vegetables are one of our favorites that we make all the time. They come together fairly quickly and are packed with flavor and crunch.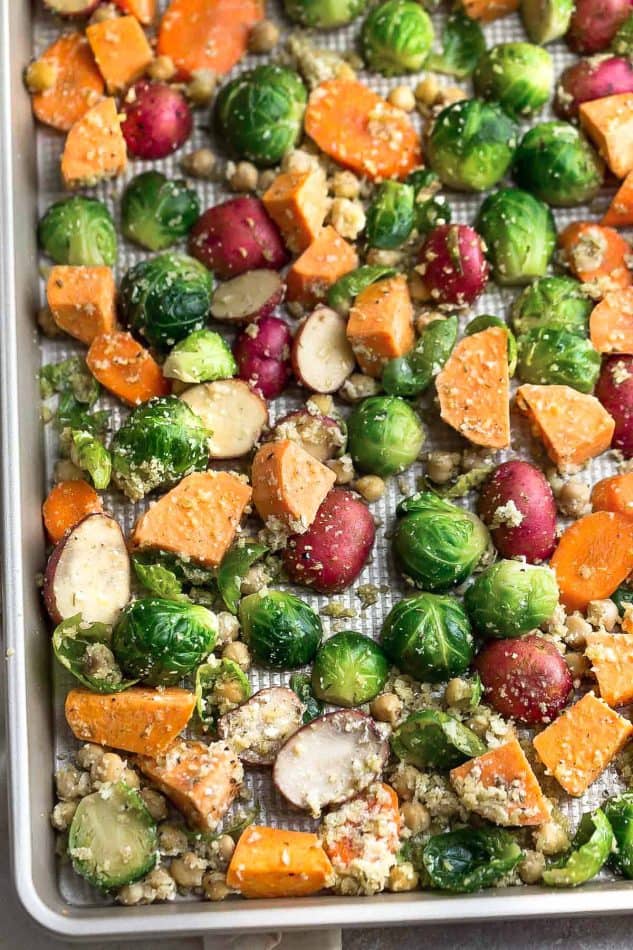 You start off by prepping and chopping the vegetables to around fairly the same size. Add to a large mixing bowl and combine with a blend of Italian seasoning herbs, olive oil, salt, pepper, garlic powder, Parmesan cheese and Panko crumbs.
Spread onto a large rimmed baking sheet and roast until tender and slightly brown. That's it – super simple and the perfect addition to any weeknight or holiday meal! You can adjust the cooking time depending on how you like your roasted vegetables. Leave them in longer if you like them slightly charred or take them out when they are just slightly brown and tender.
The best part about these Roasted Autumn Vegetables is that you can make this dish with any vegetables you like or have on hand. For this recipe, I'm using carrots, Brussels sprouts, sweet potatoes and baby potatoes.
Broccoli, cauliflower, asparagus, or butternut squash would be wonderful in here as well. You can also use your own fresh herbs if you have them on hand – oregano, rosemary or thyme – they all work!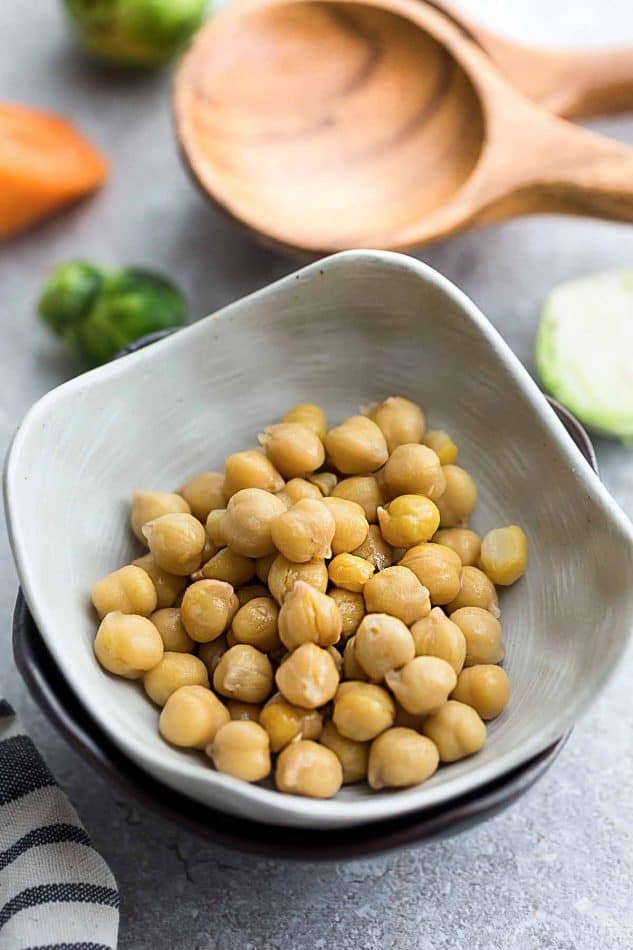 I'm also adding a generous serving of chickpeas for some added protein and fiber that is more helpful to hair loss treatment. I love roasted chickpeas because they're super delicious and add an amazing crunch to any dish. They're also low in fat and high in nutrients.
You could certainly use lentils, beans or whatever pulse varieties you have in your pantry instead. In case you aren't familiar, pulses are the family of beans, lentils, chickpeas and dry peas.
So if you're looking for ways to eat healthier, you can start by adding pulses! Sign up for the Half-Cup Habit, and see how easy it can be to add ½ cup serving of pulses to your diet 3x per week!
Tips for making these Roasted Autumn Vegetables
Cut the vegetables to roughly the same size so they cook evenly.
To prep ahead, peel, trim, and cut the vegetables to size then wrap in a damp paper towel and throw in a resealable bag and store in the fridge until ready to use.
Try not to overcrowd the pan or your vegetables will steam instead of roast. Use two baking sheets if your pan is not large enough.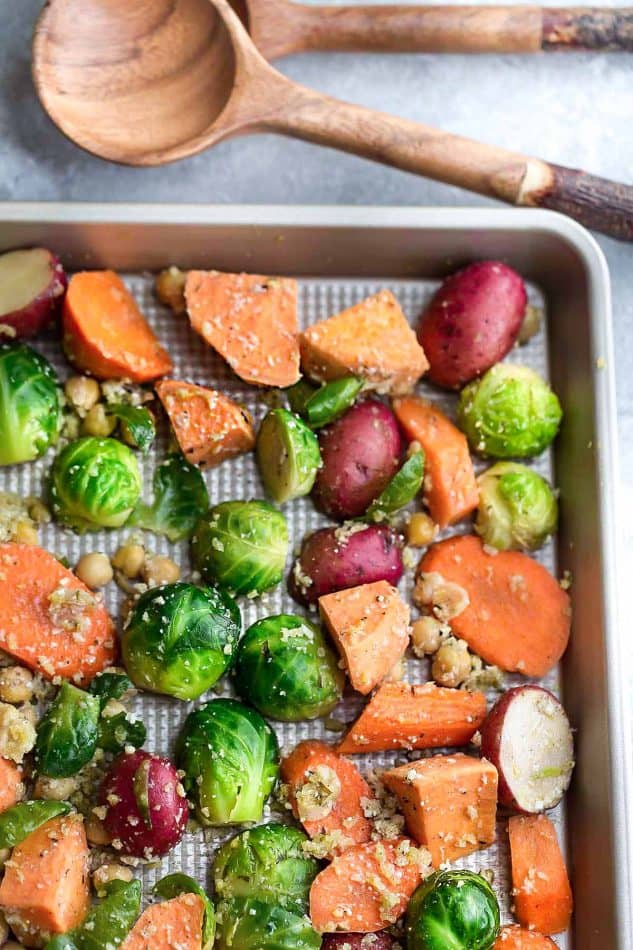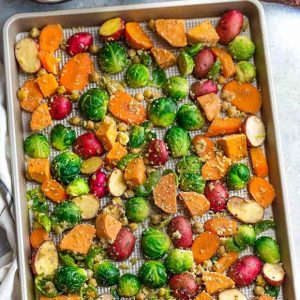 One Pan Roasted Harvest Vegetables
One Pan Roasted Harvest Vegetables - made with carrots, sweet potatoes, Brussels sprouts, baby potatoes and chickpeas. A favorite side dish for fall.
Ingredients
1/2

lb

2 1/2 cups Brussels sprouts, trimmed and halved

1

medium carrot

peeled and sliced into 1/2" thick rounds

1

medium sweet potato

peeled and cut into cubes

1/2

lb

2 1/2 cups baby potatoes, halved

1/2

cup

canned chickpeas

rinsed and drained (leave out if preferred or add pecans instead)

4

tablespoons

olive oil

or more as needed

1

teaspoons

sea salt

or to taste

1/2

teaspoon

black pepper

or to taste

1

teaspoons

Italian seasoning

1

teaspoons

garlic powder

or 3-4 cloves fresh garlic, minced

1/4

cup

Panko crumbs

1/4

cup

finely grated Parmesan cheese

Optional substitutions:

Broccoli

Cauliflower, Rutabaga, Butternut Squash can be be swapped in or added in addition to the other vegetables.
Instructions
Preheat oven to 425 F. Lightly grease or line a large rimmed baking sheet (13x18 or a 10x15) with parchment paper, set aside

Combine all the ingredients to a large mixing bowl. Toss to coat well.

Spread the vegetables evenly in a single layer over prepared baking sheet, arranging the Brussels sprouts cut-side down. (do not overcrowd - use two baking sheets as needed)

Roast in preheated oven for 25 to 35 minutes (stirring half-way through) or until vegetables are tender and lightly browned. If you like them slightly charred, you can leave them in longer.

Remove from oven and transfer to serving dish.
More dishes incorporating pulses:
For more holiday side dishes:
40 Best Recipes for Thanksgiving
Miso Glazed Brussels Sprouts and Cranberries
Maple Cinnamon Roasted Butternut Squash
Apple Cranberry Sauce