This Instant Pot Chicken and Vegetables recipe is a savory fall meal featuring boneless chicken thighs, seasonal veggies, and aromatic spices. Enjoy the warmth of autumn flavors in this hearty and cozy dish. Gluten-free, dairy-free, paleo, Whole30 with low carb options.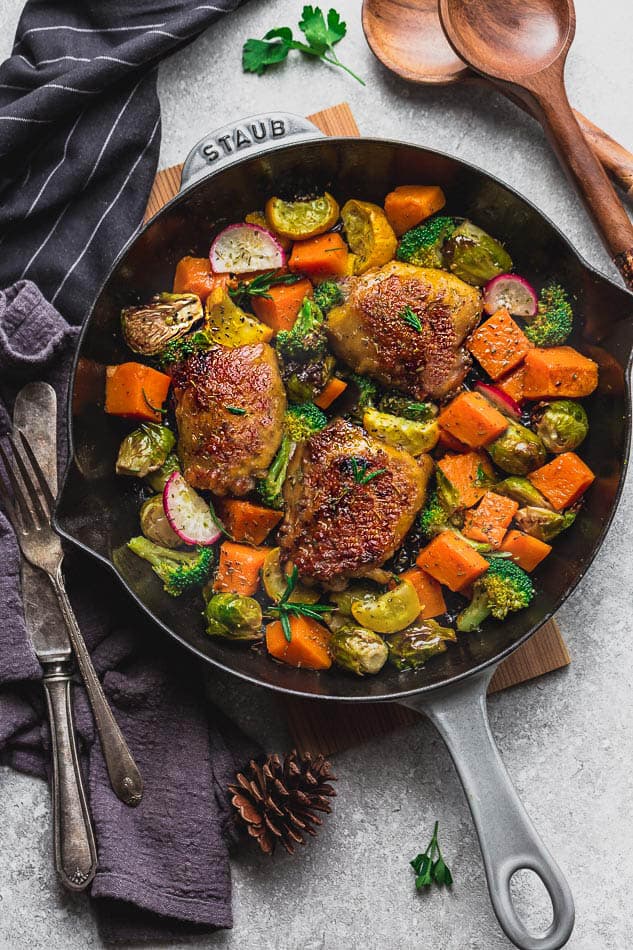 PIN HERE for later and follow my boards for more autumn recipe ideas
Instant Pot Chicken and Vegetables: A Delicious Autumn Delight
Are you ready to savor the flavors of fall in a single dish that's easy to prepare and bursting with seasonal goodness? This Instant Pot Chicken and Vegetables recipe is here to elevate your autumn dining experience. Featuring tender chicken, seasonal fall vegetables and aromatic herbs for a cozy, comforting meal that captures the essence of fall and offer a medley of textures and colors.
This Instant Pot recipe is a riff from our slow cooker chicken and vegetables and sheet pan chicken dinner that's full of cozy autumn flavors with hearty vegetables. Whether you're an experienced home cook or a beginner, this cozy fall recipe promises a heartwarming meal that's both satisfying and delicious and is sure to become a seasonal favorite.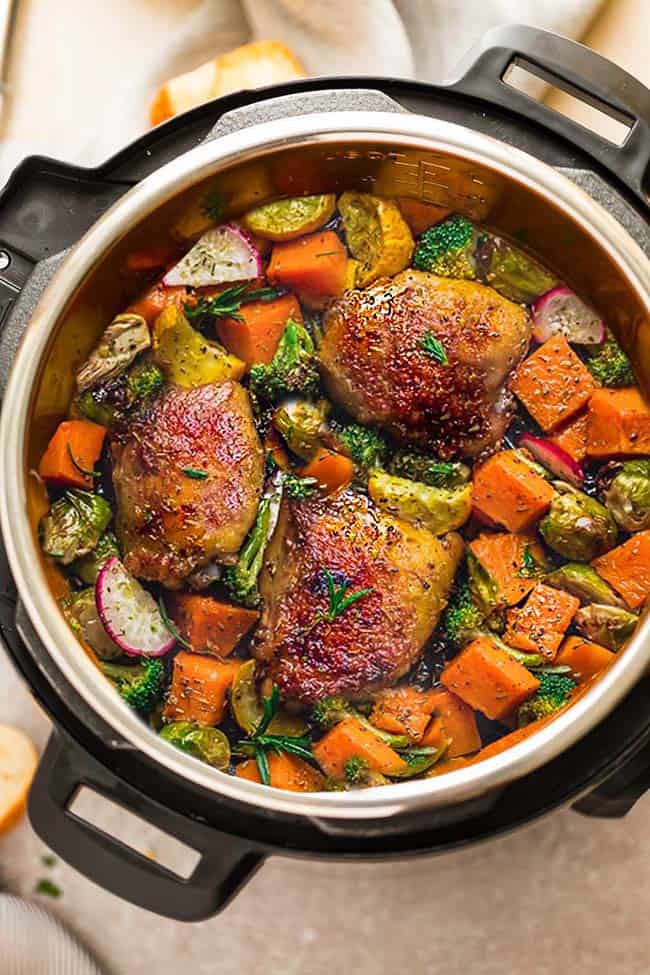 Ingredients You'll Need:
Before diving into the cooking process, let's explore the significance of each ingredient in this autumn-inspired recipe, feel free to swap out any vegetables of your choice.
Boneless Chicken Thighs: These serve as the hearty protein source, delivering a succulent and tender bite. Feel free to use chicken breasts or turkey if preferred. You may have to adjust the cooking times accordingly.
Seasonings (Sea Salt, Pepper, Garlic Powder, Dried Thyme, Dried Rosemary, Dried Sage): These aromatic seasonings infuse the dish with warmth and earthy flavors, perfectly suited for the fall season.
Olive Oil and Ghee (or Butter): These fats are essential for sautéing and enhancing the overall richness of the dish.
Onion and Garlic: These aromatic staples add depth and savory notes, complementing the autumn vegetables.
Balsamic Vinegar: It provides a delightful touch of acidity and sweetness, balancing the savory elements.
Chicken Broth: This flavorful liquid forms the base of the dish, enveloping the ingredients in a comforting broth.
Butternut Squash: Offers a sweet and nutty flavor while contributing vibrant color to the dish. You can also opt for other squash varieties such as buttercup, kabocha squash, delicata squash or pumpkin for a lower-carb option.
Broccoli Florets: Provide a burst of green and a slightly crunchy texture.
Brussels Sprouts: These little green gems add a delightful crunch and a mild, slightly nutty flavor. They're the perfect addition to this fall-inspired meal.
Yellow Zucchini: Adds a mild, slightly sweet taste and a pop of color.
Chopped Herbs: Fresh Parsley or Thyme: These fresh herbs provide a burst of freshness, evoking the scents of a crisp autumn day and are the finishing touch, elevating the dish's appearance and flavor.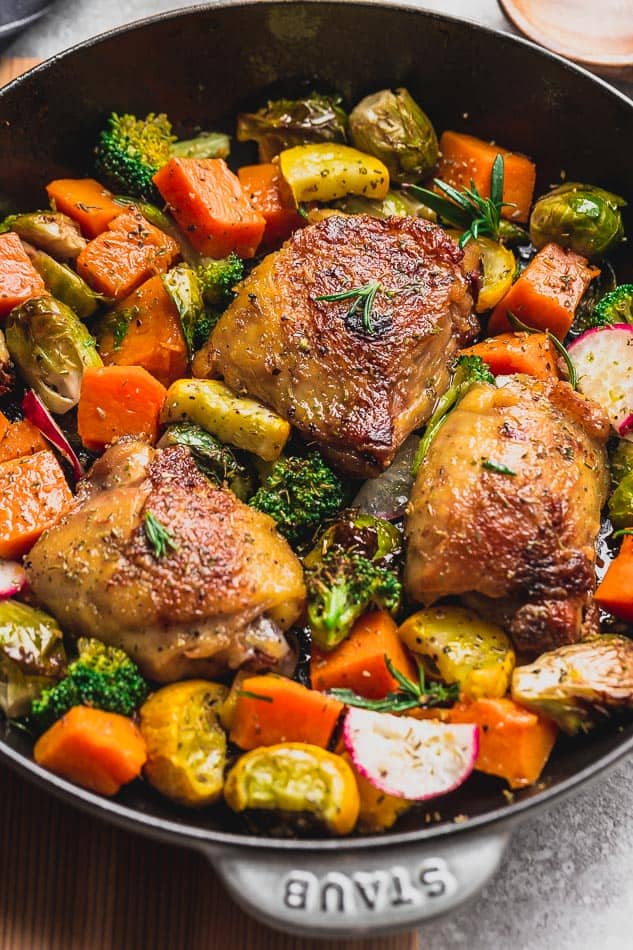 How to make Instant Pot Chicken and Vegetables
Season the Chicken: Season boneless chicken thighs with a blend of savory spices.
Searing in the Instant Pot: Sear the chicken in the Instant Pot for a golden, tender crust.
Creating the Flavorful Base: Create a rich base by sautéing onions, garlic, and deglazing with balsamic vinegar. Add chicken broth, returning the browned chicken, pumpkin, and Brussels sprouts.
Pressure Cooking: Pressure cook for 7 minutes to lock in flavors.
Steam the Veggies: Steam broccoli and zucchini for vibrant tenderness.
Final Touches: Serve the dish with a flavorful sauce and garnish with fresh herbs.
**NOTE: We have the 6 Quart Instant Pot Duo and have NEVER HAD an issue with adding the amount of liquid called for in this recipe but if you do get that "burn" message, you can certainly try adding more liquid.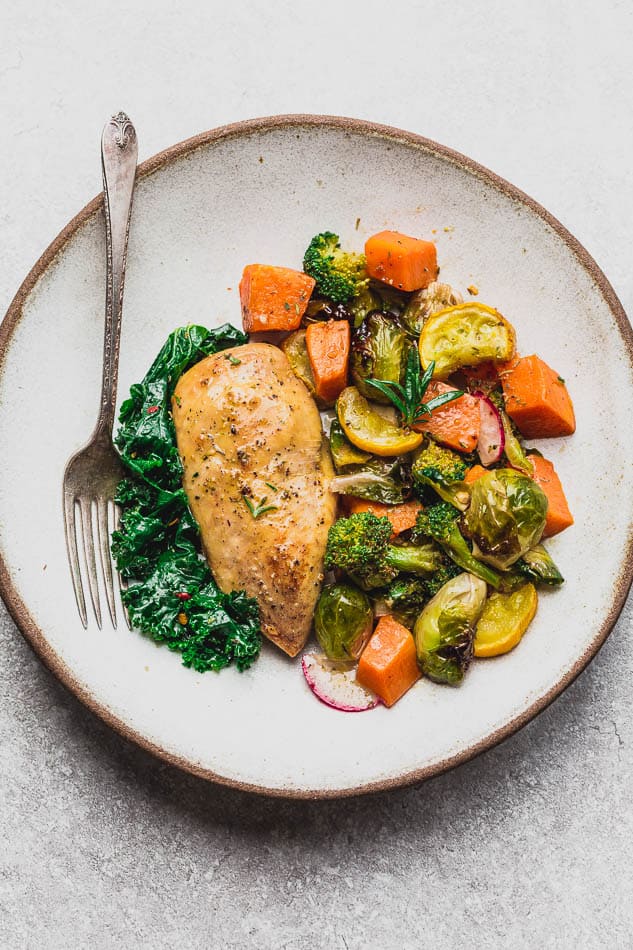 Tips for Success
Creating the perfect Instant Pot Harvest Chicken and Fall Vegetables dish is a breeze when you follow these tips:
Searing the Chicken: Searing the chicken in the Instant Pot ensures a flavorful, golden crust, sealing in juices for tender meat.
Deglazing with Balsamic Vinegar: The balsamic vinegar not only adds a sweet tang but also helps deglaze the pan, infusing the sauce with richness.
Pressure Cooking: Follow Instant Pot instructions for sealing and pressure cooking carefully to ensure well-cooked chicken and vegetables.
Steaming Vegetables: After pressure cooking, briefly steam the broccoli and zucchini, preserving their vibrant colors and tenderness.
Sauce Thickening: If needed, sauté the sauce after cooking to achieve a slightly thickened, luscious consistency.
Variations and Substitutions
Customize the Instant Pot Harvest Chicken and Fall Vegetables recipe to match your preferences or dietary needs:
Protein: Experiment with turkey, pork, or tofu for alternative protein choices.
Vegetables: Swap in your favorite seasonal vegetables or use sweet potatoes for added sweetness.
Herbs: Explore different fresh herbs like sage or basil for unique flavor profiles.
Serving Suggestions
This recipe pairs wonderfully with various sides to complete your fall feast:
Storage and Freezer Instructions
Store any leftovers in an airtight container in the refrigerator for up to three days.
To extend shelf life, consider freezing portions in freezer-safe containers or bags, ensuring they're airtight. Properly stored, the dish can remain in the freezer for up to three months, offering convenient future meals.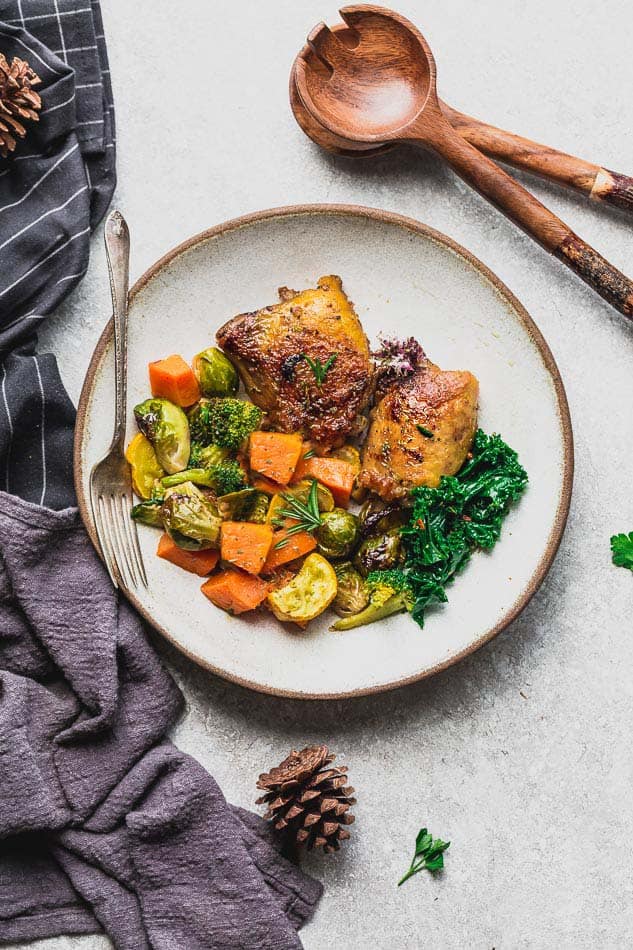 Why Choose the Instant Pot for Your Chicken and Vegetables Recipe
If you're new to cooking with an Instant Pot or simply curious about why it's the preferred choice for our Chicken and Vegetables recipe, we've compiled a list of frequently asked questions to provide you with some insights.
1. What is an Instant Pot, and why should I use it?
The Instant Pot is a versatile electric pressure cooker that has become a kitchen essential for many. It's favored for its convenience, speed, and ability to simplify the cooking process.
Time-Saving: The Instant Pot significantly reduces cooking time compared to traditional methods and a game-changer for busy individuals or families.
Flavor Enhancement: The sealed environment in the Instant Pot helps retain moisture and flavor, resulting in tender, delicious dishes.
Multi-Functionality: It's not just a pressure cooker; it can also be used as a slow cooker, rice cooker, steamer, sauté pan, and more, making it a versatile kitchen tool.
2. What are the advantages of using the Instant Pot for this recipe?
Using the Instant Pot for this recipe offers several advantages:
Efficiency: Allows you to sauté, pressure cook, and steam all in one pot, reducing the number of dishes you need to clean.
Hands-Off Cooking: You can step away and let the Instant Pot do the work, which is particularly convenient for busy days.
Flavor Infusion: The sealed cooking environment traps flavors and aromas, resulting in a more intense and delicious final dish.
Even Cooking: Evenly distributes heat, ensuring that all components of the recipe cook consistently.
FAQ: Frequently Asked Questions
1. Can I make this recipe without an Instant Pot?
Absolutely! While we love the Instant Pot for its convenience, you can still prepare this Chicken and Vegetables dish on the stovetop using a cast iron skillet or a regular pan. Follow the stovetop instructions provided in the recipe, and you'll achieve similarly delicious results.
2. What if I don't have certain ingredients on hand?
Don't worry; our recipe is versatile! You can easily adapt it to the ingredients you have available. For instance:
If you don't have Brussels sprouts, try using green beans or asparagus.
Substitute butternut squash with pumpkin, kabocha squash, honeynut squash or sweet potatoes.
Feel free to switch up the fresh herbs according to your preference or what's in your garden.
3. How do I adjust the cooking time for different cuts of chicken?
The cooking time may vary depending on the size and thickness of your chicken pieces. Thicker cuts might require a slightly longer cooking time. To ensure safety, use a meat thermometer to check that the chicken reaches an internal temperature of 165 degrees Fahrenheit (74 degrees Celsius).
4. Can I make this recipe in advance?
Yes, you can prepare this dish ahead of time and reheat it when ready to serve. It's a convenient option for meal prepping or for those who want to enjoy a home-cooked meal on busy days.
5. Are there any dietary variations for this recipe?
Certainly! We've included options in the recipe for those following a Paleo or Whole30 diet. You can also adjust the recipe to fit other dietary needs, such as low-carb or gluten-free, by making ingredient substitutions.
More Instant Pot dinner recipes you might like:
Instant Pot Whole Chicken Rotisserie Style
Instant Pot Lemon Garlic Chicken
Chicken Cacciatore (Instant Pot)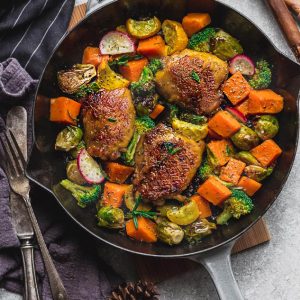 Instant Pot Chicken and Vegetables
This Instant Pot Chicken and Vegetables recipe is a savory fall meal featuring boneless chicken thighs, seasonal veggies, and aromatic spices. Enjoy the warmth of autumn flavors in this hearty and cozy dish. Gluten-free, dairy-free, paleo, Whole30 with low carb options.
Keyword:
autumn, broccoli, Brussels sprouts, chicken, harvest, Instant Pot, instant pot chicken and vegetables
Ingredients
6-8

boneless chicken thighs skinless or with skin*

, feel free to sub with chicken breasts, turkey or other protein of choice such as pork chops, salmon or even tofu. You may have to adjust the cooking times accordingly.

sea salt and pepper

, to taste

1/2

teaspoon

garlic powder

1/2

teaspoon

dried thyme

1/2

teaspoon

dried rosemary

1/4

teaspoon

dried sage

2

tablespoons

olive oil

3

tablespoons

ghee or grass-fed butter

, can also sub with vegan butter for dairy-free or regular unsalted butter if not paleo OR whole 30

1/2

small onion

, chopped

2

garlic cloves

, sliced or minced

1 1/2

tablespoons

balsamic vinegar

1/2

cup

homemade or low sodium chicken broth **PLEASE SEE NOTES BELOW

2

cups

Brussels sprouts (about 1/2 pound)

, trimmed and halved

1

cup

chopped / cubed butternut squash

, feel free to sub with any other fall squash of choice such as hubbard squash, kabocha squash, buttercup squash, delicata squash or pumpkin for a lower carb option

1

cup

broccoli florets

1

small

yellow zucchini

, quartered

Chopped fresh parsley or thyme
Instructions
Season the chicken with salt, pepper, garlic powder, thyme, rosemary and sage.
Instant Pot Version:
Press the Sauté function (Normal setting) on the Instant Pot and add the olive oil to the pot. (I use a 6 Quart Instant Pot DUO)

Place chicken in the Instant Pot and cook on each side for 2-3 minutes, or until golden brown. This helps to seal in the juices and keep it tender. (You may have to work in batches depending on the size and amount of chicken you are using). Once browned, remove from Instant Pot and set aside.

Melt ghee in the Instant Pot and stir in the onions and garlic. Add balsamic vinegar to deglaze pan and cook for 1 minute.


Add the chicken broth along with the browned chicken back into the Instant Pot. Add the pumpkin and Brussels sprouts. Lock the lid, and turn the valve to SEALING.

Select the Manual (older models) or Pressure Cook (newer models) button and adjust the timer to 7 minutes.

It will take about 5-10 minutes to come to pressure and start counting down.

When done, do a quick release, then remove your Instant Pot lid. Add the broccoli and zucchini then close the lid for 2 minutes to steam.


Once the broccoli is tender, remove chicken and all the vegetables to a platter; cover loosely to keep warm.

Press saute and cook any remaining sauce for about 2-3 minutes until slightly thickened.

Serve sauce with chicken and vegetables; sprinkle with rosemary and parsley, if desired.
Stovetop / Skillet Version
In a medium-sized skillet over medium-high heat add olive and cook for 4-5 on each side, or until chicken reaches 165 degrees. Transfer browned chicken to plate and set aside.

Return pan back to heat and melt ghee. Stir in the onions and garlic. Add balsamic vinegar to deglaze the pan while stirring up any brown bits. Add the chicken broth then add the chicken back into the pan until hot.

Add Brussels sprouts, pumpkin, onion, and season with salt and pepper to taste. Cook, stirring occasionally, until crisp-tender and the onions are beginning to look translucent, about 10 minutes.

Stir in the broccoli and zucchini and cook for 1 minute. Pour in 1/4 cup of the broth. Bring to a boil and cook for about 2 minutes. Add the reserved chicken and remaining 1/4 cup broth. Cook until heated through, about 2 minutes.

Sprinkle chicken with fresh rosemary and chopped parsley and serve hot with your favorite sides. Spoon sauce over chicken and vegetables.
Recipe Notes
*For chicken breasts: use 3 breasts, sliced horizontally in half.
****We use 1/2 cup of broth in my 6 Quart Instant Pot DUO with no problems or *burning sign - if needed you can increase the amount of liquid if this combination doesn't work for your Instant Pot model
How to store:
You can store any leftovers in an airtight container in the refrigerator for up to 3 days.
How to freeze:
To freeze, place the chicken and vegetables in a freezer-safe container or bag, and they'll stay good for up to 2 months. Reheat in the oven or microwave for a quick and satisfying meal.
How to make-ahead
Preparing your Sheet Pan Chicken Dinner ahead of time can save you valuable minutes on busy days.
To do this effectively, marinate the chicken, prep the vegetables and combine seasonings.
Nutrition Facts
Instant Pot Chicken and Vegetables
Amount Per Serving (1 g)
Calories 206
Calories from Fat 108
% Daily Value*
Fat 12g18%
Carbohydrates 5g2%
Protein 16g32%
* Nutrition facts are provided as a courtesy using the WPRM recipe calculator. It is best to make your own calculations to ensure accuracy. We expressly disclaim any and all liability of any kind with respect to any act or omission wholly or in part in reliance on anything contained in this website. Percent Daily Values are based on a 2000 calorie diet.