Slow Cooker Teriyaki Chicken – this recipe is the perfect set and forget meal with a delicious homemade teriyaki sauce. Best of all, just 10 minutes of prep made in a crock-pot or your Instant Pot pressure cooker. Plus step-by-step recipe video!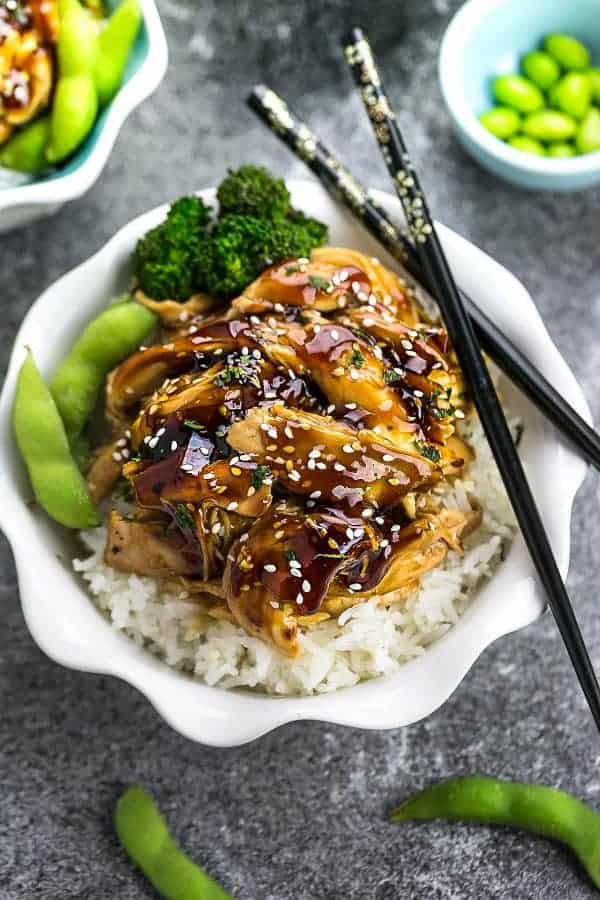 I decided to re-post this Slow Cooker Teriyaki Chicken with some updated photos and included instructions for the Instant Pot.
I've also included some substitutes for a paleo version and a short recipe video will be coming soon but in the mean time, here is the video for this One Pot Teriyaki Rice with Chicken with similar ingredients: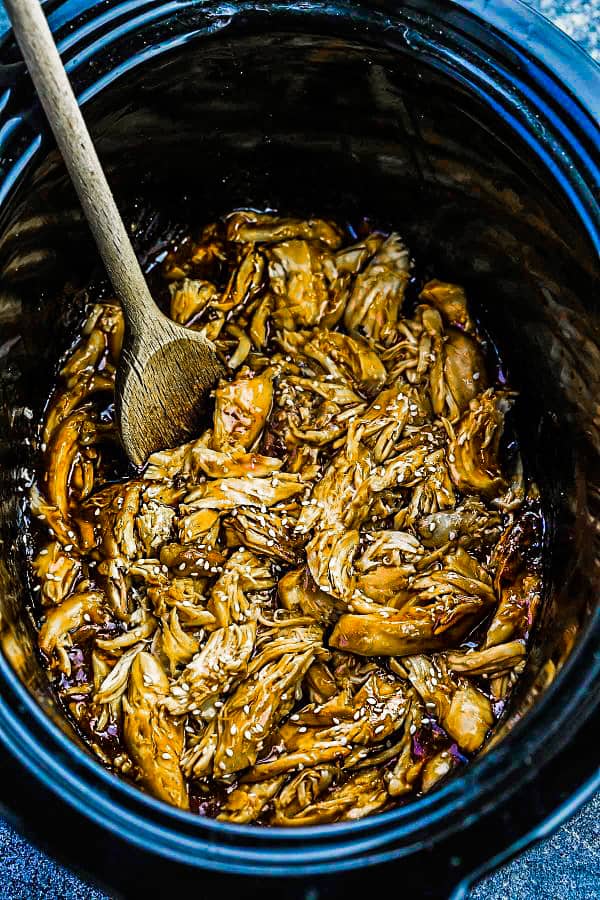 This recipe for Slow Cooker Teriyaki Chicken couldn't be easier to make. It's a simple set and forget meal with just 10 minutes of prep making it just perfect for busy weeknights.
It starts off with a homemade teriyaki sauce consisting of soy sauce, rice wine vinegar, honey, Mirin, garlic and ginger. Mirin is pretty easy to find these days in the International section of most large grocery stores and online but you can definitely leave it out or use dry sherry or rice wine instead.
Everything gets tossed into the slow cooker while the chicken soaks in all that amazing sweet and savory sauce. Once the chicken is nice and tender, just grab two forks and shred them into bite-sized pieces.
You can serve this over your favorite rice, quinoa or noodles. Sprinkle with some sesame seeds and scallions and you've got a delicious meal that can easily rival your local take-out restaurant.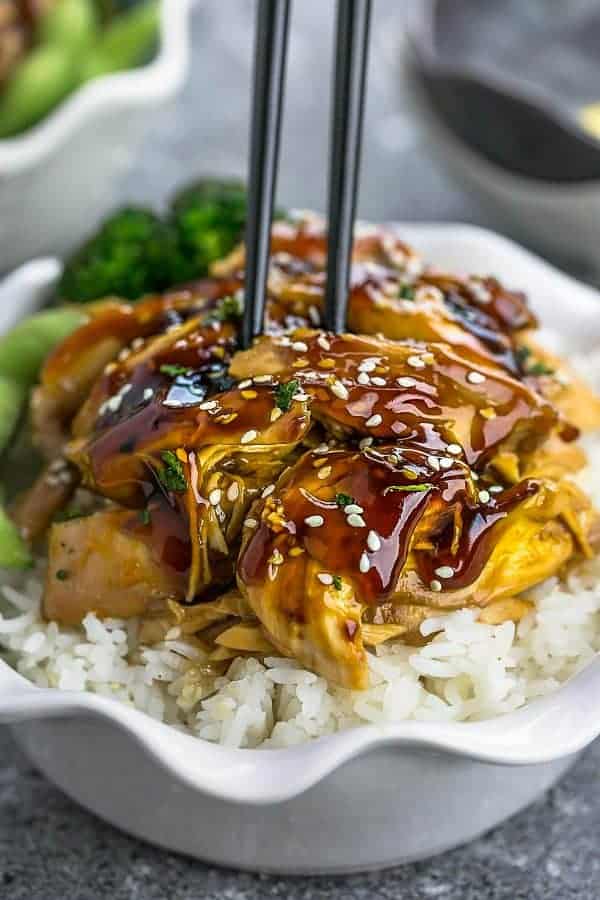 This Slow Cooker Teriyaki Chicken would also make great leftovers or if you prep this on your Sunday meal prep, you can have yummy work or school lunches for the rest of the week.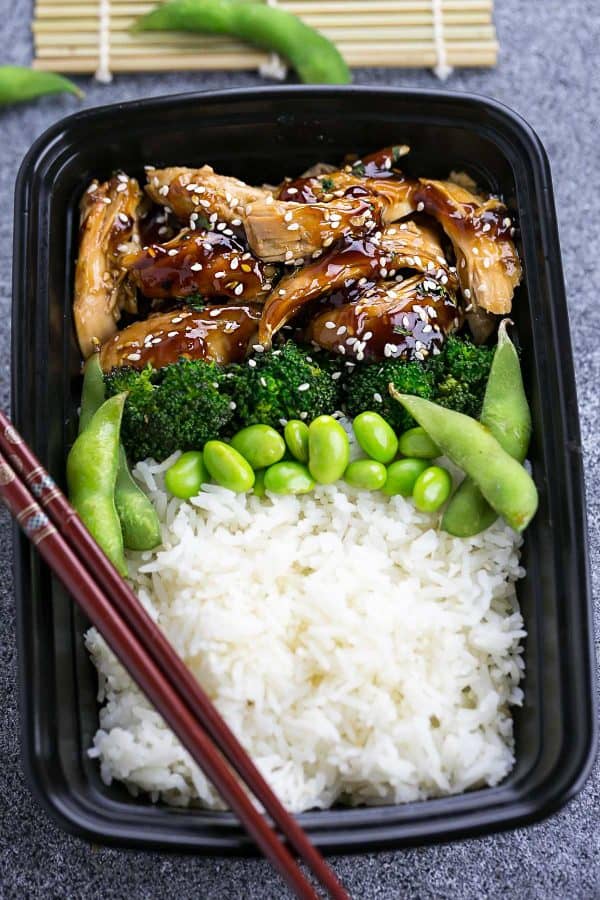 SOME MEAL PREPPING TIPS FOR THIS SLOW COOKER TERIYAKI CHICKEN:
Mix the sauce ingredients together the day before and store in an air-tight container in the fridge
Make the rice or noodles the day before and store in an air-tight container in the fridge
Weekly meal prep or the leftovers can be packed into lunch containers for the week – I use this lunch container
Pack with your favorite vegetables (broccoli & edamame shown here) and carbs – Jasmine rice, brown rice, cauliflower rice or spiralized vegetables – zoodles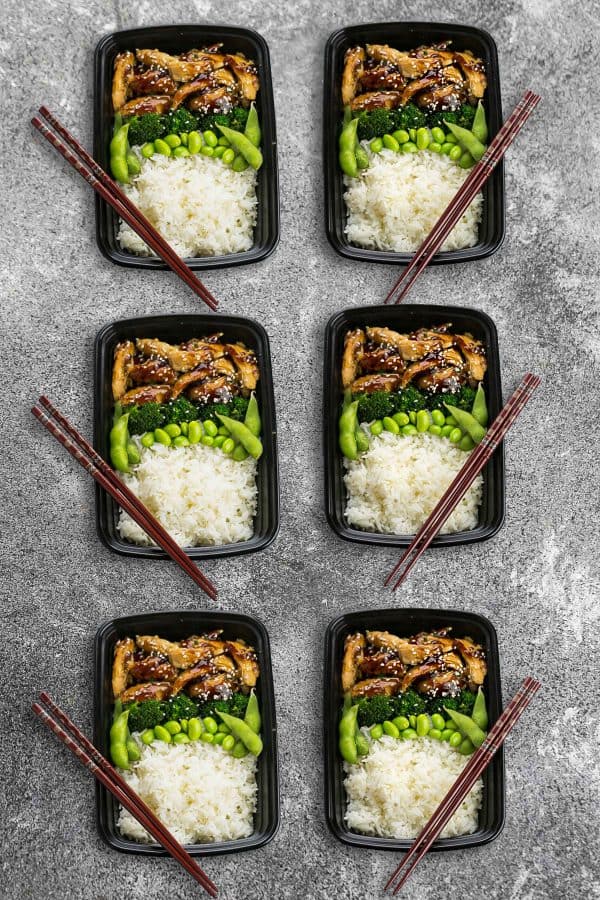 More lunch bowl ideas:
General Tso's Chicken Lunch Bowls
Slow Cooker Orange Lunch Bowls
Sweet and Sour Chicken Lunch Bowls
Asian Lemon Chicken Lunch Bowls
Honey Lime Chicken with Asparagus Lunch Bowls
More take-out favorites:
Slow Cooker Chicken Lo Mein Noodles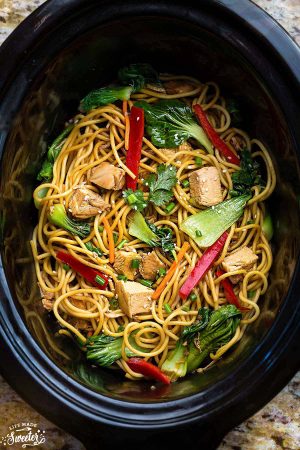 Slow Cooker Sweet and Sour Chicken with Pineapples and Bell Peppers