These Zucchini Cookies are a delicious and guilt-free way to satisfy your sweet tooth with wholesome ingredients like grated zucchini, almond flour, dairy-free chocolate, and more! They make the perfect delicious and satisfying treat to use up any extra garden zucchini.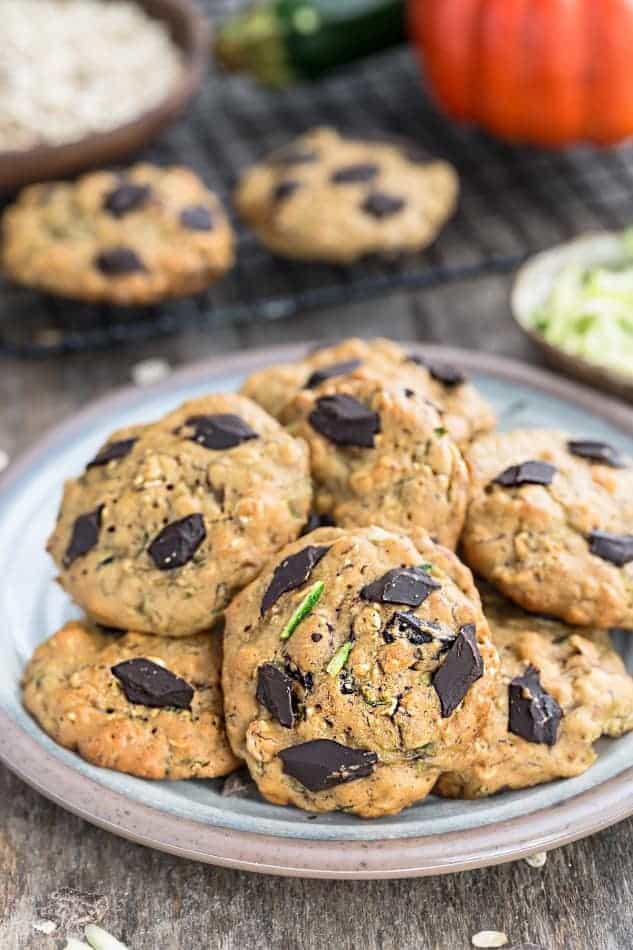 Pin HERE for later AND follow my Recipes Board on Pinterest for more easy treats!
Updated August 2023
Delicious and Healthier Zucchini Cookies: A Guilt-Free Treat
When it comes to satisfying your sweet tooth while still making mindful choices for your health, these zucchini cookies are the ultimate guilt-free treat. Packed with wholesome ingredients and bursting with flavor, these cookies are a delightful way to sneak some veggies into your dessert. Plus, they're gluten-free and dairy-free, making them a perfect option for various dietary preferences.
These delightful treats offer a unique combination of flavors and textures, making them a standout option for guilt-free indulgence. Whether you're enjoying them as a snack, dessert, or sharing them with loved ones, our zucchini chocolate chips cookies are a testament to the fact that you can have both flavor and health in every delectable bite.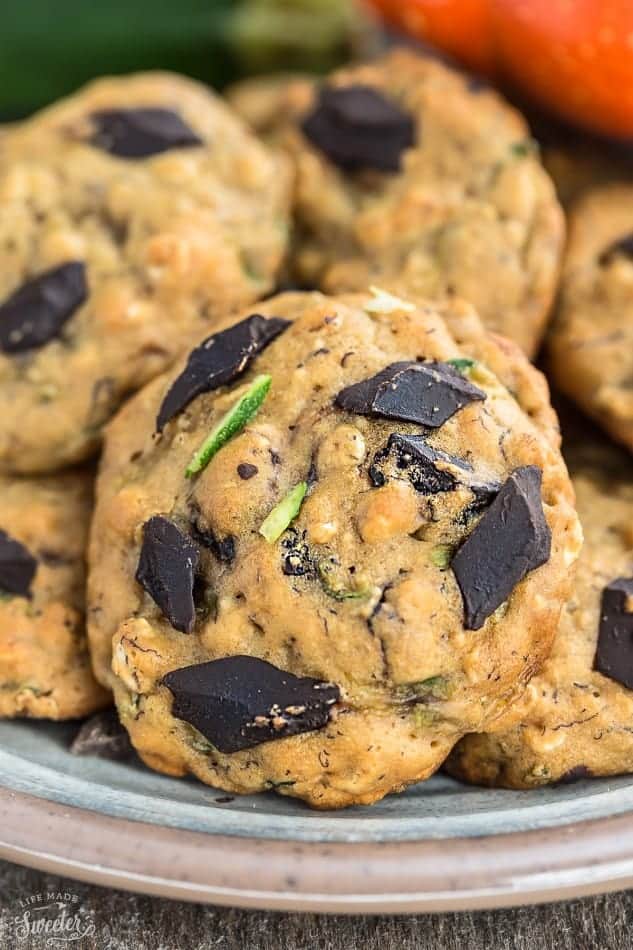 Ingredients: Elevating Flavor and Nutrition
Every ingredient in this healthy zucchini cookie recipe plays a vital role in creating a delectable and nutrient-rich treat.
Egg: Adds moisture and structure to the cookies.
Ghee or Grass-fed Butter (or Coconut Oil): Provides a rich, buttery flavor while keeping the cookies dairy-free if desired.
Monk Fruit Sweetener (or Coconut Sugar): Offers a natural, low-carb sweetening option that won't spike your blood sugar.
Vanilla Extract: Enhances the overall flavor profile of the cookies.
Zucchini: Adds moisture, texture, and a hint of earthy sweetness to the cookies.
Almond Flour: Creates a tender and nutty base, rich in healthy fats and protein.
Coconut Flour: Helps absorb moisture and contributes to the cookie's structure.
Baking Soda: Acts as a leavening agent, giving the cookies a soft and chewy texture.
Cinnamon: Infuses warmth and a touch of spice to complement the other flavors.
Dairy-Free Chocolate: Brings a delightful burst of chocolatey goodness to each bite.
Coarse Sea Salt (optional): Elevates the taste by providing a satisfying contrast of flavors.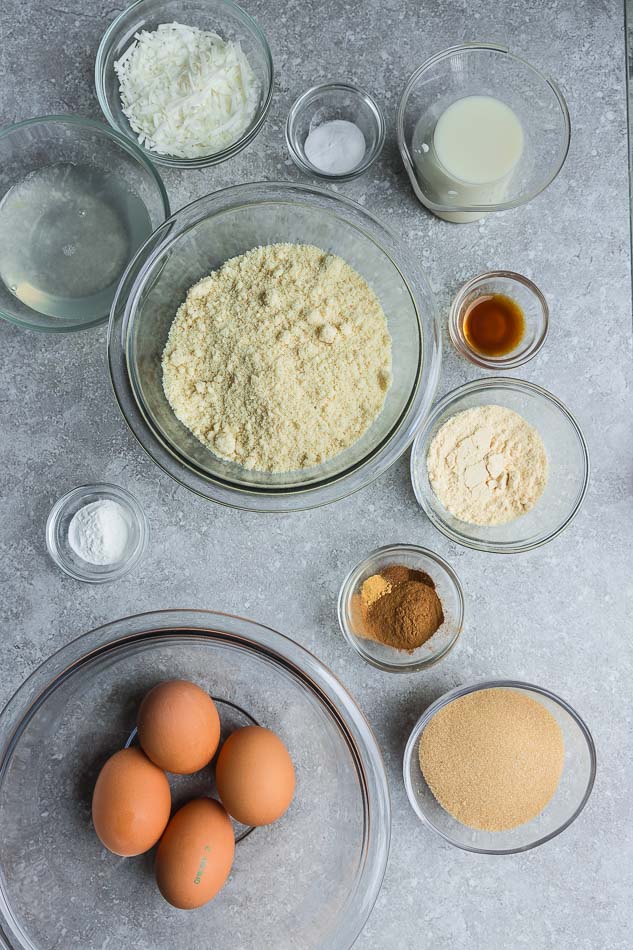 Instructions: How to make Zucchini Cookies
Follow these simple steps to create your batch of scrumptious zucchini breakfast cookies:
Preheat: Preheat your oven to 350 degrees Fahrenheit (175 degrees Celsius).
Combine Wet Ingredients: In a large bowl, beat the egg until well-mixed. Add the softened ghee (or butter/coconut oil), monk fruit sweetener (or coconut sugar), and vanilla extract. Mix until the ingredients are fully incorporated.
Incorporate Zucchini: Gently fold in the finely grated zucchini, ensuring it's well distributed throughout the mixture.
Add Dry Ingredients: Stir in the almond flour, coconut flour, baking soda, and cinnamon. Mix until all ingredients are combined, creating a cookie dough.
Fold in Chocolate: Carefully fold in the coarsely chopped dairy-free, sugar-free chocolate. This decadent addition will create pockets of chocolatey goodness in your cookies.
Shape and Bake: Use a small cookie scoop to drop spoonfuls of dough onto an ungreased baking sheet. Remember, these cookies don't spread much, so gently flatten the dough with your hand or the bottom of a small glass. Bake in the preheated oven for 11-14 minutes, or until the edges are slightly golden brown.
Cool and Enjoy: Allow the cookies to cool on the baking sheet for 10 minutes before transferring them to a wire rack to finish cooling. For an extra touch of flavor, sprinkle a pinch of coarse sea salt on top (optional).
Tips for Success: Baking Perfect Zucchini Cookies
Achieving the best results with your zucchini chocolate chip cookies is easy with a few insider tips:
Squeeze that Zucchini: After grating the zucchini, make sure to remove excess moisture by squeezing it. This step prevents your cookies from becoming too wet.
Gentle Flattening: Since these cookies don't spread much during baking, gently flatten the dough before baking to ensure even cooking.
Precision with Ingredients: Use the recommended sweeteners and flours for the best taste and texture. Substitutions may alter the final result.
Variations and Substitutions: Get Creative
Customize your zucchini cookies to suit your cravings and dietary needs:
Nut-Free: Replace almond flour with sunflower seed flour for a nut-free version.
Add Nuts: Fold in chopped walnuts, pecans, or almonds for extra crunch and flavor.
Fruity Twist: Mix in dried cranberries or raisins for a burst of natural sweetness.
Oats: You can try mixing in some gluten-free oats for the ultimate zucchini oatmeal cookies.
Substitutions
Golden monk fruit sweetener: You can swap with any other granulated sweetener, coconut sugar, maple sugar to keep these zucchini cookies paleo. If not low carb or paleo, you can use brown sugar
Egg: We have not tried but use ONE flax egg or chia egg to make these zucchini cookies vegan
Chocolate chips: Leave out or add dried fruit instead
Almond flour: To keep these cookies nut free, you can also grind some old-fashioned rolled oats into oat flour (if not paleo) to make zucchini oatmeal cookies.
Xanthan Gum: Optional: Adding just 1/4 tsp Xanthan gum: according to this article, xanthan gum provides elasticity and stickiness to gluten free doughs and batters. It acts as the binding agent for the flour, helps hold onto some moisture, and helps give the baked good some structure.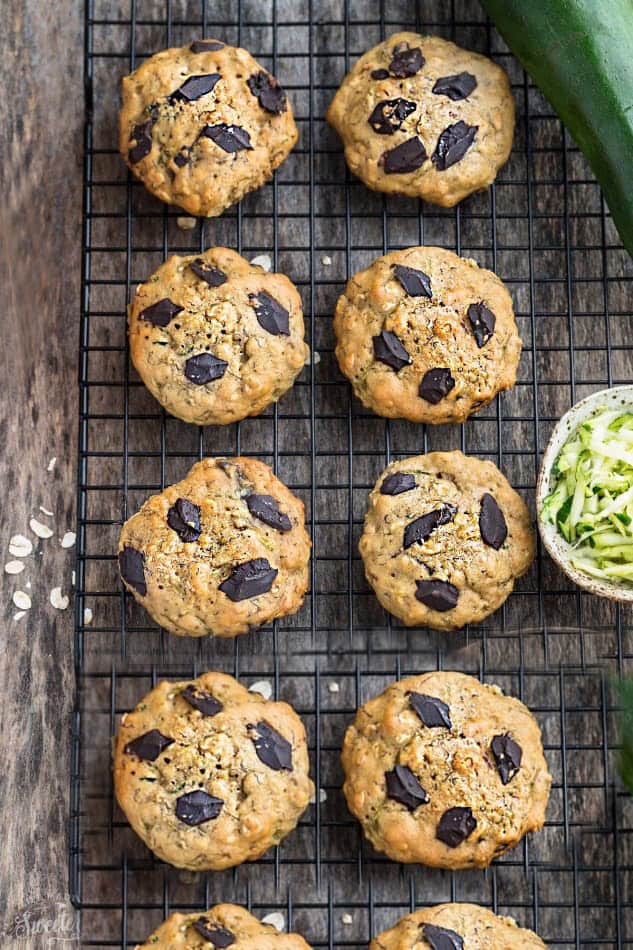 Storage and Freezer Instructions: Enjoy Anytime
Storing these healthy zucchini cookies properly ensures they stay fresh and delicious:
Room Temperature: Store in an airtight container at room temperature for up to 3 days.
Refrigerator: Refrigerate for longer shelf life, up to a week.
Freezer: To enjoy later, freeze baked cookies for up to 2 months. Thaw at room temperature when ready to savor.
Reheat: Then when you're craving a warm and gooey cookie, just pop one in the microwave for about 7 seconds and they're the perfect texture.
Serving Suggestions: Elevate the Experience
These zucchini cookies shine on their own, but you can take them to the next level with these ideas:
Ice Cream Sandwiches: Create a healthier ice cream sandwich by placing a scoop of your favorite dairy-free ice cream between two zucchini cookies.
Nut Butter Filling: Spread almond butter or peanut butter between two cookies for a satisfying snack.
Tea Time Treat: Pair these cookies with your afternoon tea for a delightful indulgence.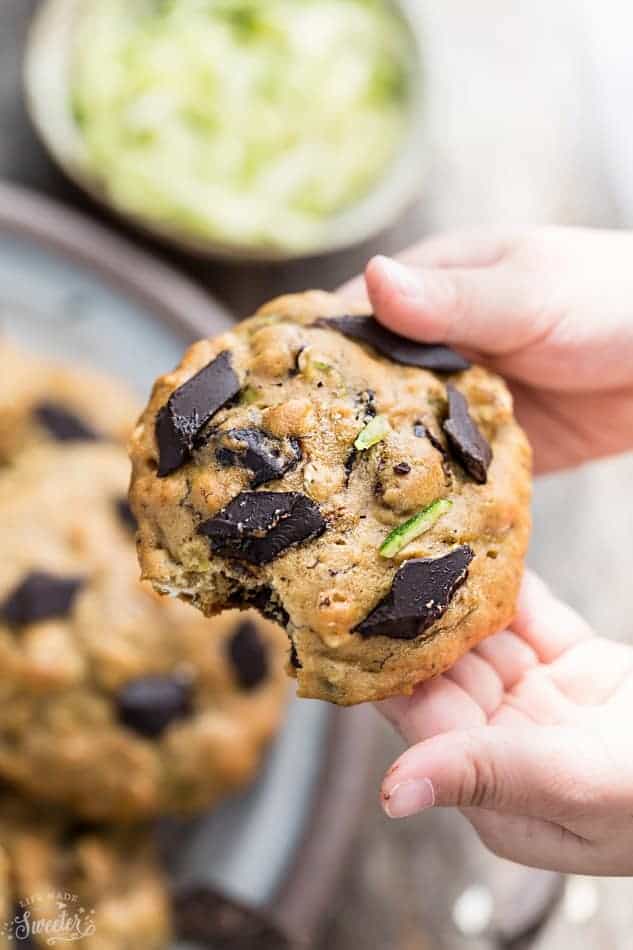 More easy zucchini recipes you might like:
Here are some more baked zucchini desserts to use up some of the farmer's market or grocery store zucchini you bought: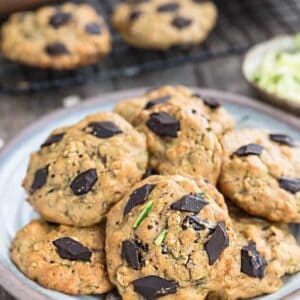 Zucchini Cookies
These Zucchini Cookies are a delicious and guilt-free way to satisfy your sweet tooth with wholesome ingredients like grated zucchini, almond flour, dairy-free chocolate, and more! They make the perfect delicious and satisfying treat to use up any extra garden zucchini.
Keyword:
chocoate chip, chocolate chip cookies, cookies, keto, keto cookie, low carb, paleo
Ingredients
1

large egg

, room temperature

1/4

cup

ghee

, softened (OR can use softened grass-fed butter (my first choice for best taste and texture) OR refined coconut oil for dairy-free

1/2

cup

golden monk fruit sweetener

(I have not tried this recipe with SWERVE or STEVIA so can't speak to the results if you use those) OR coconut sugar for paleo

1 1/2

teaspoons

vanilla extract

1/2

cup

finely grated zucchini

, be sure to squeeze out as much water as possible after measuring

2

tablespoons

coconut flour

2/3

teaspoon

baking soda

1

teaspoon

cinnamon

3

oz

dairy-free sugar free chocolate

, coarsely chopped (we like Lily's Sweets or Hu's Kitchen Gems for paleo)

Coarse sea salt

, for sprinkling (optional)
Instructions
Preheat oven to 350 degrees F.

In a large bowl, beat egg then whisk in softened ghee, sweetener and vanilla extract. Add the grated zucchini and mix until combined.

Stir in the almond flour, coconut flour, baking soda and cinnamon until combined.

Fold in chopped chocolate.

Use a small cookie scoop to drop dough onto ungreased baking sheet. The cookies do NOT spread much so gently flatten the dough with your hand or the bottom of a small glass.

Bake for 11-14 minutes, or until edges are slightly golden brown. Allow to cool on cookie sheet for 10 minutes before transferring to a wire rack to finishing cooling. Sprinkle with optional sea salt.
Nutrition Facts
Zucchini Cookies
Amount Per Serving (1 g)
Calories 165
Calories from Fat 108
% Daily Value*
Fat 12g18%
Carbohydrates 8g3%
Protein 4g8%
* Nutrition facts are provided as a courtesy using the WPRM recipe calculator. It is best to make your own calculations to ensure accuracy. We expressly disclaim any and all liability of any kind with respect to any act or omission wholly or in part in reliance on anything contained in this website. Percent Daily Values are based on a 2000 calorie diet.
Disclaimer: This updated post was generated in August, 2023 by ChatGPT, an AI language model, and all info should be reviewed and validated by a human for accuracy and relevancy before implementation.