These healthy Zucchini Muffins featuring almond flour and dairy-free chocolate chips are tender, moist and make the perfect satisfying treat for using up any extra zucchini.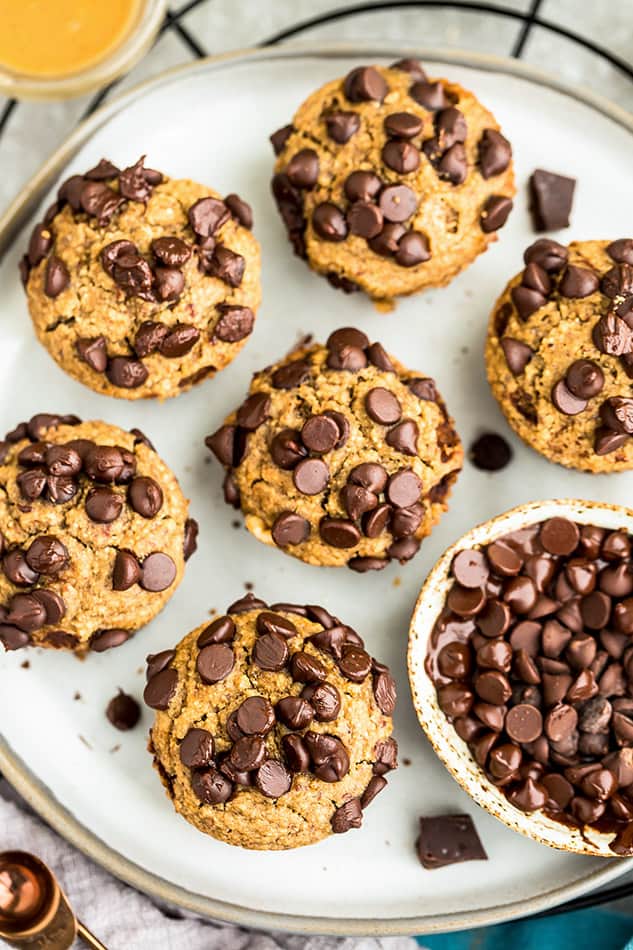 PIN HERE for later and follow my boards for more recipe ideas
Updated August 2023
Delicious and Nutritious Zucchini Muffins: A Perfect Way to Enjoy Your Greens
Are you searching for a delightful and healthier way to satisfy your sweet tooth? These scrumptious Zucchini Muffins are packed with wholesome ingredients, bursting with flavor and a delicious way to get in some hidden veggies.
Not only are these muffins a wonderful treat for any time of day, they are the perfect perfect way to use up all that extra summer garden zucchini. Whether you're looking for a nutritious breakfast option, a satisfying snack, or a guilt-free dessert, these moist zucchini chocolate chip muffins make for an irresistible combination that's sure to satisfy your cravings.
Whether you're following a specific dietary lifestyle or simply seeking a healthier treat, these chocolate zucchini muffins are the answer you've been looking for. Give them a try and experience the perfect blend of flavor, nutrition, and indulgence.
So go ahead, whip up a batch of these delightful zucchini muffins and treat yourself to a guilt-free indulgence that's sure to become a favorite in your household!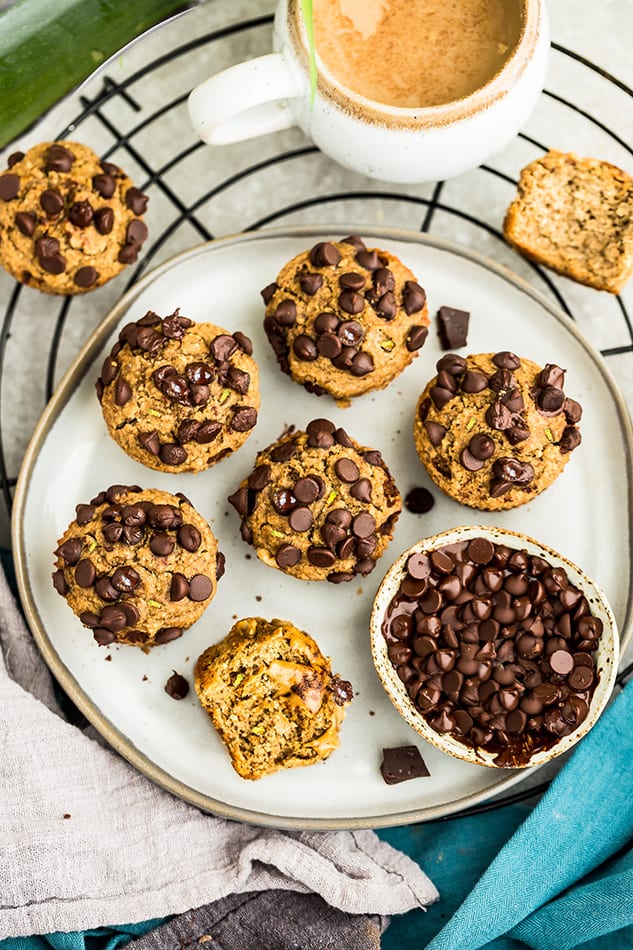 Ingredients you'll need
Eggs: Eggs provide structure and moisture to the muffins, helping them rise and achieve that perfect texture.
Almond Butter: Smooth almond butter adds richness and a nutty flavor while contributing healthy fats and protein.
Maple Syrup and Sugar: These natural sweeteners not only lend sweetness but also infuse a delightful maple undertone to the muffins. For a keto-friendly version, you can opt for Lakanto SF maple syrup or other low-carb alternatives.
Coconut Oil: Melted coconut oil lends a moist and tender crumb to the muffins while offering its beneficial medium-chain triglycerides.
Apple Cider Vinegar: A touch of apple cider vinegar enhances the muffins' rise and adds a subtle tang.
Vanilla: Vanilla extract brings warmth and depth of flavor to the muffins.
Almond Flour and Tapioca Flour: These gluten-free flours form the base of the muffins, providing structure and texture.
Zucchini: Grated zucchini not only adds moisture but also sneaks in some extra nutrients, making these muffins a clever way to enjoy your greens.
Baking Powder and Baking Soda: These leavening agents work their magic to give the muffins a light and airy crumb.
Cinnamon and Salt: Cinnamon adds cozy warmth, while a pinch of salt enhances all the flavors in the muffins.
Dairy-Free Chocolate Chips: Chocolate chips are the irresistible indulgence that takes these muffins to the next level. They provide bursts of chocolatey goodness in every bite. We like Hu's Kitchen Gems or Lily's Sweet Chocolate Chips. Leave out or swap in nuts if you don't love chocolate and zucchini together.
Instructions: How to make Zucchini Muffins
How to Grate Zucchini for Muffins
Wash the zucchini – this ensures you remove any pesticides and bacteria.
Trim off the ends – use a sharp knife to cut both ends of the zucchini and discard.
With a box grater: Hold box grater with one hand and the zucchini with the other hand. Run the zucchini up and down. Scoop the shredded zucchini into a large bowl
Be sure to squeeze very well to remove all of the liquid of the grated zucchini using a cheesecloth, nut milk bag or paper towel.
Make the Muffins
Prep: Preheat oven to 350°F. Grease muffin tin or use liners.
Mix Wet: Beat eggs, whisk in almond butter, maple syrup, sugar, coconut oil, vinegar, and vanilla.
Prep Zucchini: Grate and drain zucchini, add to wet mix.
Combine Dry: Sift in baking powder, baking soda, almond flour, tapioca flour, cinnamon, salt. Stir well.
Add Chocolate: Gently fold in 2/3 cup chocolate chips.
Fill Muffin Tins: Pour batter into tins, fill 3/4 full.
Top with Chips: Sprinkle more chocolate chips on each muffin.
Bake: Bake 21-23 minutes, toothpick should come out clean.
Cool: Let muffins cool in tin for 10 mins, then transfer to wire rack.
Tips for Success
Squeeze that Zucchini: To prevent excess moisture, be sure to thoroughly squeeze the grated zucchini using a cheesecloth, nut milk bag, or paper towels.
Sift and Stir: Sifting the dry ingredients helps ensure even distribution and a smoother batter. Stir gently until the batter is well mixed.
Storage and Freezer Instructions
These zucchini muffins can be stored in an airtight container at room temperature for a couple of days.
For longer freshness, keep them in the refrigerator for up to a week.
To freeze, wrap the muffins individually in plastic wrap and place them in a freezer-safe bag. They can be frozen for up to three months.
To enjoy, simply thaw at room temperature or warm in the oven.
Serving Suggestions
Enjoy these muffins as a quick breakfast on busy mornings, a delightful afternoon snack, or a guilt-free dessert after dinner. Pair them with a cup of cold brew coffee or a soothing cup of Matcha Latte for the ultimate treat.
Variations and Substitutions
Nut-Free: If you have nut allergies, you can substitute almond butter and almond flour with sunflower seed butter and sunflower seed flour.
Gluten-Free: These muffins are already gluten-free thanks to the almond and tapioca flours.
Add Nutrients: Feel free to throw in some chopped nuts, seeds, or dried fruits for added texture and nutrients.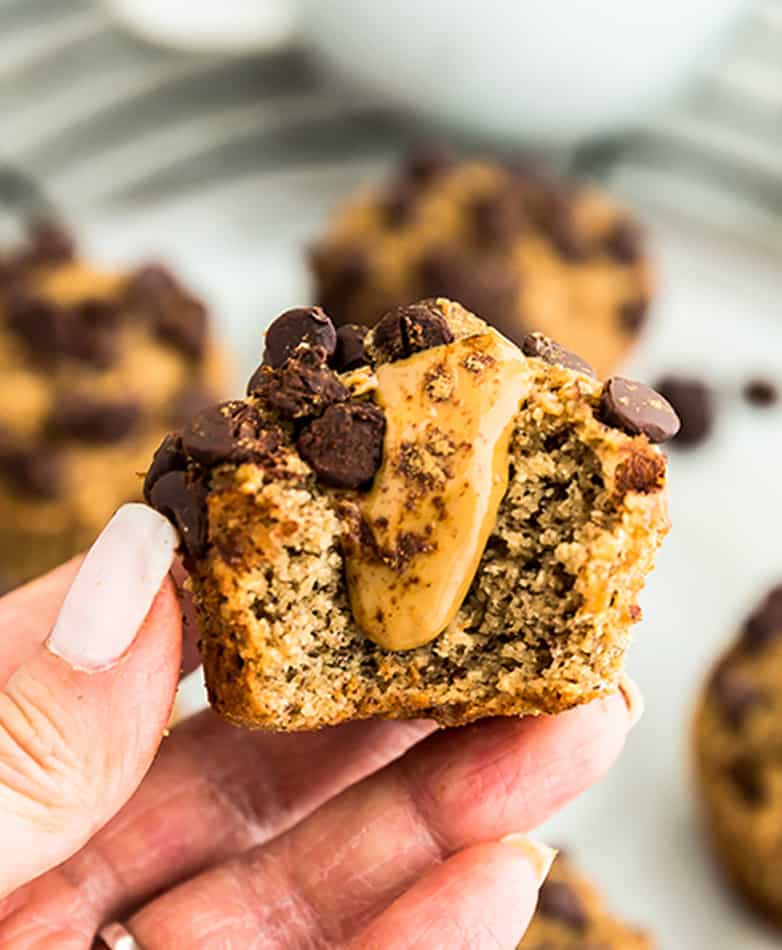 Frequently Asked Questions (FAQs)
Q1: Can I use regular flour instead of almond flour? While almond flour contributes to the moistness and texture of these muffins, you can experiment with gluten-free fine oat flour or using other flours. However, keep in mind that this might alter the final texture and taste of the muffins.
Q2: Are these muffins suitable for a keto diet? Yes, these healthy zucchini muffins can be made keto-friendly by using alternatives such as Lakanto SF maple syrup, golden monk fruit sweetener, and coconut flour. These adjustments will help reduce the overall carb content.
Q3: Can I add nuts to the recipe? Absolutely! Feel free to add chopped nuts, seeds, or dried fruits to the batter for extra flavor, texture, and nutrients.
Q4: How can I ensure my muffins turn out great? Be sure to properly drain the grated zucchini to avoid excess moisture. Additionally, gently fold in the dry ingredients to prevent overmixing, which can result in dense muffins.
Q5: Can I use regular chocolate chips instead of dairy-free ones? Absolutely! Feel free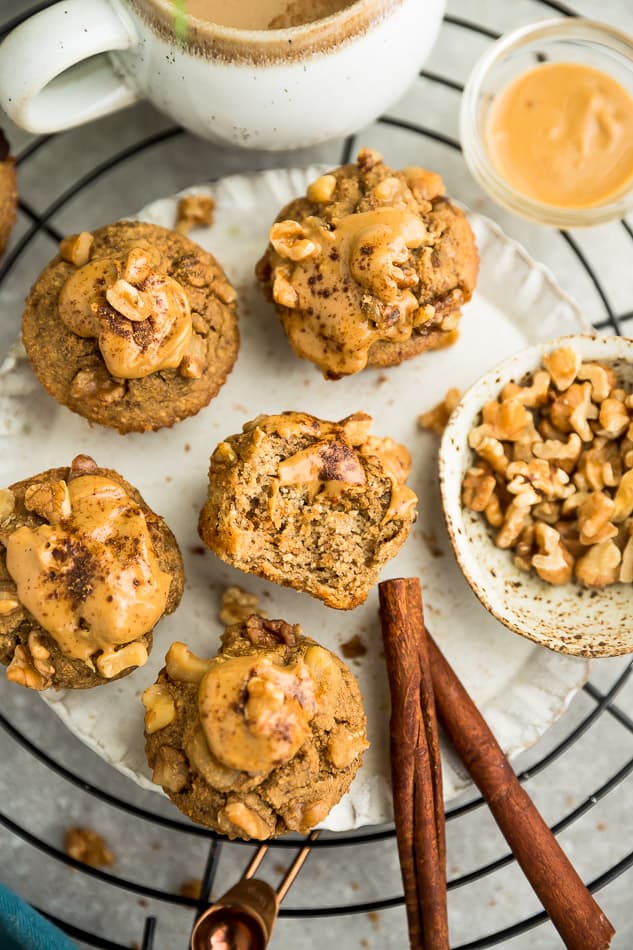 More easy zucchini recipes you might like:
More muffin recipes you might like:
Recommended Tools You'll Need For this Recipe: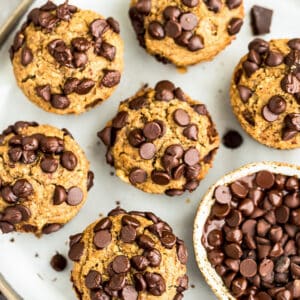 Zucchini Muffins
These Zucchini Muffins are deliciously fluffy, moist and come together quickly with just one bowl. Perfect for breakfast or a mid-day snack and so easy to make with healthy pantry-friendly ingredients. Freezer-friendly, gluten-free, paleo, low carb and keto-friendly. Includes step-by-step instruction, photos and video.
Keyword:
paleo muffins, zucchini muffins
Instructions
Preheat oven to 350 F. Lightly grease a muffin tin with coconut oil or avocado oil or line with parchment paper liners.

In a large bowl, beat the eggs then whisk in the almond butter, maple syrup, sugar, coconut oil, vinegar and vanilla until well combined.

Grate zucchini using a box grater. Wrap in a cheesecloth, nut milk bag or paper towels and squeeze well to remove the excess water. Drain and add to the wet ingredients and stir to combine.

Place a large mesh sieve on top of the bowl, and sift in the baking powder, baking soda, almond flour, tapioca flour, cinnamon and salt and stir until the batter is well mixed. Fold in 2/3 cups of the chocolate chips.

Fill muffin tins 3/4 full. Top generously with more chocolate chips on each muffin.

Bake for 21-23 minutes, or until a toothpick comes out clean with a few wet crumbs. Remove from oven and allow to cool for at least 10 minutes.
Recipe Video
Nutrition Facts
Zucchini Muffins
Amount Per Serving (1 muffin)
Calories 273
Calories from Fat 171
% Daily Value*
Fat 19g29%
Carbohydrates 17g6%
Protein 6g12%
* Nutrition facts are provided as a courtesy using the WPRM recipe calculator. It is best to make your own calculations to ensure accuracy. We expressly disclaim any and all liability of any kind with respect to any act or omission wholly or in part in reliance on anything contained in this website. Percent Daily Values are based on a 2000 calorie diet.
Disclaimer: This updated post was generated in August, 2023 by ChatGPT, an AI language model, and all info should be reviewed and validated by a human for accuracy and relevancy before implementation.