This Banana Nut Granola is full of crunchy clusters, pecans and tropical coconut in every bite. It's gluten-free, refined sugar-free, dairy-free and makes a delicious snack by itself, or mix it into some yogurt for the perfect breakfast.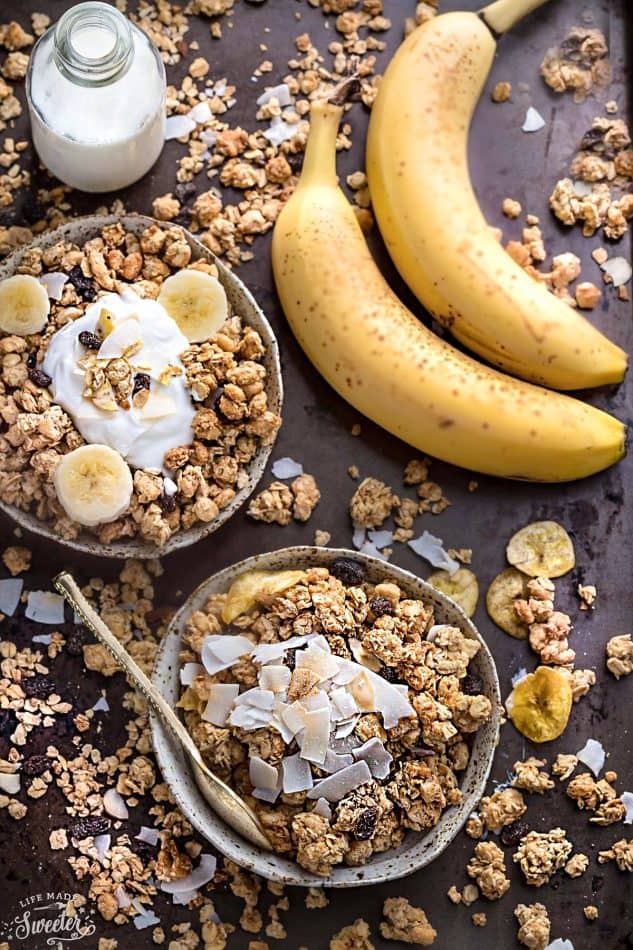 Crunchy homemade granola is one of my favorite snacks to make. You can usually find me whipping up a big batch once a week. It's super simple and I love switching up the flavors with whatever I have on hand.
You can make it ahead of time and it stores easily in a mason jar or container for when you need a quick snack. Or serve it up with some yogurt or milk as part of a complete breakfast. The best part? It comes together easily in just one bowl and a baking tray.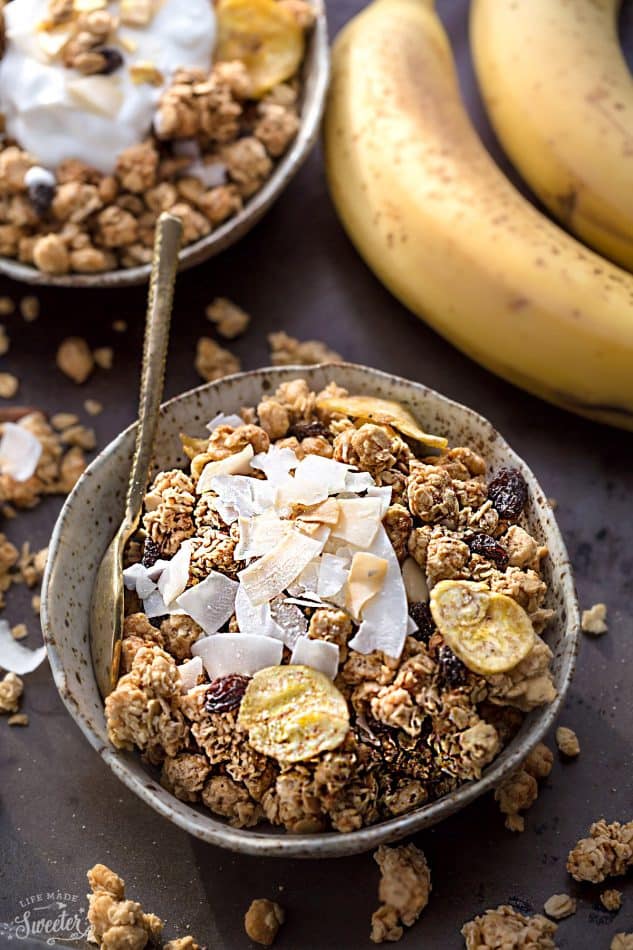 HOW TO MAKE BANANA NUT GRANOLA
Like all my granola recipes, this one is gluten free, refined sugar free, vegan and dairy free.
For this Banana Nut Granola, you start off by combining some slightly heated almond butter and coconut oil. It helps to bind the granola together so you are left with these beautiful crunchy clusters once it bakes.
It's lightly sweetened with a touch of maple syrup and for a nice tropical flavor and texture, you can toss in a handful of unsweetened shredded coconut and some chopped pecans.
CAN I SUBSTITUTE THE MIX-INS FOR THIS BANANA NUT GRANOLA?
Yes, absolutely! As with any granola recipe, this one can easily be modified with your favorite nuts and seeds.
Our recipe calls for flax seeds and pecans but it would be great with chia seeds, pumpkin seeds, walnuts or almonds if that's what you have on hand. And if you like you can even toss in some chocolate chips or raisins after baking.
Toasted coconut chips is also one of my favorite things to add to granola but if you're not a coconut fan, you can totally leave it out and add more nuts or add some freeze-dried berries instead and it will still be great.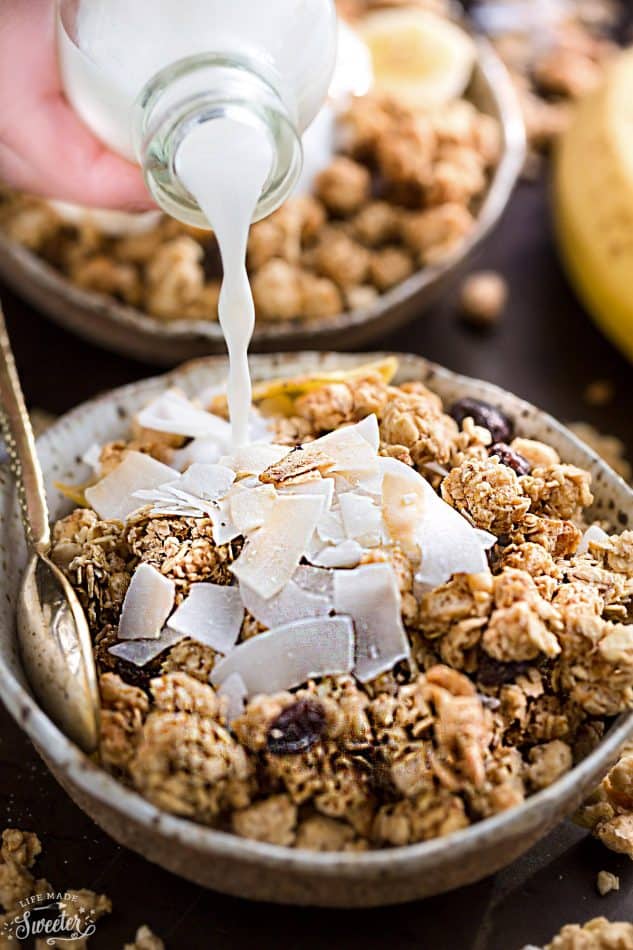 You can serve this Banana Nut Granola with a splash of milk or a dollop of some coconut cream, Greek yogurt and some sliced bananas for a cozy breakfast.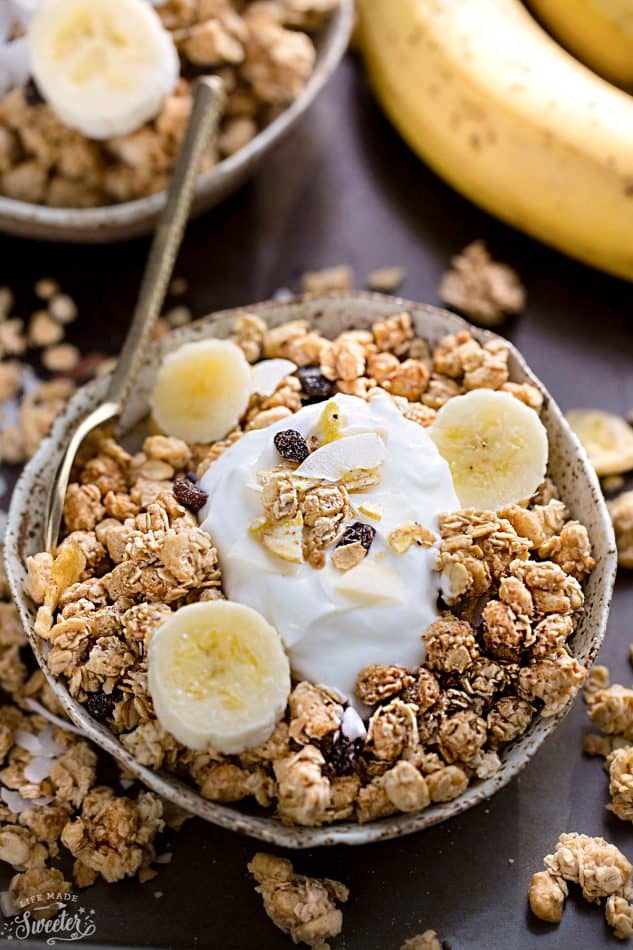 More granola: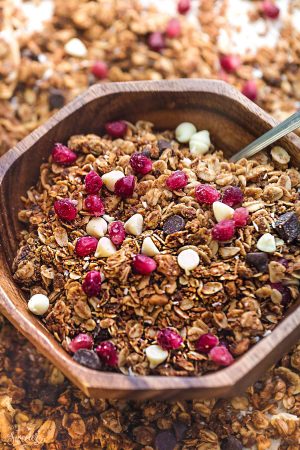 Pomegranate Double Chocolate Granola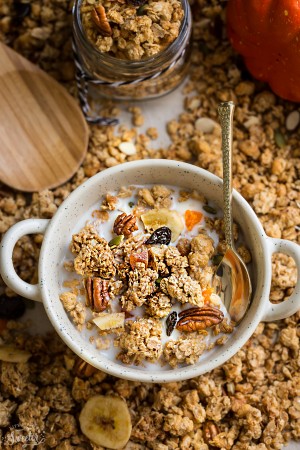 Interested in more Breakfast Oat recipes? Check out Overnight Oats – 8 Ways
Banana Nut Granola
This Banana Nut Granola is full of crunchy clusters, pecans and tropical coconut! It makes a delicious snack by itself, or mix it into some yogurt for the perfect breakfast.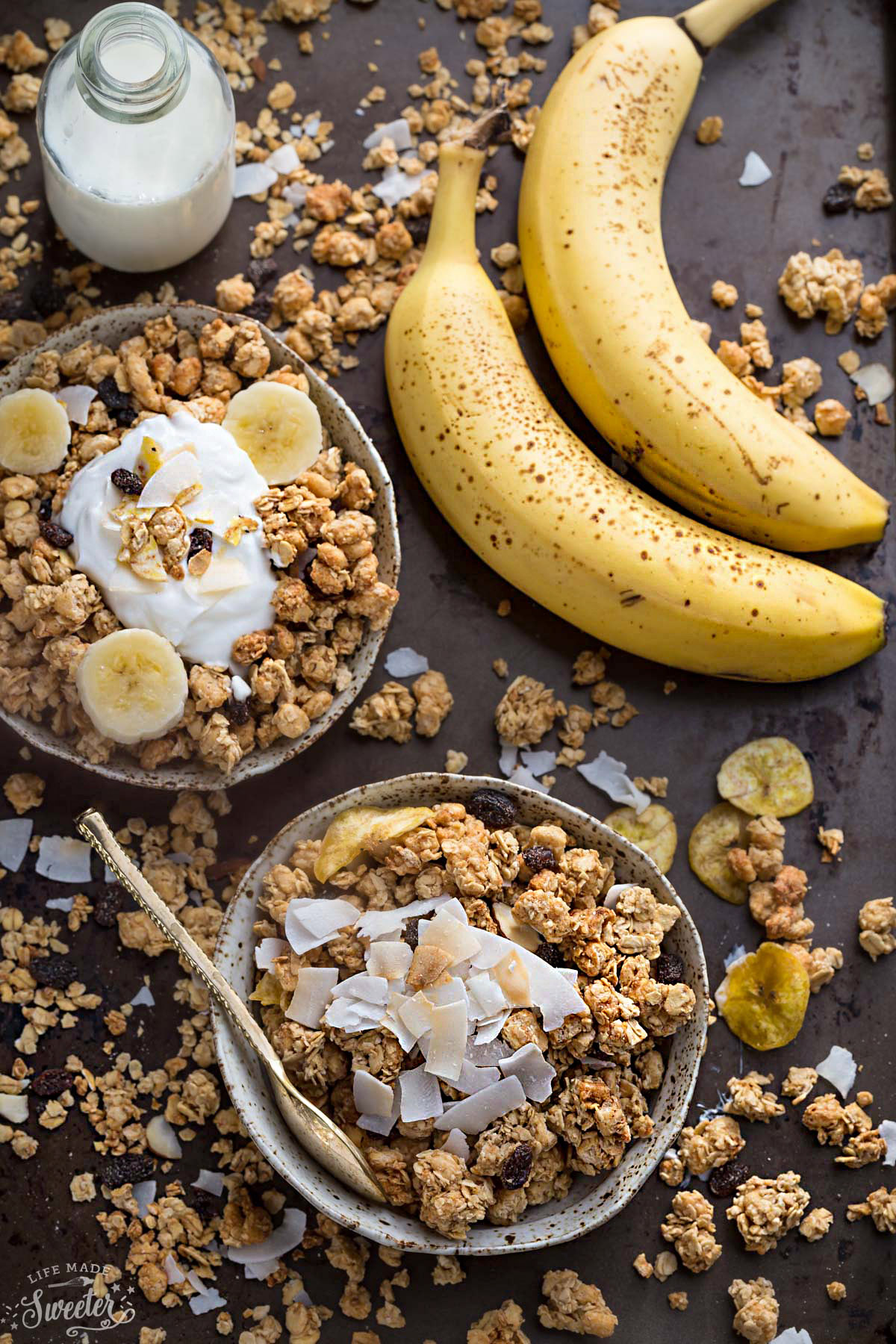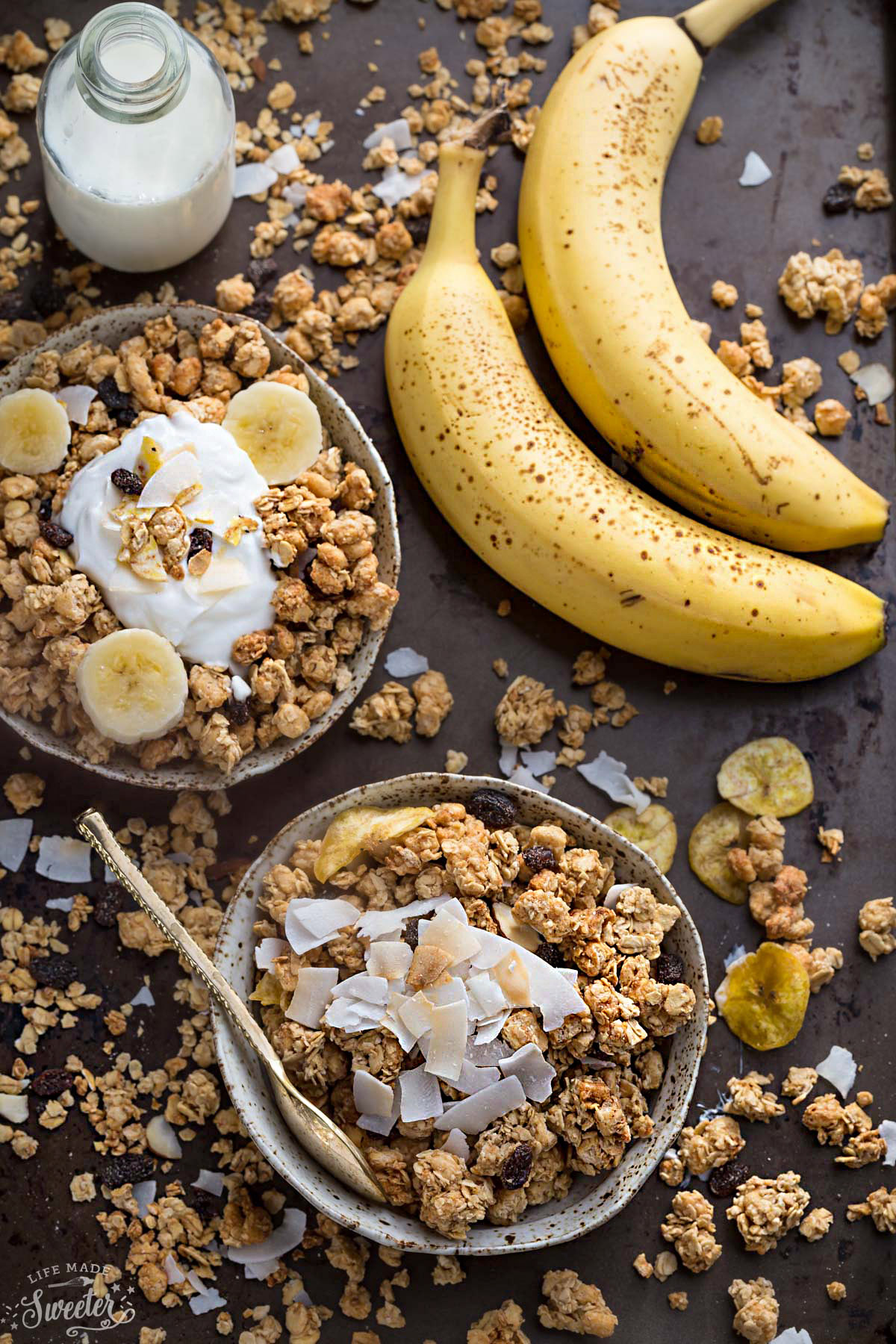 Ingredients
3

cups gluten free rolled oats

3/4

cup unsweetened shredded coconut

1/4

cup chopped pecans

3

tablespoons coconut sugar

1

teaspoon ground cinnamon

1

teaspoon ground flax seeds, optional

1/4

teaspoon sea salt

1/3

cup melted coconut oil

1/4

cup smooth almond butter, slightly heated in microwave for 15 -20 seconds)

1/3

cup maple syrup OR honey

1

teaspoons pure vanilla extract

1/4

cup dried raisins or cranberries, optional (use refined sugar-free raisins if required)

1/4

cup unsweetened coconut chips, optional
Other optional add-ins
chocolate chips

dried banana chips

chia seeds

dried plantain chips
Instructions
Preheat the oven to 300 degrees F. Line a baking sheet with parchment paper. Set aside.
In a large bowl, combine the oats, shredded coconut, pecans, sugar, cinnamon, flax seeds (if using) and salt. In a separate bowl, whisk together the melted coconut oil, almond butter, honey and vanilla extract. Pour over oat mixture and stir until just combined and moistened.
Spread granola in an even layer onto prepared baking sheet and pat down flat with a spatula or your clean hands.
Bake in preheated oven for 40 - 45 minutes or until golden brown, rotating pan halfway through. (DO not stir granola while baking).
Remove pan from oven and allow granola to cool completely.
Once cool, break granola into clusters, toss in add-ins of your choice and store in an airtight container.
Serve with yogurt, fresh or freeze-dried bananas or fruit of of your choice
HAVE YOU MADE THIS RECIPE? 
I'd love to see! Just snap a photo and hashtag it #LIFEMADESWEETER or tag me @lifemadesweeter on Instagram!