These Breakfast Cookies are a healthy make-ahead breakfast that comes together in less than 30 minutes. They're soft, chewy and with 12 tasty variations, you'll have the perfect oatmeal breakfast cookie for every occasion! Gluten-free, refined sugar-free, dairy-free with grain-free, vegan, paleo, low carb and keto options.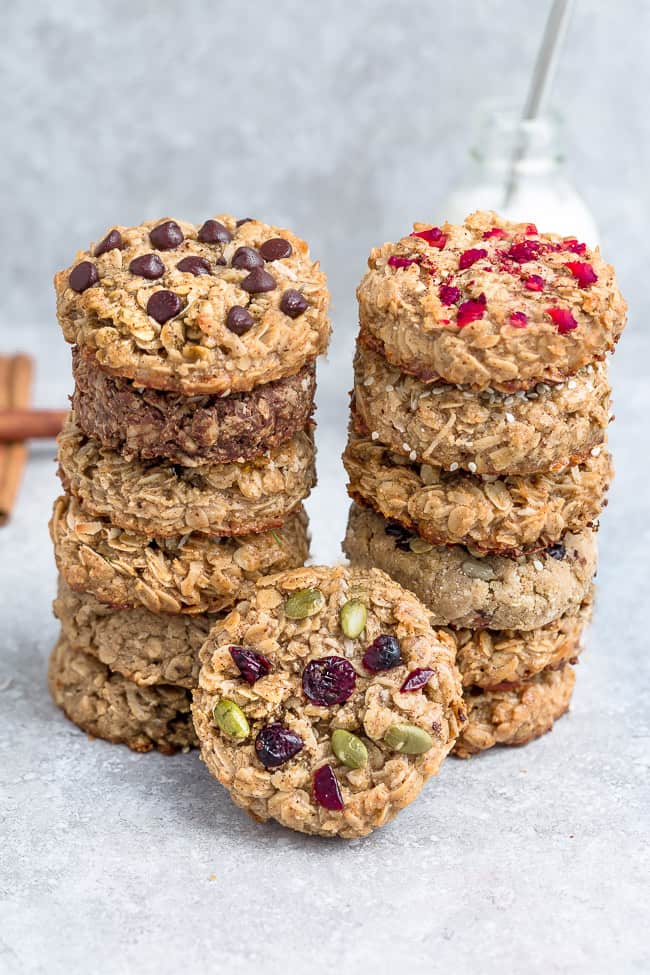 PIN HERE for later and follow my boards for more recipe ideas
Updated February 2021
Easy Breakfast Cookies
What could be better than kicking off your day with a cookie? With this fool-proof  breakfast cookie recipe, you can make a chewy and delicious oatmeal breakfast cookie in every flavor! Some of them don't even require any baking. There isn't a quicker, more convenient breakfast idea out there.
You can make these oatmeal breakfast cookies ahead of time or the morning of – whatever works! They're great for meal prep, and they're also a wonderful healthy snack option. You simply can't go wrong with any of these oatmeal cookie recipes!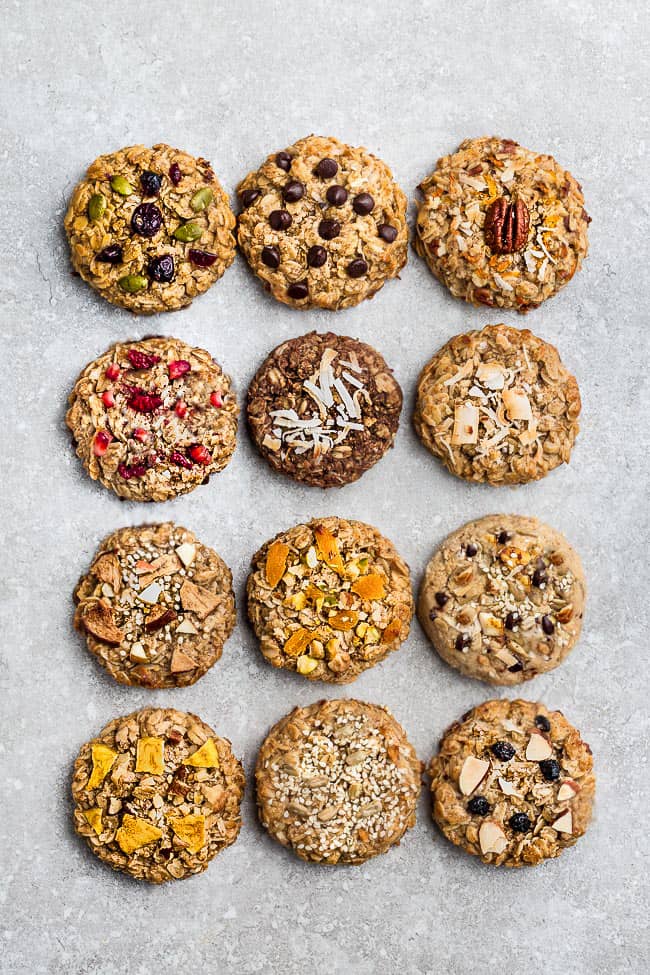 Are Breakfast Cookies Healthy?
These cookies are made with old-fashioned oats, unsweetened coconut and a variety of other healthy ingredients. They're hearty, nutritious, and they boast big flavors like strawberry, pumpkin, key lime, peanut butter and more!
All of these yummy variations are gluten-free and refined-sugar free. Some of them are vegan, nut-free, paleo, low-carb and keto friendly! No matter what dietary needs you have, you're about to discover your new favorite breakfast cookie.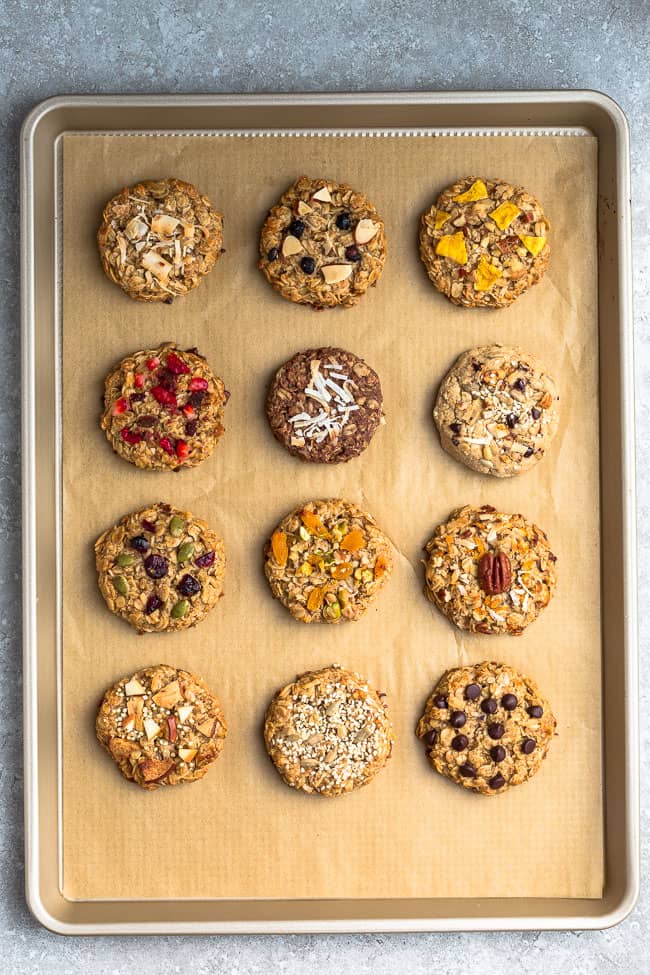 Recipe Ingredients
These cookies call for different ingredients, depending on the flavor you're making. Here's what you'll need in general and for each variation.
Egg: Bring to room temperature. For vegan breakfast cookies, sub with a flax-egg by mixing 1 TBS ground flaxseeds + 2.5 TBS water. Let it sit for 5 minutes,

until thickened into a gel-like consistency.

Nut or Seed Butter: This could be almond butter, peanut butter, cashew butter, etc.
Coconut Oil: Softened at room temperature.
Natural Sweetener: Such as maple syrup, date syrup or coconut nectar syrup. For keto or low carb, use Lakanto sugar-free maple syrup, yacon syrup or your favorite liquid sweetener.
Vanilla Extract: For flavor and sweetness.
Cinnamon: For a yummy warmth.
Sea Salt: To balance out the sweetness.
Baking Powder: For thick and chewy cookies.
Almond Flour: Superfine, or finely ground oat flour.
Shredded or Flaked Coconut: Unsweetened.
Gluten-Free Old-Fashioned Rolled Oats: to keep these cookies grain-free and paleo, sub with a mix of roughly chopped coconut flakes and sliced almonds.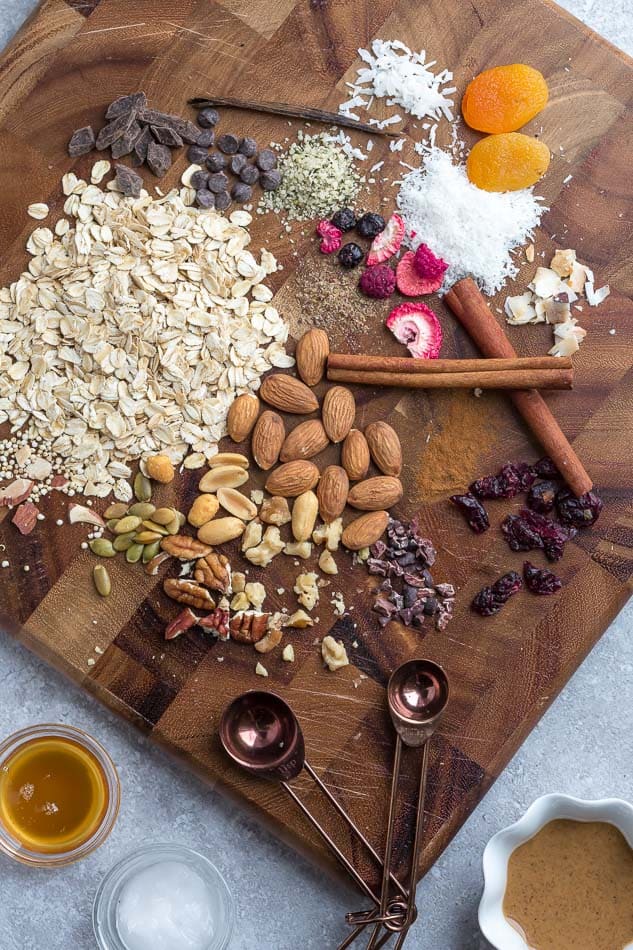 How to Make Breakfast Cookies
No matter what kind of oatmeal breakfast cookies you're making, the process is pretty much the same. Here's a general overview:
Heat Oven: Preheat the oven to 350°F and line a baking pan with parchment paper.
Combine Ingredients: In a large bowl, whisk together the egg, nut or seed butter, softened coconut oil, liquid sweetener, vanilla, cinnamon, salt and baking powder until the batter is creamy and smooth. Then, stir in the shredded coconut, almond flour and old fashioned rolled oats until everything is combined.
Fold In Add-Ins: If you're using chocolate chips, chopped nuts, freeze-dried berries or any other add-ins, now's the time to fold them into the batter.
Form Cookies & Bake: Scoop out about 1/4-cup cookie dough balls and place them on the baking sheet, flattening each cookie slightly. Bake for 10-14 minutes, until they're golden brown but still soft (do not overbake them if you like chewy cookies).
Let Cool: Allow the cookies to cool for 5 minutes on the baking sheet before transferring them to a rack to cool completely.
Variations
Want to switch up the flavors. With just a few simple swaps, you can have a different cookie no matter what mood you're in. Here are our favorite breakfast cookie recipes.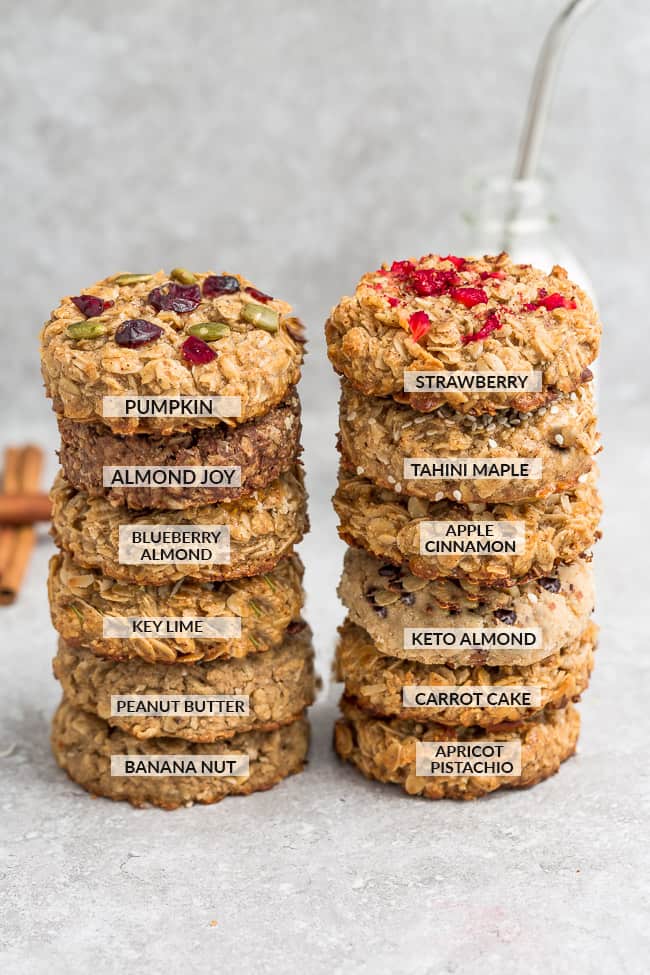 Pumpkin Puree: Not pumpkin pie filling.
Pumpkin Pie Spice: You'll need 1 teaspoon.
Pepitas: Also known as shelled pumpkin seeds.
Dried Cranberries: Or raisins, if preferred.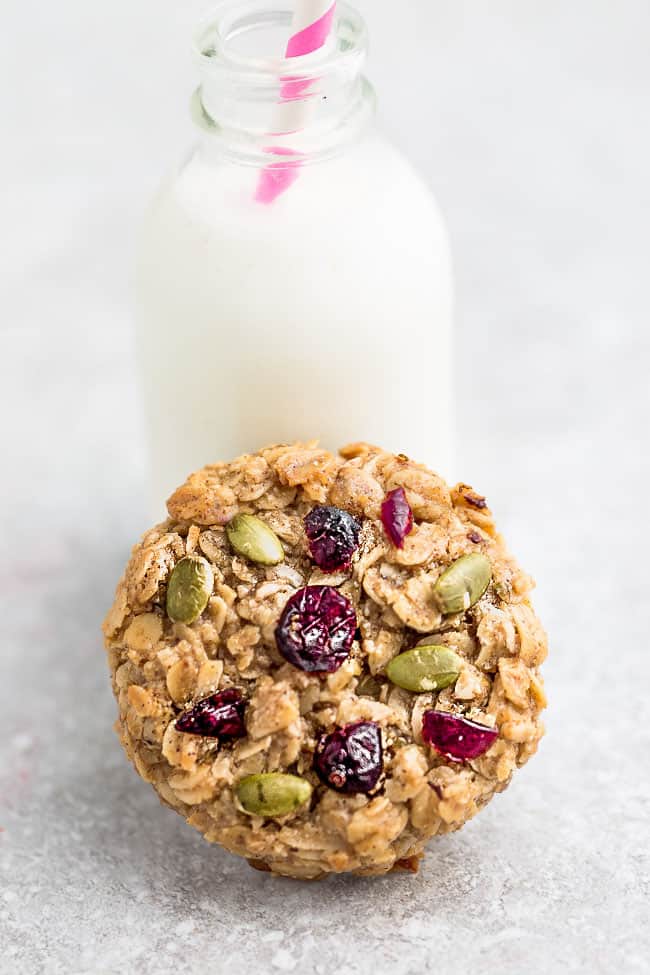 Tahini: You want it to be drippy; avoid using any nut butter that's hardened at the bottom of the bottle.
Sunflower Seeds: About 1/4 cup.
Sesame Seeds: Set aside some extra to garnish the cookies!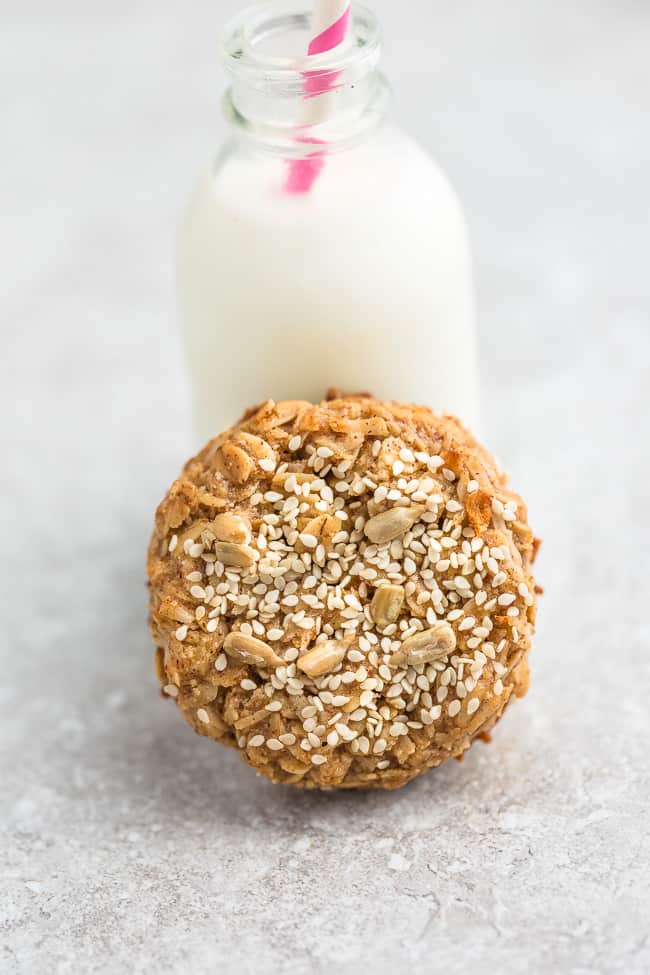 Freeze-Dried Strawberries: I love the strong, sweet bursts of flavor you get from freeze-dried berries.
Chocolate Chips: We like to use ones with no sugar added, like Lily's.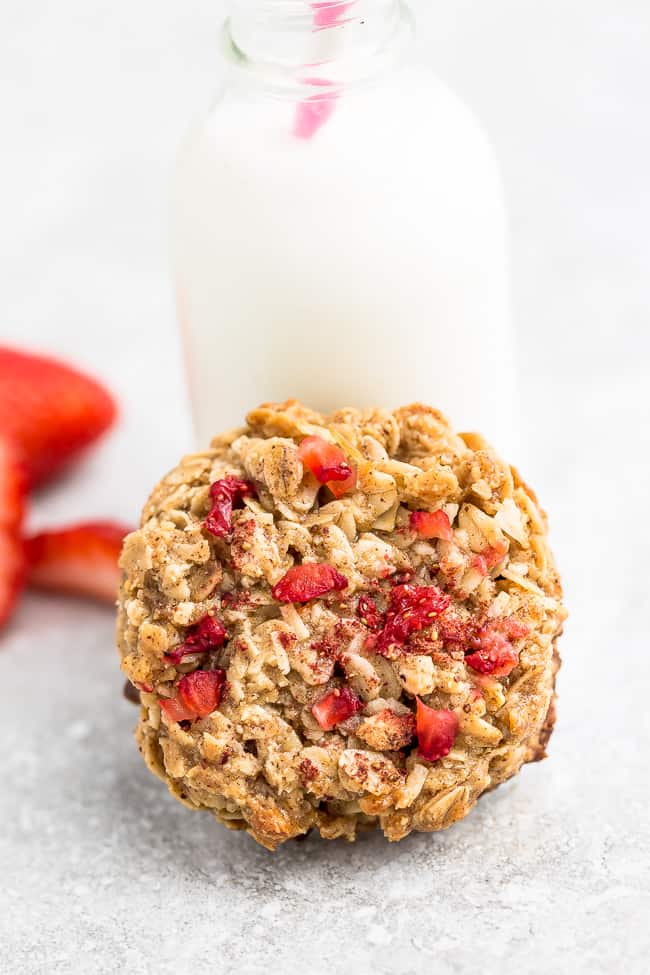 For Key Lime Cookies
Key Lime Juice: You can also use regular lime juice, if needed.
Grated Lime Zest: You'll need 2 teaspoons.
Dried Coconut Chips: Optional, for garnish.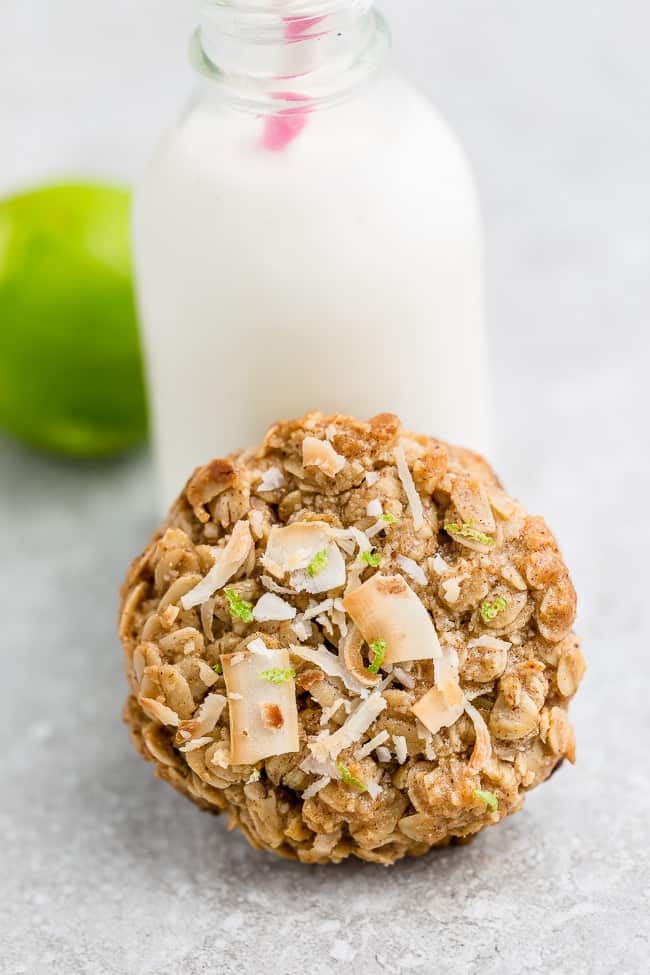 Golden Monk Fruit Sweetener: Use coconut sugar if paleo.
Himalayan Pink Salt: Instead of sea salt, if desired.
Almonds & Pecans: Chopped.
Sunflower Seeds
Paleo Chocolate Chips: Optional. W

e like Lily's Sweets or Pascha's Chocolate

Sesame Seeds: For garnish, optional.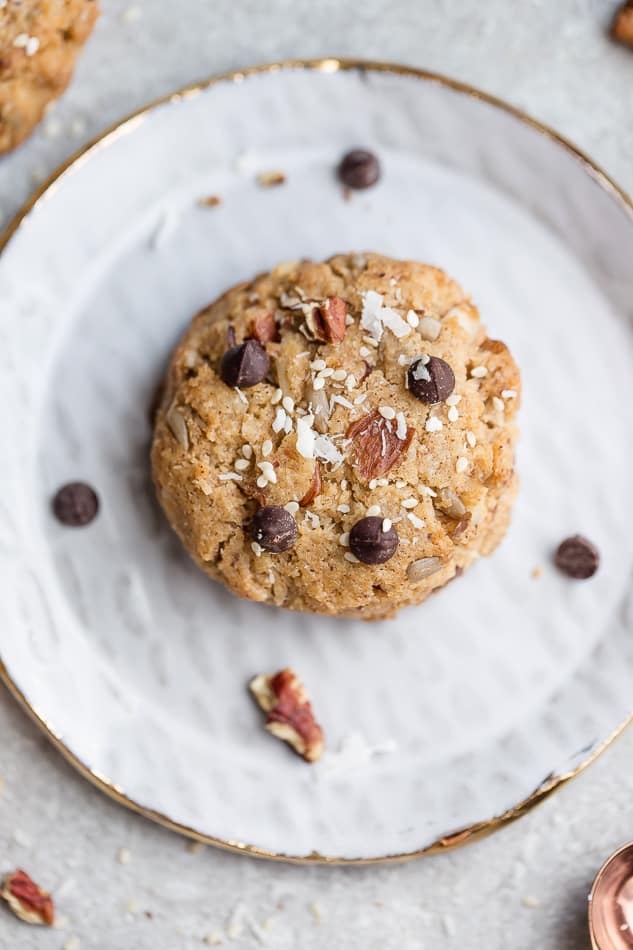 Ginger & Nutmeg: Ground.
Carrots: Peeled and grated.
Dried Raisins: Unsweetened.
Pecans: Chopped, plus 12 optional pecan halves for garnish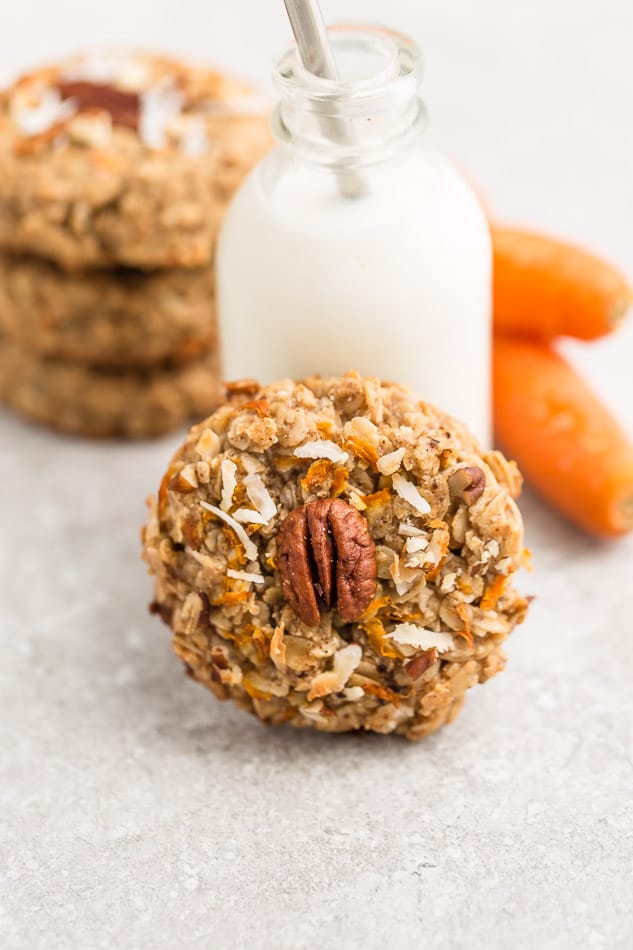 Blueberries: Use dried blueberries, not fresh ones.
Almonds: Chopped.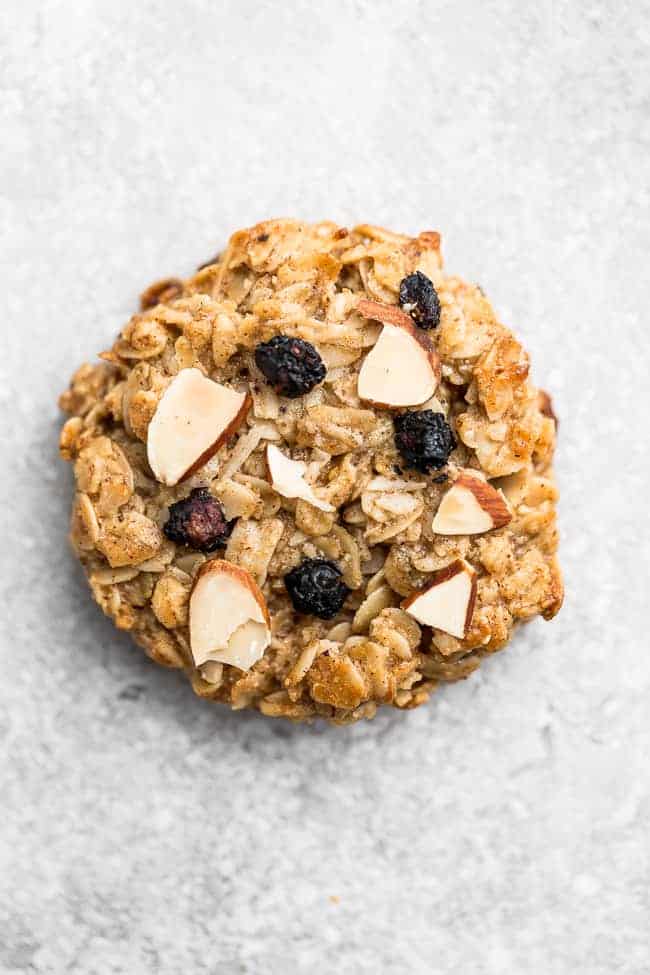 Mashed Banana: Use a ripe or overly ripe banana.
Walnuts: Chopped.
Banana Chips: Chopped, optional.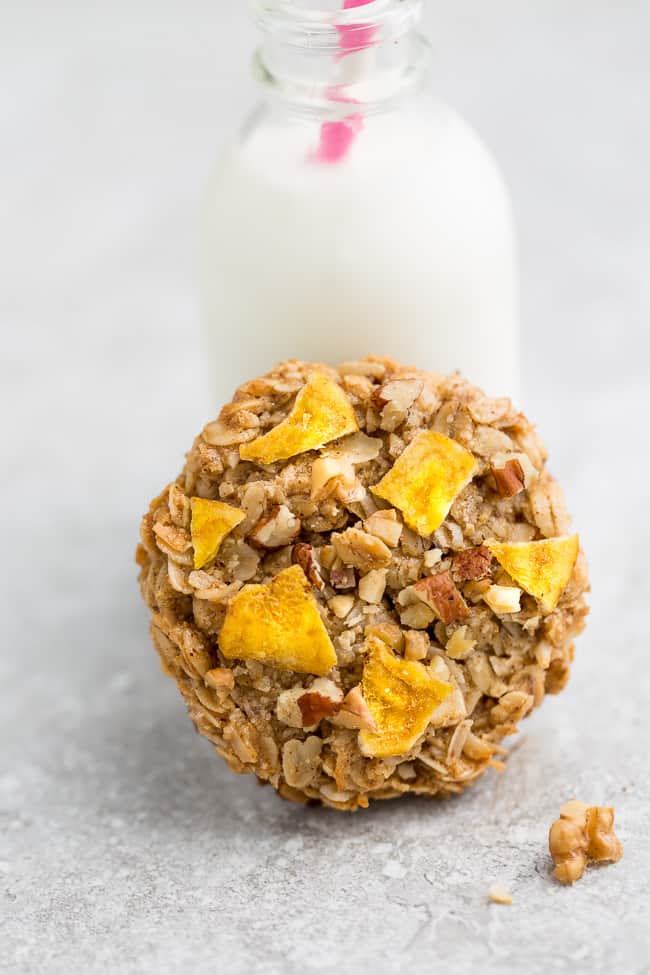 For Apricot Pistachio Cookies
Pistachios: Shelled.
Dried Apricots: Chopped.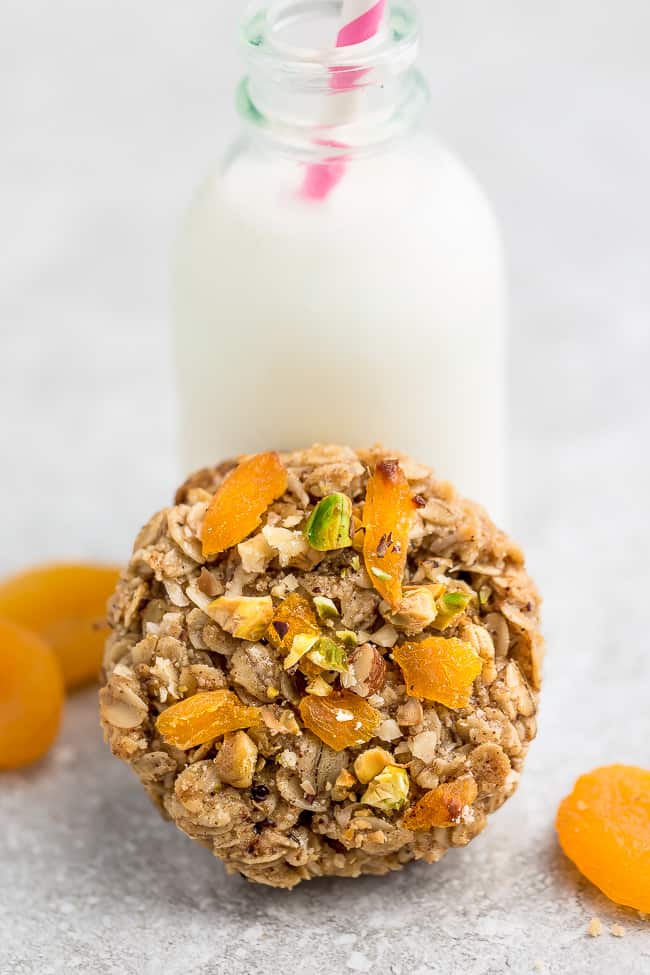 Red Apples: Very finely diced.
Dried Apples: Optional, for a crunchy garnish.
Toasted or Puffed Quinoa: Optional, for garnish.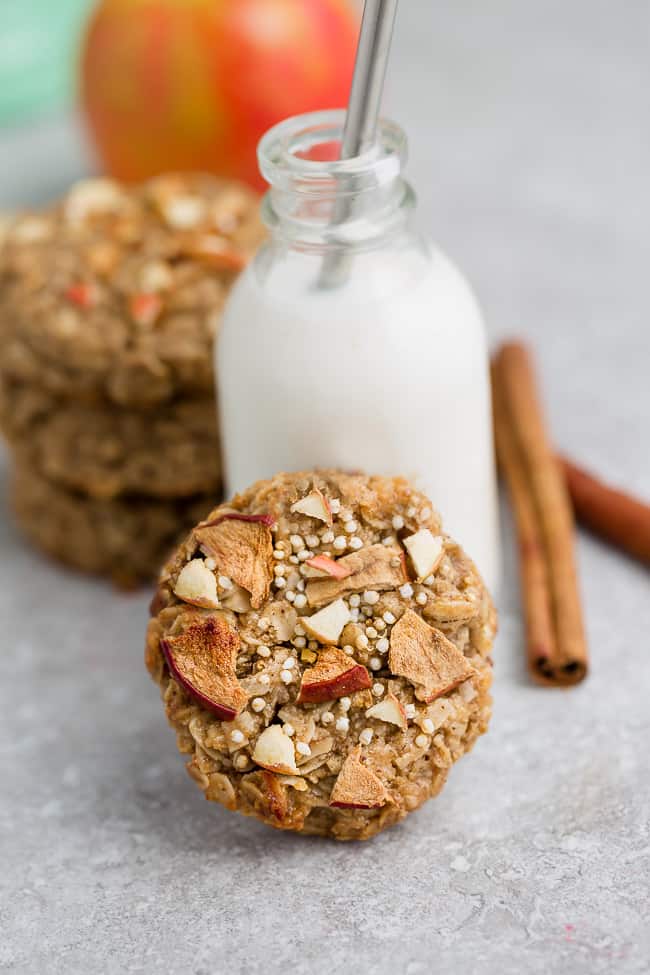 Almond Joy Cookies
Cacao Powder: Or unsweetened cocoa powder.
Shredded Coconut: Unsweetened.
Almonds: Sliced.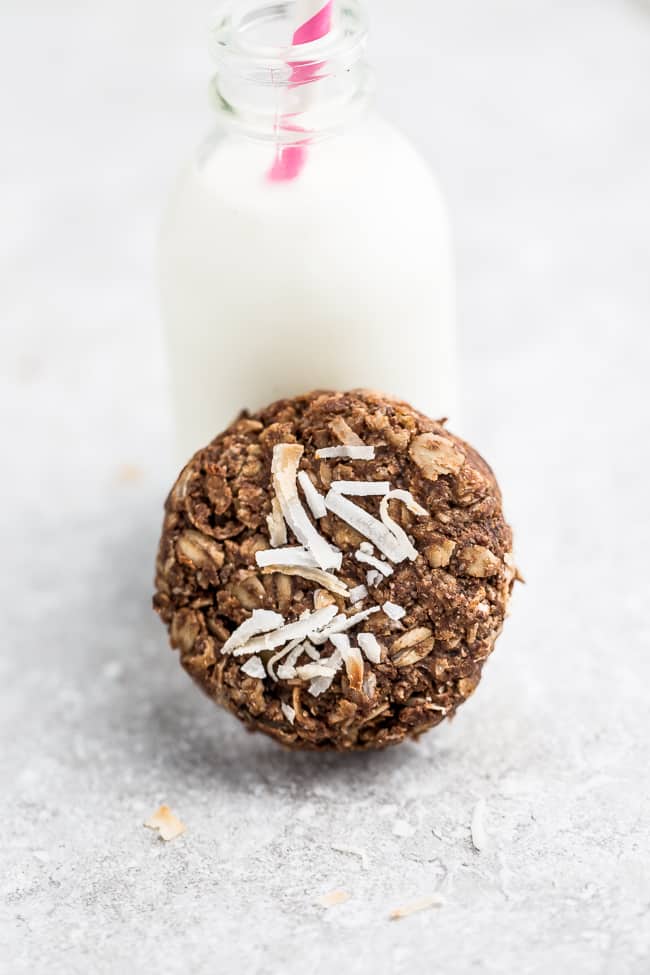 Tips for Success
There are a few things to note for this recipe, such as ingredient suggestions and tips for getting the right dough consistency.
Follow the Recipe: Most of these recipes come together in just one bowl, so it's super important to add the ingredients in the order that they are listed in the recipes below.
Use Drippy Nut Butter: Avoid using the dried out nut butter near the bottom of the jar when making these cookies. It should be drippy – you can heat it up in the microwave or a saucepan, if needed.
Keep it Simple: Try not to go overboard with your mix-ins. Otherwise, the cookies may crumble and fall apart.
Adjust Dough Consistency: If the cookie dough mixture seems too dry, add more liquid binder, a little bit at a time until the dough sticks together. Alternatively, if the cookie dough mixture seems too wet, experiment by adding some more oats, shredded coconut or ground flaxseeds, finely ground oats or almond flour to help the dough stay together.
Avoid Overbaking Cookies: For cookie recipes that require baking, it's better to underbake than overbake them. The cookies will continue to cook after you remove them from the oven.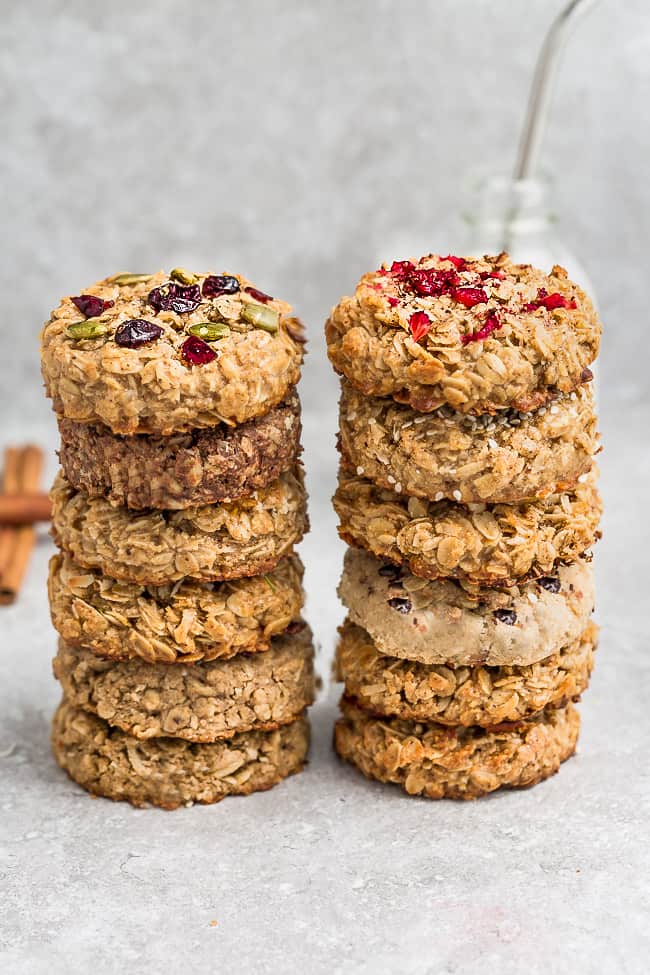 How to Store Homemade Breakfast Cookies
These cookies can be stored at room temperature or kept in the fridge. Just place them in an airtight container once they've cooled completely. They will last for up to 5 days on the counter or up to 10 days in the fridge.
Can I Freeze These?
For sure, these oatmeal breakfast cookies are freezer-friendly! You can either freeze the dough or the pre-baked cookies.
How to Freeze Cookie Dough
Place the cookie dough in a freezer-safe bag and squeeze all the air out. You can freeze the dough as one flattened mass or individual cookie portions. Within 1 or 2 months, thaw out the dough in the fridge, then bake the cookies. You may have to add a couple minutes to the bake time if your dough is still cold; just be careful not to overbake the cookies.
How to Freeze Baked Cookies
In a freezer-safe bag or container, store the cooled cookies. Place them in the freezer and enjoy them within 3-4 months. Thaw frozen cookies in the fridge overnight before enjoying. You can bring them to room temperature, if desired.
More Healthy Breakfast Ideas
Need more healthy breakfasts in your life? You'll love these easy recipes.
Oatmeal Breakfast Cookies - 12 Ways!
These Breakfast Cookies are a healthy make-ahead breakfast that comes together in less than 30 minutes. They're soft, chewy and with 12 tasty variations, you'll have the perfect oatmeal breakfast cookie for every occasion! Gluten-free, refined sugar-free, dairy-free with grain-free, vegan, paleo, low carb and keto options.
Keyword:
breakfast cookie recipe, breakfast cookies, healthy breakfast cookies, healthy oatmeal cookies, make ahead breakfast, oatmeal breakfast cookies, oatmeal protein cookies
Instructions
Base Cookie Version
Preheat oven to 350°F and line a large baking sheet with parchment paper. Set aside.

In a large bowl, whisk the egg, almond butter and coconut oil until creamy and smooth. Add the honey, vanilla, cinnamon, salt and baking powder. Beat until combined.


Stir in the flour, followed by the coconut and oats and mix until everything is just combined. Fold in chocolate chips and any other add-ins you're using.

Use a 1/4 cup to scoop out the dough and drop onto the parchment paper. Pat the tops down to flatten slightly. 

Bake in preheated oven for 10-12 minutes, or until edges are slightly brown and set.

Allow to cool on the cookie sheets completely. Cookies can be frozen in a large resealable bag up to 3 months.
Vegan Breakfast Cookies (Video Version)
Preheat the oven to 350F. Line a large baking sheet (or two if needed) with parchment paper and set aside. 

In a large mixing bowl, add the ground flaxseeds followed by the milk. Use a fork to stir until combined. Let the mixture sit for 5-10 minutes, or until it thickens to a gel-like consistency.

Add the banana and use the back of the fork to mash well. Add the almond butter, maple syrup and vanilla and mix well to combine. 

Stir in the hemp seeds, baking powder, cinnamon, salt, shredded coconut and rolled oats. Mix with a silicone spatula or wooden spoon until all the ingredients are combined and the mixture resembles a thick cookie dough. 

Fold in 1/2 cup of preferred variety of mix-in. (Make a few different variations if desired). If the dough seems too dry, add more almond butter or maple syrup. If the mixture seems too sticky to handle, place the bowl in the refrigerator for 10-15 minutes to firm up slightly or add a little bit more shredded coconut or oats.

Use a large cookie scoop or a large spoon to measure about 3 1/2 tablespoons of dough and place the dough round on the prepared baking sheet.

Use your hands to shape the dough into an even round and press down gently with your palm (or the back of a spoon) to lightly flatten the top of each cookie. Leave at least a 1/2-inch space between each cookie. 

Press a few mix-ins into each cookie (to make them prettier - can make them all different or the same).

Bake in the preheated oven for 17-20 minutes or until the cookies are just set. Remove the pan from the oven and let the cookies cool for 7 minutes before carefully transferring them to a cooling rack. 
Recipe Video
Recipe Notes
Nutrition facts are for classic breakfast cookies.
Nutrition Facts
Oatmeal Breakfast Cookies - 12 Ways!
Amount Per Serving (1 g)
Calories 317
Calories from Fat 171
% Daily Value*
Fat 19g29%
Carbohydrates 28g9%
Protein 6g12%
* Nutrition facts are provided as a courtesy using the WPRM recipe calculator. It is best to make your own calculations to ensure accuracy. We expressly disclaim any and all liability of any kind with respect to any act or omission wholly or in part in reliance on anything contained in this website. Percent Daily Values are based on a 2000 calorie diet.