Homemade Granola Bars – 12 Ways – Switch up your snack lineup with these healthy on-the go snacks. Best of all, these chewy snack bars are simple to customize and make ahead for school or work lunchboxes. Filled with protein, fiber and refined sugar free, gluten free, nut free and keto options.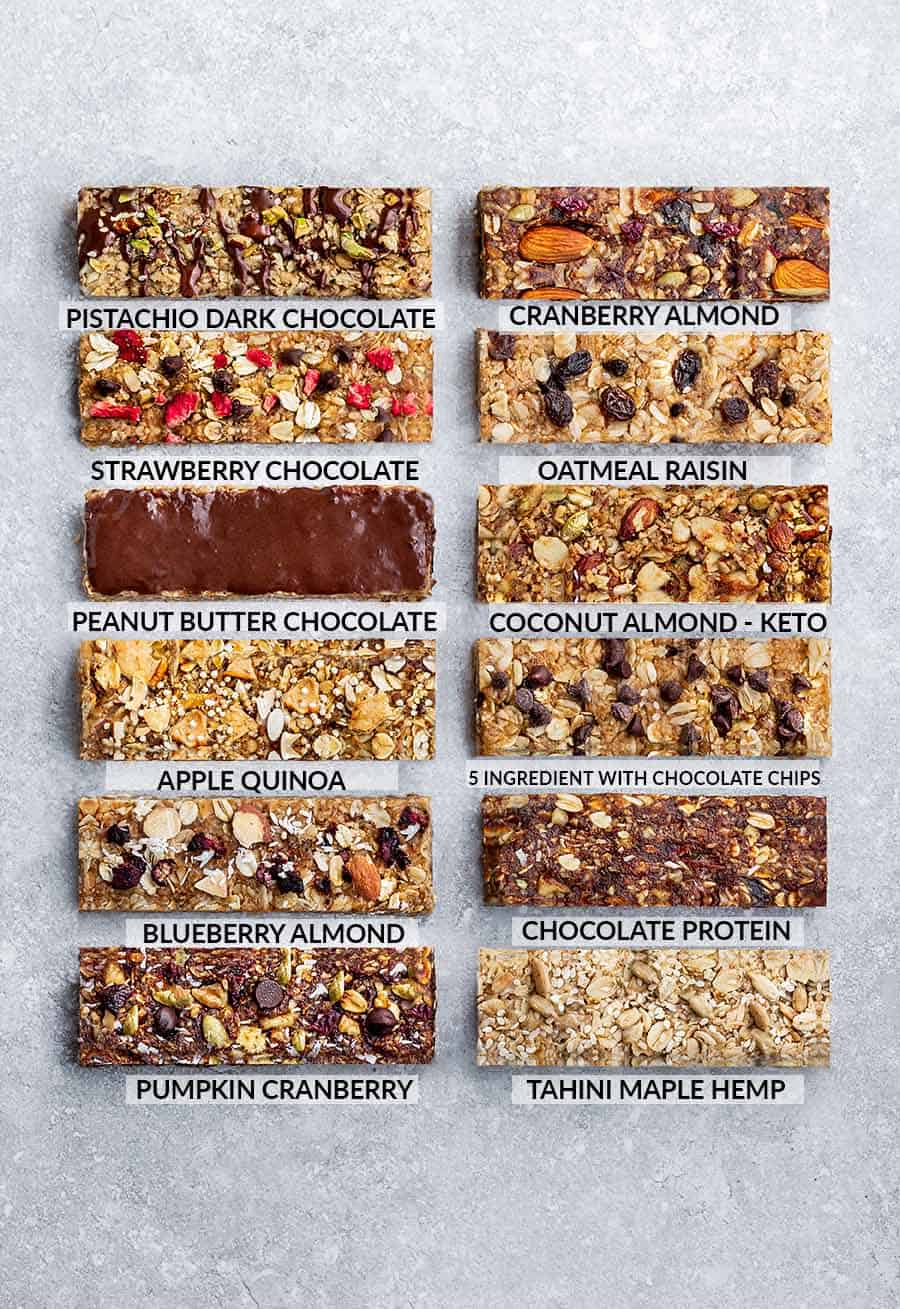 Pin HERE for later and follow my boards for more recipe ideas
Energy bites, breakfast cookies and granola bars are one of our favorite healthy snacks to make when we're meal prepping on Sunday.
We already have FIVE granola bar recipes on our site and the top two favorites include: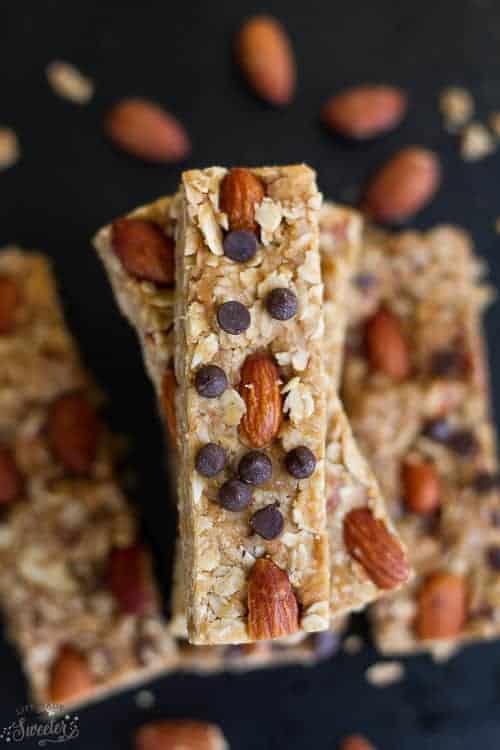 My kids love helping me whip up their own batch for packing into their lunchboxes. So today we're sharing 12 Healthy and Delicious Homemade Granola Bars that are easy to make in your home now that it's back-to-school season.
Chewy granola bars make a great breakfast for on the go or a delicious pre or post-workout snack.
Plus, all of these homemade granola bars are:
gluten free
refined-sugar free
and I've even included versions that are:
vegan, nut-free and
low carb / keto friendly
DO I HAVE TO BAKE GRANOLA BARS?
It's still summer over here so I definitely get that not everyone wants to heat up their house to bake granola bars.
Fear not, I've included a mix of  no bake granola bars as well as baked granola bars in this collection.
As much as I love a good no bake recipe, popping the baking pan into the oven for just 15-20 minutes helps the granola bars hold together without crumbling apart at room temperature.
But if you're trying to avoid turning on the oven, feel free to choose some of the delicious no bake granola bar recipes. But be sure to store them in the fridge until you're ready to eat them so that they hold their shape and don't fall apart.
HEALTHY GRANOLA BAR FLAVOR COMBINATIONS (ALL ARE GLUTEN FREE):
5 Ingredient with Chocolate Chips (No Bake)
Apple Quinoa (Vegan)
Blueberry Almond (Vegan)
Chocolate Protein Bar (No Bake, Vegan)
Coconut Almond – (Low Carb / Keto)
Cranberry Almond (No Bake)
Oatmeal Raisin
Peanut Butter Chocolate
Pistachio Dark Chocolate
Strawberry Chocolate
Tahini Maple Hemp Seed (Nut free, vegan)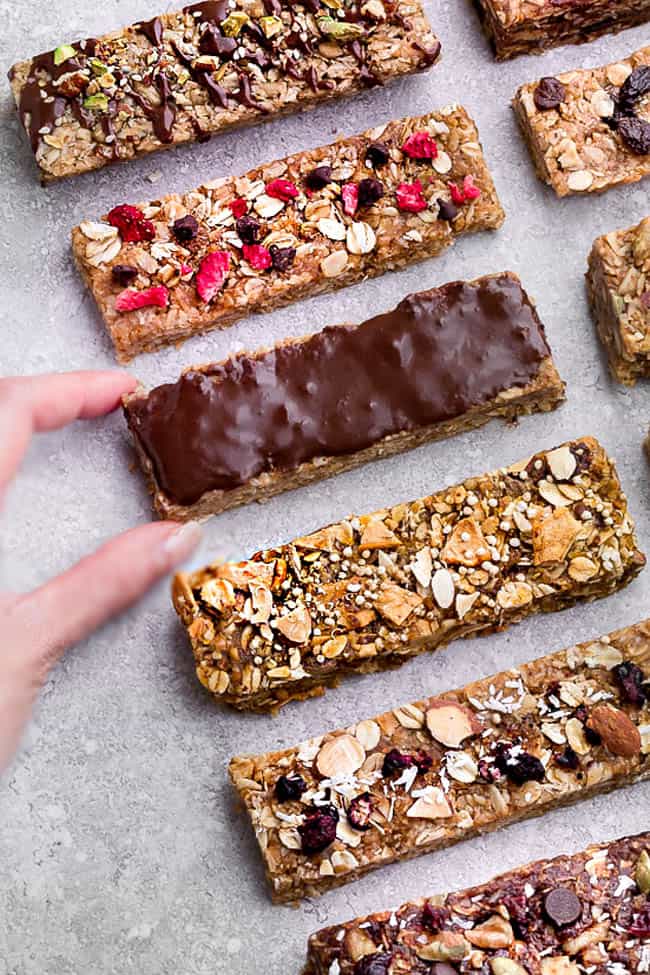 Making your own homemade granola bars means you can skip the store-bought stuff. Many of these chewy granola bars have questionable ingredients with words you can't even pronounce.
That's why I love how simple these homemade granola bars are to customize. You can pack them with a ton of wholesome & feel good ingredients. These chewy granola bars are healthier, more delicious and take no time at all to make!
WHAT INGREDIENTS YOU NEED TO MAKE THE BEST GRANOLA BARS:
Granola Bars all include some sort of combination of these ingredients that play a role in either texture or taste.
Remember that you are more than welcome to customize the ingredients and brands with the ones you love and have on hand.
Dry coarse base: oats – old fashioned or quick oats, shredded coconut, chopped or sliced nuts
Sticky liquid binder and sweetener – maple syrup, honey, agave nectar, coconut nectar, date paste, coconut syrup, yacon syrup
Liquid binder: oil, butter or nut butter

Dry binder: flour / almond meal / coconut flour / flaxseeds / shredded coconut / protein powder
Fillers – add-ins for crunch, crispy texture or sweetness: seeds / chopped nuts / chopped chocolate / chocolate chips  / dried fruit
HELPFUL TIPS FOR SOFT AND CHEWY HOMEMADE GRANOLA BARS:
For easier removal: line the baking pan with parchment paper with a slight overhang
Try NOT to go overboard with your mix-ins, otherwise, the granola bars will crumble and fall apart
If granola bar mixture seems too dry, the trick is to add just enough warm water (1-2 teaspoons at a time) to the mixture to help the ingredients bind and stick.
Other ingredients that help granola bars bind well: egg, flax egg, pureed banana, coconut oil
Alternatively, if granola bar mixture seems too wet, experiment by adding some more oats, shredded coconut or ground flax-seeds, finely ground oats or almond flour to help everything bind.
Another important step is to press the granola mixture down VERY tightly and firmly into the pan. Use a spatula or lay a piece of parchment paper over the mixture while pressing down very hard using your hands.
If the recipe calls for baking – try not to overbake and allow to cool completely before slicing into bars
Chill the pan in the fridge or freezer prior to cutting into bars for a cleaner slice.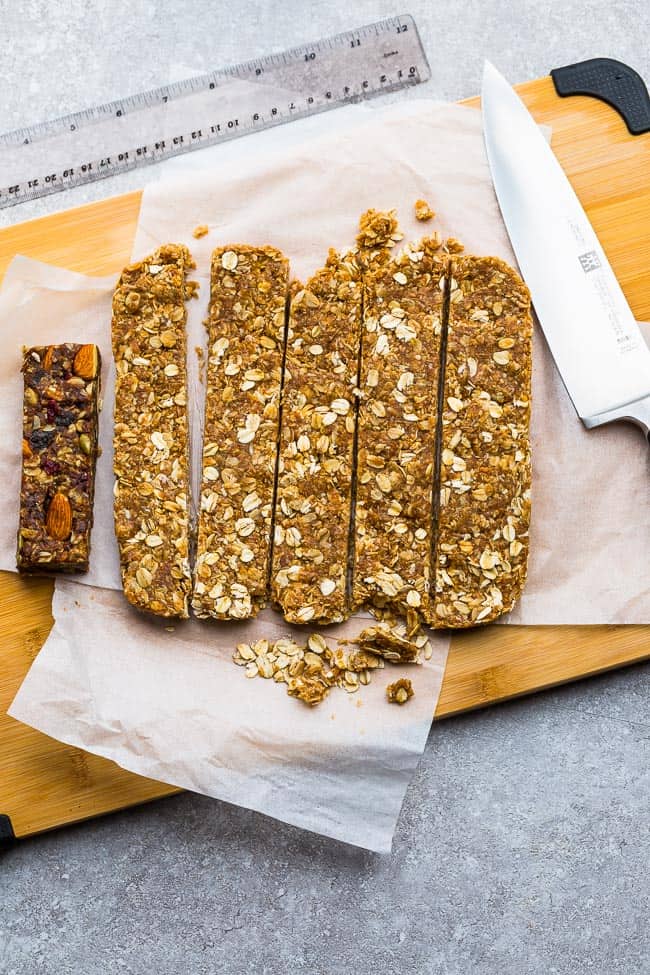 HOMEMADE GRANOLA BARS – 12 WAYS
1. No Bake 5 Ingredient with Chocolate Chips <— Click the link for recipe or see below
2. Apple Quinoa Granola Bars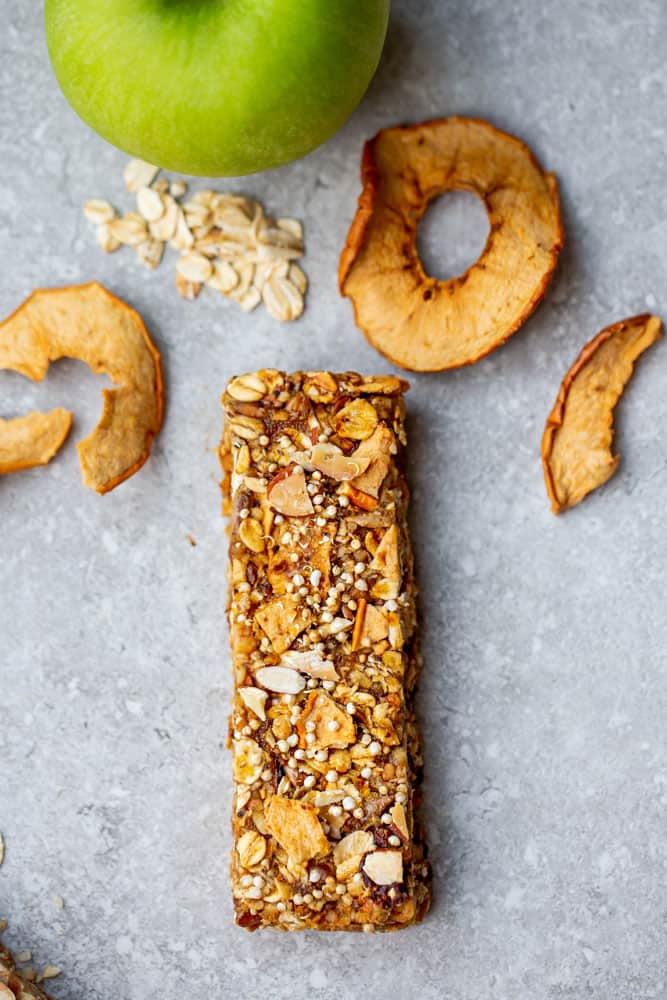 4. Blueberry Almond – scroll down to the Recipe Card at the Bottom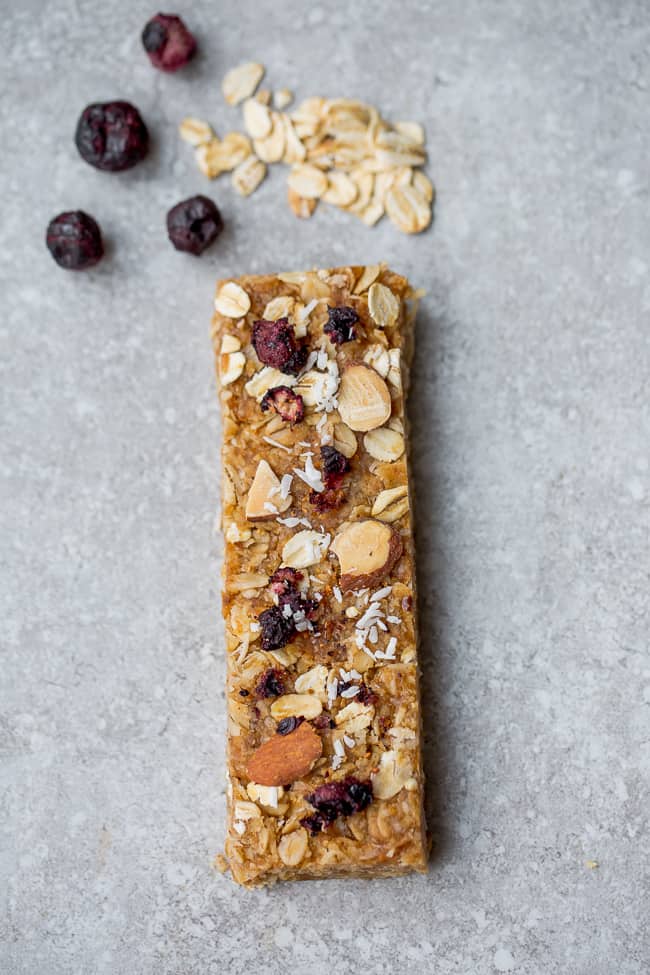 5. Chocolate Protein Bar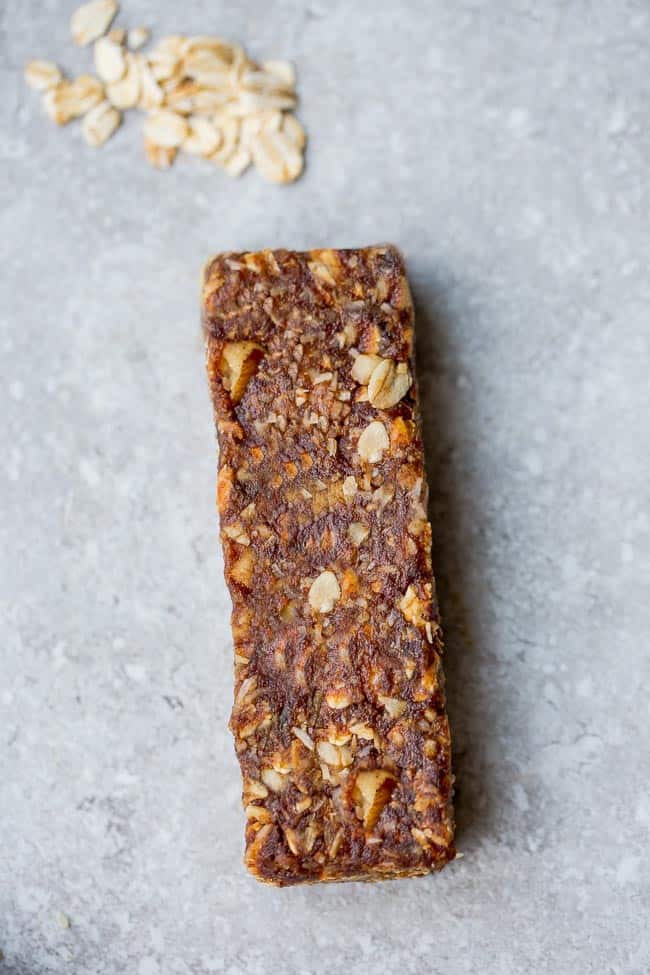 5. Coconut Almond – Low Carb / Keto Granola Bars – scroll down to the Recipe Card at the Bottom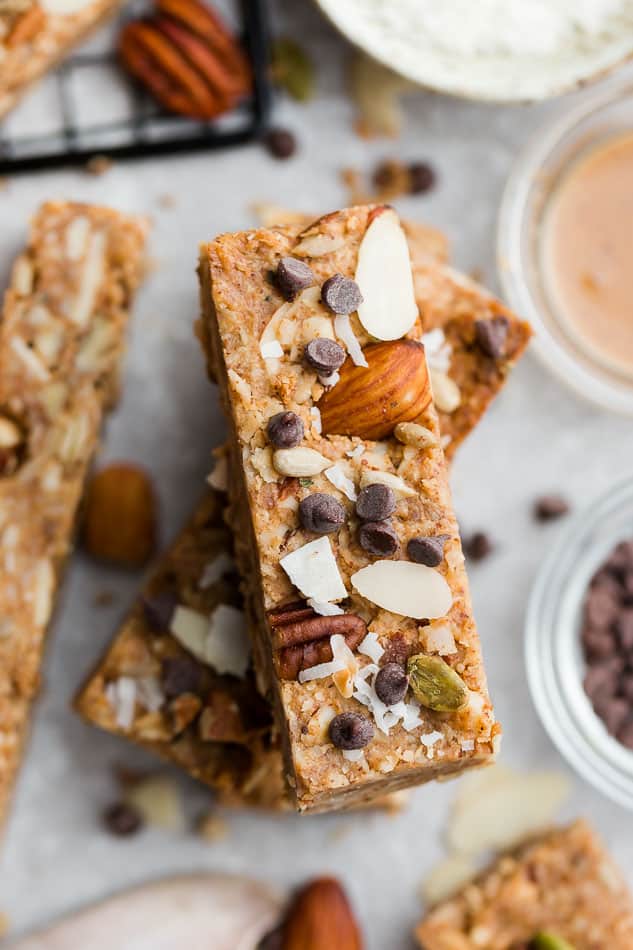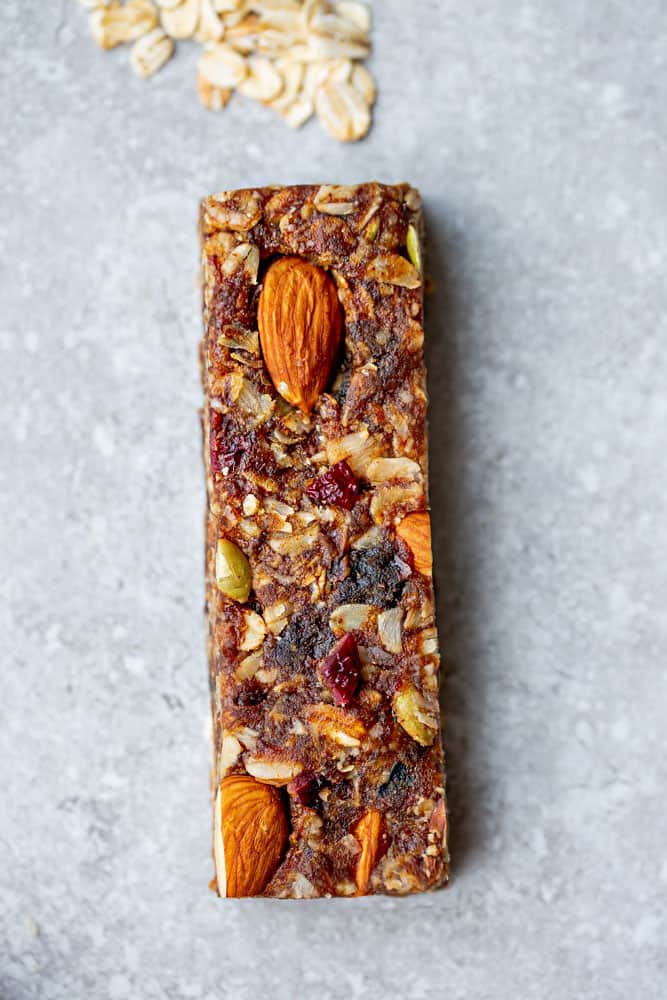 7. Oatmeal Raisin – scroll down to the Recipe Card at the Bottom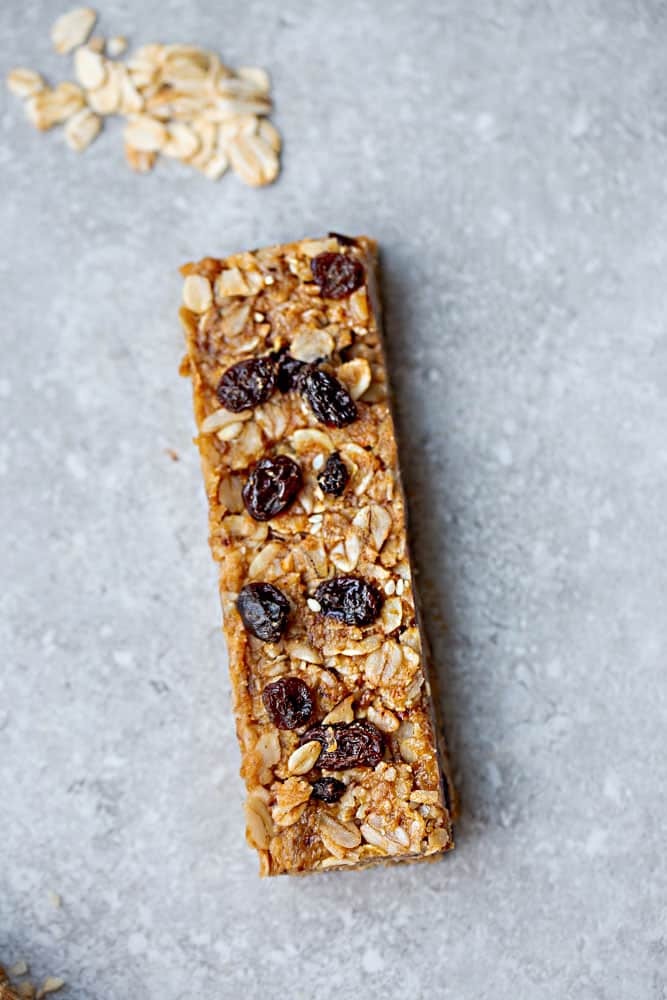 8. Peanut Butter Chocolate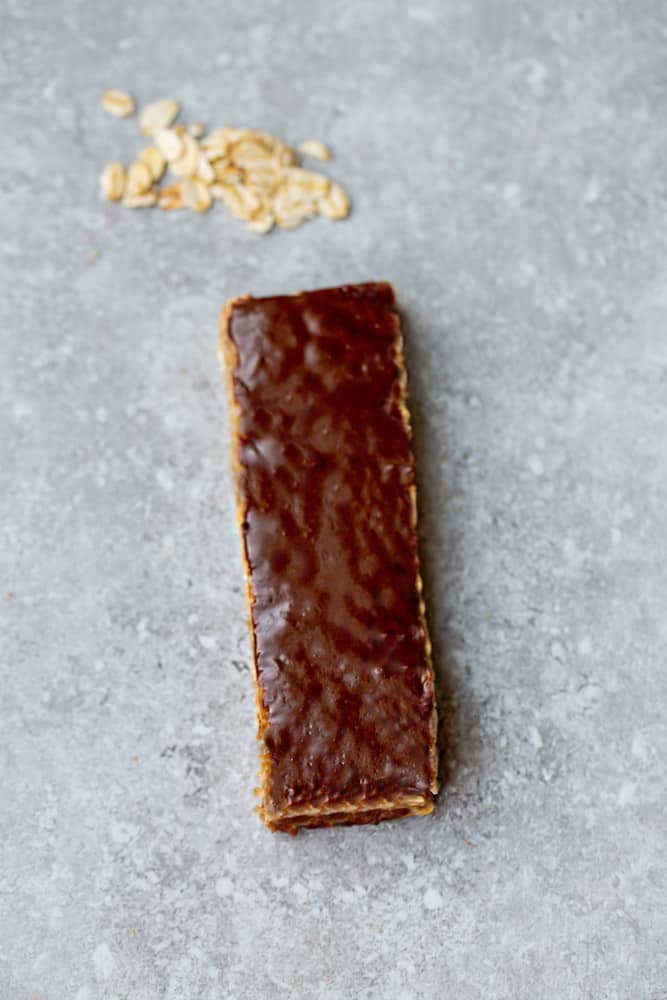 9. Pistachio Dark Chocolate – scroll down to the Recipe Card at the Bottom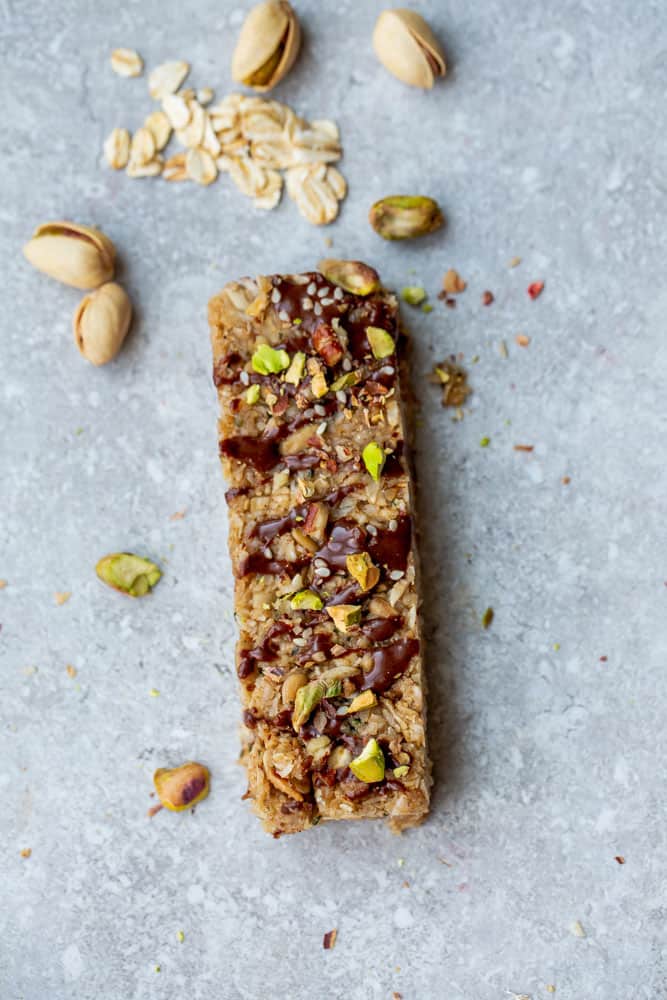 10. Pumpkin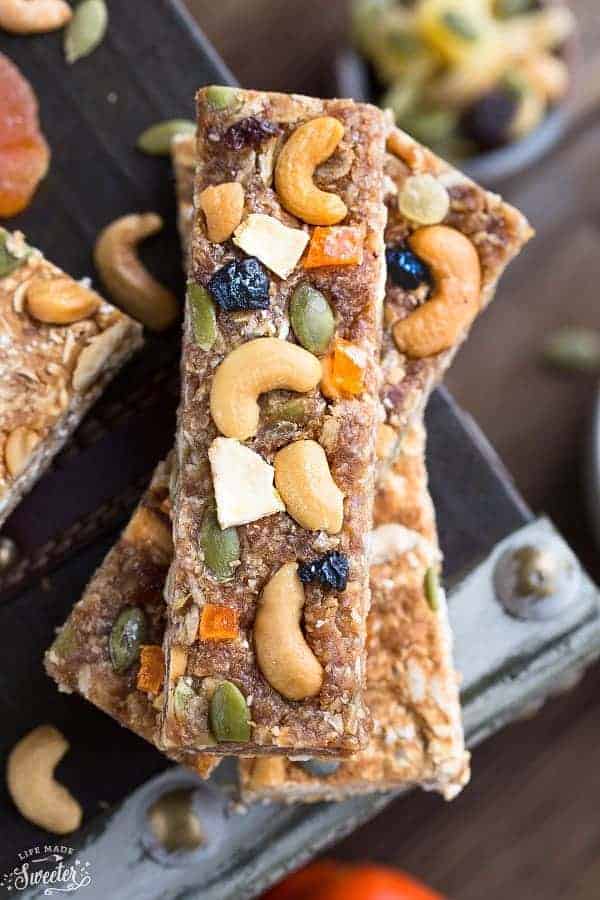 11. Strawberry Chocolate – scroll down to the Recipe Card at the Bottom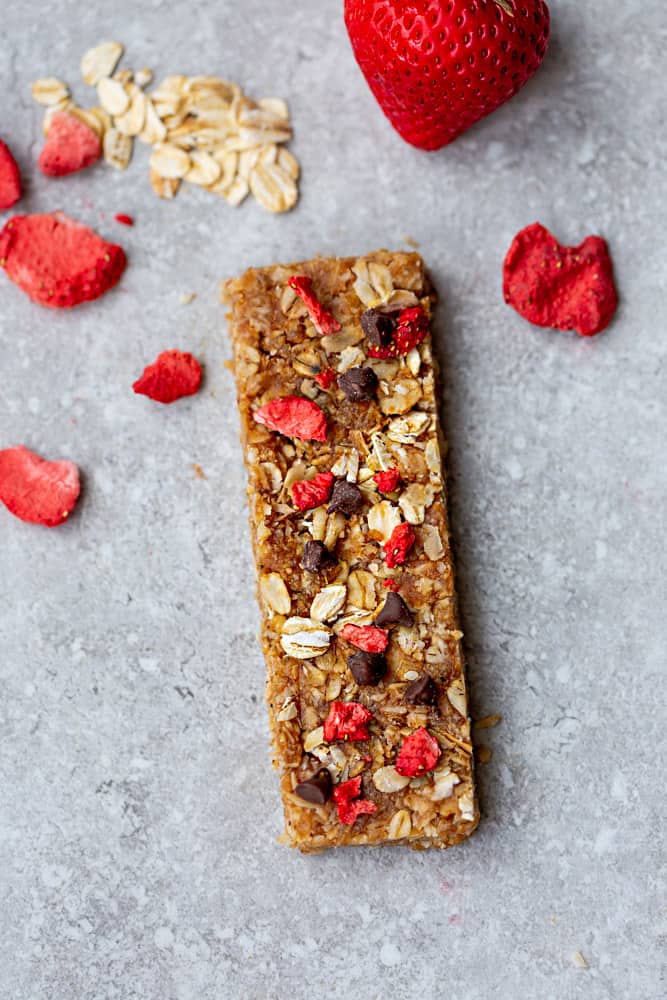 12. Tahini Maple – scroll down to the Recipe Card at the Bottom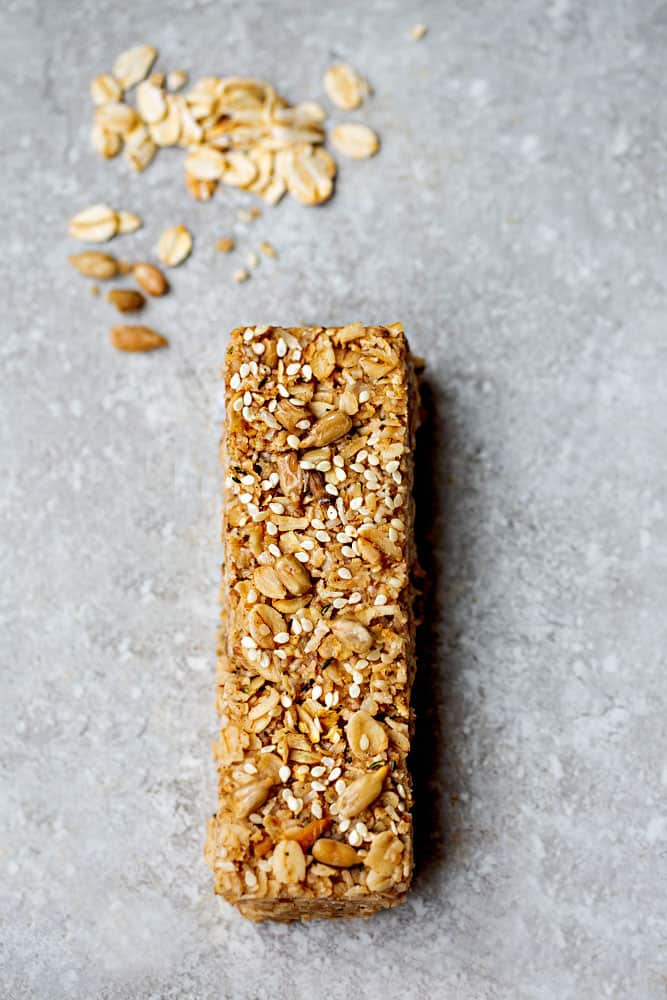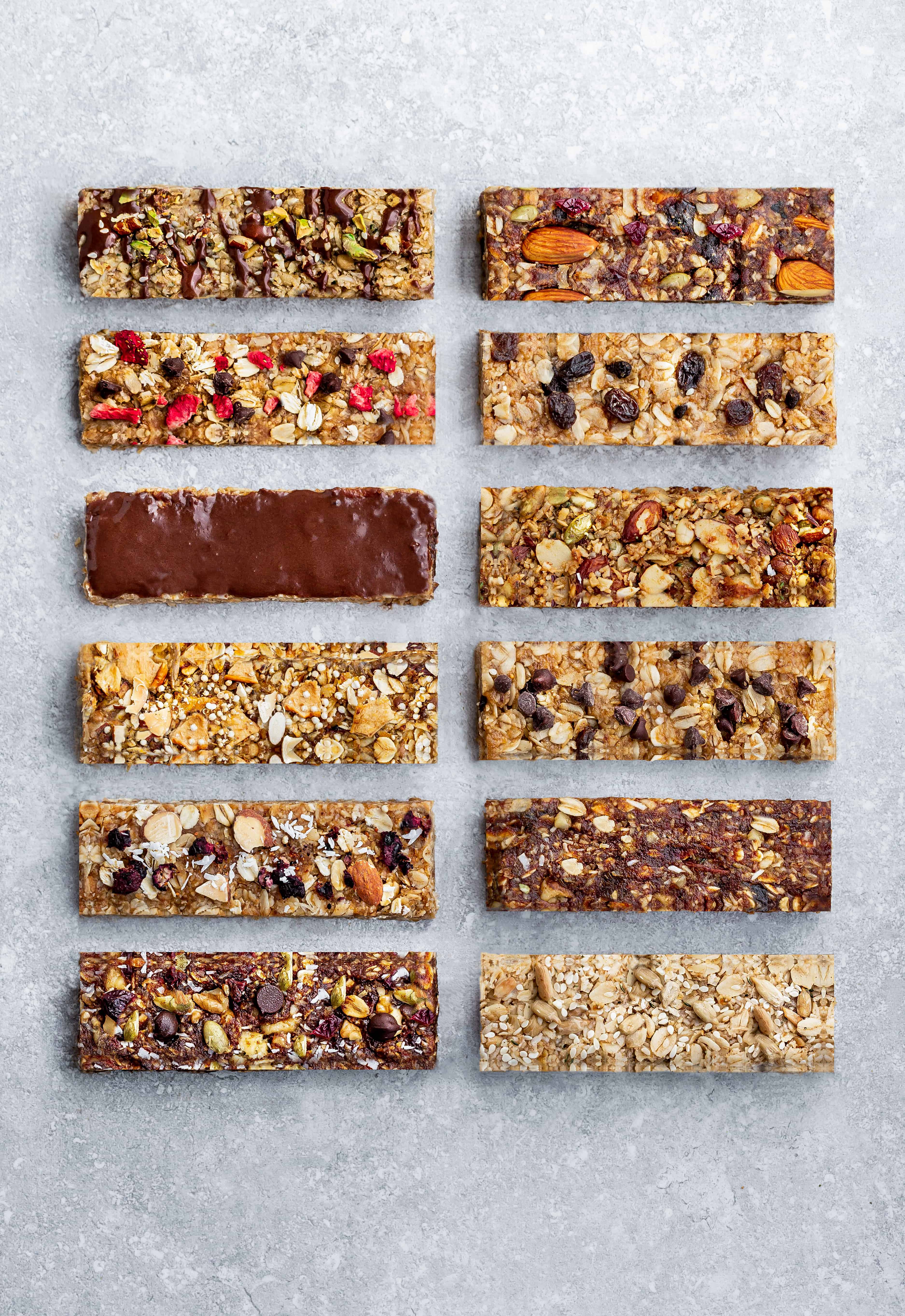 More easy breakfast ideas: