Pumpkin Breakfast Cookies – the perfect easy no bake stovetop (or oven baked) cookies for on the go fall mornings. Best of all, they are full of fall spices, gluten free, flourless and made with no butter.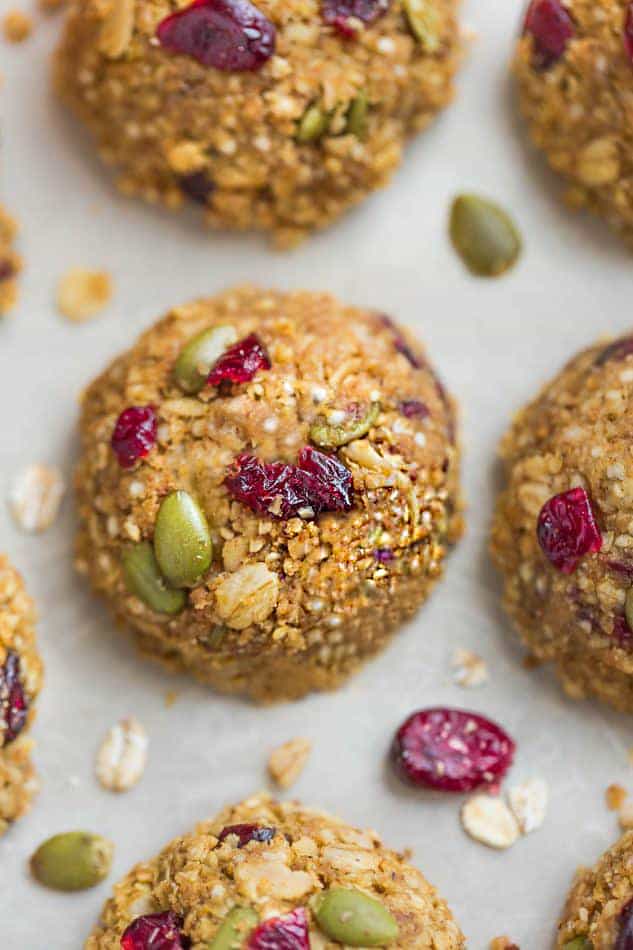 Now that the kids are back-to school, quick and easy breakfasts and snacks have been happening a lot around here.
And what better way to get your kids excited to get up early for school than with cookies? Breakfast cookies that is!
Since these Zucchini Breakfast Cookies have been a popular favorite around here, I just couldn't wait to make a pumpkin version for fall.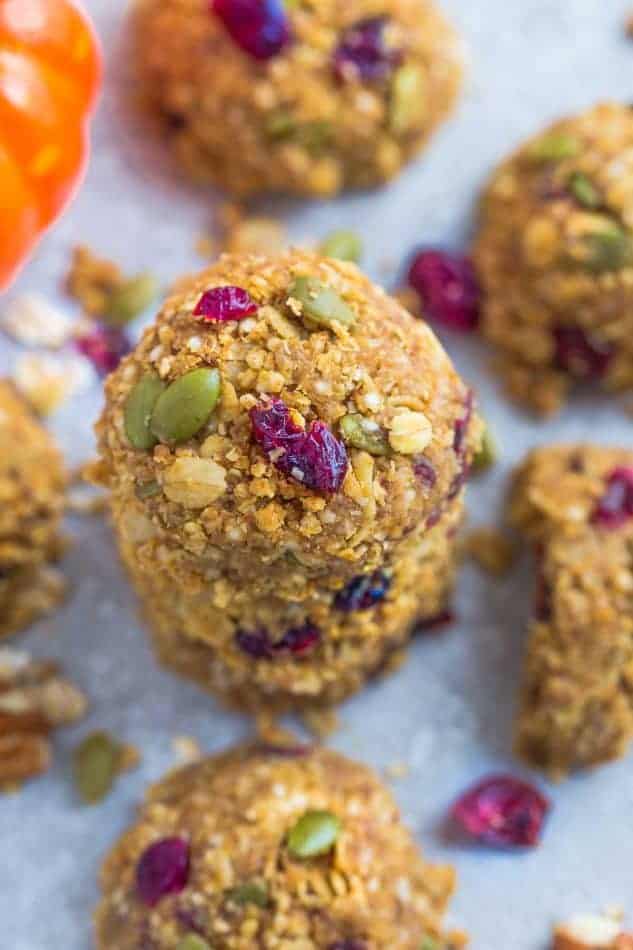 PUMPKIN BREAKFAST COOKIES
The great thing about these Pumpkin Breakfast Cookies is how easy they are to customize with your favorite mix-ins.
This version is also completely flourless and packed with protein. Instead, they're made with:
almond butter (pumpkin seed or sunflower seed butter would work as well)
coconut oil
 SPLENDA® Naturals Stevia Sweetener (can also use regular or coconut sugar)
canned or pure pumpkin puree (not pumpkin pie filling)
rolled oats (use gluten free if necessary)
minute or quick oats (quinoa flakes work as well)
almond meal
ground cinnamon
salt
vanilla extract
pumpkin seeds
dried cranberries (chocolate chips or any other dried fruit would work as well)
chopped pecans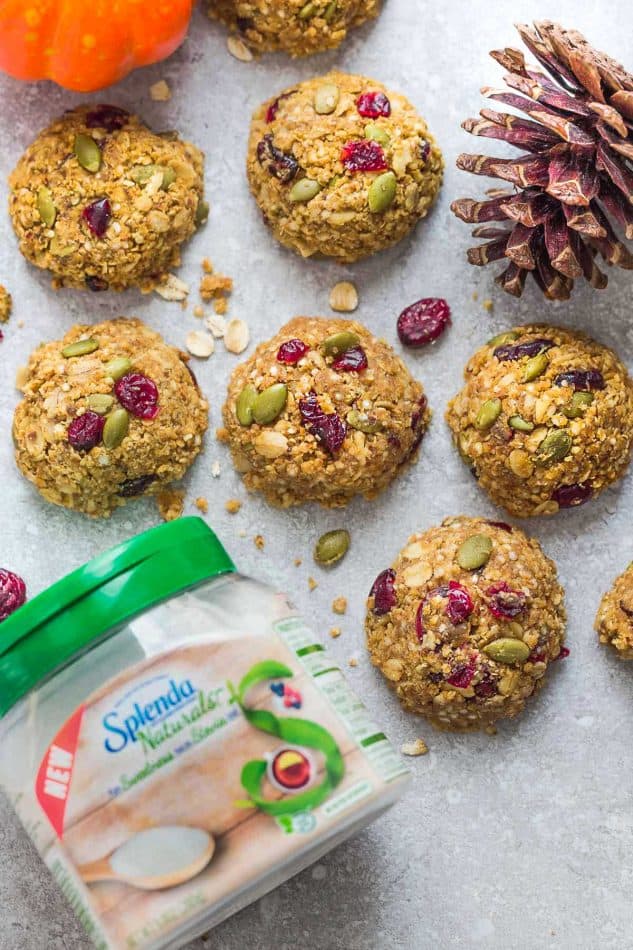 I also swapped out regular sugar with SPLENDA® Naturals Stevia Sweetener. It's made with a cleaner-tasting part of the stevia leaf and provides the same sweetness as two teaspoons of sugar but with no calories.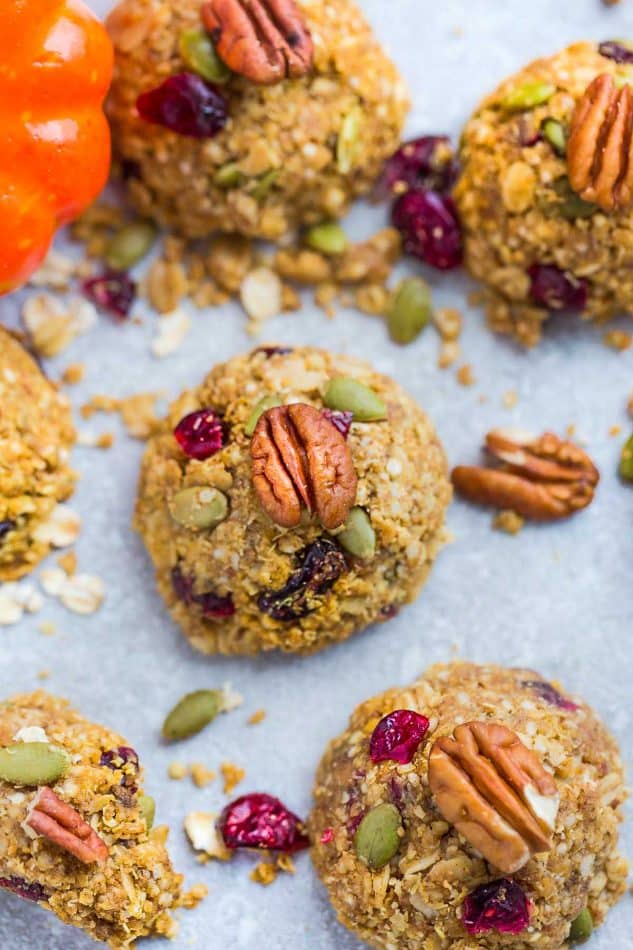 What I love about these Pumpkin Breakfast Cookies is that they start off the same way a classic no bake stovetop cookie does.
You just heat up the almond butter, coconut oil and sweetener in a large pot. Once the mixture boils, stir in the remaining ingredients until combined.
Use a medium cookie scoop and drop onto a parchment-lined baking sheet. Place baking sheet in the freezer for 15-20 minutes and you're ready to enjoy. They're perfect for those early mornings (or hot days) that you don't feel like turning on the oven.
And for those days you're craving a warm baked cookie, just pop them into the oven for about 8-10 minutes.
Easy, fast and delicious!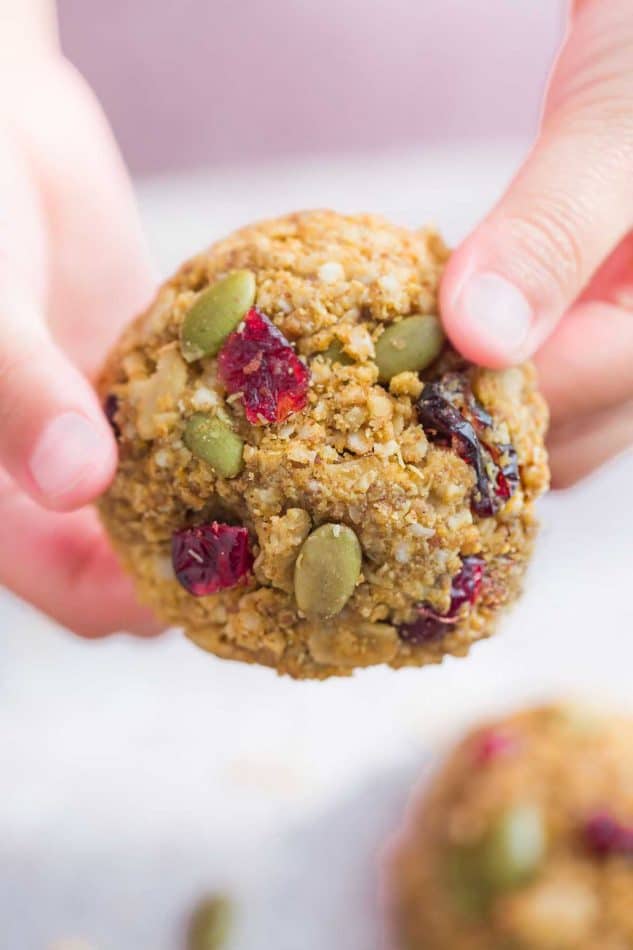 This post is created in partnership with SPLENDA® Sweetener Products as part of a sponsored series for Socialstars™ #SplendaSweeties #SweetSwaps