This vegan Instant Pot steel cut oatmeal recipe can be made with either almond milk or water and is ready in no time. You're going to love this breakfast recipe that is gluten free and full of optional ingredients like maple syrup, fresh fruit, or almond butter.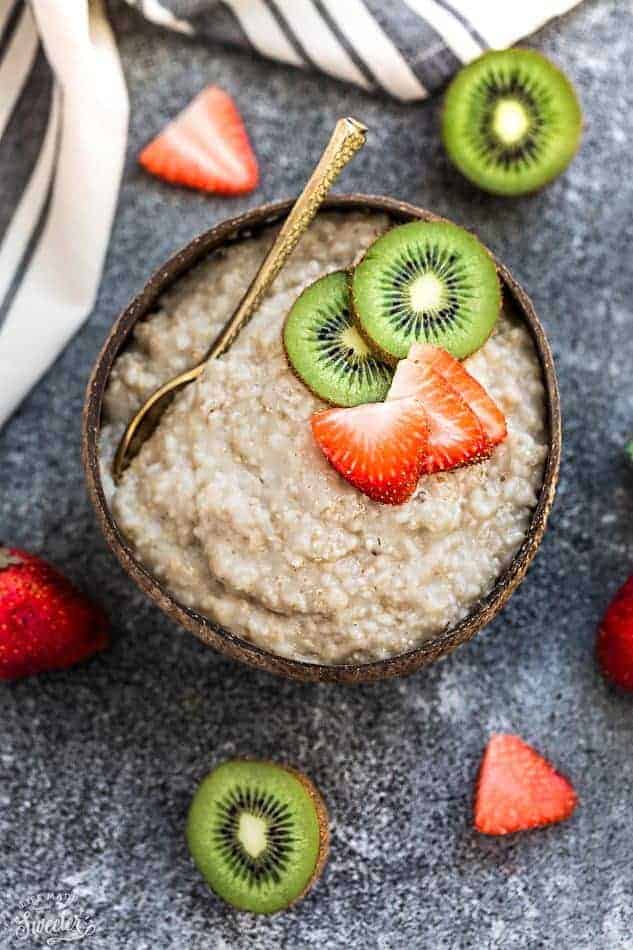 PIN HERE for later and follow my boards for more recipe ideas
Updated July 2020
Instant Pot Steel Cut Oatmeal
Whether we are cooking steel cut oats in the pressure cooker or rolled oats on the stovetop, we love to have oatmeal for breakfast. We make sure to keep our pantries stocked with oats at all times so we can make this recipe.
Vegan and smooth, oats are incredibly versatile and can be made in lots of variations. Although this recipe is one of our favorite ways to make them, we also love our other oat recipes like Blueberry Steel Cut Oatmeal, Overnight Oats, and Keto Overnight Oats.
Why You Should Make This Recipe
This pressure cooker oatmeal recipe is versatile and the right consistency. We love that these steel cut oats can be topped with almost any type of fruit and toppings. The flavors are delicious especially with an added sweetener.
Made with just simple pantry ingredients, these gluten free oats are great for meal prep and store very well in the refrigerator.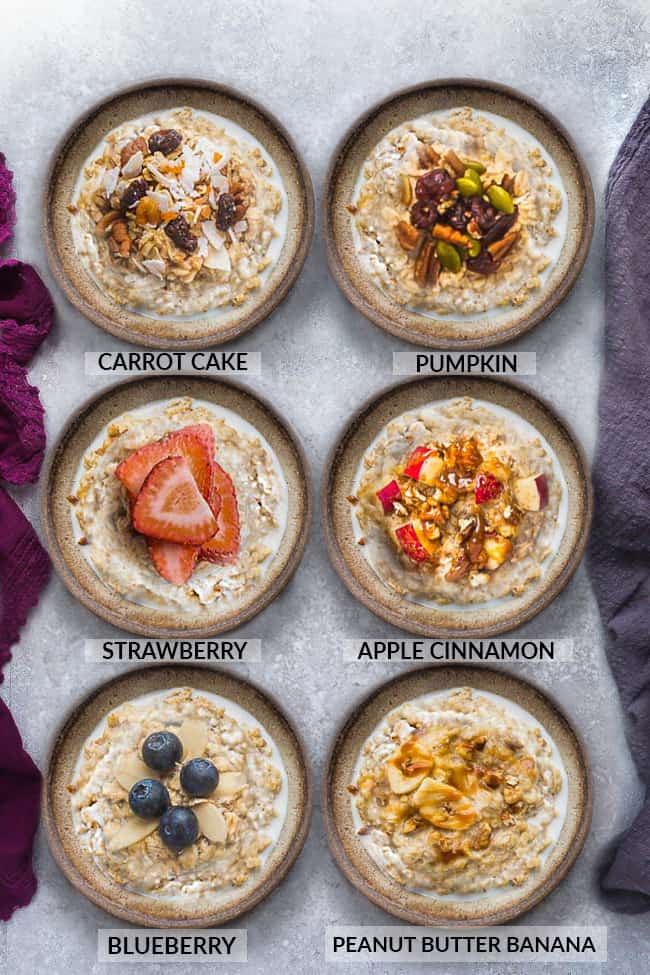 Ingredients For Instant Pot Oatmeal
Steel cut oats- use your favorite gluten free oats
Almond milk– can substitute with any plant based milk or water
Optional Toppings
Ground cinnamon- for a delicious flavor
Chia or hemp seeds- for additional benefits and nutrients
Almond butter- for additional protein
Sweetener- such as maple syrup, coconut sugar, or Lakanto Monkfruit Sweetener for keto diets
Butter- can be regular or vegan
Fresh berries- such as strawberries, blueberries, or raspberries
Apples– sliced and chopped
Bananas- sliced
But my new favorite way to make it recently has been in my Instant Pot (an electric pressure cooker). This is the ONE I use..and you guys!! I am SO in love!!
And I've already made a TON of Instant Pot recipes HERE.
Some basic MUST-HAVE guides include How to make the perfect White and Brown Rice and How to cook the perfect Hard & Soft-Boiled Eggs.
If you've got kiddos and they are early risers that wake up hangry like mine, making steel cut oatmeal (and rice) in the Instant Pot is a total. GAME. changer! SO easy, no more stirring and totally foolproof and the perfect bowl with a creamy consistency every. SINGLE time.
To make steel cut oatmeal in an Instant Pot, you literally just toss in the ingredients and it takes ONLY 4 minutes of cooking time.
The best part of all is that you don't need to stir your oatmeal at 6 in the morning. It's totally hands off! To avoid sticking, I usually lightly coat the inner pot with coconut oil (or you can use any other oil or butter if you prefer).
Now if you are familiar with an Instant Pot,  you do have to keep in mind that it takes the cooker some time to come up to pressure.
This can take about 5 minutes. Plus you need to factor in the additional time it takes for the pressure to release naturally – about 12 minutes. So I would plan for 30 minutes start to finish for this oatmeal to be on your table.


How To Make Instant Pot Steel Cut Oatmeal


WHY USE AN INSTANT POT TO COOK STEEL CUT OATS?
completely hands-off & not having to stand at the stove to monitor the pot – just set and forget it
no spilling over or waiting for water to boil
keeps the oats warm after they are cooked
the end results are totally worth it and completely foolproof! You'll get oatmeal that cooks up perfectly light and fluffy.
WHAT OTHER TOPPINGS CAN I ADD TO STEEL CUT OATS?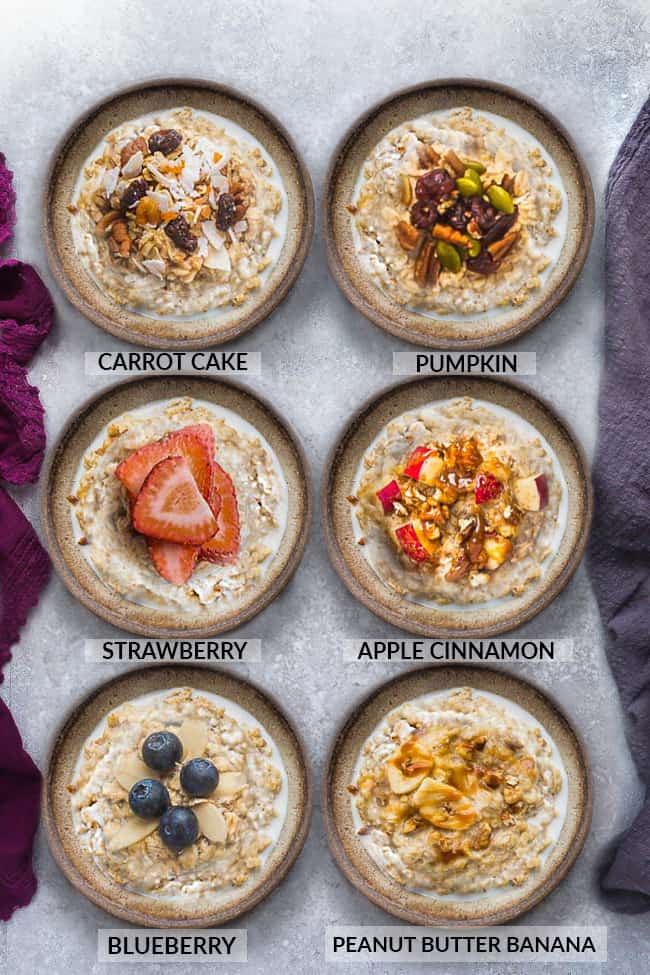 This simple recipe contains just two main ingredients – almond milk and steel cut oats.
But you can certainly jazz up your oatmeal with sweeteners or any spices you like. Maple syrup, honey, coconut nectar or any other low carb sweetener like liquid monk fruit or stevia would work as well.
Finally, add your favorite toppings and you're good to go!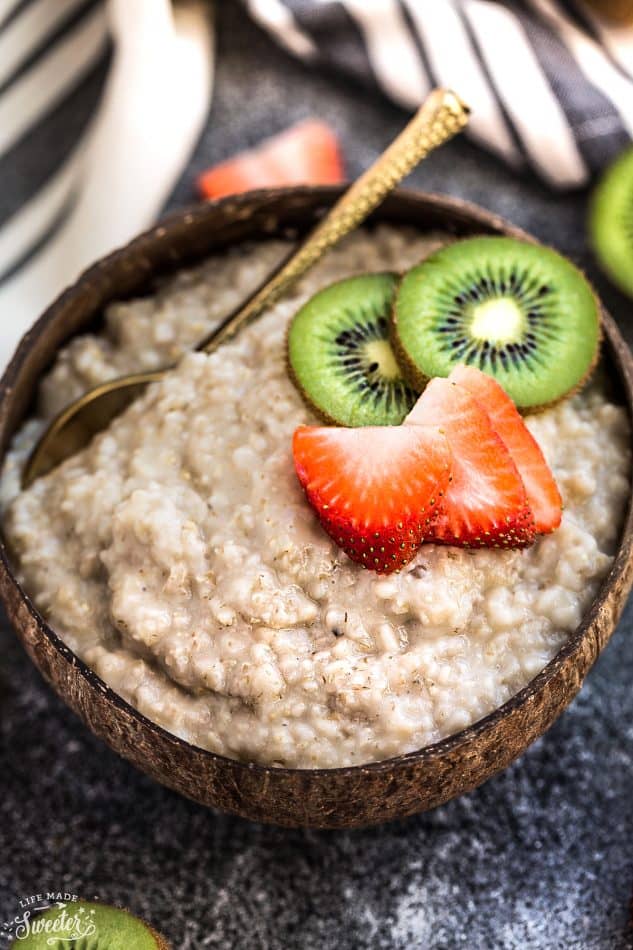 HOW TO DOUBLE OR TRIPLE THE RECIPE FOR INSTANT POT STEEL CUT OATS:
**As per many readers' request – I have also included instructions for doubling and tripling the recipe.
Please note that when you triple the batch, there is a tiny bit of crust that forms at the sides of the pot. I recommend making smaller batches if you want to avoid any crusting at all.
HOW TO MAKE INSTANT POT ROLLED OATS:
I've also included instructions for making Rolled Oats in the Instant Pot.
Grease the inner pot as usual, add 3 cups of rolled oats, 5 1/2 cups of water and set for 4 minutes on HIGH Pressure and release naturally for 15 minutes after it's done.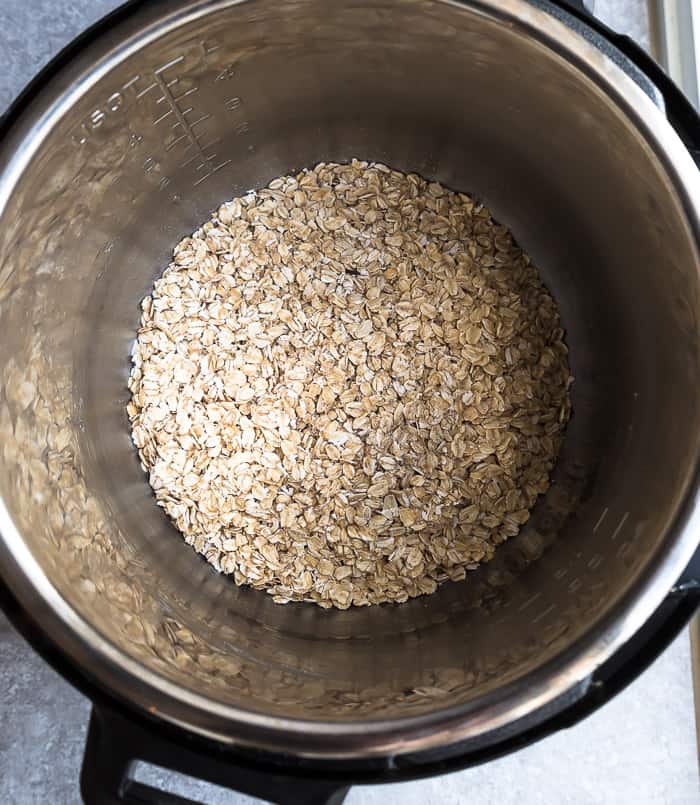 ARE STEEL CUT OATS HEALTHIER THAN ROLLED OATS?
So you're probably wondering, what's the difference between steel cut oats vs. rolled oats. Are steel cut oats healthier than rolled oats?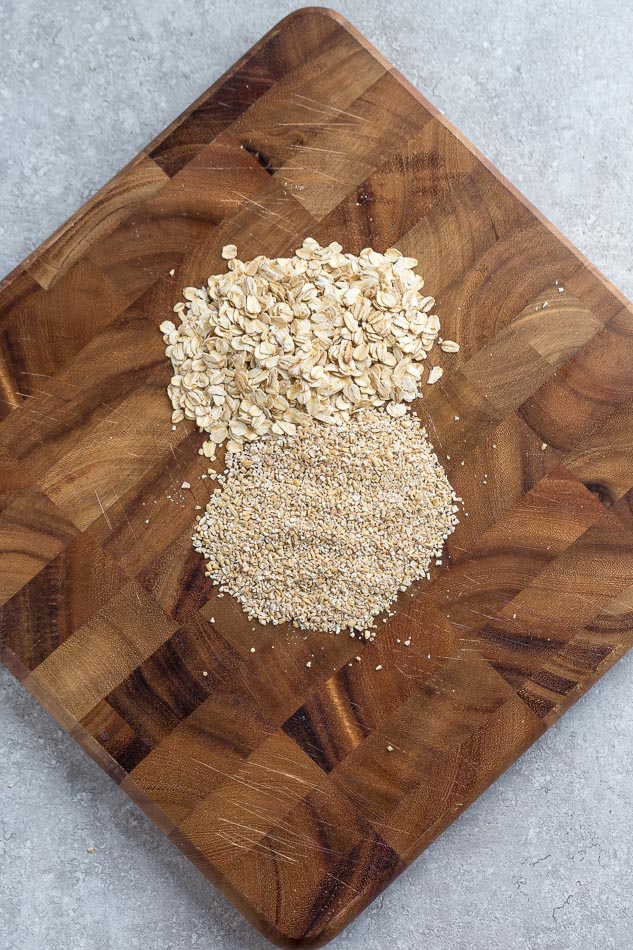 All oats start off as oat groats — the whole, unbroken grains so steel-cut and rolled oats actually have the same nutritional profile since they're all made from whole oat groats.
The differences between the two oats is:
Cooking times – steel cut takes longer to cook than rolled oats
Texture – steel cut oats are heartier and chewier while rolled oats are softer since they absorb more liquid
How much the oat groat has been processed – steel cut oats are chopped into pieces while rolled oats are steamed, pressed and then rolled flat
Click HERE for more Instant Pot Recipes
More Oatmeal Recipes You Might Like:
Healthy Breakfast Cookies – 12 Ways
6 Easy Oatmeal Bowls – Rolled Oats – Instant Pot or Stovetop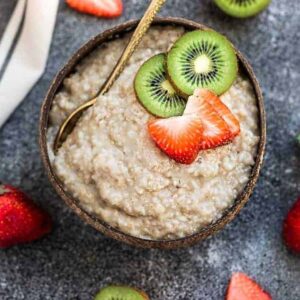 Instant Pot Oatmeal - Steel Cut + ROLLED OATS
Instant Pot Steel Cut Oatmeal – light and fluffy steel cut oats cooked in an electric pressure cooker. Totally hands off cooking process and from start to finish takes about 30 minutes - see note below + ROLLED OATS.

Keyword:
breakfast, gluten free, Instant Pot, oatmeal, rolled oats, steel cut oats
Instructions
To avoid sticking, lightly coat the inner pot of your Instant Pot with coconut oil or cooking spray.

Add oats into the Instant Pot followed by milk.

Secure the lid and close the vent.

Press the MANUAL (or PRESSURE COOKER for newer Instant Pot models) button and set to 4 minutes.

After the oats finish cooking, allow the pressure to release naturally (about 10-15 minutes).

After the pressure releases, open the lid and give the oatmeal a good stir. Any extra liquid will absorb as it cools.

Add cinnamon, sweetener or other additions you like.

Top oatmeal with fresh fruit, nut butter, a splash of milk, or any other toppings you like.
*TO DOUBLE THE RECIPE:
I use 2 cups of Steel Cut Oats + 5 cups of milk or water and set to 5 minutes. I do NOT recommend making a larger batch at once as it causes the outer parts to burn when I tried.
*FOR ROLLED OATS:
3 cups of rolled oats + 5 1/2 cups of water - set for 4 minutes and allow to naturally release for 15-20 minutes. Stir.
Recipe Video
Recipe Notes
***COOK TIME: Totally hands off 4 minutes of cooking process but it takes time for the pressure cooker to come up to pressure and to let the instant pot release naturally for at least 12 minutes. I would plan for 30 minutes start to finish for this oatmeal to be on your table.
Nutrition Facts
Instant Pot Oatmeal - Steel Cut + ROLLED OATS
Amount Per Serving (1 serving)
Calories 246
Calories from Fat 63
% Daily Value*
Fat 7g11%
Carbohydrates 21g7%
Protein 8g16%
* Nutrition facts are provided as a courtesy using the WPRM recipe calculator. It is best to make your own calculations to ensure accuracy. We expressly disclaim any and all liability of any kind with respect to any act or omission wholly or in part in reliance on anything contained in this website. Percent Daily Values are based on a 2000 calorie diet.