Learn how to use an Instant Pot with this comprehensive Instant Pot Guide for beginners. Instant Pots have quickly become the most popular kitchen gadget on any home cook's counter. It's allure is undeniable – with our busy lives and endless to-do lists, who doesn't want to cook dinner in an instant? And, eliminate other gadgets, increasing counter and storage space at the same time? It's a win-win.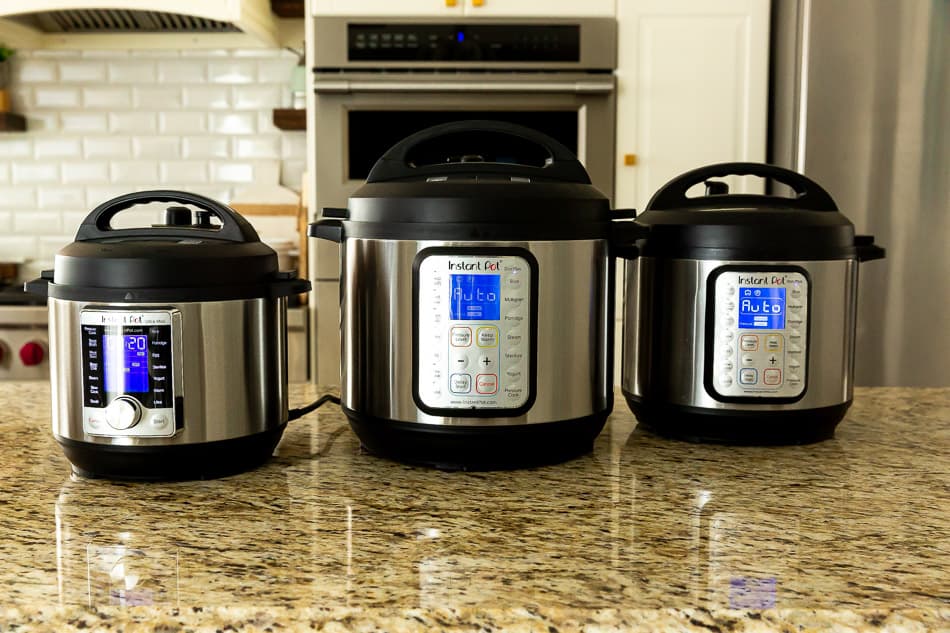 Instant Pot Guide 101
Wondering how to use an Instant Pot? Let's take a deep dive into Instant Pots so that you can learn how to use an Instant Pot like a pro!
What is an Instant Pot?
At its core, an Instant Pot is an electric pressure cooker – but really, it's much, much more. It can also sauté or steam veggies, cook rice, and slow cook. Not to mention make yogurt! It's a one-stop-shop. You can complete in an entire meal in the Instant Pot and most meals cook up in less than an hour.
Your Instant Pot is a multi-use appliance that cooks food at high pressure very quickly. It uses the steam from liquids to build pressure within the pot. It then directs that steam back into the food. This process is what speeds up the cook time!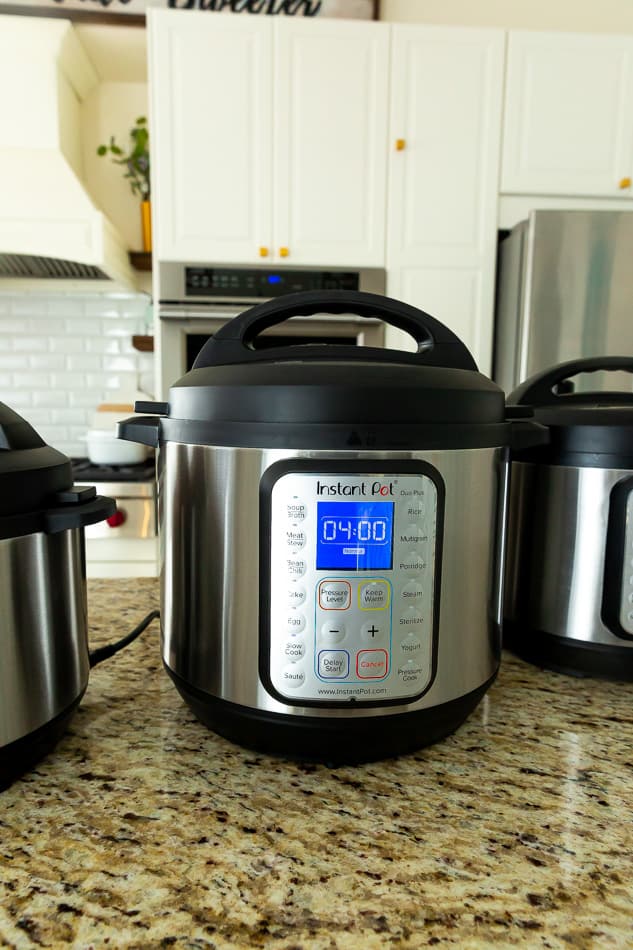 Your New Pressure Cooker – What's In the Box?
Now that you've purchased (or received) an Instant Pot, don't be embarrassed if you've been too intimidated to take it out of the box. There are a lot of pieces and buttons! Step one, let's take it out.
These are the main components you'll want to identify:
Outer Base
Inner Pot – Fits into the outer base.
Lid
Steam Release Valve – This fits on the top of the lid and may already be attached. If it is already attached, simply take note of its location
Rubber gasket ring – This helps seal the pot, allowing it to come to pressure.
Condensation Collector – Not all models include this piece. Check your manual if you are unsure.
Trivet
Power Cord
You'll also notice an instruction manual and recipe book. Hang on to those, too.
How to Assemble Your Instant Pot
First you'll want to hand wash each of the parts of your new pressure cooker. Be sure you do not immerse the outer base in water. Before assembling, thoroughly dry every piece. Pay extra attention to the outer base and the heating element within it – make sure these are completely dry.
If you're using a model that comes with a drip catcher, slide this into its spot on the back of the cooker. Place the inner pot into the outer base and attach the power cord.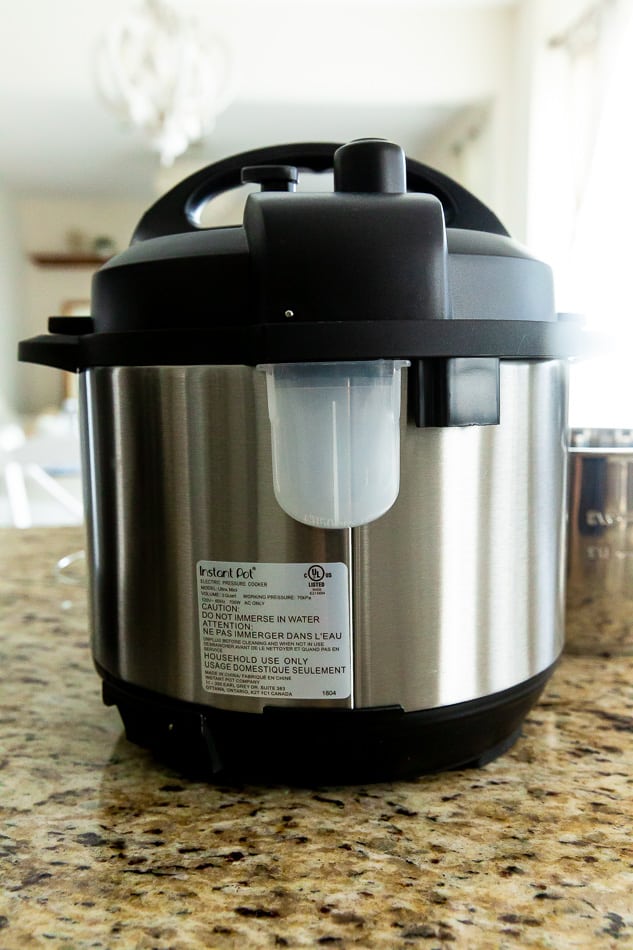 Snap the rubber gasket into place under the lid. Then, practice lining up the arrows and snapping your lid in and out of place.
Some Instant Pot models will make a little beeping sound when the lid has been sealed correctly. Confirm your steam release valve is in place on the lid. Take note of the pressure indicator and its location.
Your Instant Pot is now assembled and ready to go!
Which Instant Model Should I Buy?
Instant Pot Lux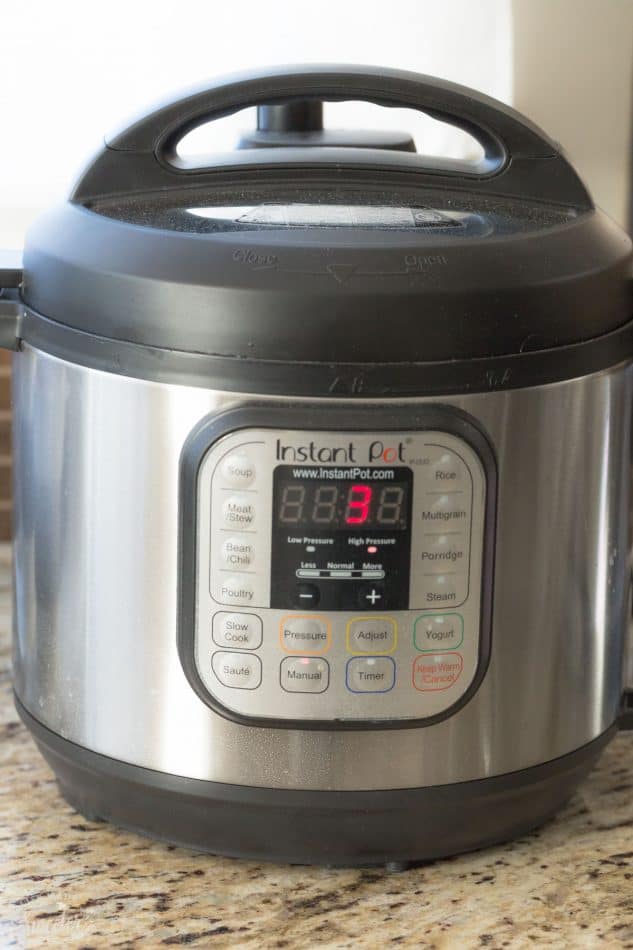 The Lux is the most affordable model and what you would call the starter baseline Instant Pot model. It's a 6-in-1 cooker and the primary functions include:
Pressure cooker, slow cooker, rice cooker, sauté machine, steamer, and warmer.
12 built-in programs: Soup/broth, meat/stew, cake, egg, sauté, rice, multigrain, porridge, pressure cook, steam, keep warm and slow cook.
Cons: no yogurt function or high or low pressure cook
Instant Pot Duo-Plus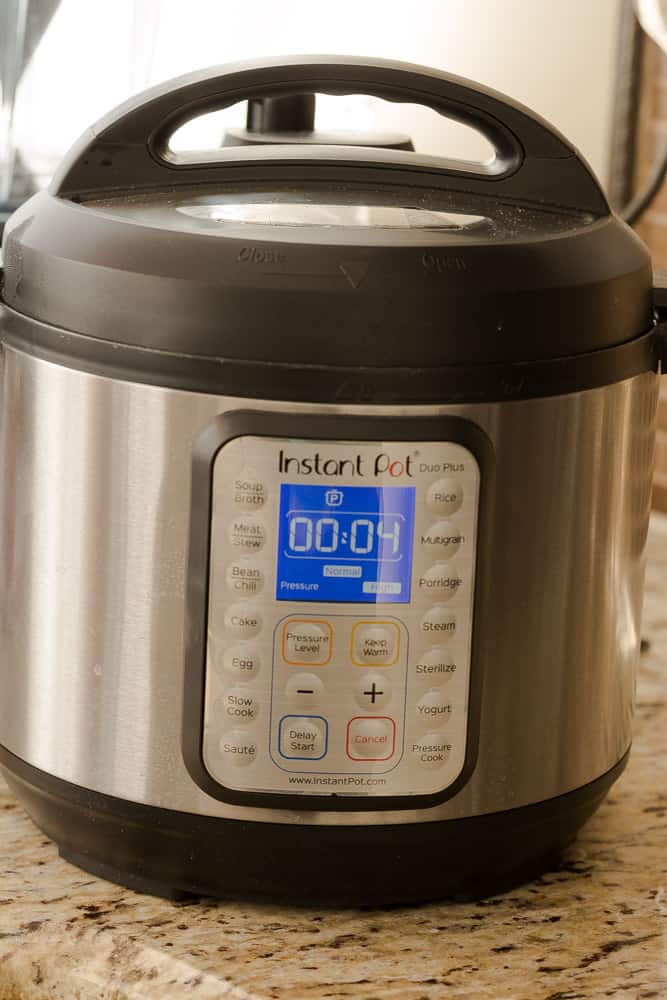 The Instant Pot Duo-Plus is the most popular model and the first pressure cooker model that we bought. It's a 9-in-1 cooker and the functions include:
Pressure cooker, slow cooker, rice/porridge cooker, yogurt maker, cake/egg maker, sauté/searing machine, steamer, warmer and sterilizer.
It also has 15 built-in programs: Soup/broth, meat/stew, bean/chili, cake, egg, slow cook, sauté/searing, rice, multigrain, porridge, steam, sterilize, yogurt, keep warm, and pressure cook.
The Duo Plus has a large blue LCD display with status icons to indicate the cooker's status, while the Duo has a more basic display.
The 3-quart Duo Plus sells for around $100; the 6-quart retails for $130; and the 8-quart retails for $160.
Instant Pot Ultra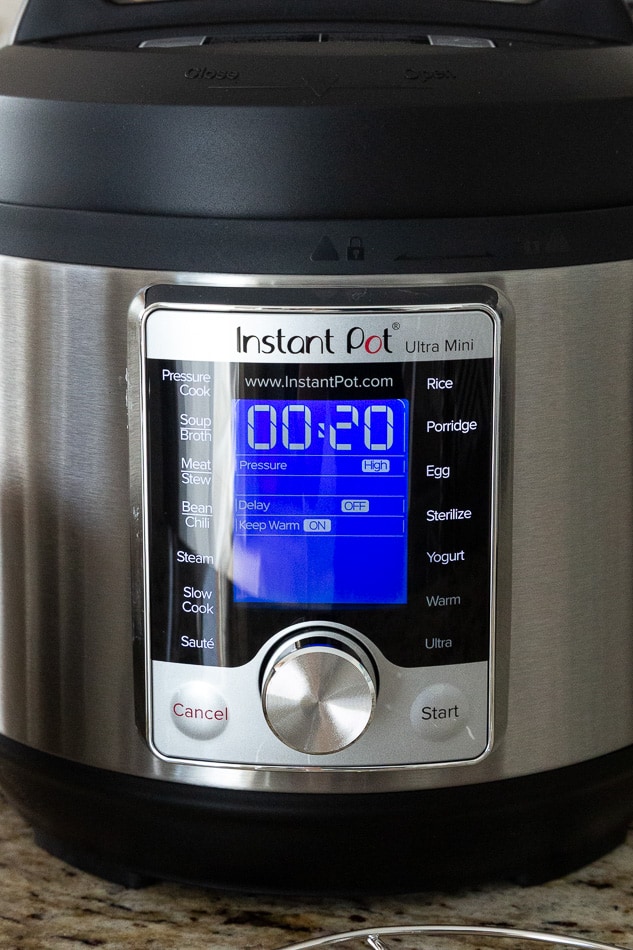 This  Instant Pot is a higher-tiered model and is a 10-in-1 cooker and the functions include:
16 cooking programs: Soup/broth, meat/stew, bean/chili, cake, egg, slow cook, sauté/searing, rice, multigrain, porridge, steam, sterilize, yogurt, warm, pressure cook, and ultra.slow cooker, rice cooker, steam, sauté machine, yogurt maker and warmer.
It has a large LCD display with progress indicators, a steam release button for easier manual pressure releasing plus a dial that toggles between the different programs. You can also customize the altitude, temperature and time or use this as a sous vide cooker.
The Ultra comes in a 3-quart size (retails for $120), a 6-quart size ($150), and an 8-quart version ($180).
Don't Be Intimidated by All the Buttons
Yes, there's a lot of buttons – but we can run through them quickly and you'll feel prepared in no time.
Pressure Cook or Manual Button: Depending on your model, this button could say either. No matter the name, it will have the same function – this is the button to press to start pressure cooking.
+/- Buttons: You'll use these buttons to adjust the cook time.
Pressure Button: On certain models, this button might say Pressure Level. This button is how you switch between high and low pressure. Most recipes will call for high pressure, though.
Warm or Cancel Button: You'll use this button to end a cycle and begin the pressure release process.
Program Buttons: Depending on your Instant Pot model, your program options can include Soup/Broth, Bean/Chili, Meat/Stew, Cake, Egg, Rice, Multigrain, Porridge, Yogurt, Steam, and Slow Cook. So many possibilities!
Sauté Button: One of my favorite things is that I can sauté right in my Instant Pot instead of dirtying loads of pots and pans. Be sure to follow the instructions in your recipe. Sautéing is often done with the lid off.
Adjust Button: This controls the amount of heat and works well when sautéing.
How to Use An Instant Pot – Cook Water First
This might sound silly, but, before you actually cook a meal in your Instant Pot, you're going to have to learn to boil water in it. This water test serves multiple purposes. First, it gets you accustomed to the controls, mechanisms, and feel of your pot. The water test also ensures that your Instant Pot is working properly.
Here are the steps you'll need to follow in order to perform a water test:
Pour 2 cups of water into the inner pot. Take note of where the fill line is.
Close the lid and set the pressure release valve.
Press Manual or Pressure Cook – depending on your model.
Adjust your cook time to 5 minutes. If everything is working properly, after about five minutes, the float valve will lift into place and you'll see steam leaking from the sides of the pot.
When the cook time is up, release the pressure valve using the cancel button or allow it to release manually.
When the float valve drops, you can open the lid.
And that's it. If all goes according to the steps and you don't encounter any issues – you are ready to make your first Instant Pot meal.
How to Safely Open Your New Pressure Cooker
Instant Pots are much safer to use than traditional stove top pressure cookers. The lid locks and stays locked until the pressure is released. This process eliminates the safety concerns many previously had with using pressure cookers.
Here's how to safely open your Instant Pot:
When you release the pressure, the steam will be hot enough to burn you. Make sure the steam release is facing away from you before you press the release button.
Do NOT remove the lid until all of the pressure from the pot has been released. When the floating valve in the lid drops, you'll know it is safe.
If the lid does not easily twist off, it is not ready to come off. Don't ever force it.
How to Clean Your Instant Pot
Wondering how to clean your new appliance? The Instant Pot lid, steam release valve and stainless steel inner pot are dishwasher safe! You can also opt to wash them by hand. The base unit is not dishwasher safe and should absolutely never be immersed in water.
How to Store Your Instant Pot
It's best to store the appliance with the lid upside down. Leave the gasket loose do avoid any condensation buildup and the chance of mold growth. If you have cabinet space, you can store it there as opposed to leaving it on your counter top. Just be sure that none of the pieces are left damp.
What is Best to Cook in a Pressure Cooker?
So wondering what are the best instant pot recipes you can make?
The list of delicious foods you can cook in an Instant Pot range the gamut: rice, stew, chili, soup potatoes, oats, mac and cheese. You can even bake bread in an Instant Pot. Plus, we've got a round-up here of the Best Instant Pot Chicken Recipes and the Best Instant Pot Vegetarian Recipes you can make.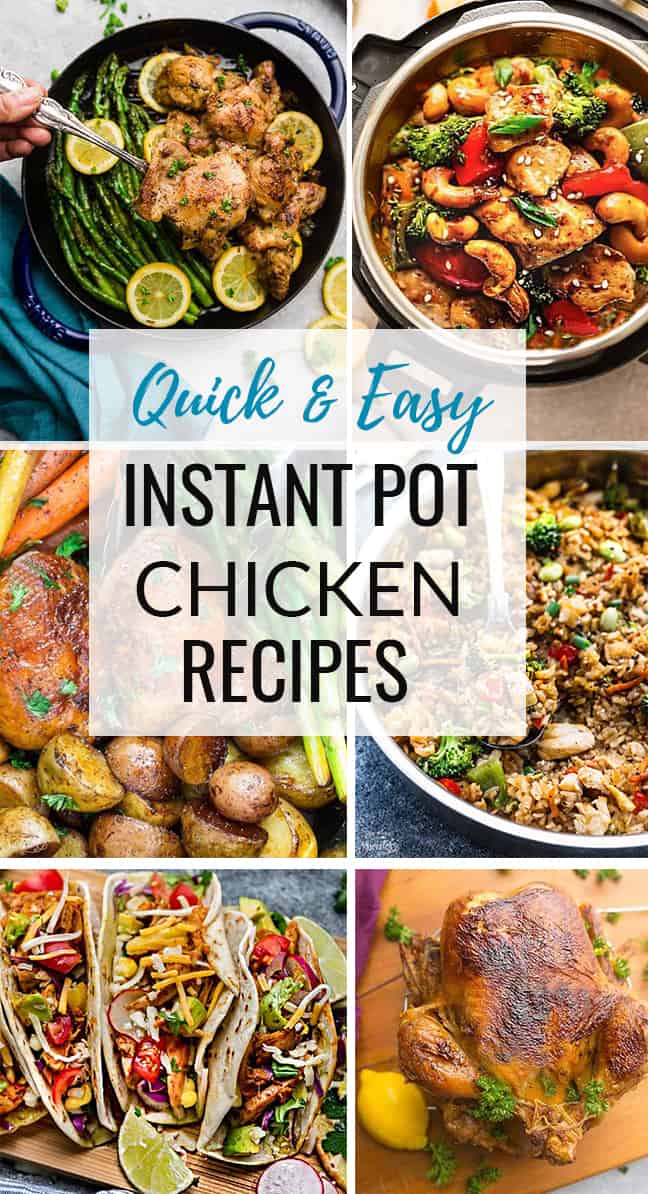 There are loads of accessories available like trivets, pans, egg cookers, and specialty steamers and slings that open up your options even more! Additionally, just about any oven safe pot or pan can also be used in your appliance as long as it fits securely inside the sealed pot. Basically, the options for cooking in your Instant Pot are endless.
The best foods to cook in your Instant Pot will be those that are boiled, steamed, or simmered.
Here are a few things that would usually take hours (in some cases overnight) that the multi-cooker cooks up in less than an hour:
Braised Meats – Full of flavor as if it's been braising for hours.
Whole Chicken – You can even cook this from frozen!
Beans – No need to soak them overnight.
What Can't You Cook in an Instant Pot?
Multi-cookers are best for boiling, steaming, and braising. When you think pressure cooker or multi-cookers, you don't think crispy or crunchy. You're not going to be making onion rings or fried chicken in your new pressure cooker (you'll want an air-fryer for that).
Although pressure cookers can make cooking many of your favorite recipes much easier, there are some things they can't or won't do well. Here are a few of our faves you shouldn't attempt to cook in your new pressure cooker:
Crispy or crunchy snacks
Cookies
Anything grilled
Anything deep-fried
Easy Instant Pot Recipes to Try:
Ready to give your new pressure cooker a go? Here are some of my favorite Instant Pot recipes!