This Cinnamon Apple Oatmeal is made with tender apples, gluten-free oats, comforting cinnamon, and any delicious plant-based milk! You are going to love this quick and easy breakfast that is so easy to prepare. Perfect for meal prep and the creamiest oats you will ever eat.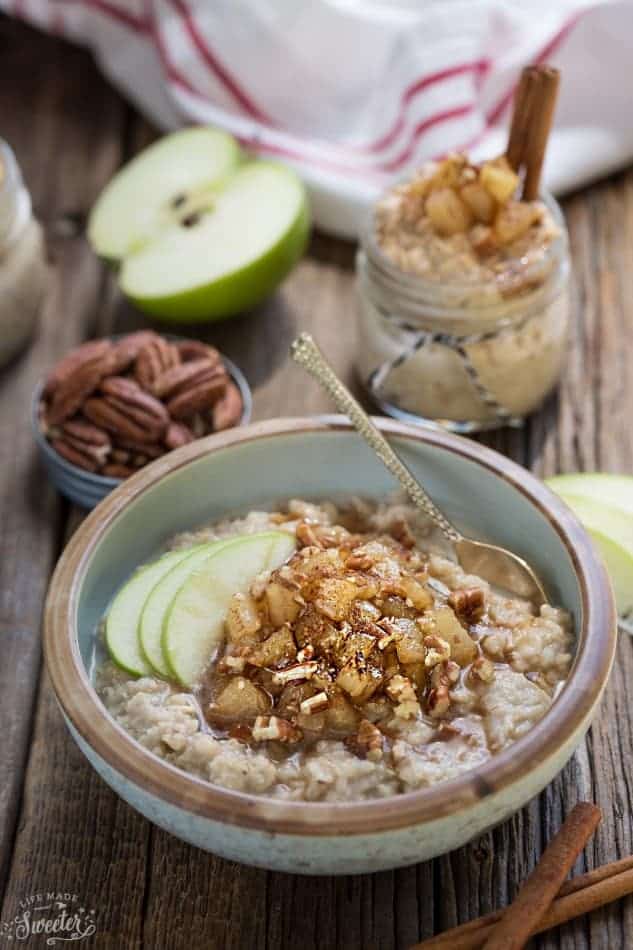 PIN HERE for later AND follow my recipes boards for more breakfast ideas!
Updated August 2020
Cinnamon Apple Oatmeal
In the mood for a fulfilling breakfast that is full of protein and fiber? This healthy gluten-free Cinnamon Apple Oatmeal is the best way to use up any extra apples or oats in the kitchen. This easy breakfast recipe comes together in no time, and it's perfect for busy mornings before school or work.
This apple oatmeal tastes just like apple pie and is filled with comforting spices that blend well with the apples and creamy oats. It's the perfect vegan meal that is super versatile in flavor. Not only is this recipe vegan and dairy-free, but it is gluten-free and refined sugar-free, too. We like to throw in a pinch of ground flaxseeds for extra protein and benefits.
If you do not have any apples on hand, then you can always try our Banana Oatmeal, Blueberry Oatmeal, or Carrot Cake Oatmeal. There are so many options when it comes to oats! From overnight oats to oatmeal cups, we love to eat oats because they keep us full for a long time.
And if you're looking for a grain-free, paleo oatmeal, be sure to check out my keto oatmeal made without any oats or grains.
Why We Love This Recipe
We love this healthy oatmeal for a variety of reasons, but mainly because it is just so easy to make and easy to customize to fit almost any dietary needs.
This healthy breakfast is made with simply pantry-friendly ingredients that are probably already in the kitchen
Ready in less than 10 minutes
It's perfect for meal prep. Just make a huge batch and store it in the refrigerator for the rest of the week.
These oats are perfect hot or cold
Ingredients For This Apple Oatmeal
For the Oatmeal Base
Oats – be sure to use gluten-free rolled or old fashioned oats
Ground flaxseeds or chia seeds– optional, but highly recommended for additional fiber and protein
Apple pie spice– if you do not have this spice blend, then you can sub with this Homemade Apple Pie Spice Mix
Milk– water will also work in place of any plant-based milk, but we like to use unsweetened almond or cashew milk
Sweetener– we used maple syrup, but coconut sugar, maple sugar, date paste, or Lakanto Monk Fruit Sweetener will work
Apple sauce or pureed apples– for an extra punch of apple and enhanced texture; we usually use Gala or Granny Smith apples, but any apple will work for this recipe
Vanilla extract and cinnamon– makes the oatmeal delicious and enhances all of the other ingredients
Caramelized Apple Topping
Coconut oil– you can also use any other neutral flavored oil, melted butter or ghee if you are not dairy-free.
Apple– chopped into 1/4 inch thick pieces for a hearty texture and extra boost of apple; we use Gala or Granny Smith
Maple syrup– coconut sugar, maple sugar, date paste, or Lakanto Monk Fruit Sweetener will work for this recipe
Cinnamon– creates that apple pie flavor within the topping
Optional
Chopped almonds, walnuts, or pecans for extra protein and benefits
Extra milk for serving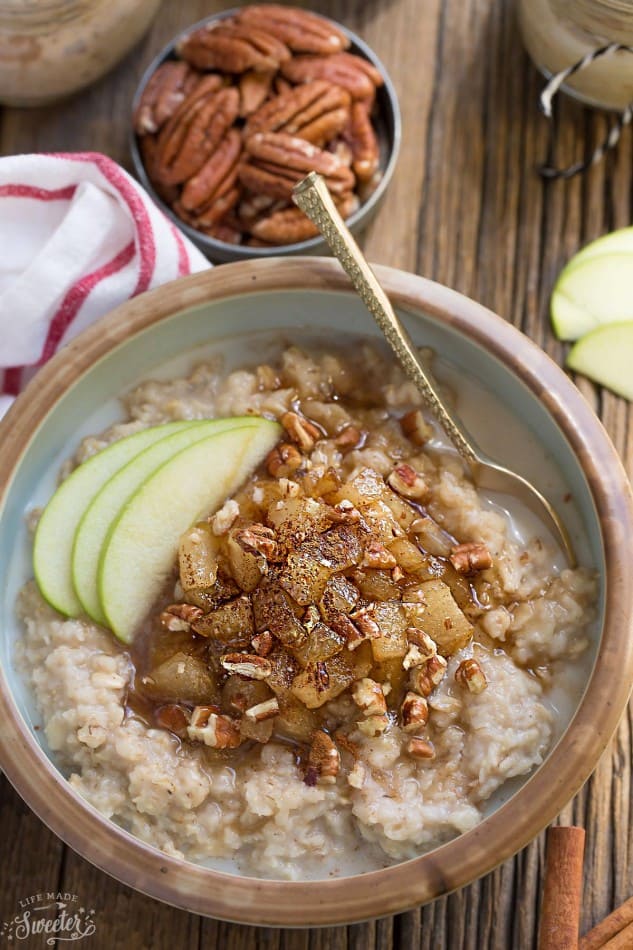 How to make Cinnamon Apple Oatmeal
PREPARE THE TOPPING:In a small saucepan, heat coconut oil on medium-high heat. Add apples, sweetener, and cinnamon and saute for about 5 minutes or until the apples turn golden brown and begin to soften. Remove from heat and set aside. (You can make this ahead of time and place in a covered container in the refrigerator).
MAKE THE OATMEAL: In a medium saucepan over medium heat, combine the oats, flax/chia seeds, apple pie spice, cinnamon, water/milk, sweetener and applesauce/apple puree until combined.
THICKEN AND COOK THE OATS: Cook over medium heat, stirring often for about 12 to 16 minutes until oats thicken and soften to the consistency as desired, add more water as needed. Stir in the vanilla and remove from heat.
SERVE WITH TOPPINGS: Pour into a bowl and top with caramelized apples. Add chopped pecans, almonds, or walnuts and serve with additional milk, if desired.
Tips and Variations