These easy Cookie Dough Bites take less than 10 minutes to make with just a few simple pantry ingredients and make the perfect no-bake low carb, vegan snack. They are sugar-free, gluten-free, dairy-free, paleo and packed with protein and healthy fats.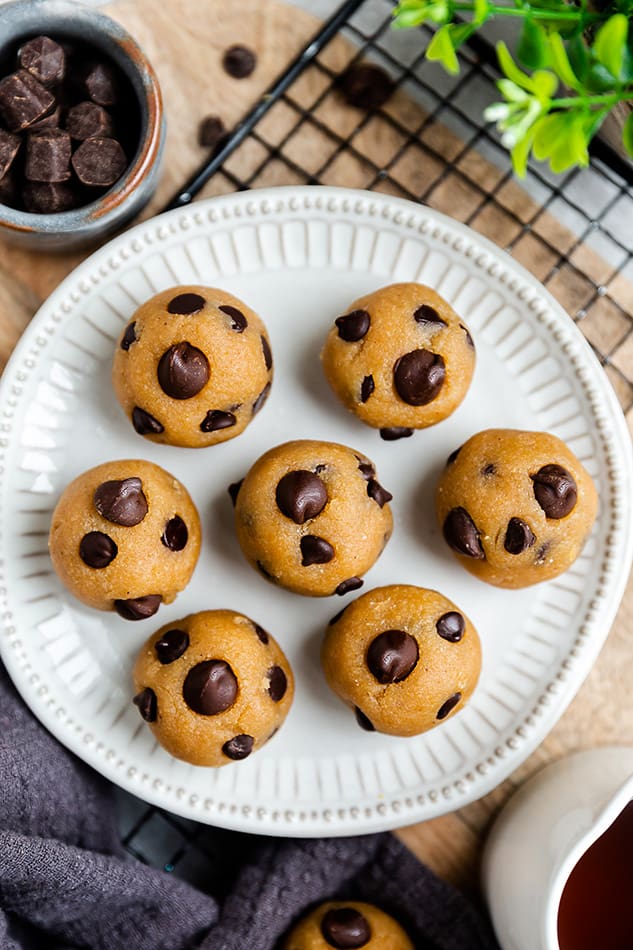 PIN HERE for later and follow my boards for more recipe ideas
Healthy Cookie Dough Bites Recipe
Do you ever crave sweet cookie dough but don't feel like baking a batch of cookies or turning on the oven? These Cookie Dough Bites are easy to make and just what you need! You can make a batch of healthy and edible cookie dough and roll them up into cookie dough bites that are not only delicious but also a good afternoon snack or post work out refuel!
They are easy to make them ahead of time and you can grab one for an after dinner dessert or anytime you're craving something sweet and don't feel like baking a bunch of cookies. Plus this cookie dough ball recipe is not only super simple to customize but it's also gluten free, grain-free, paleo, sugar free, dairy-free, low carb and keto-friendly.
What are cookie dough bites?
Cookie Dough Balls are made with edible cookie dough that you roll up into small bite-sized balls. They are super easy and quick to make and completely safe to eat.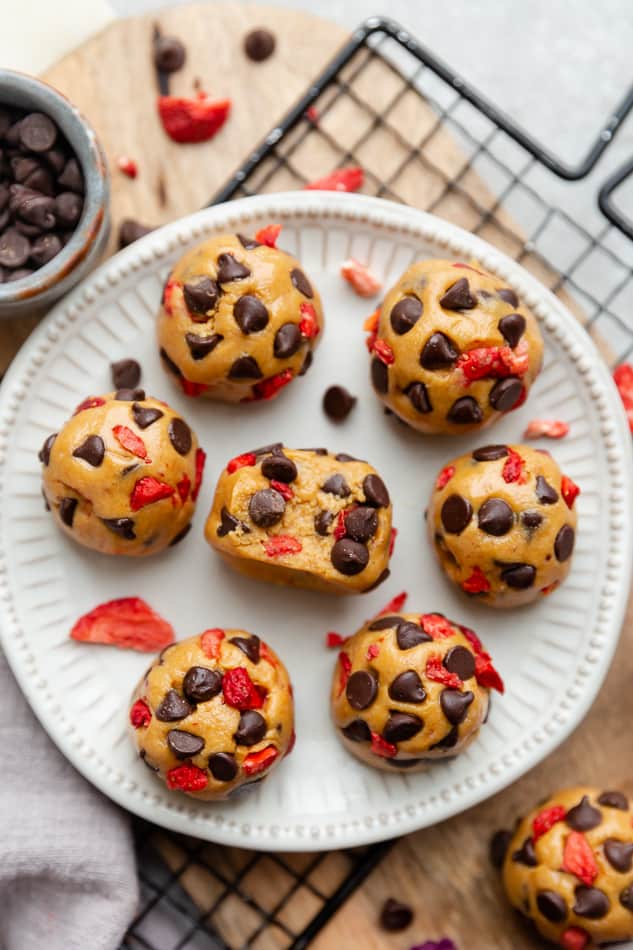 Are cookie dough bites safe to eat?
This edible cookie dough bites recipe is safe to eat since it does not contain eggs or raw flour.
According to this article,  raw cookie dough is made with eggs and raw flour that can make you sick and cause E. Coli and salmonella. Cooking flour and eggs kills such contaminates, making cookies, cakes, breads, pie crusts and other baked goods safe to eat.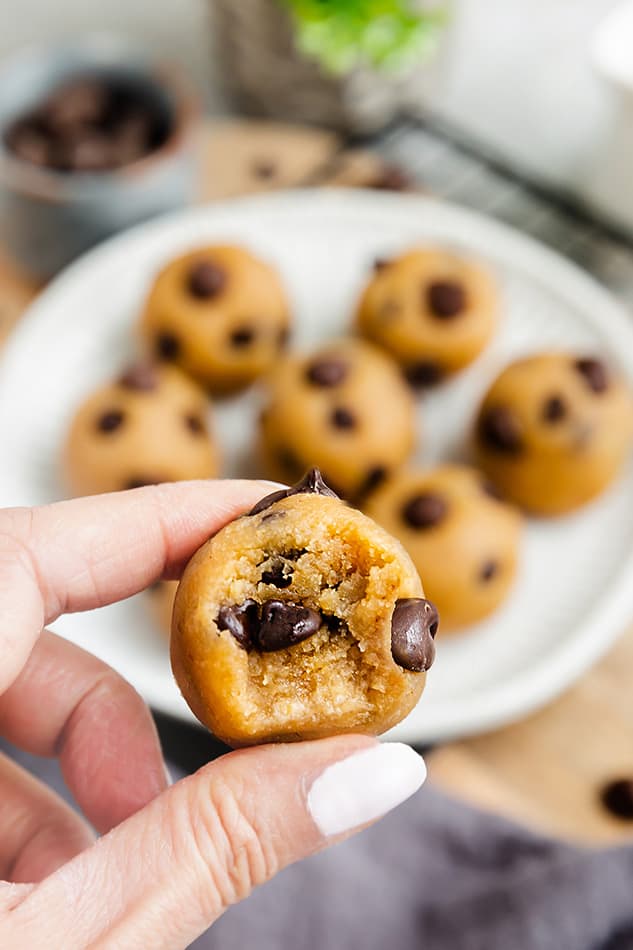 Ingredients you need for vegan cookie dough balls
Traditional cookie dough batter is made with all purpose flour, brown sugar, butter, eggs and sugar. These cookie dough bites are not only healthier but they are safe to eat since they contain no eggs or raw flour.
It's really simple to make healthy edible cookie dough balls, here is what you need:
Nut Butter: we like cashew butter for the best truffles but you can also use almond butter, peanut butter, sun butter or tahini if you want nut-free cookie dough balls.
Pure maple syrup: you'll need 3 tablespoons or add more or less to taste. You can also sub with Lakanto SF maple syrup OR preferred sticky liquid sweetener of choice. Date syrup, coconut flower nectar syrup or honey if not vegan
Almond milk: or use any plant-based dairy-free milk such as oat milk or cashew milk. You can use regular milk if not vegan.
Almond Flour: I used superfine blanched almond flour for this vegan truffles recipe.
Coconut flour – adds structure and sweetness to help give these truffles the perfect soft cookie-dough texture. You can also
Vanilla extract – A good quality vanilla extract is essential for maximum yumminess.
Cinnamon + Sea Salt: for flavor and helps to balance out the sweetness
Dairy-Free Chopped Chocolate or Chocolate Chips: Use a good quality dairy-free brand – we like Lily's Sweets.
OPTIONAL ADD-INS:
How to make cookie dough bites:
More easy snack recipes: