How to make Nut Butter – 4 Ways – Learn how to make healthy and delicious homemade peanut butter, almond butter, pecan butter and creamy cashew butter. These recipes are simple and easy to customize using either a Vitamix or a food processor.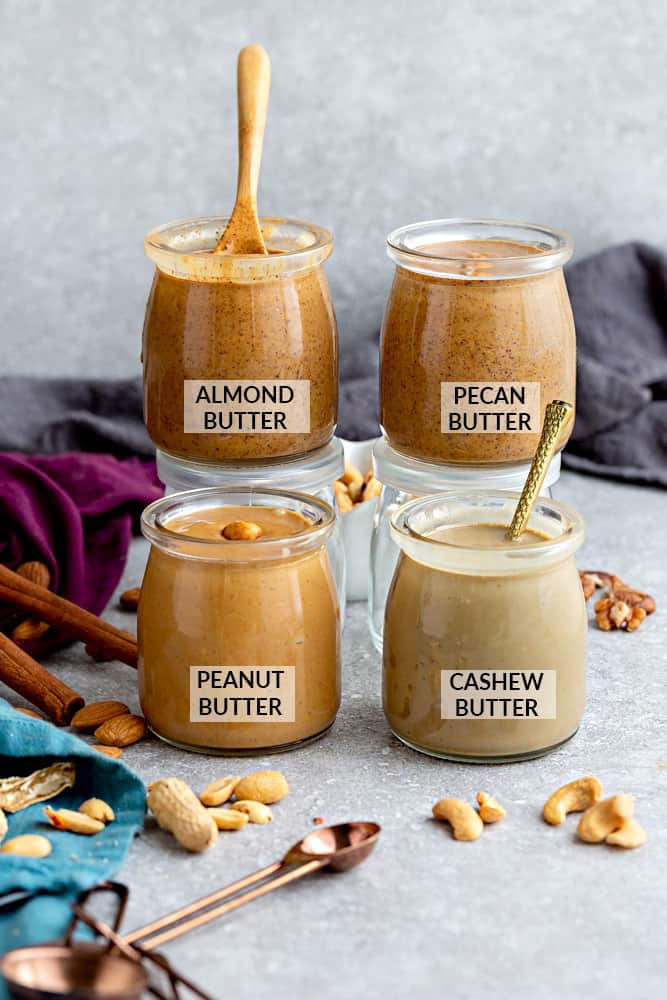 PIN HERE for later and follow my boards for more recipe ideas
Homemade nut butter is a pantry staple around here. It's simple to make either in your food processor or a high-speed blender like a Vitamix.
Today, we're going to be focusing on how to make:
Pecan Butter
Not only is it better and cheaper than your typical store-bought version, you can make it with as little as ONE ingredient so it's nice to know exactly what you're getting.
Plus, it's easy to switch things up depending on what you like. You can get as creative as you want with your flavors by adding:
cinnamon
maple syrup / honey
cocoa power
vanilla
chia seeds
flax seeds
turmeric
cayenne pepper
cocoa / cocao powder
unsweetened coconut
coconut oil
freeze-dried strawberries
sunflower seeds
pumpkin seeds
pumpkin pie spice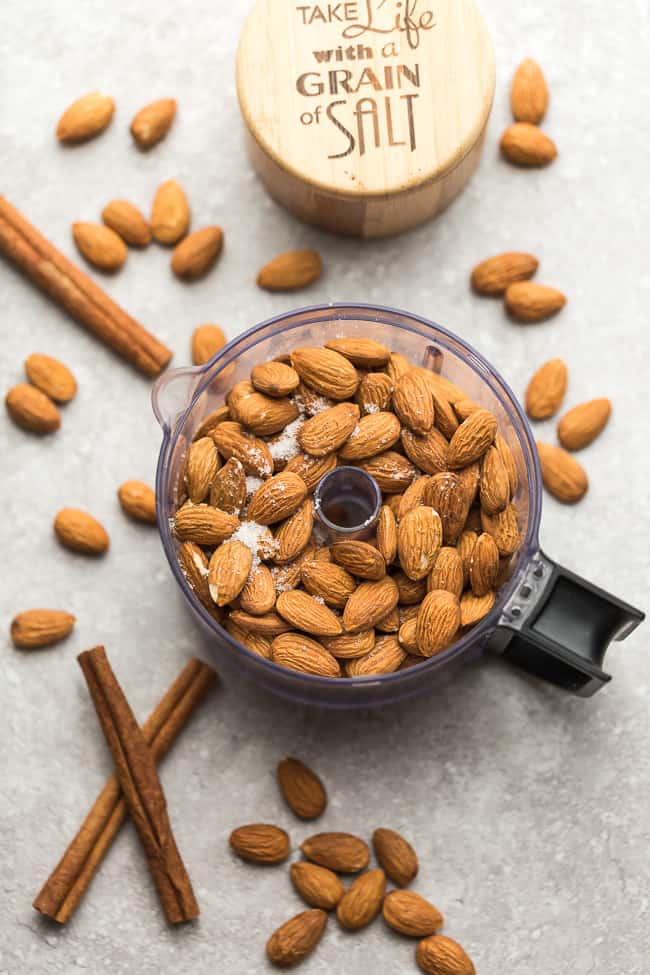 My family is absolutely crazy about making our own nut butter and we have some form of it every day.
It's great for baking, you can drizzle some over a bowl of oatmeal, add a spoonful to your smoothies, spread on your morning toast, as a snack with some apples, or by the spoonful straight out of the jar.
HOW TO MAKE NUT BUTTER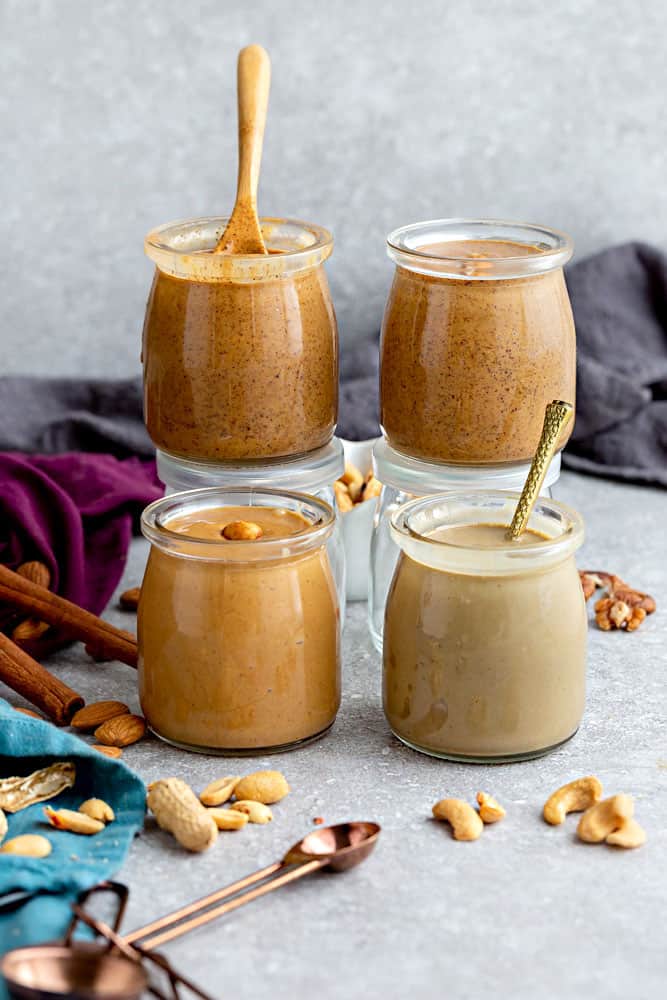 CHOOSE YOUR BASE: First, start by choosing your base nut (s). Today's nut butter recipes use:

Almonds, Cashews, Peanuts and Pecans.
Some nuts take longer to process due to the amount of fatty acids they contain.
Almonds have less fat, so they take a little more time in a food processor. If you make a lot of your own almond butter, investing in a high-speed blender like a Vitamix can save you a lot of time since.
Cashews, pecans and peanuts have more fat, so they typically only take about 10 to 15 minutes to process in a food processor.

ROAST THE NUTS: For more flavor, roast the almonds, pecans, cashews and peanuts before blending. This also helps the nuts to blend up quicker. Be sure to allow the nuts to cool down before processing otherwise, the concentrated oils may cause your blender or food processor to overheat.
Add a little bit of avocado or coconut oil as needed to help the nuts blend easier.
ADD NUTS TO A HIGH-SPEED BLENDER OR A FOOD PROCESSOR: Add the roasted nuts to a high-speed blender or a food processor or blender. If you make a lot of your own nut butters, investing in a high-speed blender like a Vitamix can save you a lot of time since it works much faster.
PROCESS: You'll notice that the nuts will go through various stages before it turns to smooth and creamy nut butter.
CRUMBY TEXTURE: First, you'll notice that the nuts will look like crumbs.
CLUMPING INTO A BALL: then they'll start clumping up into a ball.
SANDY / GRITTY PASTE: Keep processing and the clump will break down and start to turn into a gritty paste.
CREAMY NUT BUTTER: Finally, the nut butter will get smooth and spreadable and you'll end up with creamy homemade almond butter.
ALMOND BUTTER VS. PEANUT BUTTER:
Is Almond butter healthier than peanut butter? Both nut butters have similar nutritional value. They are roughly equal in calories and sugar, but peanut butter has a little bit more protein than almond butter.
However, almond butter is a great alternative since it has more vitamins, minerals, and fiber. It has the same creamy texture and packs about 3 grams (g) more of heart-healthy monounsaturated fat per serving. Plus, homemade almond butter does not contain any added sugars and is free of hydrogenated oil (trans fats)
CAN YOU EAT PEANUT BUTTER ON A PALEO DIET?
Peanut Butter is technically considered a legume and high in phytic acid so it is not included on the list of nut butters that are paleo-friendly.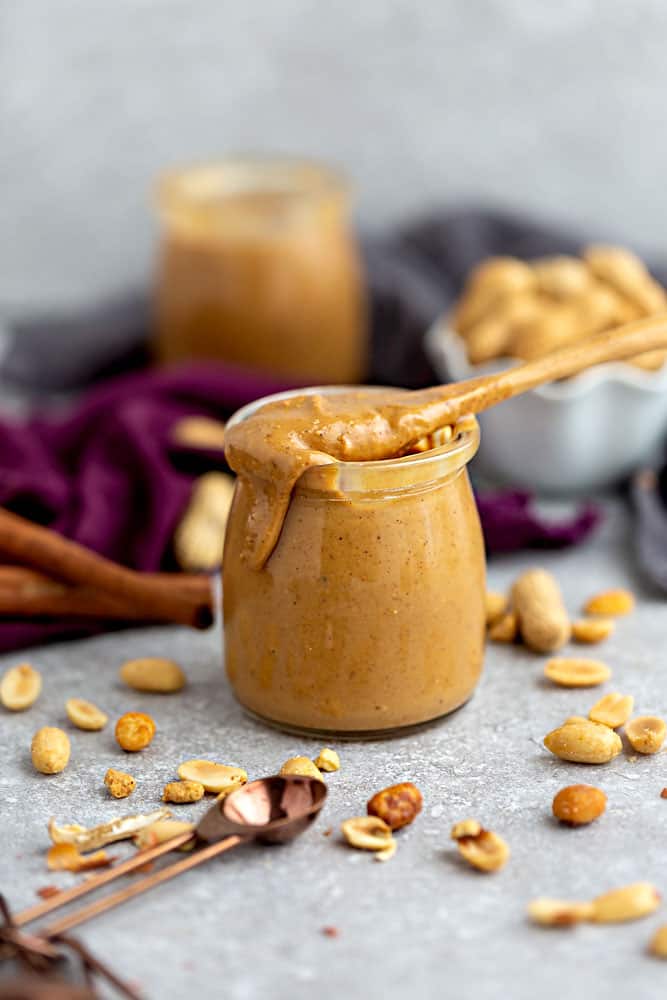 WHAT IS ANOTHER WAY TO ENJOY ALMOND BUTTER?
There are so many ways to enjoy your fresh batch of almond butter.
You can spread it on some whole-grain or paleo / keto toast with some fresh berry jam, on banana bread, muffins, blend it into smoothies, add it over your oatmeal with some yogurt, use it to bake breakfast cookies, fat bombs, energy bites, granola bars, cupcakes, or a cake – plus so many ways.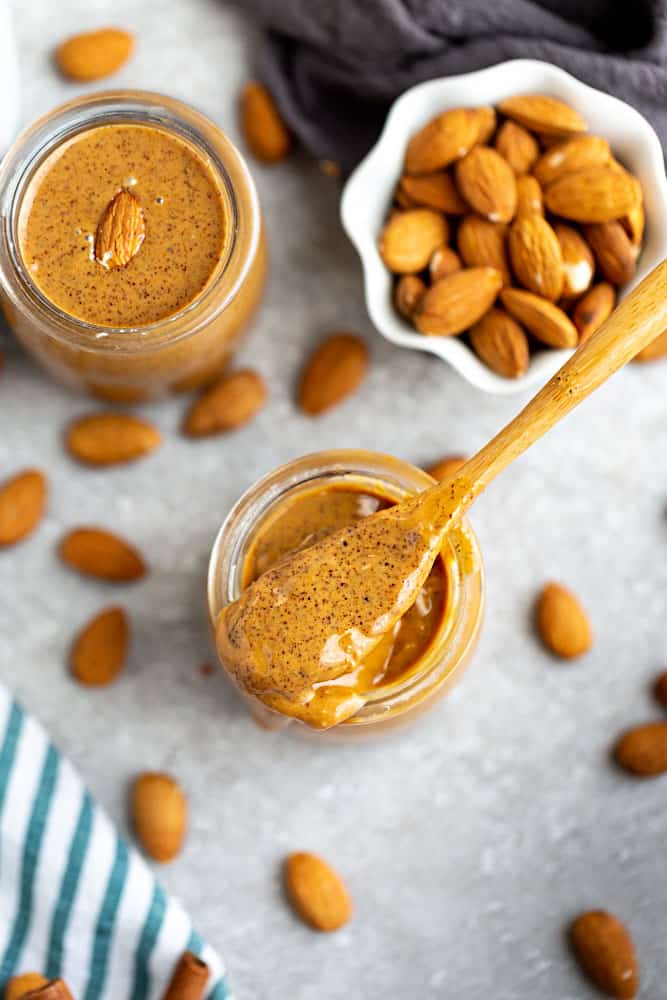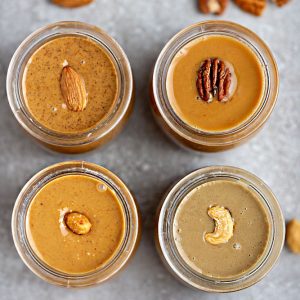 Homemade Nut Butter
How to make Homemade Nut Butter - 4 Ways - Learn how to make healthy and delicious homemade peanut butter, almond butter, pecan butter and creamy cashew butter. These recipes are simple and easy to customize using either a Vitamix (in just ONE minute) or a food processor.
Keyword:
almond butter, blender, cashew butter, food processor, homemade almond butter, nut butter, peanut butter, pecan butter, vitamix
Ingredients
8

ounces

2 cups raw almonds, cashews, peanuts or pecans

(can also buy preroasted nuts)

1/4

teaspoon

Himalayan sea salt

, to taste

avocado oil or coconut oil

, optional & to taste, depending on consistency desired
Optional add-ins:
ground cinnamon

, to taste

sweetener: maple syrup, honey, monk fruit

, to taste

shredded coconut

, to taste
Instructions
If toasting the almonds, preheat oven to 325 F and spread a single layer of nuts on a large-rimmed baking sheet. Toast for 10-15 minutes, mixing half-way.

Remove from oven and allow to cool for 15 minutes, until no longer hot (warm is okay).

Transfer the nuts to a high-powered blender like a Vitamix (fitted with the four-blade attachment) or a food processor.


Process on high speed until smooth and creamy, scraping down the sides of the bowl frequently. Depending on the type of nut and your machine, this may take anywhere from 5-15 minutes. Be patient and continue to blend and scrape down the sides, the mixture will come together after the dry paste forms. You can add a bit of oil to help the process or depending on the consistency desired. If the mixture gets too hot, you can pause for about 5-10 minutes and resume again.


Once the mixture is creamy, you can add any desired salt, sweetener or add-ins of your choice and blend until creamy and combined.


Allow to cool down slightly before to a glass jar. Seal and store in the refrigerator for up to 3 to 4 weeks.
Recipe Video
Recipe Notes
*Nutritional info is for 1 tablespoon
Nutrition Facts
Homemade Nut Butter
Amount Per Serving (1 g)
Calories 95
Calories from Fat 72
% Daily Value*
Fat 8g12%
Carbohydrates 3.8g1%
Protein 3.6g7%
* Nutrition facts are provided as a courtesy using the WPRM recipe calculator. It is best to make your own calculations to ensure accuracy. We expressly disclaim any and all liability of any kind with respect to any act or omission wholly or in part in reliance on anything contained in this website. Percent Daily Values are based on a 2000 calorie diet.