This indulgent maple crepe cake is layered with maple buttercream frosting, homemade maple pecan pralines, and covered with a maple white chocolate ganache glaze.  It makes a show stopping dessert that is sure to impress any maple syrup lover.
When I was about seven years old, my best friend at the time moved about a few hours away from where we grew up.  You can imagine how devastating it was to both of us since we were like two peas in a pod — and like any other kids our age, we made a pact to keep in touch no matter what.  During summer vacation that year, her family even invited me to stay over for the night.
We had the best time that day and played, chatted and finally zonked out way past our bedtime.  We probably would have slept until noon the next day if it wasn't for the MOST amazing smell coming from the kitchen.
My friend's mom was making pancakes for us in the morning and even though she's made them for us in the past, there was just something so very special about this batch.
Since it was such a happy reunion for us, she said she added tons of extra love plus a touch of maple syrup to the batter.
Well, I can't say that I remember how many pancakes I had that morning but I do know that they were the best tasting pancakes I had ever had.
Sadly, we did end up losing touch over the years since both of our families ended up moving away even further.
But now anytime I sit down to a plateful of anything filled with maple syrup-y goodness, I always think about my dear friend and that last special breakfast we shared  ♥
So you can imagine how delighted I was when PURE Infused sent over 5 bottles of their maple syrup for me to try in order to share a recipe since it immediately brought back such wonderful memories.
Straight from breathtaking Nova Scotia, they created the following unique flavours that are all natural:
Vanilla, Cinnamon, Star Anise
Cinnamon, Nutmeg, Cloves
Lavender & Chai
Ginger, & Apple Cider Vinegar 
Chipotle & Lemongrass
I decided to use the Lavender and Chai Maple Syrup since I am a fan of both flavors.  It's a beautiful combination with a touch of floral and a little spice which worked beautifully for the special breakfast dish that I had in mind.
Instead of pancakes, I decided to make crepes for a crepe cake which has been on my baking bucket list for the longest time so I'm glad I finally took the plunge.
If you've never made a crepe cake,  I assure you, it's really not too hard.  It does HOWEVER take quite a bit of time to make all the layers and assemble them.  The results are totally worth it though when you end up with an epic dessert waiting for you.
I used a basic crepe recipe where each layer is filled with Maple Buttercream along with homemade Maple Pecan Pralines sprinkled in every other layer for a sweet crunchy goodness.
Finally, a sea of rich Maple White Chocolate Ganache  is poured on top with another splash of Maple Pecan Pralines and a dusting of powdered sugar.
This crepe cake packs a whole lot of maple syrup in the batter, frosting, pralines and ganache making it an absolute maple lover's dream.
It makes an impressive dessert and will be perfect for a special brunch.
And if you don't feel like making a crepe cake, you can still enjoy all the maple syrup-y goodness and just make the crepes without stacking them.  Just fill each one with some frosting along with the crunchy pecan pralines and pour on some of the incredibly addictive maple white chocolate ganache.
The maple white chocolate ganache alone is enough to make you weak in the knees.  It took all my might not to eat it straight up by the spoonful but I certainly won't judge if you do 🙂
So rich, decadent and full of comforting maple flavors and special enough for breakfast, brunch or dessert ♥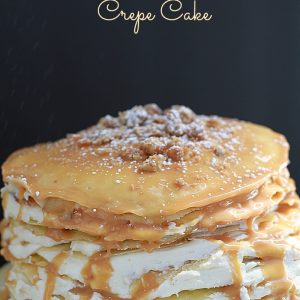 Maple Pecan Praline Crepe Cake
This indulgent maple syrup crepe cake is layered with maple buttercream frosting, maple pecan pralines, and covered with maple white chocolate ganache. It makes a show-stopping dessert that is sure to impress any maple syrup lover.
Keyword:
crepe cake, maple dessert
Ingredients
Maple Crepes:
2

cups

all-purpose flour

4

large

eggs

1-1/2

cups

milk

1

cup

water

4

Tablespoons

melted butter

2

Tablespoons

Lavender Chai Pure Infused Maple Syrup

can substitute with regular maple syrup

butter

for coating the pan
Maple Buttercream Frosting:
2

ounces

cream cheese

softened

2/3

cup

unsalted butter

softened to room temperature

1/3

cup

Lavender Chai Pure Infused Maple Syrup

can substitute with regular maple syrup

2-1/2 - 3

cups

powdered sugar

1

Tablespoon

heavy cream

cold
Maple Pecan Pralines:
1/4

cup

heavy cream

1

cup

Lavender Chai Pure Infused Maple Syrup

can substitute with regular maple syrup

1

Tablespoon

butter

3/4

cup

pecans

chopped

1/8

teaspoon

sea salt
Maple White Chocolate Ganache:
4

ounces

white chocolate

chopped

1/4

cup

heavy cream

1/3

cup

Lavender Chai Pure Infused Maple Syrup

can substitute with regular maple syrup

2

Tablespoons

butter

1/4

cup

brown sugar
Topping:
maple pecan pralines

powdered sugar
Instructions
Prepare the Crepes:
Place all crepe ingredients in a blender. Blend on high speed until completely smooth. Pour the batter into a large bowl with a cover to chill in the refrigerator for at least an hour or overnight.

While the crepe batter chills, prepare the pralines: Line a sheet pan with parchment paper, set aside.

Combine the cream, butter and maple syrup in a small saucepan. Stir until well mixed. Cook over medium heat, gently swishing the pan around every few minutes, but do not stir. Heat until mixture gets very thick, about 7-10 minutes. Remove saucepan from the heat and let the mixture stand for about a minute or two. Stir in pecans.

Drop small spoonfuls of mixture onto parchment. Sprinkle with sea salt. Allow to cool until harden for a few hours or overnight. Chop or break into small pieces.
Cook the Crepes:
Heat a lightly-greased small non-stick skillet over medium heat. Working in batches pour a scant 1/4 cup of batter into the pan and tilt with a circular motion so that the batter coats the pan evenly. Cook the crepe until the edges begin to turn lightly golden brown and lift away from the sides of the pan, about 1-2 minutes for the very first crepe (the rest of the crepes cook faster about 30 seconds to 1 minute).

Flip the crepe and cook for an additional 30 seconds to 1 minute. Place the cooked crepe onto a plate and repeat until all the batter is gone, stacking the crepes on the plate. Place the cooked crepes into the refrigerator to cool for at least 1 hour. You can make the crepes a day before assembling the cake.
Make the Maple Frosting:
Beat the softened butter and cream cheese together in a large bowl until light and fluffy. Add in the maple syrup and beat until well combined.

Turn mixer to low and gradually add in the powdered sugar until well combined. Slowly add 1 tablespoon or less of heavy cream as needed to reach desired consistency. Add in more powdered sugar as needed. Beat the frosting on high speed until it is light and fluffy, about 5 minutes. Place into the refrigerator until ready to use.
Make the Maple Ganache:
Place finely chopped chocolate in a small heatproof bowl.

In a small saucepan over low heat, heat cream just to a simmer.

Remove from heat and immediately pour the cream over the chopped chocolate and allow to stand for about 10 seconds. Stir the ganache until smooth. If all the white chocolate has not melted then place the bowl in the microwave and heat for 30 seconds.

Using the same saucepan, melt butter over medium-low heat. Combine syrup and brown sugar. Bring to a boil over medium heat and allow to thicken for 1-2 minutes.


Pour into the white chocolate mixture and whisk until smooth. Allow the ganache to cool until it reaches the desired consistency.
To Assemble:
Place one crepe down on a plate. Drop 1-1/2 - 2 tablespoons of the maple frosting on top. Use an off-set spatula to spread the frosting out over the whole crepe in a thin layer. Gently place another crepe on top.

Drop another 2 tablespoons of the frosting and this time, sprinkle with 1-2 teaspoons of the chopped maple pecan pralines and place another crepe on top, gently pressing to adhere the crepes together. Repeat these steps until you get to the last crepe.

Top with Ganache:
Pour the maple ganache over the top of the cake and sprinkle with more of the maple pecan pralines. Refrigerate for an hour or overnight to allow the cake to set.

Ganache can also be poured on the cold cake, before serving. Sprinkle with powdered sugar prior to serving if desired.
Nutrition Facts
Maple Pecan Praline Crepe Cake
Amount Per Serving (1 slice)
Calories 254
Calories from Fat 126
% Daily Value*
Fat 14g22%
Cholesterol 60mg20%
Sodium 67mg3%
Potassium 111mg3%
Carbohydrates 27g9%
Protein 2g4%
Vitamin A 395IU8%
Calcium 55mg6%
Iron 0.7mg4%
* Nutrition facts are provided as a courtesy using the WPRM recipe calculator. It is best to make your own calculations to ensure accuracy. We expressly disclaim any and all liability of any kind with respect to any act or omission wholly or in part in reliance on anything contained in this website. Percent Daily Values are based on a 2000 calorie diet.
Disclaimer: I received free product for testing from Pure Infused Maple Syrup for recipe development. All opinions are my own.

Check out PURE Infused's website for more information about their maple syrup.
Thanks so much for reading Life Made Sweeter.  You can also stay connected with me on:
Facebook | Twitter | Pinterest | Google+ | Instagram | Bloglovin