This Mediterranean Salmon features tender and salmon paired with a medley of vibrant vegetables, aromatic herbs, all drizzled with olive oil, creating a dish that bursts with fresh and wholesome Mediterranean-inspired flavors.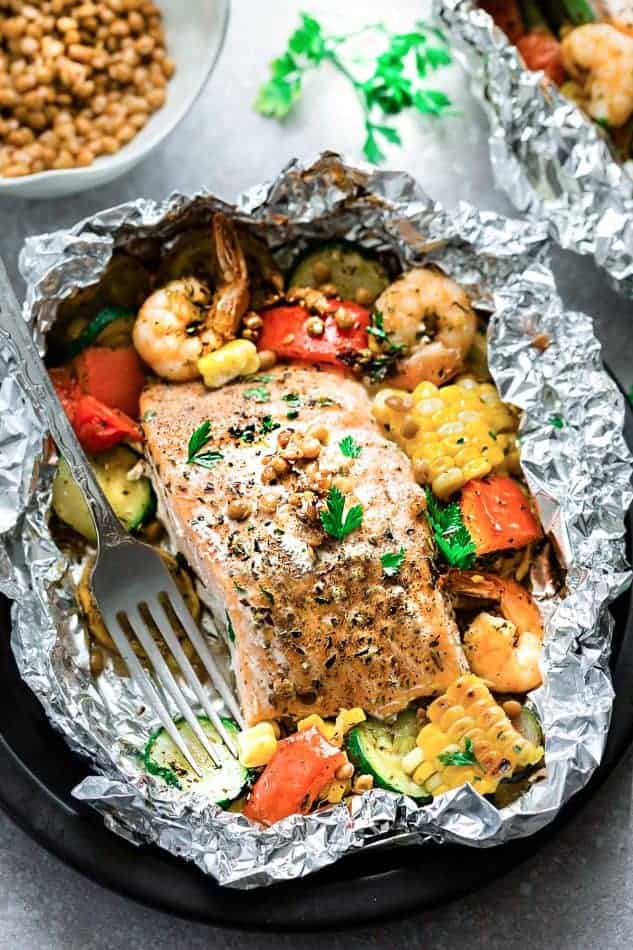 Updated July 2023
Delicious and Healthy Mediterranean Salmon Recipe
Are you looking for a mouthwatering dish that combines the richness of salmon with the vibrant flavors of the Mediterranean? Look no further! This Mediterranean salmon recipe is a delightful blend of fresh ingredients and aromatic herbs that will transport your taste buds to the sun-kissed shores of the Mediterranean. Packed with nutrients and bursting with Mediterranean-inspired flavors, this dish is sure to become a family favorite. Whether you choose to cook it on the grill or in the oven, this recipe will impress both your loved ones and your own palate.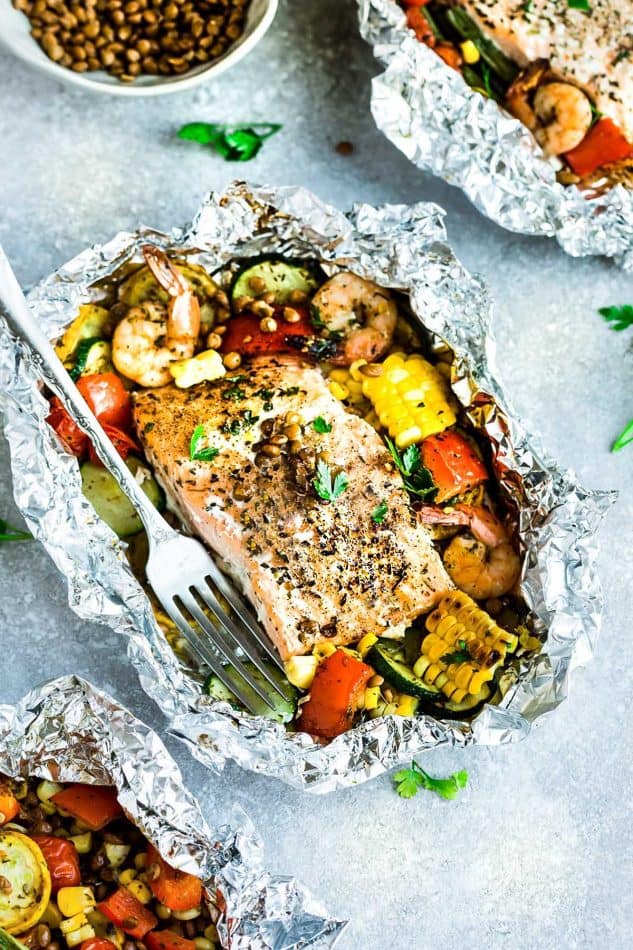 Ingredients
For the salmon
Heavy-duty foil (or parchment paper, if preferred): These versatile wraps will be used to create convenient and flavor-sealing packets that ensure the salmon and vegetables cook to perfection while retaining their moisture and flavors.
Skinless salmon fillets: Choose fresh and high-quality salmon fillets for this recipe. Salmon not only offers a tender and buttery texture, but it is also a nutritional powerhouse, rich in omega-3 fatty acids, which are essential for heart health and overall well-being.
Olive oil: The shining star of Mediterranean cuisine, olive oil adds a luscious and distinctive taste to the dish. It also helps to keep the salmon moist while providing heart-healthy monounsaturated fats.
Sea salt and black pepper: Essential pantry staples for enhancing the natural flavors of the ingredients and achieving a perfectly balanced taste. Seasoning the salmon with salt and pepper before cooking elevates its flavor profile.
For the foil pack
Sliced zucchini and/or yellow squash: These colorful and nutritious vegetables contribute a delightful crunch and a touch of sweetness to the dish. Zucchini and yellow squash are also rich in vitamins, minerals, and fiber, making this recipe even more wholesome.
Chopped red bell peppers: Vibrant and flavorful, red bell peppers add a pop of color and a slightly sweet, smoky taste. They are also loaded with antioxidants, vitamin C, and other beneficial nutrients.
Grape tomatoes: These juicy and vibrant little gems bring a burst of acidity and freshness to the dish. Tomatoes are packed with antioxidants, vitamins A and C, and they add a delightful burst of flavor.
Minced garlic cloves: These aromatic bulbs provide a fragrant and savory note to the recipe. Garlic not only adds delicious flavor but also offers numerous health benefits, including immune system support.
Sea salt and pepper: These seasonings enhance the taste of the dish and bring out the natural flavors of the ingredients.
Dried thyme, dried rosemary, and dried oregano: These fragrant Mediterranean herbs infuse the dish with their earthy and aromatic profiles, elevating the flavors of the other ingredients and adding a distinctive Mediterranean touch.
Freshly chopped parsley: Sprinkling this vibrant herb over the finished dish adds a touch of freshness and a hint of bitterness that perfectly balances the other flavors. Parsley is also a fantastic source of vitamins A, C, and K.
Lemon wedges: Served as a refreshing garnish, lemon wedges add a tangy brightness that cuts through the richness of the salmon and enhances the overall taste experience.
Optional
Canned or cooked lentils (optional): For those seeking extra fiber and protein, lentils make a fantastic addition to this recipe. They add heartiness and nutritional value to the dish.
Shrimp (optional): Adding succulent shrimp to this Mediterranean salmon recipe introduces another layer of flavor and texture. Shrimp is a lean source of protein and provides an array of vitamins and minerals.
Instructions: How to make Mediterranean Salmon
Divide the salmon onto four 18 x 12 sheets of foil (you can also add a layer of parchment paper inside the foil if you prefer using parchment paper instead)
In a large mixing bowl, combine the lentils, vegetables and shrimp with olive oil, sea salt, black pepper and dried herbs.
Arrange evenly around the salmon then wrap tightly in foil.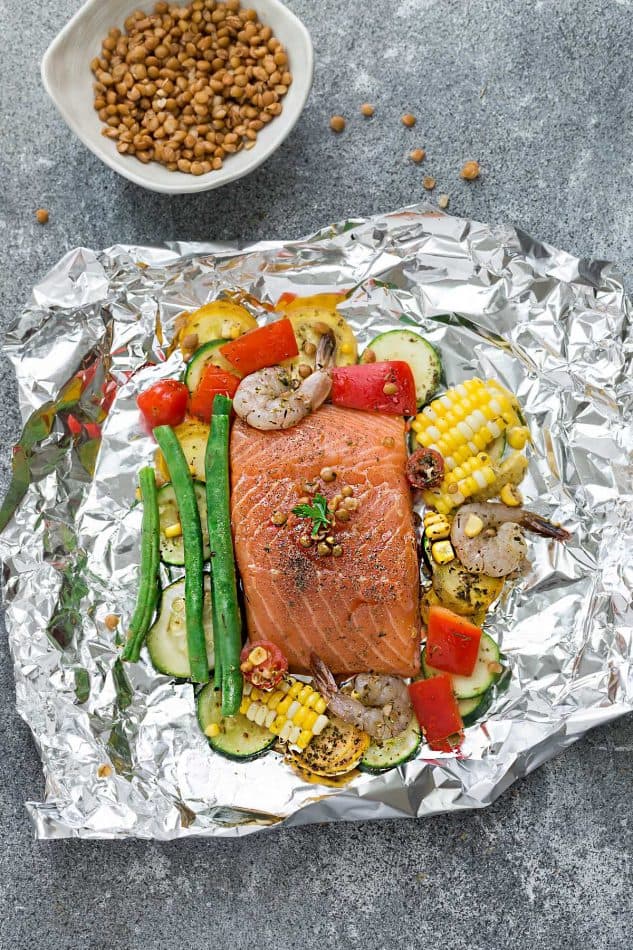 You can toss the foil packets on the grill while you're camping or cook them in the oven on a busy weeknight.
Tips for Success
Choose high-quality salmon: Opt for fresh, wild-caught salmon for the best taste and nutritional value. Look for fillets that are firm, moist, and vibrant in color.
Customize the vegetables: Feel free to add or substitute your favorite vegetables to suit your taste. Asparagus, eggplant, or even artichoke hearts would make delightful additions to this Mediterranean-inspired dish.
Ensure even cooking: To ensure that all the ingredients cook evenly, slice the vegetables into similar sizes. This will help them cook at the same rate as the salmon and shrimp.
Don't overcook the salmon: To achieve tender and flaky salmon, be mindful of the cooking time. Overcooking can result in dry and rubbery fish. Remember, the salmon will continue to cook slightly after you remove it from the heat source.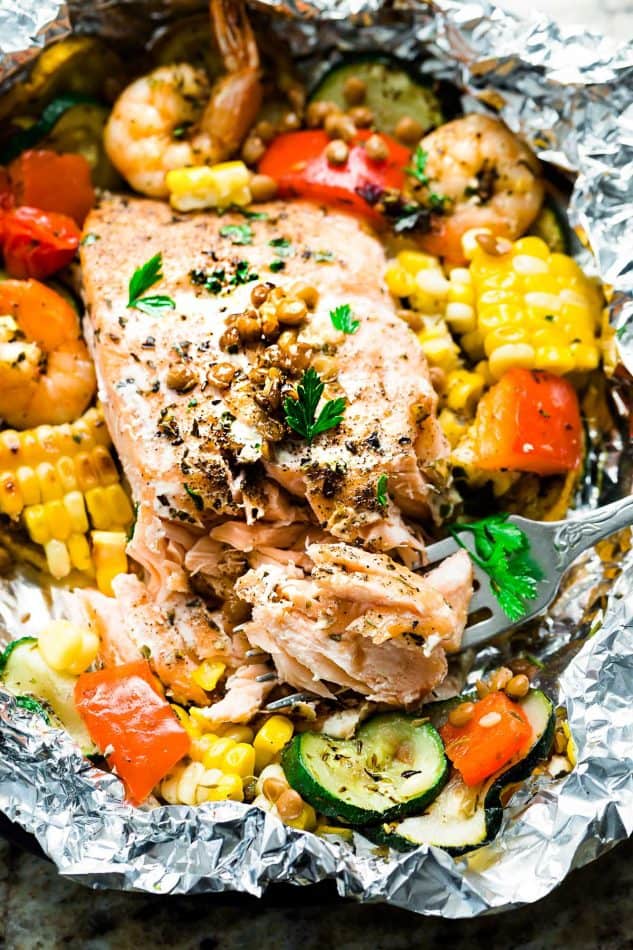 Storage and Freezer Instructions
Refrigeration: Leftover Mediterranean salmon can be stored in an airtight container in the refrigerator for up to 2 days. Reheat gently in the oven or enjoy it cold in salads or wraps.
Freezing: If you'd like to freeze the Mediterranean salmon, assemble the packets without cooking them. Wrap them tightly in plastic wrap and foil before placing them in a freezer-safe container. Frozen salmon packets can be stored for up to 3 months. Thaw overnight in the refrigerator before cooking as directed.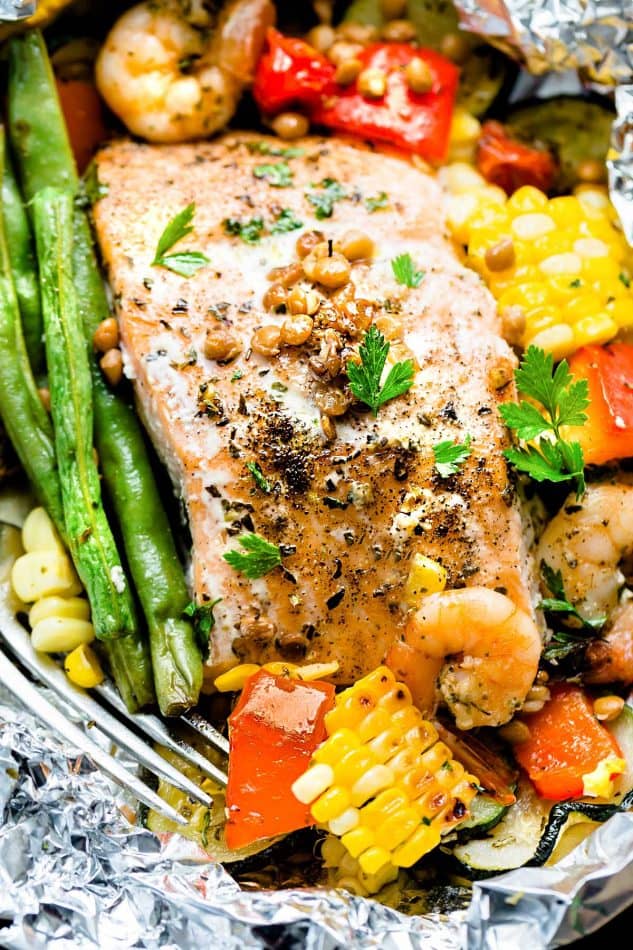 Serving Suggestions: Complementary Pairings to Elevate Your Mediterranean Feast
Grains: Serve the Mediterranean salmon with a side of fluffy couscous, quinoa, or rice pilaf. These grains will absorb the delicious flavors and juices from the salmon and vegetables, creating a satisfying and complete meal.
Salads: For a refreshing touch, consider serving a crisp green salad dressed with a light lemon vinaigrette. The acidity and freshness of the salad will complement the richness of the salmon perfectly, creating a harmonious balance of flavors.
Wine Pairing: Enhance the Mediterranean experience by enjoying a glass of chilled white wine, such as Sauvignon Blanc or Chardonnay. The wine's citrusy notes and crispness will elevate the flavors of the dish, creating a delightful sensory journey.
Variations and Substitutions: Personalizing Your Salmon
Mediterranean-inspired salsa: Create a vibrant salsa by combining diced cucumbers, red onions, Kalamata olives, and crumbled feta cheese. Spoon this salsa over the salmon just before serving for an explosion of Mediterranean flavors.
Spice it up: If you prefer a bit of heat, sprinkle some red pepper flakes or drizzle sriracha sauce over the salmon before sealing the packets. This will add a delightful kick and a touch of excitement to the dish.
Vegetarian twist: To make this recipe vegetarian-friendly, omit the salmon and shrimp, and double the quantity of zucchini, squash, and bell peppers. The resulting vegetable packets will be a delightful standalone dish or a tasty side for your favorite plant-based protein alternative.Variations and Substitutions
Unlock the Mediterranean Flavors: Cook and Savor
Now that you have all the information you need, it's time to embark on a Mediterranean flavor journey with our delightful salmon recipe. Gather the ingredients, fire up the grill, or preheat the oven, and let the aromas and tastes transport you to the sun-drenched coasts of the Mediterranean. From the tender salmon to the perfectly seasoned vegetables, every bite will be a celebration of vibrant flavors and wholesome ingredients. Don't forget to share your culinary masterpiece with loved ones and savor the joy of this Mediterranean feast.
More delicious salmon recipes: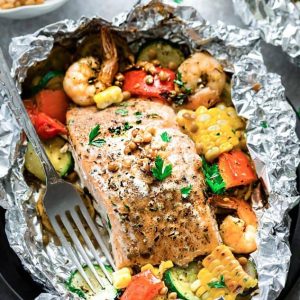 Mediterranean Salmon Foil Packets
This Mediterranean Salmon features tender and flakey salmon paired with a medley of vibrant vegetables, aromatic herbs, all drizzled with olive oil, creating a dish that bursts with fresh and wholesome Mediterranean-inspired flavors.
Keyword:
easy salmon recipe, healthy salmon meals, mediterranean, salmon dinner recipe, salmon in foil recipe
Ingredients
heavy duty foil

, plus parchment paper if preferred

4

6 oz

skinless, salmon fillets

2

Tablespoons

olive oil

divided

sea salt and black pepper

to taste

1

cup

canned or cooked lentils

, rinsed and drained - optional for added fiber and protein. Omit if preferred.

1

cup

sliced zucchini and/or yellow squash

1/2

cup

chopped red bell peppers

1/3

cup

grape tomatoes

halved

1/2

pound

shrimp

, peeled and deveined. Optional for extra protein. Omit if preferred.

2

garlic cloves

minced

1

teaspoon

sea salt

1/4

teaspoon

pepper

1

teaspoon

dried thyme

1/2

teaspoon

dried rosemary

1/2

teaspoon

dried oregano

¼

cup

freshly chopped parsley

for garnish

lemon wedges

for serving
Instructions
Preheat grill to medium-high heat or the oven to 425 degrees F.

Cut four 18 x 12-inch squares of foil* and layout on a flat surface.

Place one salmon in the middle of each piece of foil. Season with salt and pepper and drizzle with 1 tablespoon of olive oil.

In a large bowl, combine the lentils, vegetables, shrimp with garlic, olive oil, salt, pepper, and dried herbs.

Toss to coat then divide evenly into each foil packet, arranging them around the salmon. Top salmon with 1 or 2 tomato halves rubbing some seasoning on the salmon.

Fold the foil bringing all sides together and close off the packets.

If cooking on the grill

: Place foil packets onto grill and grill for 6 minutes, then flip over and grill for an additional 4-6 minutes (depending on the thickness of the salmon) or until salmon is flaky and shrimp is opaque and pink.

Remove from the grill and carefully open the foil packets.

If cooking in the oven

: Place foil packets on a baking sheet and cook for 15-20 minutes (rotating tray once) or until salmon is flaky and shrimp is opaque and pink. Time varies depending on the thickness of the salmon. Remove baking sheet from oven.

Carefully open packets. Serve warm with a splash of lemon and top with chopped parsley.
Recipe Video
Recipe Notes
*if you prefer using parchment paper instead - you can also cut four 18 x 12 inch parchment paper squares and place them on top of the foil and place the salmon and vegetables on the parchment paper. Then double wrap the packets with the foil layer on the outside.
Nutrition Facts
Mediterranean Salmon Foil Packets
Amount Per Serving (1 serving)
Calories 406
Calories from Fat 171
% Daily Value*
Fat 19g29%
Carbohydrates 8g3%
Protein 47g94%
* Nutrition facts are provided as a courtesy using the WPRM recipe calculator. It is best to make your own calculations to ensure accuracy. We expressly disclaim any and all liability of any kind with respect to any act or omission wholly or in part in reliance on anything contained in this website. Percent Daily Values are based on a 2000 calorie diet.
Disclaimer: This updated post was generated on July 15, 2023 by ChatGPT, an AI language model, and all info should be reviewed and validated by a human for accuracy and relevancy before implementation