This easy omelette recipe is the perfect breakfast when you are looking for something simple, healthy, and filling. A classic recipe that can be easily customized to your liking. It is vegetarian, keto, paleo and Whole30 compliant. In this post you'll also learn the proper technique to make an omelette and have breakfast on the table in ten minutes.

 PIN HERE for later and follow my boards for more recipe ideas
WHAT IS AN OMELETTE?
An omelette is a dish made of beaten eggs and fried with butter or oil. They can be cooked with different herbs, or stuffed with veggies, cheese, cooked meats and  other fillings. An omelette is folded over the fillings to form a half circle shape. Omelettes are typically made to only serve one person.
WHAT IS THE DIFFERENCE BETWEEN A FRENCH OMELETTE AND AN AMERICAN OMELETTE?
A French Omelette recipe begins with beaten eggs in the pan (think scrambled eggs). The pan is shaken constantly while the eggs begin to set. When the eggs are cooked, the omelette is gently and snugly folded to form an oval. It is then turned out onto a plate with the seam side down.
French omelettes can be made with or without cheese. They usually have many fresh, chopped herbs that are beaten in with the eggs before cooking, and not added while cooking.
An American omelette recipe starts the same as a French Omelette, but as the eggs cook, the edges of the omelette are lifted so the uncooked eggs can flow underneath the omelette to cook. When the eggs are nearly cooked, the filling is added and the omelette is simply folded in half.
OMELETTE RECIPE INGREDIENTS
This omelette recipe only needs a few simple ingredients:
Avocado oil
Eggs
Salt
Pepper
Baby spinach
Cremini mushrooms
Parsley
HOW TO MAKE AN OMELETTE
BEAT THE EGGS: First, lightly beat the eggs with a fork or a whisk.
Heat the oil on medium heat in a 9-inch skillet. You'll want to keep the cooking temperature consistent and take your time cooking, so the omelette doesn't overcook. Pour in the beaten eggs.
Gently slide the spatula between the omelette and the pan. Slowly work your way around the edges of the omelette, making sure they easily come up.
With your spatula still in place, tilt the pan to allow the uncooked eggs to flow to the edges of the pan. When the eggs begin to set, add your filling. It is important that you don't overfill the omelette.
Cook the omelette with the filling for about 20 seconds, then carefully fold the omelette in half.
Finally, use your spatula to help slide the omelette onto a plate. Feel free to add any fresh herbs
TIPS FOR THE BEST OMELETTE
The thickness of your omelette is important. If it is too thick, the omelette may begin to burn before the middle starts to set. If you want to make a larger omelette, you'll need to use a larger pan.
Flexible, heatproof silicone spatulas work best for making omelettes because the heatproof silicone provides enough flexibility to safely raise the edges of the omelette and you don't have to worry about burning your spatula.
Omelettes are also great for using up leftovers in your refrigerator. Leftover sautéed vegetables, ham, or extra herbs all make excellent additions to any omelette. You'll just need to make sure what you are including in your omelette doesn't need to be cooked, because even though you are cooking it in an omelette, it probably won't be enough time to thoroughly and safely cook certain ingredients. Raw meats, for example, should be cooked before being added to an omelette.
HOW TO GET A PERFECT FOLD IN YOUR OMELETTE
This is where your heatproof silicone spatula comes in. A good spatula has saved so many omelettes from disaster. You want to make sure the edges of your omelette come up easy, with little assistance from the spatula. After you have checked to see if there is any uncooked egg running off of the top of the omelette, and the bottom of the omelette isn't sticking to the pan, it is safe to fold the omelette over itself, securing the filling in the center.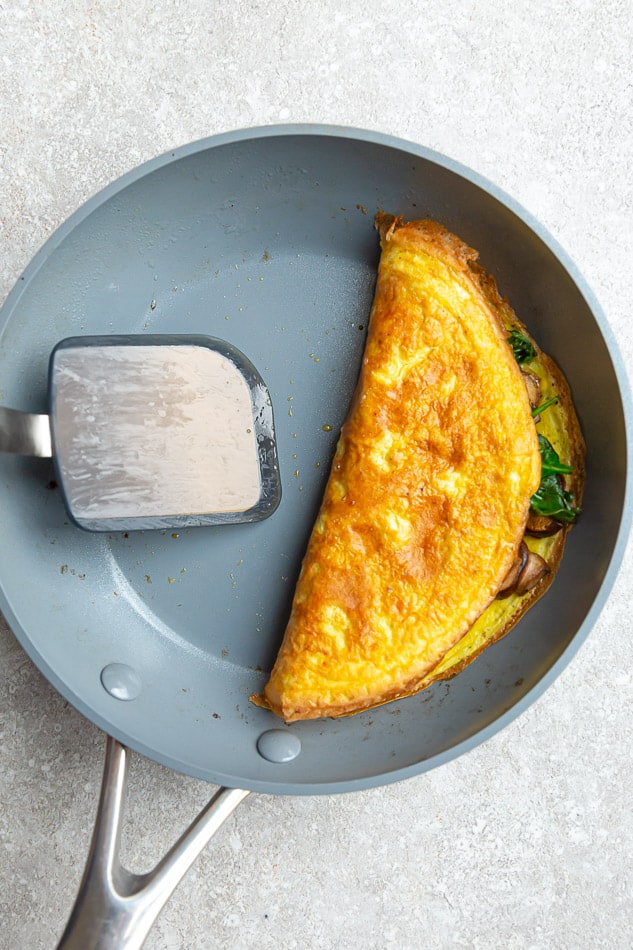 SO HOW TO TELL IF YOUR OMELETTE IS DONE COOKING
Before you fold your omelette, give the pan a shake.
If your eggs wiggle a lot in the center of your pan, you'll need to cook them for an extra minute or two. But if the eggs in the center of the pan are fairly stable, check if the edges of the omelette easily separate from the pan by using the spatula. And if they do, carefully fold your omelette and cook for an additional one to two minutes.
HOW TO SERVE AN OMELETTE
Omelettes can be presented simply on a plate with your choice of any typical breakfast sides, such as toast or a bowl of fresh fruit. You can also garnish your omelette with a variety of fresh herbs.
And believe it or not, omelettes can be great for any meal of the day! Who doesn't love breakfast for dinner?
More egg recipes: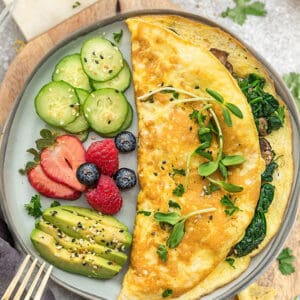 Easy Omelette Recipe
This classic omelette recipe is the perfect breakfast when you are looking for something simple, healthy, and filling. It can be easily customized to your liking and is vegetarian, keto, paleo and Whole30 compliant.
Keyword:
how to cook an omelette, how to make an omelette, omelette recipe, western omelette
Ingredients
3

tsp

avocado oiL, divided

3

large eggs (or 2 large eggs + 1 egg white)

Trader Joe's onion salt + black pepper

2/3

cup

organic baby spinach

1/4

cup

sliced cremini mushrooms

fresh chopped parsley, to garinsh
Instructions
Heat 1.5 teaspoons of avocado oil in a 9" skillet on medium heat.

Add sliced mushrooms and saute for 3-4 minutes, until softened. Add spinach and cook for 1-2 minutes, then transfer mixture to a plate.

In a medium bowl, whisk eggs and season with onion salt and pepper, to taste. Coat skillet with remaining oil then add egg mixture.

Cook udisturbed for 30 seconds, then tilt pan and swirl pan to let the runny center cook. Once the edges are almost cooked (about 2 minutes), add the filling mixture to one side.

Use the spatula to gently fold egg mixture to one side. Use spatula to gently fold te omelette over the filling. Cook for another minute or 2 (until desired doneness) then slide onto a plate.

Top with fresh parsley, if desired.