This Baked Teriyaki Chicken is delectable Asian-inspired meal with succulent chicken, vibrant vegetables tossed in a savory homemade teriyaki sauce. It's an easy take-out style dish that comes together on a sheet pan.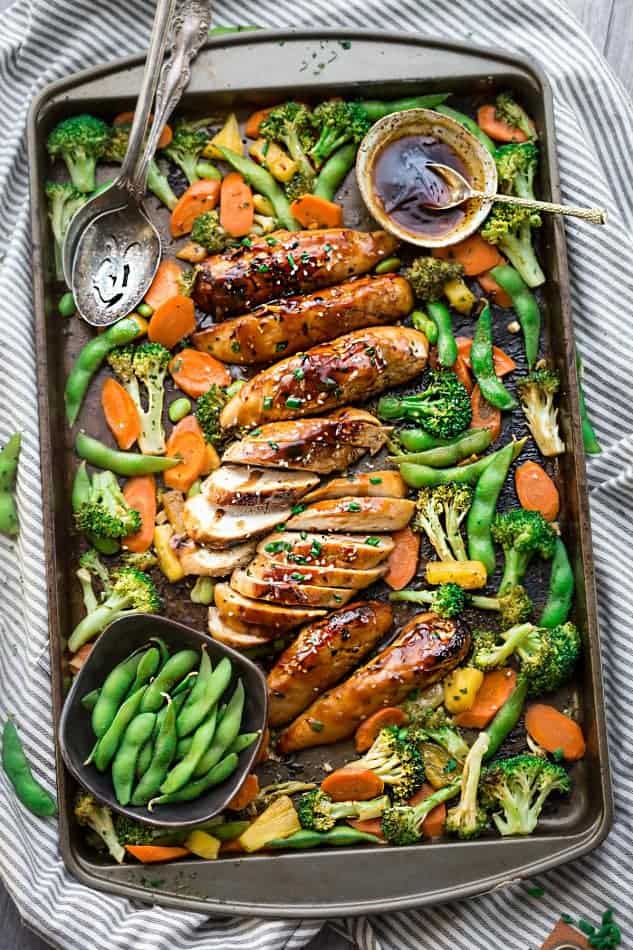 PIN HERE for later AND follow my Recipes Board on Pinterest for more easy dinner recipes!
Baked Teriyaki Chicken: A Flavorful Delight for Your Taste Buds
Craving a dish that's bursting with sweet, savory, and umami flavors? Look no further! This Baked Teriyaki Chicken recipe is here to tantalize your taste buds and bring a touch of Asian-inspired goodness to your dinner table.
Packed with tender and succulent chicken, vibrant vegetables, and a homemade teriyaki sauce that's to die for, this healthy sheet pan recipe is a must-try. Whether you're cooking for a family dinner, a special occasion, or just to indulge in a delectable treat, this gluten-free and paleo-friendly take-out style recipe is a testament to the magic that can happen in your kitchen.
What is Teriyaki?
Teriyaki is a culinary technique and flavor profile originating from Japan that's beloved for its exquisite blend of tastes. It involves grilling, broiling, or pan-searing ingredients—often meat or fish—after marinating them in a glaze or sauce that combines ingredients like soy sauce (or alternatives like coconut aminos), sugar, and mirin (sweet rice wine). This method creates a harmonious fusion of savory, slightly sweet, and tangy notes that coat the dish with a unique and irresistible teriyaki essence.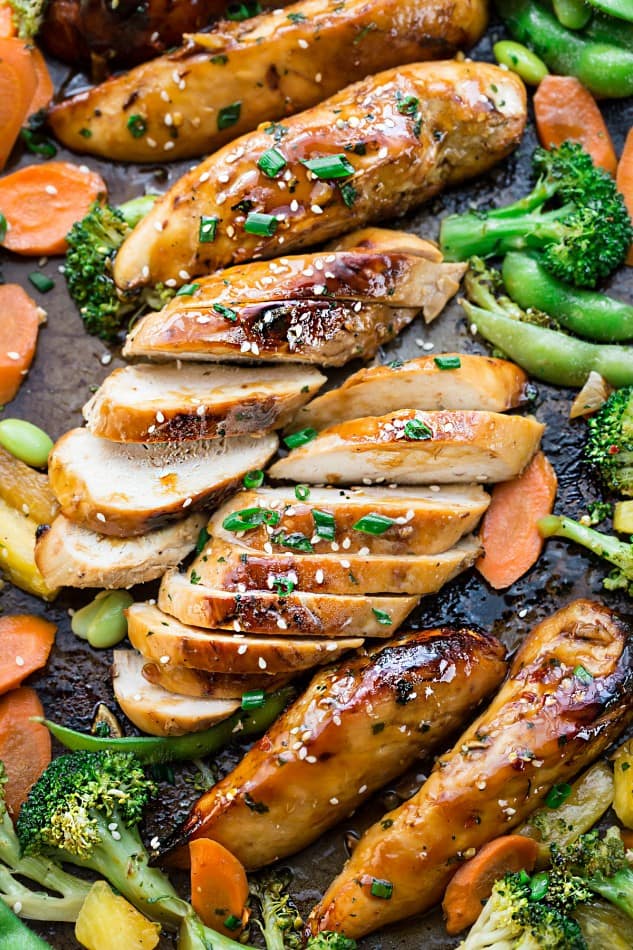 Ingredients You'll Need
Before we embark on the culinary journey, let's take a moment to delve into the stars of the show—our key ingredients—and understand why they play such a crucial role:
Coconut Aminos: The heart and soul of our teriyaki sauce, bringing a savory umami flavor to the forefront. Feel free to opt for gluten-free tamari or low-sodium soy sauce if you're not going soy-free.
Honey and More: The sweet touch that elevates the sauce's complexity. You have the flexibility to swap another sweetener of choice or even a sugar-free maple syrup or a low-carb sweetener for a lighter sugar option. Don't hesitate to experiment with regular maple syrup or organic agave for a unique twist. You can also leave out the honey and sub with blended dates for a Whole30 option.
Vinegar: The balancing act is completed with either rice wine vinegar or apple cider vinegar, each infusing a tangy note that harmonizes with the flavors. You can pick apple cider vinegar if you're following a keto path.
Sesame Oil: This ingredient wears many hats—it's used in the sauce and for drizzling on the vegetables, adding a distinctive nutty aroma and flavor that's oh-so-enticing.
Tapioca Starch: The secret to achieving the sauce's delightful thickness. If you're exploring alternative options, consider arrowroot starch or even cornstarch. Keto enthusiasts can embrace xanthan gum as a low-carb substitute.
Sesame Oil: A nutty undertone that elevates the dish, lending an aromatic richness that dances through both sauce and vegetables.
Aromatic Allure: Garlic and ginger, their synergy awakens the senses, infusing the sauce with complexity and depth.
Chicken and Vegetables: The canvas upon which our masterpiece is crafted. Boneless skinless chicken breasts, broccoli, carrots, and optional additions like edamame and pineapple, unite to create a wholesome blend of flavors and textures.
Instructions: How to make Baked Teriyaki Chicken
Now that we're acquainted with our star players, let's break down the steps that will lead you to teriyaki perfection:
Prepare the Teriyaki Sauce: In a saucepan, combine coconut aminos (or alternatives), sweetener of choice, vinegar, sesame oil, garlic, ginger, chosen starch, and water. Simmer until the sauce thickens and bubbles, then set aside.
Preheat and Prepare: Preheat the oven to 400°F. Line a sheet pan with parchment paper or foil, then season chicken with salt and pepper. Drizzle with teriyaki glaze and reserve some for later.
Initial Bake: Bake the chicken for around 10 minutes, then remove from the oven. Drizzle more glaze, flip the chicken, and glaze again.
Veggie Harmony: Arrange broccoli, carrots, and optional edamame and pineapple around the chicken. Season with pepper, drizzle sesame oil and more glaze, then toss to coat.
Final Bake: Return the pan to the oven and bake for 15-20 minutes until chicken is cooked through.
Serve and Garnish: Slice the chicken, drizzle with remaining sauce, and serve over rice or quinoa. Garnish with green onions and sesame seeds.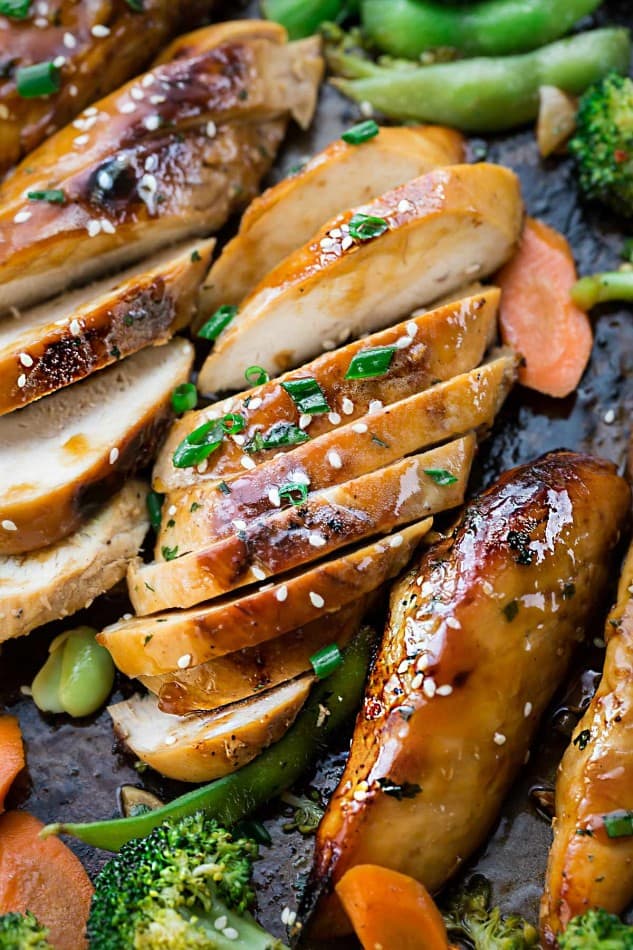 Tips for Success
Marinate for Extra Flavor: If time permits, marinate the chicken in the teriyaki sauce before cooking. This deepens the flavors and enhances the overall experience.
Customize with Veggies: Feel free to experiment with your choice of vegetables. Bell peppers, snap peas, or water chestnuts can add their unique textures and flavors to the mix.
Serving Suggestions
Rice or Quinoa Bed: Placing your teriyaki chicken on a bed of fluffy rice, cauliflower rice, or nutty quinoa complements the flavors and textures perfectly.
Asian Noodle Twist: Swap the grains for these Rainbow Noodles, Zucchini Noodle Salad or your favorite Asian noodles for a delightful fusion of flavors.
Variations and Substitutions: Unleash Your Creativity
Seafood Extravaganza: Swap out the chicken like we did in this Teriyaki Shrimp and Baked Teriyaki Salmon, or your preferred seafood for an oceanic twist.
Tofu Temptation: For a vegetarian delight, replace the chicken like we did in our Teriyaki Tofu and let it soak up the teriyaki goodness.
Spice Infusion: Add a kick with red pepper flakes or sriracha to the sauce if you're craving a touch of heat.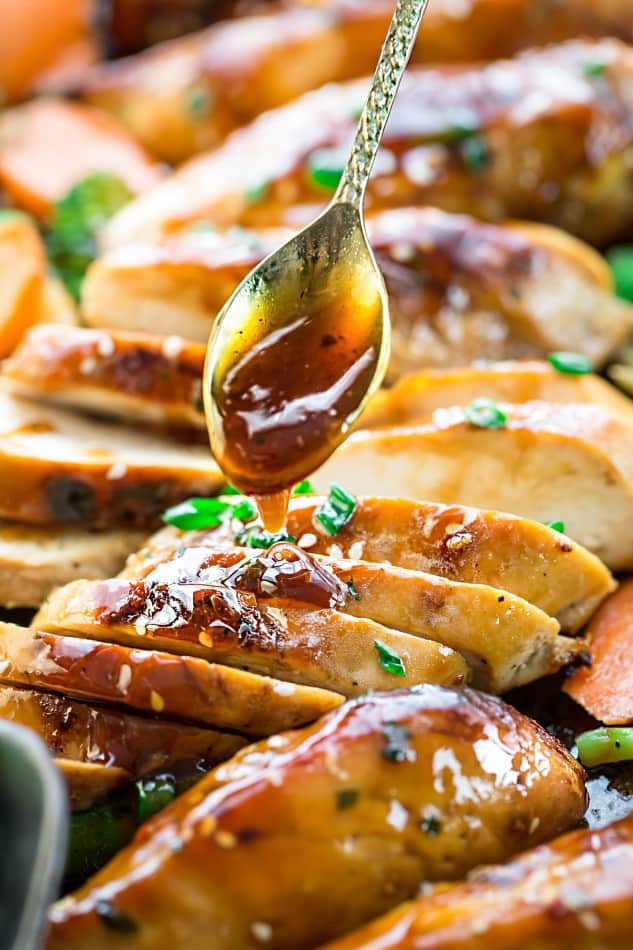 Storage, Reheating and Freezer Instructions
Refrigeration: Leftovers can be refrigerated for up to 3-4 days. When reheating, consider using the microwave to retain the moisture in the chicken.
Freezer Magic: To freeze, ensure the chicken is fully cooled, then store it in an airtight container or freezer-safe bag for up to 2-3 months. Thaw in the refrigerator before reheating.
How to Reheat: For the best results, reheat leftovers in the microwave. Cover the chicken to prevent drying out, and heat in short intervals, stirring in between.
How to Make-Ahead and Meal Prep
Teriyaki Chicken would be delicious for leftovers or make a batch on Sunday meal prep and pack for your weekly school or work lunch bowls
For easier weekly meal prep – chop all the vegetables ahead of time and store in an airtight container the night before.
Pack with your favorite side – Jasmine rice, brown rice, cauliflower rice or spiralized vegetables – zoodles – we like to use this lunch container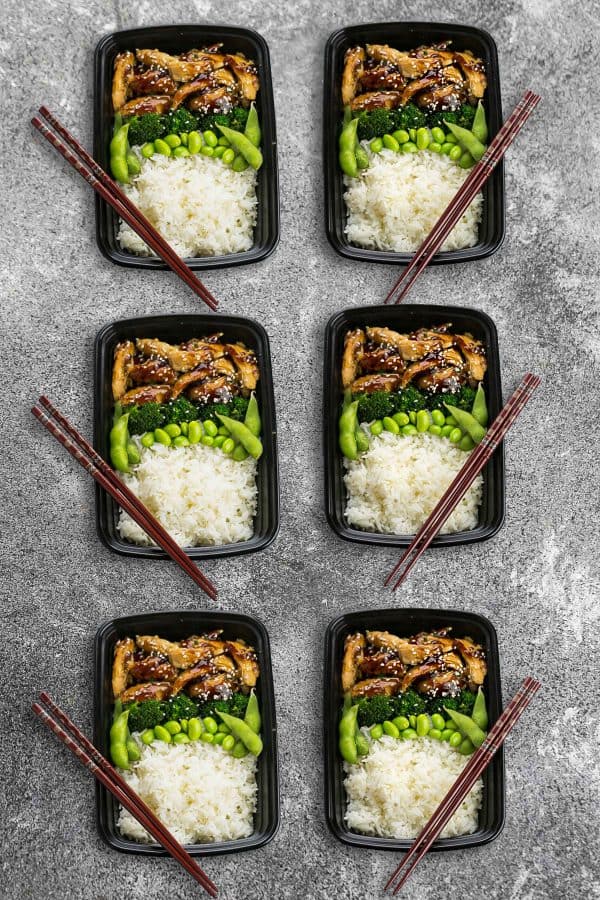 Frequently Asked Questions FAQ: 
1. Can I Make the Teriyaki Sauce Ahead of Time? Absolutely! Prepare the teriyaki sauce and store it in an airtight container in the fridge for up to a week. Just reheat gently before using.
2. What Can I Use Instead of Coconut Aminos? If you're not going soy-free, you can opt for gluten-free tamari or low-sodium soy sauce as a substitute.
3. How Do I Prevent Overcooking the Chicken? If the vegetables are done before the chicken, remove them from the pan and return the chicken to the oven to finish cooking. This ensures everything is perfectly cooked.
4. What Veggies Can I Use Besides Broccoli and Carrots? Get creative! Bell peppers, snap peas, and water chestnuts are great alternatives. Mix and match based on your preferences.
5. Can I Make This Dish Keto-Friendly? Absolutely. Use a low-carb sweetener, and consider xanthan gum as a thickening agent. Swap rice for cauliflower rice to keep it keto.
6. Can I Turn Up the Heat? If you're a fan of spice, add red pepper flakes or a dash of sriracha to the sauce for a fiery kick.
7. What Side Dishes Pair Well With Baked Teriyaki Chicken? Steamed jasmine rice, quinoa, or even Asian-style noodles are fantastic choices. A side of stir-fried vegetables complements the meal beautifully.
8. How Do I Reheat Leftovers? For the best results, reheat leftovers in the microwave. Cover the chicken to prevent drying out, and heat in short intervals, stirring in between.
9. Can I Use Different Meats? Certainly! This versatile sauce pairs well with shrimp, salmon, or tofu for a variety of flavor-packed options.
More Asian-inspired chicken recipes you will love: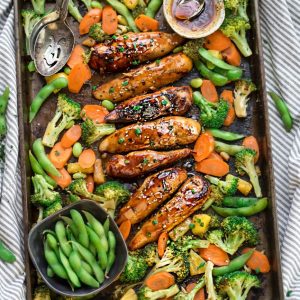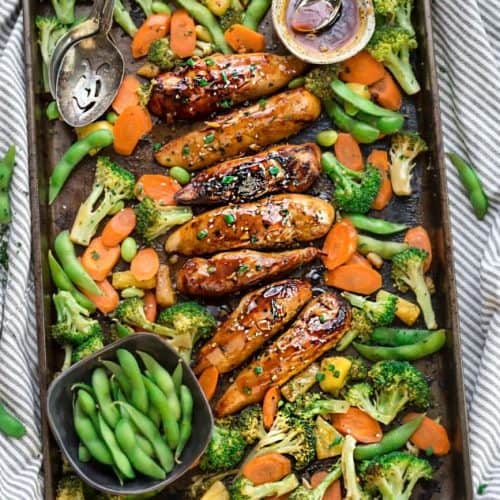 Baked Teriyaki Chicken
One Sheet Pan Teriyaki Chicken makes the perfect easy weeknight meal. Best of all, this recipe is made entirely on one sheet pan with tender chicken, crispy vegetables and a delicious sweet and tangy Asian sauce.
Keyword:
baked teriyaki chicken, chicken teryaki with vegetables, easy weeknight dinner, one pan dinners, teriyaki chicken
Ingredients
For the Teriyaki Sauce:
1/3

cup

coconut aminos

, you can also substitute with gluten free tamari or low sodium soy sauce if not soy-free.

4-5

Tablespoons

honey

, you can also substitute with maple syrup, organic agave syrup, coconut sugar, brown sugar or use a sugar-free sweetener such as monk fruit or Swerve if needed for a lower sugar or lower carb option. You can also leave out the sweetener and sub with blended dates for a Whole30 option.

5

Tablespoons

rice wine vinegar

OR 4 tablespoons of apple cider vinegar

2

Teaspoons

sesame oil

plus more for drizzling on vegetables (leave out for keto)

3

garlic cloves

minced

3/4

teaspoon

grated or ground ginger

1/2

Tablespoon

tapioca starch

, you can also sub with arrowroot starch, cornstarch or 1 teaspoon xanthan gum for keto

4

Tablespoons

water
For the Chicken and Vegetables:
salt and black pepper

to taste

3

boneless skinless chicken breasts

cut into even halves, lengthwise (about 1 1/2 pounds)

3

cups

broccoli florets

about 2 bunches

1

cup

sliced carrots
Additional Vegetables (optional):
1/4

cup

edamame beans

1/4

cup

pineapple chunks

green onions and sesame seeds

for garnish
Instructions
For the Sauce:
In a medium saucepan over medium heat, whisk together soy sauce, honey, vinegar, sesame oil, garlic, ginger, cornstarch, and water until combined. Bring to a simmer, stirring frequently, until sauce thickens and bubbles. Remove from heat and set aside.
For the Chicken and Vegetables:
Preheat oven to 400°F. Lightly coat a large sheet pan with cooking spray or for easier clean-up - line pan with parchment paper or foil, set aside.

Season both sides of chicken breasts with salt and black pepper then drizzle 1-2 spoonfuls of glaze over each piece, coating well on both sides. Reserve at least half of the glaze for later.

Cook in preheated oven about 10 minutes then remove the pan from oven. Top chicken with additional glaze, flip chicken and glaze again.

Arrange the broccoli florets, carrots, edamame and pineapple (if using) in a single layer around the chicken. Season with black pepper and drizzle with ¼ teaspoon of sesame oil and teriyaki glaze and toss to coat. Return to the oven and bake for another 15-20 minutes, or until the chicken is cooked through and juices run clear. (If chicken is not done after 20 minutes, remove vegetables from pan first to prevent overcooking then return the chicken back to the oven until cooked through.)

Remove pan from oven, slice chicken into strips and drizzle with remaining sauce. Serve over rice or quinoa and garnish with green onions and sesame seeds, if desired.
Nutrition Facts
Baked Teriyaki Chicken
Amount Per Serving (1 serving)
Calories 244
Calories from Fat 45
% Daily Value*
Fat 5g8%
Carbohydrates 28g9%
Protein 22g44%
* Nutrition facts are provided as a courtesy using the WPRM recipe calculator. It is best to make your own calculations to ensure accuracy. We expressly disclaim any and all liability of any kind with respect to any act or omission wholly or in part in reliance on anything contained in this website. Percent Daily Values are based on a 2000 calorie diet.