Asian Zucchini Cumber Noodle Salad makes a healthy, gluten-free, noodle dish that is flavorful, bright and great served as a side or add some protein to make it a main meal.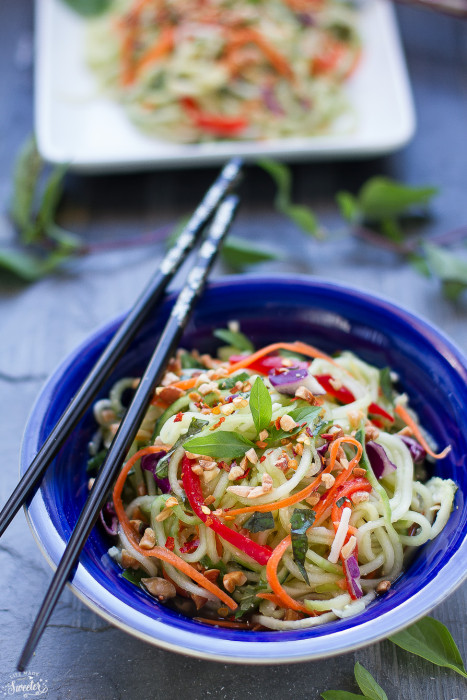 Between my garden and my mom's garden I think we have enough zucchini and cucumbers to feed a small army.  Okay okay. I may be
slightly
exaggerating but we do have more than we can use up quick enough.
So, when OXO sent me their new handheld spiralizer to try, I immediately wanted to grab a bunch of veggies and start working.

I make veggie noodles all the time using a julienne peeler like I did with my Pad Thai With Sweet Potato Noodles but I had been thinking of getting a veggie spiralizer for a while now so this was the perfect chance to try one out and compare the differences.
A few of the features I found after using the spiralizer:
It's compact, lightweight and simple to use
It creates uniform, curly noodles from zucchinis, cucumbers and other long vegetables
The open blade design also accommodates round vegetables like regular or sweet potatoes
Since there aren't a bunch of fancy contraptions, it's really easy to clean and dishwasher safe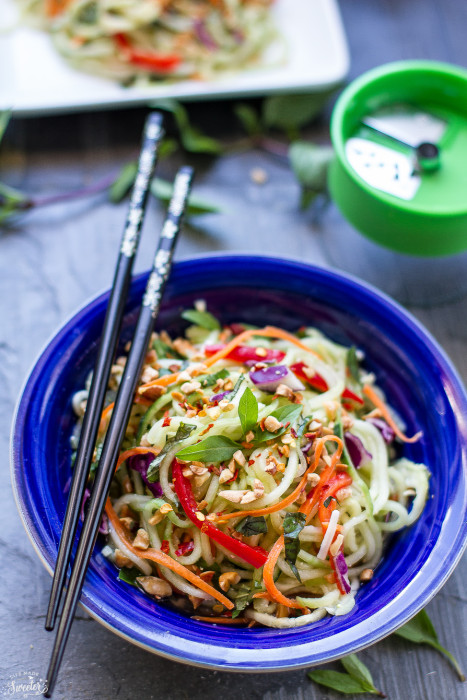 The blades aren't adjustable so the vegetables do have to be a certain thickness but I really liked that it didn't take up any counter space at all and even my husband was able to use it easily to spiralize the cucumbers for this recipe.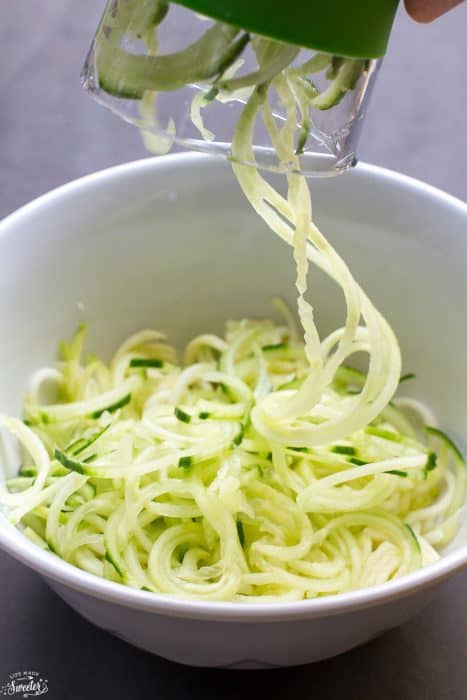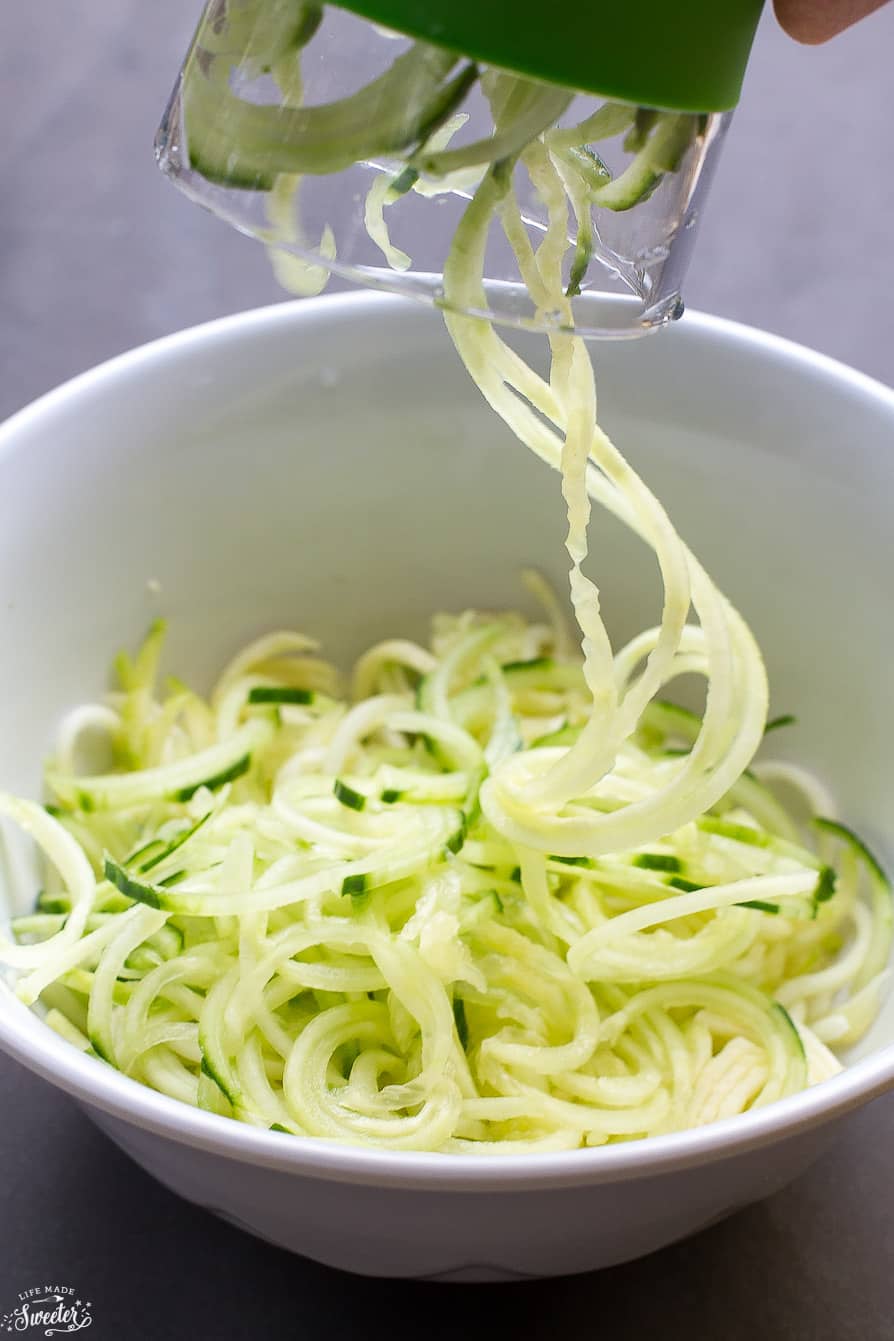 This
Asian Zucchini Cumber Noodle Salad
is so fresh, filling and full of flavor.  It's light, healthy and the colors are gorgeous.
There's zucchini, cucumbers, carrots, purple cabbage and a bell pepper. The dressing is made with peanut butter (you can sub in almond butter as well), rice wine vinegar, honey and a little bit of sriracha for a spicy kick.
Toss on some chopped Thai basil, mint and cilantro to complete the dish.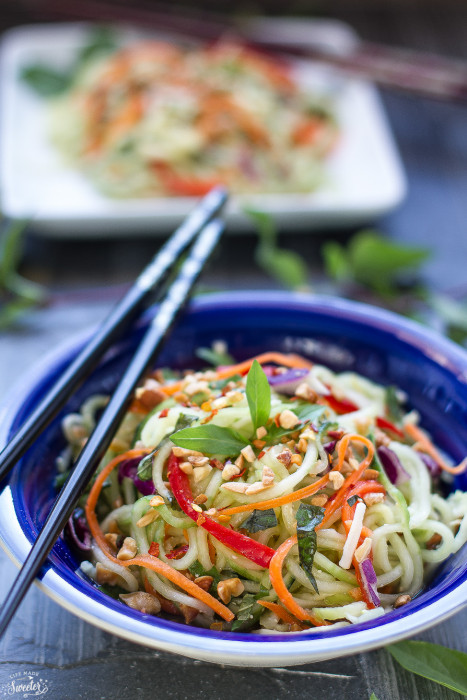 The flavors are spot on with the sweet, salty and spicy that you would expect from a Thai dish and it's bursting with fresh herbs and crunchy nuts.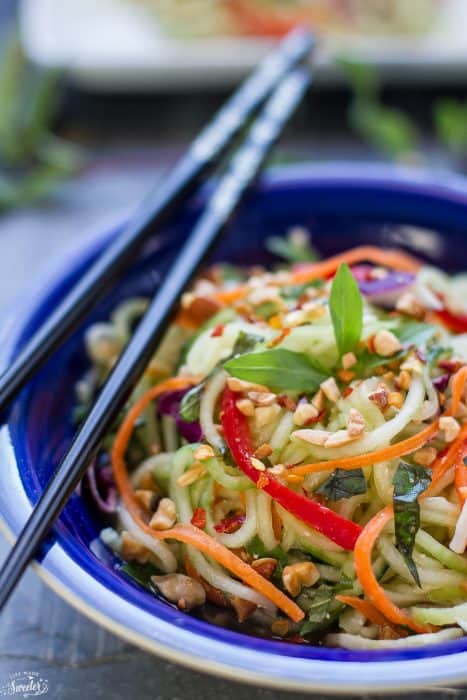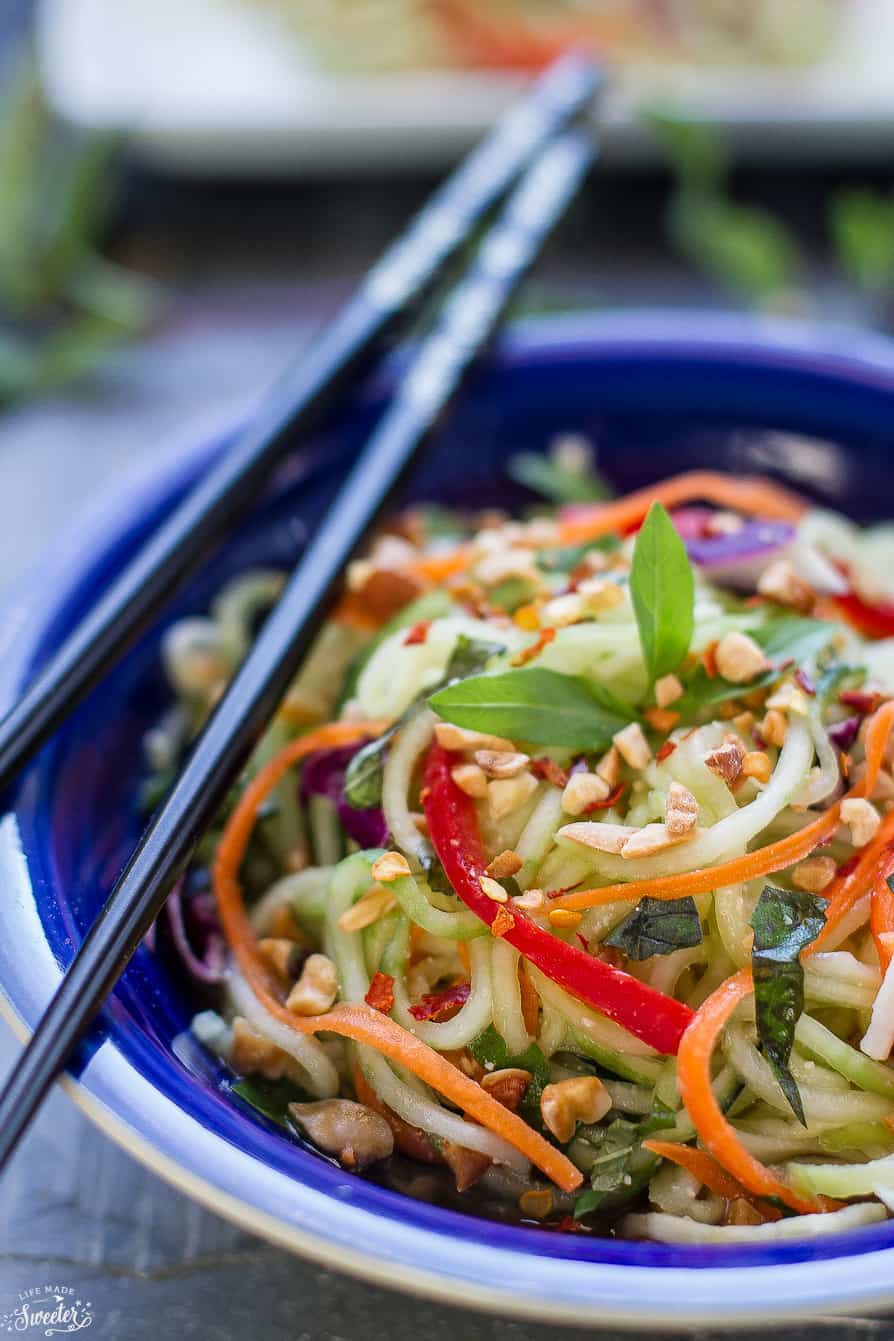 It's gluten free and really hits the spot when you are craving something healthy and delicious.  It is guaranteed happiness and will be your new favorite way to make zoodles.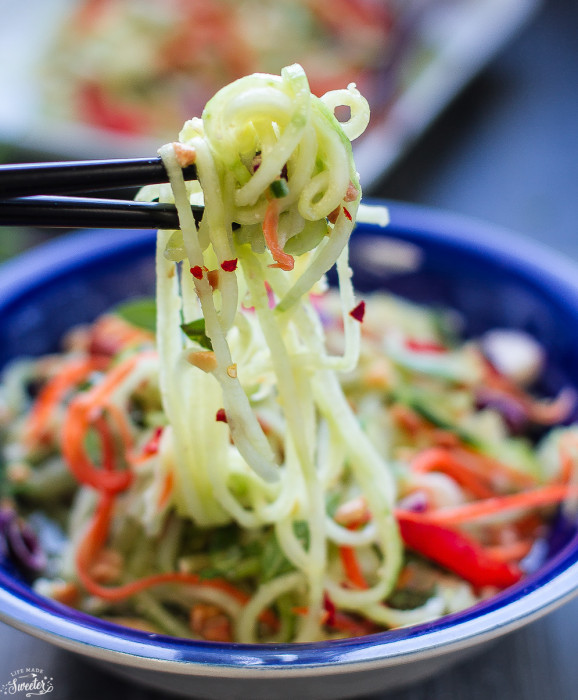 Yields 2
Asian Zucchini Cucumber Noodle Salad
Asian Zucchini Cumber Noodle Salad makes a healthy, gluten-free noodle dish that is flavorful, bright and great served as a main dish or side dish.
15 minPrep Time
15 minTotal Time
Ingredients
2 medium zucchinis
1 large English cucumber
1 medium carrot
1 red bell pepper, julienned
1/3 cup purple cabbage, shredded
1/3 cup cilantro leaves, thinly chopped
1/4 cup of Thai basil, thinly chopped
juice and zest of one lime
1/4 teaspoon freshly grated ginger
1/4 cup of peanut butter (can also sub in almond butter)
1 teaspoon freshly grated ginger
2 tablespoons rice wine vinegar
1/2 tablespoon sesame oil
1/8 teaspoon of sriracha and or chili flakes (optional or to taste)
2 tablespoons chopped peanuts
Instructions
In a large bowl bowl, whisk together the lime juice, almond butter, grated ginger, rice wine vinegar and sesame oil.. Season to taste with chili flakes, salt and pepper.
Peel the zucchini, cucumbers and carrots. Use a spiralizer, julienne peeler or mandolin to turn the zucchini, cucumber and carrots into "noodles." Add to the large bowl with the dressing along with the bell peppers, purple cabbage, cilantro and Thai basil.
Toss everything well. Garnish with peanuts and more Thai basil and cilantro if desired.
7.6.4
165
https://lifemadesweeter.com/asian-zucchini-cucumber-noodle-salad/
 You might also like:
Pad Thai with Sweet Potato "Noodles"
Sriracha Crunchy Asian Ramen Noodle Slaw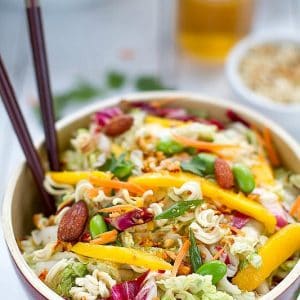 Disclosure: OXO provided me this product to review.  However, all opinions are 100% my own.

Thanks for reading Life Made Sweeter, you can also stay connected with me here: 
Facebook  |  Twitter |   Pinterest  |  Google+ |  Instagram  |  Bloglovin