This Tofu Stir Fry is easy to make with tender-crispy tofu sautéed with hearty vegetables like broccoli and mushrooms coated in a sweet and savory sesame garlic sauce. It's a healthy vegan dinner idea that's on the table in less than 30 minutes. Gluten-free, dairy-free, vegan and low carb.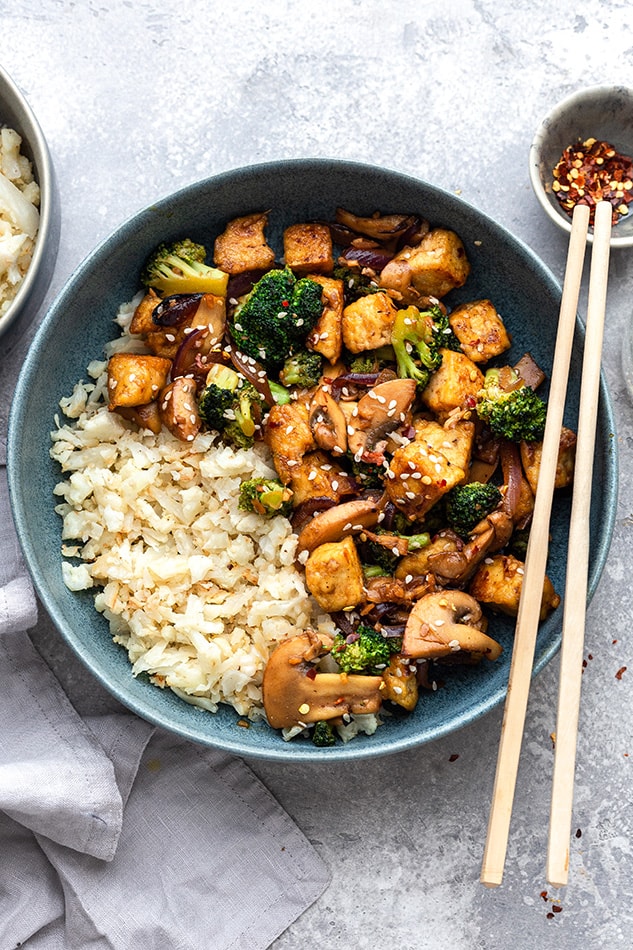 PIN HERE for later and follow my boards for more Whole30 recipes
Updated January 2021
Delicious and Nutritious Tofu Stir Fry: A Flavorful Journey to Healthy Eating
Are you in search of a delectable and healthful recipe that will tantalize your taste buds while nourishing your body? This Tofu Stir Fry is the ultimate culinary adventure that combines a symphony of flavors with the goodness of organic tofu and a medley of fresh vegetables.
It's a feel-good meal that comes together in minutes on the stove. The fresh veggies and tofu that go into this dish make it a hearty meal that's as good for you as it is for your taste buds. Add in your lovely seasonings, cauliflower rice and some sesame seeds, and this simple stir fry will put last night's dinner to shame.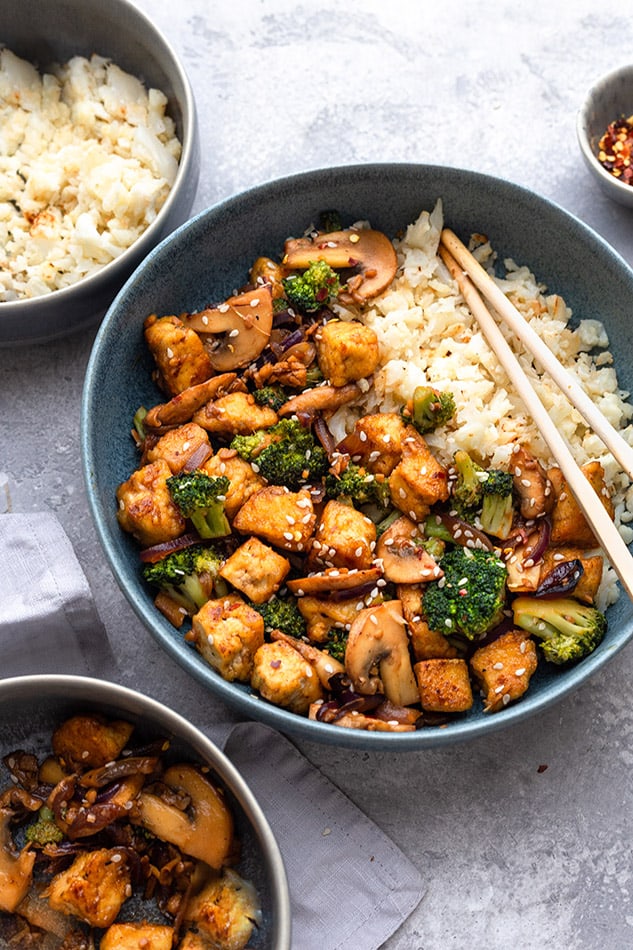 Ingredients That Make the Magic Happen
This stir fry recipe uses classic healthy stir fry ingredients and comes together in less than 30 minutes. You can add in more veggies or use different seasonings if you like. It's served over cauliflower rice and finished off with a sprinkle of sesame seeds!
Extra Firm Organic Tofu: This versatile protein source serves as the heart of our stir fry, absorbing the delightful flavors of the sauce while providing a satisfying texture. You can check out our post on how to cook tofu for a tutorial.
Avocado Oil: A healthful cooking oil that adds a subtle richness to the dish while preventing the tofu from sticking to the pan.
Arrowroot Starch: Use this optional ingredient for an extra crispy coating on the tofu chunks. It enhances the overall texture and mouthfeel of the dish. You can also sub with tapioca starch or 1 tsp coconut flour for low carb.
Fresh Vegetables: A colorful array of broccoli, mushrooms, onions, and garlic not only provide essential nutrients but also contribute a wonderful depth of flavor. Bok choy would be delicious as well!
Coconut Aminos: A gluten-free and soy-free alternative to soy sauce, coconut aminos infuse the dish with a savory and slightly sweet umami taste. Gluten-free tamari or low sodium soy sauce will work too if you're not soy-free.
Maple Syrup: For a touch of sweetness that perfectly balances the savory elements. You can also opt for any sticky liquid sweetener or choice or a sugar-free liquid sweetener such as Lakanto, if you're watching your sugar intake.
Toasted Sesame Oil: A few drops of this aromatic oil add an authentic Asian flair to the stir fry, enhancing its overall depth of flavor.
Five Spice Powder: A blend of aromatic spices that elevates the taste profile of the dish to new heights.
Serve with:
Toasted Sesame Seeds
Cauliflower Rice: This gluten-free rice substitute is so quick and easy to make, with or without a food processor!
Instructions: How to make Tofu Stir Fry
Prepare the Tofu: Cut your extra firm organic tofu into bite-sized chunks and give them a light toss in arrowroot starch. This step creates a crispy exterior that'll have you coming back for more.
Searing the Tofu: Heat up avocado oil in a wok or large pan over medium-high heat. Add the coated tofu chunks and let them sizzle until they turn golden and irresistibly crispy.
Introducing the Aromatics: Remove the tofu from the pan and in the same fragrant oil, cook thinly sliced onions, grated ginger, and minced garlic. These aromatic ingredients lay the foundation for the stir fry's wonderful flavors.
Veggie Medley: Add sliced mushrooms and chopped broccoli to the mix. Their vibrant colors and textures contribute both to the visual appeal and the nutritional value of the dish.
Sauce Magic: In a small bowl, whisk together coconut aminos, maple syrup, toasted sesame oil, five spice powder, and arrowroot starch. This concoction is what brings the entire stir fry together, coating each ingredient in a symphony of flavors.
Bringing It All Together: Pour the sauce into the pan, toss everything together, and let it cook for a brief moment until the sauce bubbles and thickens. This step ensures that every bite is a burst of tantalizing taste.
Tips for the Best Tofu Stir Fry
This recipe is fast and fabulous, especially if you bear in mind these quick tips and suggestions.
Use Extra Firm Tofu: Extra-firm tofu has a low liquid content that makes it optimal for stir frying. Even so, I still recommend removing as much moisture as you can. Do this by applying pressure on the block of tofu with a paper towel for 5-10 minutes.
Remove Moisture From Tofu: Before you make your stir fry, you'll want to remove as much liquid as possible from your tofu. This will ensure that it cooks up nice and crispy. Draw out the moistre by sandwiching your block of tofu between two paper towels and weighing it down with a heavy plate or two.
Toss Tofu in Arrowroot Starch: Coating your chopped tofu in arrowroot starch will keep it crispy on the outside and chewy on the inside!
Remove Tofu to Cook Veggies: The mushrooms and broccoli need to cook for a bit longer than the tofu to reach their optimal texture. To make sure everything cooks perfectly, take out your tofu before cooking the veggies and then add it back into the pan.
Season to Taste: I encourage you to taste test your stir fry as you're adding in your seasonings. This way, you can adjust the flavor to your liking.
Variation Ideas
Want to tweak this recipe? No problem! It's so easy to customize with your favorite ingredients. Here are a few tasty stir fry variations to try:
Make it Spicier: If you'd like to add some heat to your stir fry, mix in some red pepper flakes or chili paste, to taste.
Serve Over Noodles or Pasta: Not feeling the cauliflower rice? This dish would taste great over your favorite grain-free or gluten-free pasta or zucchini noodles instead.
Use Different Veggies: Feel free to add peppers, spinach, peas, carrots, or whatever else you like to this stir fry! The more the merrier.
Add Nuts: Need more crunch for your munch? Peanuts or walnuts would be a very yummy addition to this dish.
Sub Tofu: If desired, you can replace the tofu any kind of vegan meat substitute you prefer. If you're not vegan or vegetarian, you can totally use chopped chicken or beef instead of tofu. Don't be afraid to play around with the protein in your stir fry.
Starch: Replace arrowroot starch with tapioca starch or cornstarch.
Sweetener: Embrace a Whole30-friendly version by omitting the maple syrup and adding blended dates for sweetness.
Serving Suggestions
This vegan stir fry is a hearty meal on its own, but there are also plenty of other dishes it goes great with, like these ones.
Rice or Noodles: Serve your stir fry with cauliflower rice, cooked Jasmine rice, cooked quinoa or noodles.
Pair with Salad: This easy Kale Salad is always a great stir fry side dish. It's vegan as well!
Serve with Spring Rolls: You can't go wrong by pairing your stir fry with some Authentic Chinese Spring Rolls. Bake them, fry them, or cook them in the air fryer.
Pair with Potatoes: Nothing is more comforting than a hot, creamy serving of Mashed Potatoes. My Instant Pot recipe is so easy to throw together and such a great side for this tofu stir fry
How to Store and Reheat Leftovers
Leftover veggie tofu stir fry should be stored in an airtight container in the fridge. It will keep well for up to 5 days. You can reheat your stir fry in the microwave in 15-second increments or warm it over low heat on the stove.
Can I Freeze Extras?
You can definitely freeze your leftovers if you'd like. However, the texture of the veggies won't be as crispy after they've been frozen. If you don't mind this, then go ahead and freeze your stir fry for up to 2 months. Just thaw it out in the fridge before you reheat it.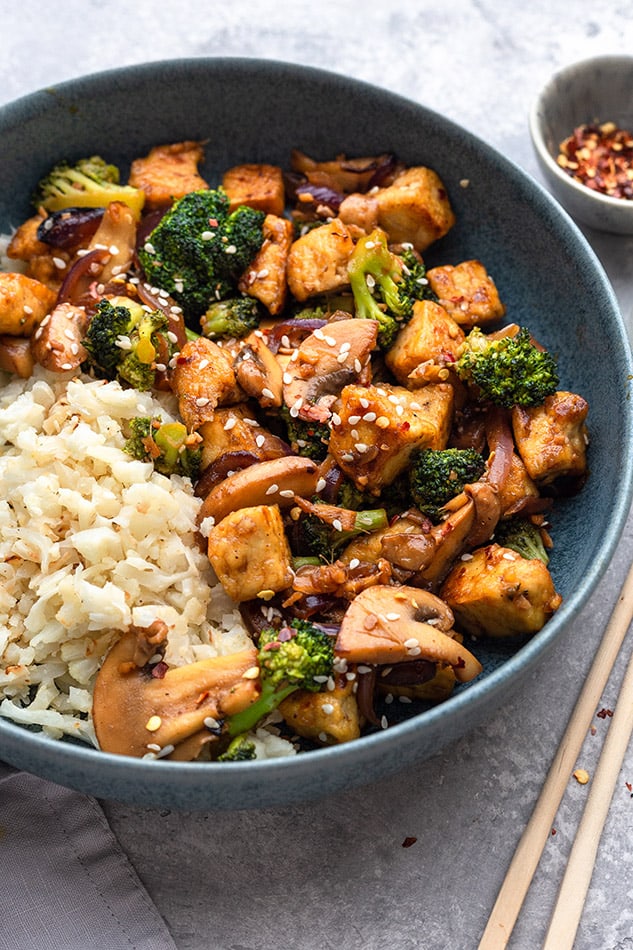 More healthy tofu recipes:
Tofu Stir Fry
This Tofu Stir Fry is a mixture of crispy tofu sautéed with broccoli and mushrooms coated in a sweet and savory sesame garlic sauce. Takes less than 30 minutes to make for the perfect quick  healthy and easy clean out the fridge dinner recipe. Gluten-free, dairy-free, vegan and low carb. 
Keyword:
baked tofu recipe
Ingredients
9

oz

extra firm tofu

, drained and pressed

1

tbsp

avocado oil

2

tbsp

arrowroot starch

, optional but adds extra crispiness. Can also sub with tapiooca starch or cornstarch, cornstarch or 1 - 2 tsp coconut flour for low carb.

1/2

small

onion

, thinly sliced

1/4

tsp

grated ginger

3

garlic cloves

, minced

1

head

broccoli

, chopped into florets. Can also sub with bok choy, zucchini or Chinese broccoli if desired.

8

cremini mushrooms

, sliced

4

tbsp

coconut aminos

1

tsp

maple syrup

, can also sub with sugar-free liquid sweetener such as Lakanto sugar-free maple syrup or other sticky liquid sweetener of choice. Add more or less to taste. Omit for Whole30 or add blended dates.

1

tsp

toasted sesame oil

1

tsp

five spice powder

1

tsp

arrowroot starch

, to thicken the sauce. May sub with tapioca starch (or corn starch if desired) or 1/4 tsp xanthan gum for low carb.

To serve:

Cauliflower rice

or cooked rice or quinoa of choice
Instructions
Cut tofu into 1-inch chunks and gently toss in starch until well coated.

Heat oil in a wok or large pan over medium-high heat. Add the tofu, toss and cook for a few minutes until golden and crispy.

Remove the tofu and add to a plate. Return the same pan to medium-high heat and add more oil if needed. Add the onion, ginger and garlic. Cook for another minute. Add mushrooms and broccoli and cook for a few minutes then and add the tofu back in.

In a small bowl, whisk together coconut aminos, maple syrup if using, sesame oil, five spice powder and arrowroot starch.

Stir in the pan, toss and cook for 30 seconds or until sauce bubbles and thickens.

Remove from the heat and serve with cauliflower rice and sprinkle with sesame seeds.
Nutrition Facts
Tofu Stir Fry
Amount Per Serving (1 serving)
Calories 173
Calories from Fat 27
% Daily Value*
Fat 3g5%
Carbohydrates 24g8%
Protein 11g22%
* Nutrition facts are provided as a courtesy using the WPRM recipe calculator. It is best to make your own calculations to ensure accuracy. We expressly disclaim any and all liability of any kind with respect to any act or omission wholly or in part in reliance on anything contained in this website. Percent Daily Values are based on a 2000 calorie diet.