Following a Whole30 diet can be a challenge unless you are well prepared. These Whole30 compliant recipes are all super simple to make and require either one skillet or one sheet pan!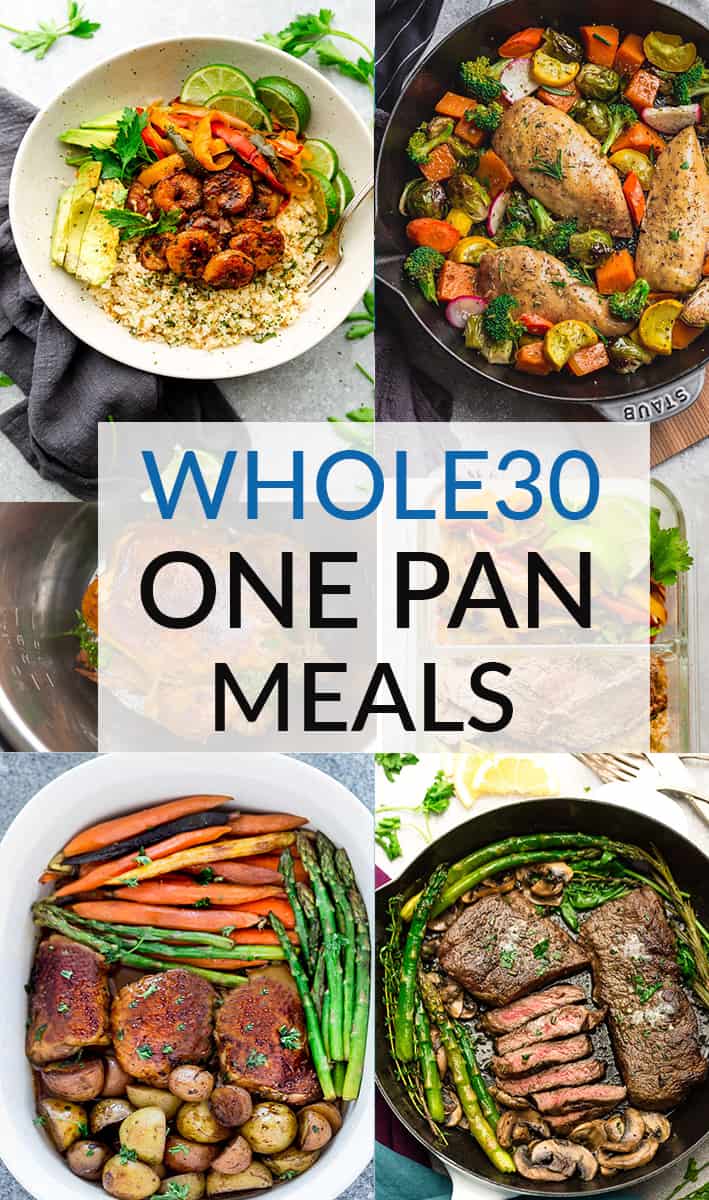 Hey everyone! Amanda here again back to share another delicious round-up!
What is Whole30?
It's a program to reset your body with whole foods. Like any program, there are certain foods that are allowed or restricted. To get a full list, you can check out Whole30's website!
It's similar to Paleo as grains and legumes are eliminated. However, all fruits and veggies are allowed on Whole30 and all dairy is forbidden.
And like most healthy lifestyles, junk food and sugar are a no go. Whole30 does not only forbid processed sugar but all sugars (yep, maple syrup, monk fruit sweetener) do not fit into the Whole30 rules.
What foods are allowed in Whole30?
So the list of foods that aren't allowed may have you wondering "What is allowed?!"
When searching for Whole30 compliant recipes, they are typically high in protein, veggies, and healthy fats. Pair any type of fish or meat with vegetables and healthy seasonings and you got yourself a Whole30 meal!
Whole30 Sheet Pan and Skillet Dinners:
Harvest Chicken with Vegetables by Life Made Sweeter
Baked chicken with winter vegetables is a quick and easy Whole30 dinner idea!
Seared Steak by Life Made Sweeter
Juicy steak paired with vegetables is the best Whole30 dinner recipe!
Sausage and Cabbage Skillet by Fox and Briar
This dinner recipe is perfect for breaking up the chicken recipe streak.
Whole30 Chipotle Chicken Skillet by Wholesome Kitchen Sink
This easy skillet recipe pairs great with lettuce cups for some Whole30 tacos!
Sheet Pan Turkey Dinner by Life Made Sweeter
This dish has all the flavors of Thanksgiving wrapped into an easy Whole30 meal.
Steak Stir Fry by The Real Food RDs
Chili Lime Shrimp Fajitas by Life Made Sweeter

This sheet pan dinner is the best easy meal option. Pair with lettuce cups or cauliflower rice for a low-carb option.
Healthy Beef and Broccoli by One Lovely Life
This one-skillet meal is a quick, easy, and healthy dinner option!
Balsamic Chicken by Life Made Sweeter
Okay so technically not a baking sheet or skillet, but a one-pan meal that goes right in the stove!
Sheet Pan Salmon by Wholesome Kitchen Sink
Salmon is an excellent healthy fish option that is most certainly allowed on Whole30
Cajun Chicken Dinner by Cooking Classy
Baked chicken with tons of colorful veggies makes for a healthy and delicious meal.
Sheet Pan Pork Chops and Sweet Potatoes by Candace Kennedy
If you're tired of chicken night after night, pork chops are a lean meat option.
Lemon Rosemary Chicken by Bravo For Paleo
An easy one-skillet meal with delicious lemon rosemary chicken!
Thai Green Curry Chicken with Vegetables by What Great Grandma Ate
A colorful one-sheet meal that will make the entire family happy!