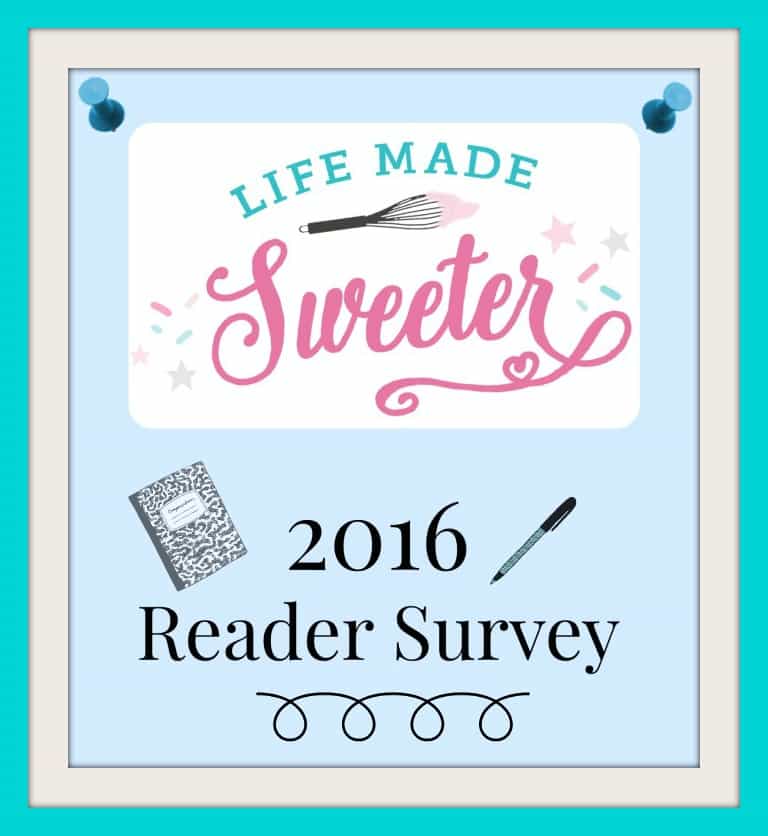 Hey friends! With the start of the new year and everyone making resolutions and goals, I thought it would be the perfect time to post my first ever short and simple 
READER SURVEY
that I really hope you will complete.
It's been on my list of things to do for a while but I thought I would wait until after the holidays to post it in since it was such a busy time for everyone.
I would be so grateful for all of your honest answers to help me narrow down the type of posts that I share on here in 2016.
It shouldn't take any more than 5-10 minutes and your valuable feedback will be SUPER important to help me plan future posts, recipes, and videos….as well as a fun project I've been working on that I can't wait to share with you all soon 🙂
ALL of your answers will remain anonymous and anyone who takes the survey will get a chance to enter a giveaway for a $50 US Amazon Gift Card, open to readers worldwide!
It's my way of thanking you for all of your support for the last two plus years.
The winner for the Amazon Gift Card must be 18 or over and filled out the survey with your e-mail address at the bottom. A winner will be chosen randomly from among all responses received by 11:59pm on January 22, 2016).
IF YOU ARE ON MOBILE, TABLET, OR EMAIL PLEASE CLICK HERE FOR SURVEY.
To take the survey on a desktop computer, just fill in your answers directly below in the widget, or click HERE to take it in a separate tab.
Thank you all SO MUCH again for your help!!!
And if you came here looking for a new recipe, you can check out the Smoothie Bowl or round-up of over 25 Healthy Smoothies I posted over the weekend. Cheers!