Apple Baked Oatmeal is a healthy feel-good breakfast that's easy to throw together in advance for busy fall mornings. Made with chopped apples, cozy cinnamon, chewy rolled oats and crunchy chopped walnuts, no one can say no to this sweet breakfast casserole. Gluten-free, dairy-free and refined sugar-free with grain-free, vegan, paleo, low-carb & keto options.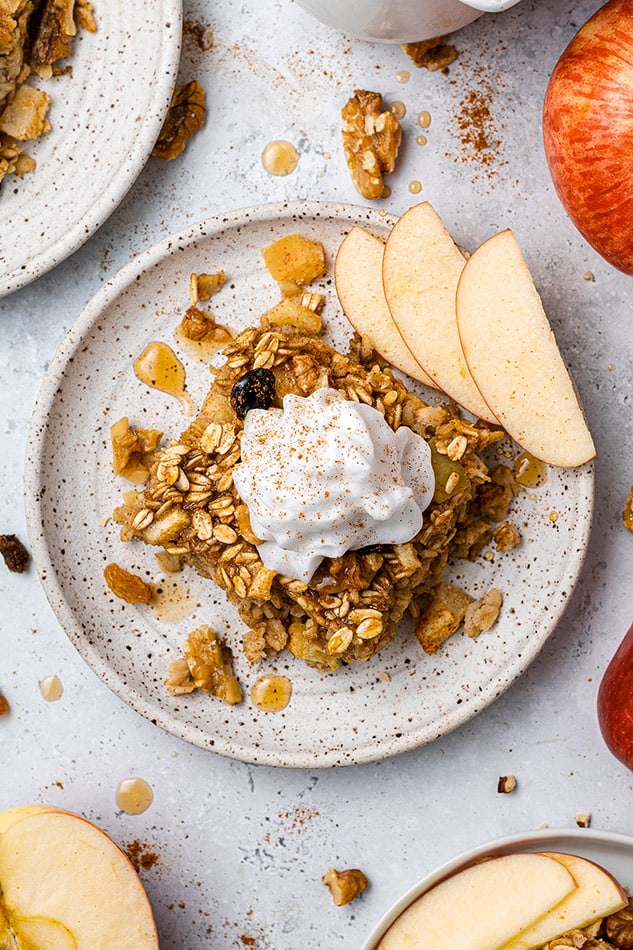 PIN HERE for later AND follow my recipes boards for more breakfast ideas!
Updated August 2022
Easy Apple Oatmeal Bake
It doesn't matter if it's a crisp fall day or the middle of summer – nothing beats the combination of apples and cinnamon. Those classic warm flavors take the cozyy-sweet goodness of apples to a whole new level of heavenly! And this apple baked oatmeal proves exactly that.
The batter is made in a flash with only one bowl required before it's spread into a casserole dish and baked to perfection. Once it comes out of the oven, each serving is topped with some diced apples or your favorite fruit, a splash of milk as well as extra maple syrup, cinnamon and chopped pecans or walnuts. Whether you make your oatmeal bake in advance or whip it up the morning of, you'll never want breakfast to end.
Is Baked Oatmeal Actually Healthy?
It is indeed! Oats are some of the world's healthiest grains – they're naturally gluten-free and fully loaded with vitamins, minerals, antioxidants, fiber and more. That being said, some baked oatmeal recipes call for undesirable ingredients such as processed sugar.
We make our Oatmeal Bakes with natural sweeteners like maple syrup and honey, keeping them nice and healthy without sacrificing flavor. If you have a dietary restriction, you can easily modify their ingredient lineups to meet your needs.
This particular baked apple oatmeal is reinforced with extra vitamins, protein and fiber thanks to the inclusion of apples and walnuts. Score!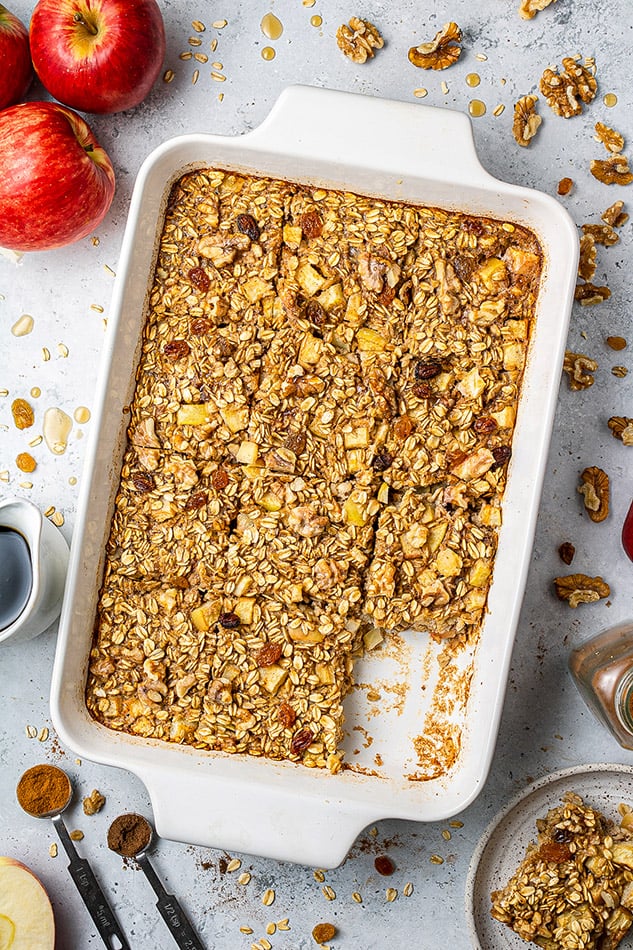 What You'll Need
Here's some background on our apple cinnamon baked oatmeal ingredients with substitution options included. Scroll down to the recipe card toward the bottom of this post for the associated quantities.
Large Eggs: If you're vegan, skip the eggs and combine 2 tablespoons of ground flaxseed with 5 tablespoons of water instead. Let the mixture sit for 5 minutes, or until it takes on a thick, gel-like consistency.
Unsweetened applesauce: You can use your favorite store-brand or make your own homemade applesauce.
Cinnamon and allspice: for those delicious cozy apple pie flavors. You can also sub with apple pie spice blend.
Chopped apples: We like Honeycrisp but Granny Smith, Gala or Red Delicious all work.
Pure Maple Syrup: Raw honey, date syrup and yacon syrup are other good options if they work with your diet. For keto baked oatmeal, use liquid monk fruit sweetener or another compliant sticky liquid sweetener of choice.
Melted Coconut Oil: Or vegan butter. Ghee works too (unless you're dairy-free).
Pure Vanilla Extract
Unsweetened Almond Milk: This can be swapped out for any other milk you have on hand.
Baking Powder: Double-check the label of your baking powder to make sure it's gluten-free.
Fine Sea Salt
Gluten-Free Old-Fashioned Rolled Oats: If you're looking for grain-free, low carb, keto or 

paleo

-friendly oatmeal

, substitute the oats for 2 cups of roughly chopped coconut flakes, 2 tablespoons of almond flour and 1 cup of sliced and roughly chopped almonds. Mix to combine.
Walnuts: Roughly chopped.
Raisins (Optional): With no added sugar, for the topping. Feel free to use dried cranberries instead if preferred.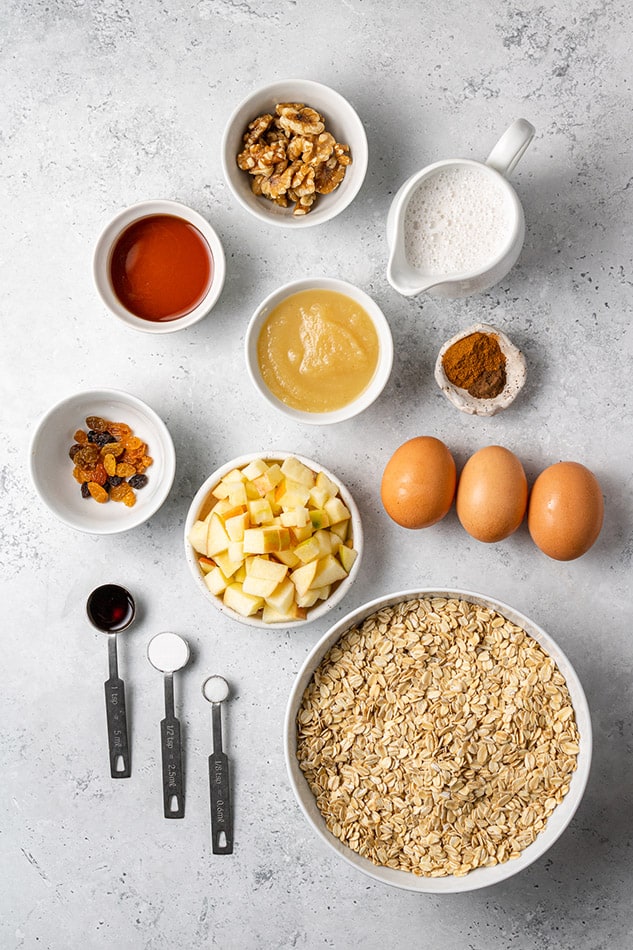 How to Make Apple Baked Oatmeal
It's hard to believe how easy this dish really is. You'll want to whip it up every week!
Prep for Baking: Preheat the oven to 350°F. Lightly grease a 9×13-inch baking dish with avocado oil spray or olive oil spray. Set the prepared pan aside.
Combine Most of Wet Ingredients: Whisk together the eggs, applesauce, maple syrup, coconut oil and vanilla in a large mixing bowl until combined.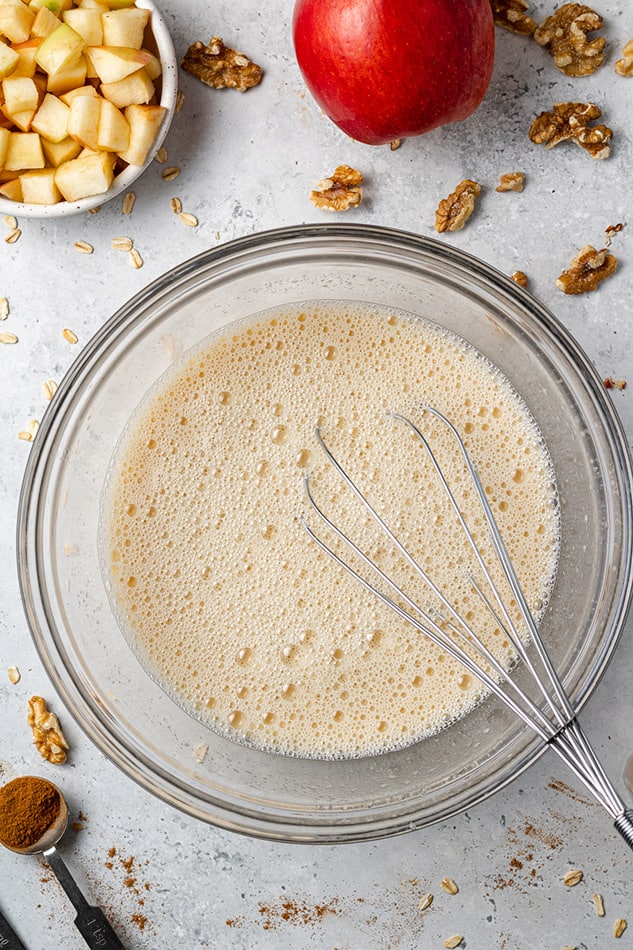 Add Milk & Dry Ingredients: Add the milk, baking powder, cinnamon, all spice and salt, mixing until combined.
Add Apples, Oats & Walnuts: Stir in the apples, oats followed by the chopped nuts.
Transfer Batter to Pan: Spread the batter evenly into the prepared baking dish. Top it with raisins and additional walnuts if desired.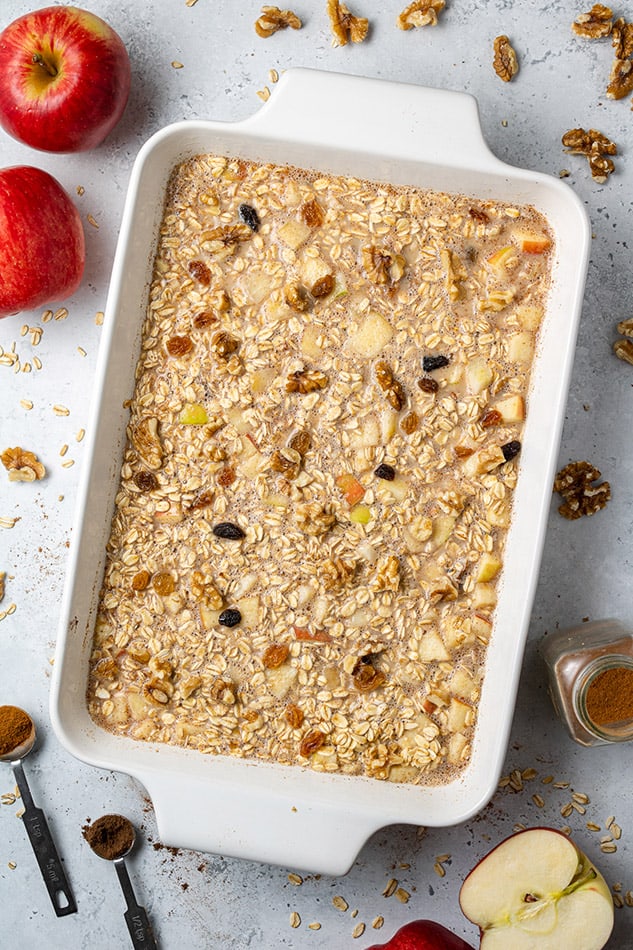 Bake: Bake the oatmeal until it's just set and no longer jiggly, about 30-35 minutes.
Let Rest: Allow the baked apple oatmeal to rest for at least 5 minutes before you cut and serve it.
Enjoy! Top each serving with a drizzle of maple syrup, a splash of milk, an extra sprinkle of pumpkin spice and more chopped pecans if desired.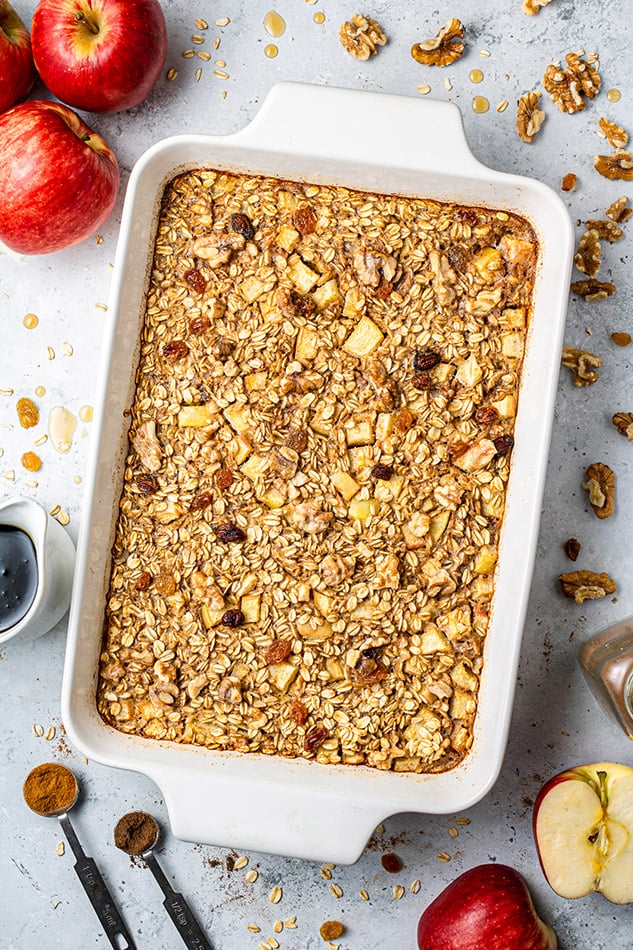 Can I Make It in Advance?
Absolutely – once it has cooled completely, this breakfast casserole can be kept in the fridge all week. Be sure to cover it tightly with plastic wrap or transfer it to an airtight container. Pop each serving into the toaster oven or microwave if you'd like to reheat your baked oatmeal before you enjoy it.
Tips for Success
Don't forget to take a look at these tips and tricks before you start making your oatmeal bake.
Rolled Oats Only: This recipe is not going to work unless you use old-fashioned rolled oats or the specified grain-free/low-carb alternative. Quick oats and steel-cut oats require different amounts of liquid as well as different cook times.
How Can I Tell When Baked Oatmeal is Done? Once your oatmeal bake looks lightly browned and no longer jiggles when the pan is gently shaken, go ahead and remove it from the oven. Baking it for longer could make it come out hard instead of chewy.
Don't Skimp on the Resting Time: Letting your baked oatmeal rest for at least 5 minutes before cutting and serving it is key. This way, you'll be able to slice it into clean, even portions.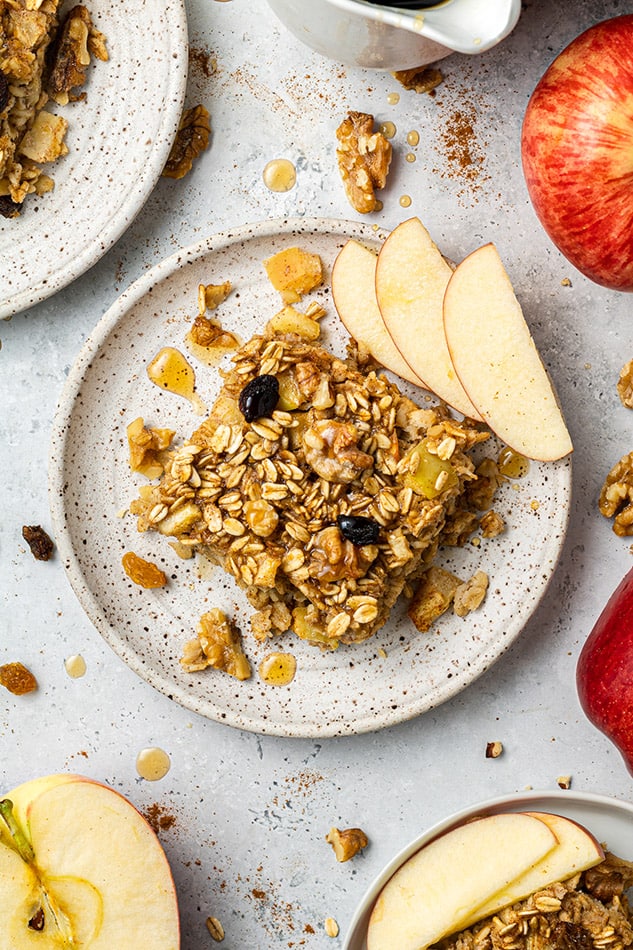 Variation Ideas
Want to add your own flair to this apple baked oatmeal? One of these fun twists might pique your interest.
Make It Chocolatey: The sweetness of spiced apples and the richness of dark chocolate make a seriously addicting pair. Try mixing 1/4 cup of dairy-free chocolate chips into your oatmeal batter! Don't forget to sprinkle some extra ones on top of the oatmeal right after you remove it from the oven so they get all nice and melty.
Make Coconut Apple Baked Oatmeal: Apple and coconut are another delightful duo that doesn't get the credit it deserves. Gently toast 1/4 cup unsweetened coconut flakes, mix about two-thirds of them into your batter and use the rest as a topping – you'll see!
Add Banana: Mash in a ripe banana to make Banana Apple Baked Oatmeal
Make Baked Oatmeal Cups: To turn this casserole into single-serving oatmeal cups, add the batter to a greased 12-count muffin tin (or a muffin tin fitted with silicone liners). Bake the oatmeal cups for 18-25 minutes, or until the tops are just starting to brown.
Serving Suggestions
You really don't need anything to accompany your baked oatmeal, but an extra special topping certainly wouldn't hurt! We like to serve ours with a dollop of dairy-free yogurt or coconut whipped cream. Homemade Nut Butter is another fail-proof finishing touch, as is jam or jelly. Don't be afraid to get creative with it!
Storage and Reheating
Got leftovers? That's the idea! Wrap the fully cooled casserole in a tight layer of plastic wrap and keep it in the fridge for up to 5 days. Alternatively, refrigerate individual servings in a single layer in an airtight container.
You can reheat large portions of your casserole in the oven if you cover the pan with aluminum foil. Bake at 350°F for about 20 minutes, or until the oatmeal is heated through. Single servings can be warmed up in the toaster oven or microwave.
Does This Freeze Well?
Yes, you can freeze your cooled oatmeal bake for up to 3 months. Wrap the whole casserole or individual servings in a tight layer of plastic wrap and a layer of heavy-duty aluminum foil. Alternatively, store the oatmeal in a freezer-safe container. Thaw it out in the fridge overnight before you serve it.
More Fruity Baked Oatmeal Recipes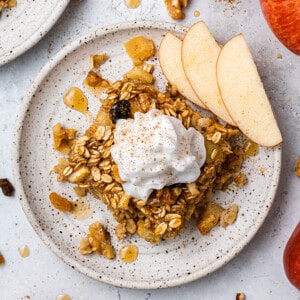 Apple Baked Oatmeal
This Apple Baked Oatmeal recipe is a healthy breakfast perfect for busy fall mornings! A healthy baked oatmeal recipe that comes together in just one bowl with chopped apples, maple syrup and gluten-free rolled oats. Freezer-friendly, dairy-free & refined sugar free with a grain-free, paleo, vegan and low carb option. 
Keyword:
apple oatmeal, apple oatmeal bake, baked oatmeal, baked oatmeal recipe, best oatmeal recipe, easy breakfast ideas, easy healthy breakfast ideas, healthy breakfast recipe, healthy oatmeal recipe
Ingredients
3

large eggs

, (sub 3 flax eggs for vegan - combine 3 tablespoon ground flax seed + 7.5 tablespoons water)

1/3

cup

unsweetened applesauce

1/3

cup

pure maple syrup

, or preferred sticky liquid sweetener such as date syrup, yacon syrup, sugar-free maple syrup, pure liquid monk fruit or honey if not vegan

1 1/2

cups

unsweetened almond milk

, or any non-dairy milk of choice

1 1/2

teaspoons

pure vanilla extract

1/2

tsp

1/2 tsp baking powder

1

tsp

ground cinnamon

1/4

tsp

ground allspice

1

tsp

ground flax seeds

, optional for added fiber - can sub withe hemp seeds, chia seeds or plant-based protein

3 1/4

cups

gluten-free old fashioned rolled oats

, if you're looking for a grain-free / low carb baked oatmeal, sub 3 1/4 cups of rolled oats with 2 cups roughly chopped coconut flakes, 1 cup roughly chopped sliced almonds and 2 tablespoons of almond flour

1

cup

diced apples

1/4

cup

roughly chopped walnuts

, plus more for topping

1/2

tbsp

raisins or dried cranberries

, for topping
Serving option
Maple syrup, chopped or sliced apples, dairy-free yogurt or whipped coconut cream, with a splash of milk and an extra sprinkle of cinnamon and more chopped walnuts and chopped apples, if desired
Instructions
Preheat the oven to 350 degrees Fahrenheit. Lightly grease a 9 x13 baking dish with avocado oil spray or olive oil spray. Set aside.

In a large mixing bowl, whisk together the eggs, applesauce, maple syrup, vanilla and milk until combined. Add baking powder, cinnamon, allspice and flax seeds.

Stir in the oats, apples and chopped walnuts.

Spread batter evenly into a casserole dish. Top with additional walnuts, plus raisins if desired.

Bake in a preheated oven until just set and no longer jiggly - about 30-35 minutes.

Cool for 5 minutes before serving. Top with a drizzle of maple syrup, dairy-free yogurt or whipped coconut cream, with a splash of milk and an extra sprinkle of cinnamon and more chopped walnuts and chopped apples, if desired.
Recipe Notes
How to store: Wrap the baking dish tightly in plastic wrap or transfer individual servings to an airtight container and store in the fridge for up to 5 days.
How to freeze: Leftover oatmeal can be stored in an airtight container in the freeze. You can also wrap them up individually and store in the freezer for up to 3 months.
How to thaw: Thaw overnight in the fridge. 
How to reheat: You can reheat baked oatmeal in the microwave or toaster oven until warm to enjoy throughout the week.
Nutrition Facts
Apple Baked Oatmeal
Amount Per Serving (1 serving)
Calories 277
Calories from Fat 54
% Daily Value*
Fat 6g9%
Carbohydrates 36g12%
Protein 9g18%
* Nutrition facts are provided as a courtesy using the WPRM recipe calculator. It is best to make your own calculations to ensure accuracy. We expressly disclaim any and all liability of any kind with respect to any act or omission wholly or in part in reliance on anything contained in this website. Percent Daily Values are based on a 2000 calorie diet.