These Keto Blueberry Muffins are deliciously soft, moist and are easy to make with simple low carb ingredients! A perfect freezable snack or breakfast treat that the whole family will love!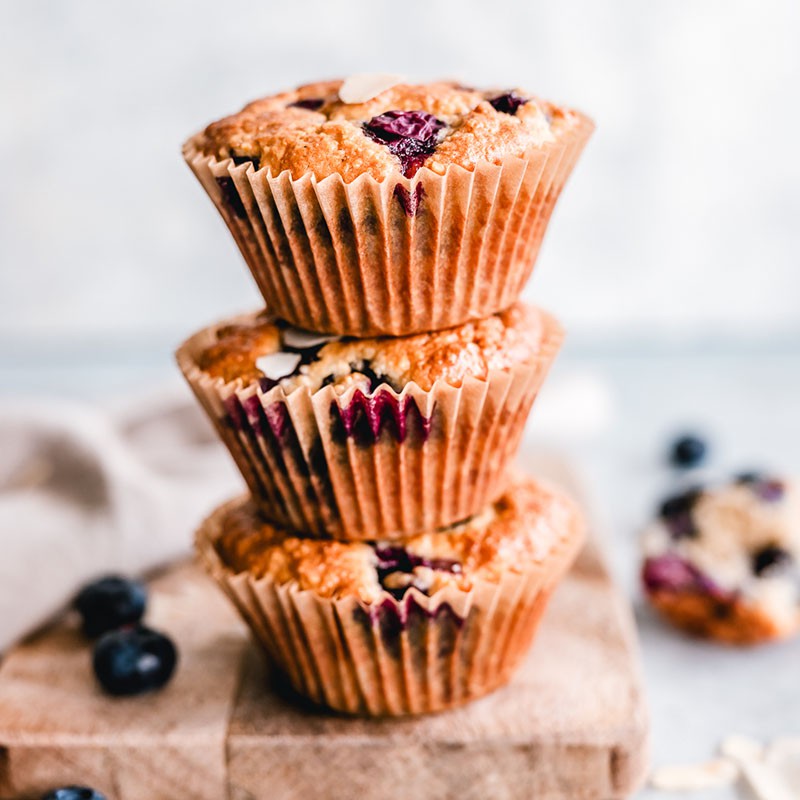 PIN HERE for later and follow my boards for more recipe ideas
Who doesn't love a classic bakery style blueberry muffin for breakfast? Back in college, they were one of my favorite items to order at the local coffee shop.
It's been years since I've had one of those tall bakery-style muffins but I love that I get to make my own delicious and healthier muffins using low carb, gluten free and sugar free ingredients.
These family favorite Keto Blueberry Muffins are the perfect low carb breakfast or afternoon snack at about 3 g net carbs each. They bake up soft, fluffy and are bursting with flavor.
Plus, they're easy to make ahead, with all the ingredients mixed in one bowl. And the great thing is that the single-serving size makes them the perfect grab and go breakfast on those busy weekday mornings.
We even bring them along with us to birthday parties, baby showers, barbecues and gatherings for our friends that are also looking for paleo friendly, gluten free and sugar free treats.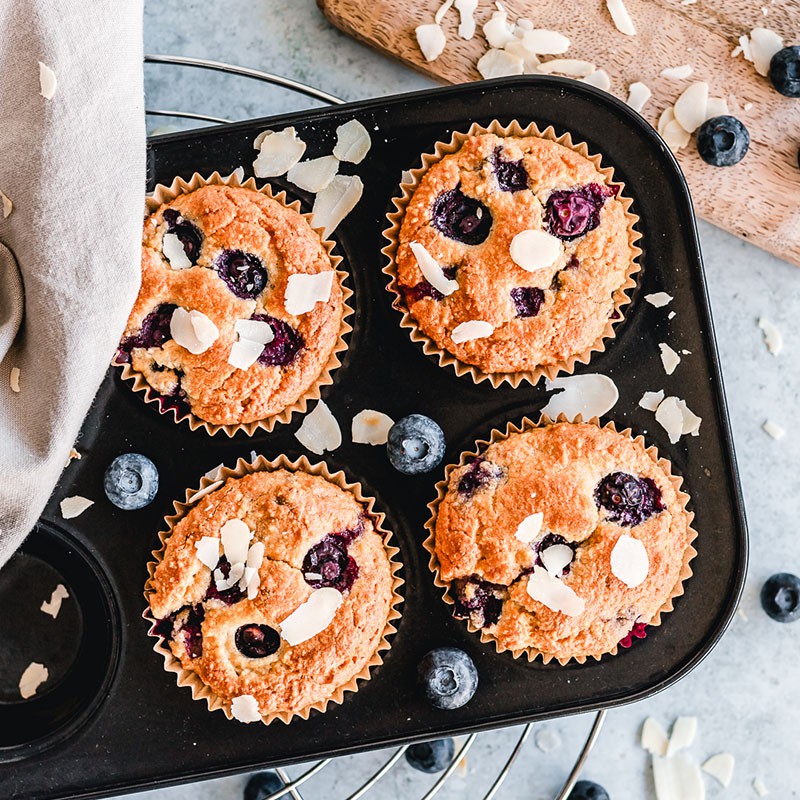 WHAT INGREDIENTS DO I NEED TO MAKE LOW CARB BLUEBERRY MUFFINS?
To make the best keto blueberry muffins, you're going to need:
monk fruit sweetener (or use your favorite low carb sweetener: SWERVE, erythritol, STEVIA)
baking powder
baking soda
lemon zest
cinnamon
fine sea salt
ghee, coconut oil (or butter if not paleo)
eggs
almond milk
blueberries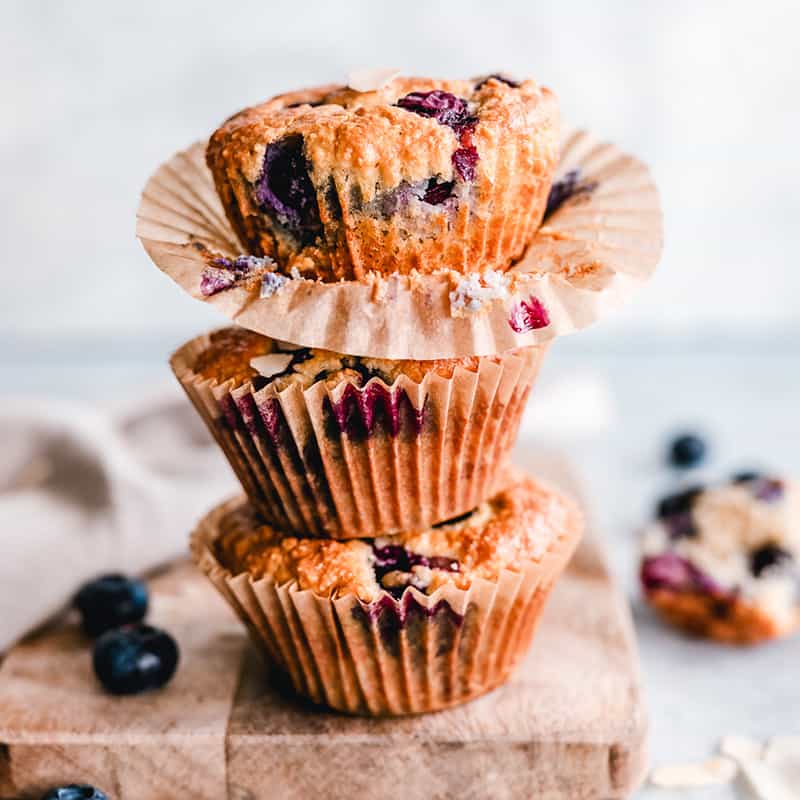 HOW TO MAKE EASY KETO BLUEBERRY MUFFINS: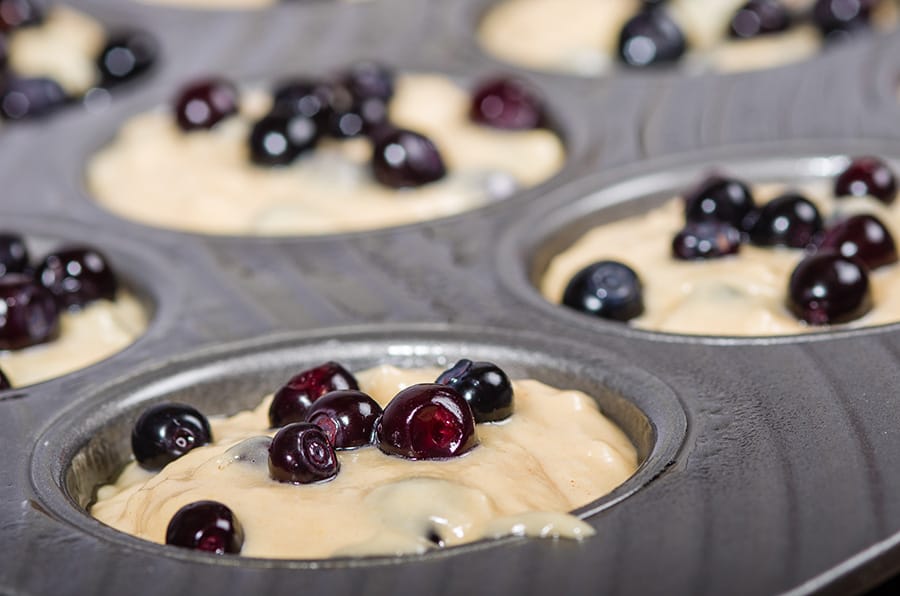 To make almond flour blueberry muffins, start off by
PREHEAT THE OVEN: Preheat your oven to 350 F.

PREPARE MUFFIN PAN: Line a muffin tin with silicone or parchment paper liners. Lightly grease with nonstick cooking spray.

MIX THE DRY INGREDIENTS: Add the almond flour, monk fruit sweetener, baking powder, salt and cinnamon into a large mixing bowl. Whisk until combined.

POUR IN WET INGREDIENTS: Add almond milk and beaten eggs to the bowl. Stir together until well-mixed.

FOLD IN BLUEBERRIES: Add blueberries into the bowl and gently fold into the batter.

FILL MUFFIN PAN: Divide muffin batter evenly among muffin tins. Smooth the top and add one or two more. Add one or two more blueberries at the top and sprinkle with golden monk fruit sweetener.

BAKE: Bake at 350 F until the tops are golden, and a toothpick comes out clean – about 25 minutes. Allow to cool about 5-10 minutes before serving or transferring to a wire rack.
CAN YOU FREEZE PALEO BLUEBERRY MUFFINS?
Yes, the great thing about these gluten free blueberry muffins is you can make them ahead and freeze them to enjoy throughout the week. Allow the almond flour blueberry muffins to cool completely then put them in an airtight freezer bag and freeze for up to three months.
Thaw them on the counter for 2-3 hours or overnight in the refrigerator, then bring the muffins to room temperature or warm them up in the microwave.
CAN I LEAVE OUT THE LEMON ZEST IN THESE SUGAR FREE BLUEBERRY MUFFINS?
I am a big fan of blueberries and lemon together especially once spring arrives. The hint of lemon zest really brings out the fresh and sweet flavors of the blueberries.
However, you can certainly leave out the lemon zest if you are not a fan of blueberry lemon muffins and just want that classic blueberry muffin to shine through.
Another amazing addition would be to add 1/8 teaspoon pure almond extract.
CAN I SUBSTITUTE THE ALMOND FLOUR WITH COCONUT FLOUR FOR SUGAR FREE BLUEBERRY MUFFINS?
I have not tested this blueberry muffin recipe using coconut flour so your results will vary greatly. But if you have a nut allergy and would rather bake with coconut flour instead, I'd suggest following another recipe like these coconut flour blueberry muffins and swapping out the honey with a low carb sweetener.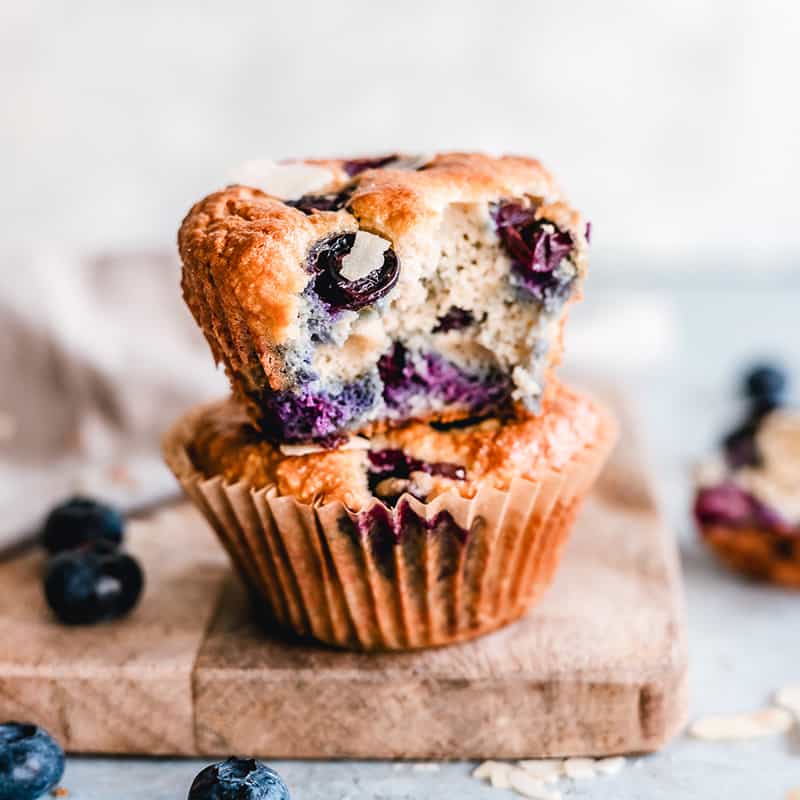 TIPS FOR MAKING THE BEST LOW CARB BLUEBERRY MUFFINS:
use silicone muffin liners or parchment paper liners to ensure that the muffins do not stick – I always lightly grease my muffin liners with nonstick cooking spray as well
once you add the wet ingredients, stir in slowly and until just combined to avoid a tough and dense muffin
when adding your blueberries, gently fold in so they do not bleed or stay intact
CAN YOU USE FROZEN BLUEBERRIES?
Fresh blueberries are best for this blueberry muffin recipe but frozen will work as well. It's important to remember not to thaw them and add the frozen blueberries straight from the freezer into the muffin batter. This helps to keep the color of the batter from bleeding.
CAN YOU SUBSTITUTE BLUEBERRIES WITH OTHER LOW CARB FRUIT?
Yes! This recipe for keto blueberry muffins would also work well with strawberries, raspberries or blackberries.
MORE EASY BREAKFAST RECIPES YOU MIGHT LIKE: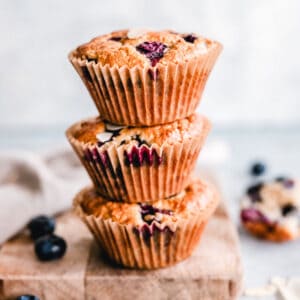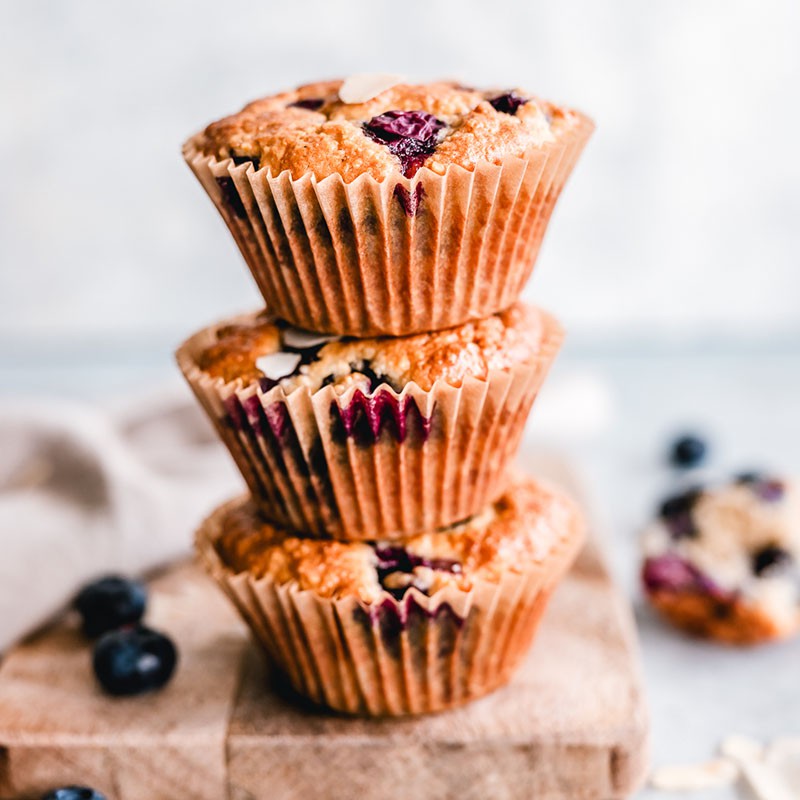 Keto Blueberry Muffins
Keyword:
blueberries, bluebery muffins, breakfast, healthy muffins, keto, low carb, muffins, paleo
Instructions
Preheat oven to 350 F. Line a muffin pan with 6 silicone or parchment paper liners. Lightly grease liners with nonstick cooking spray to ensure no sticking.


In a large mixing bowl, add the almond flour, monk fruit sweetener, baking powder, baking soda, salt, cinnamon and lemon zest. Whisk until combined.

Add the melted ghee, almond milk, eggs and vanilla extra and stir until just incorporated. Gently fold in the blueberries.


Fill each muffin cup 3/4 full. Sprinkle with a little bit of golden monk fruit and coconut flakes, if using. Bake until toothpick comes out clean, about 17-19 minutes.
Nutrition Facts
Keto Blueberry Muffins
Amount Per Serving (1 muffin)
Calories 208
Calories from Fat 153
% Daily Value*
Total Fat 17g 26%
Total Carbohydrates 6g 2%
Protein 7g 14%
* Percent Daily Values are based on a 2000 calorie diet.