A cheese board is one of the best foods that you can serve when hosting, or that you can bring to a party. It's fun and festive, and surprisingly easy to make.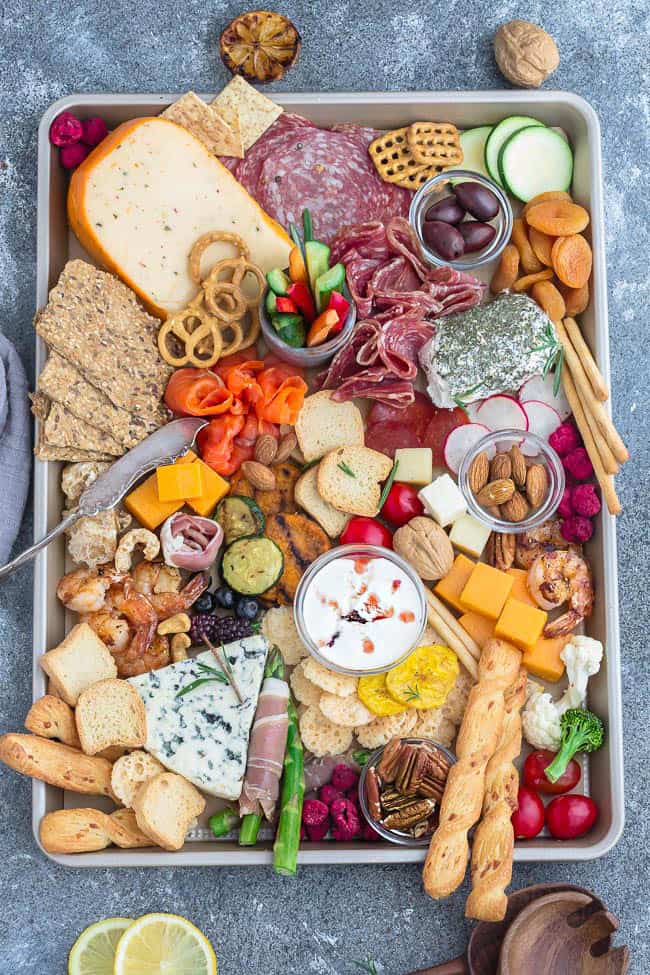 Pin HERE for later and follow my boards for more recipe ideas
How to Make the Ultimate Cheese Board
Cheese boards are one of my favorite things. They're my go-to item when hosting a get together, whether it's a small hangout or a big party. With a good cheese board, there's something for everyone. They're full of simple foods, fancy ingredients, salty flavors, and sweet treats. Plus, they're just fun. Fun to make, fun to look at, and certainly fun to eat. 
It doesn't take much time or effort to make a dynamic creation that everyone will love. It just takes a little bit of thought and planning. There are a million different options when making a cheese board, so it's all about finding the flavors that you want on yours. Here's everything you need to know about preparing one for a party or event.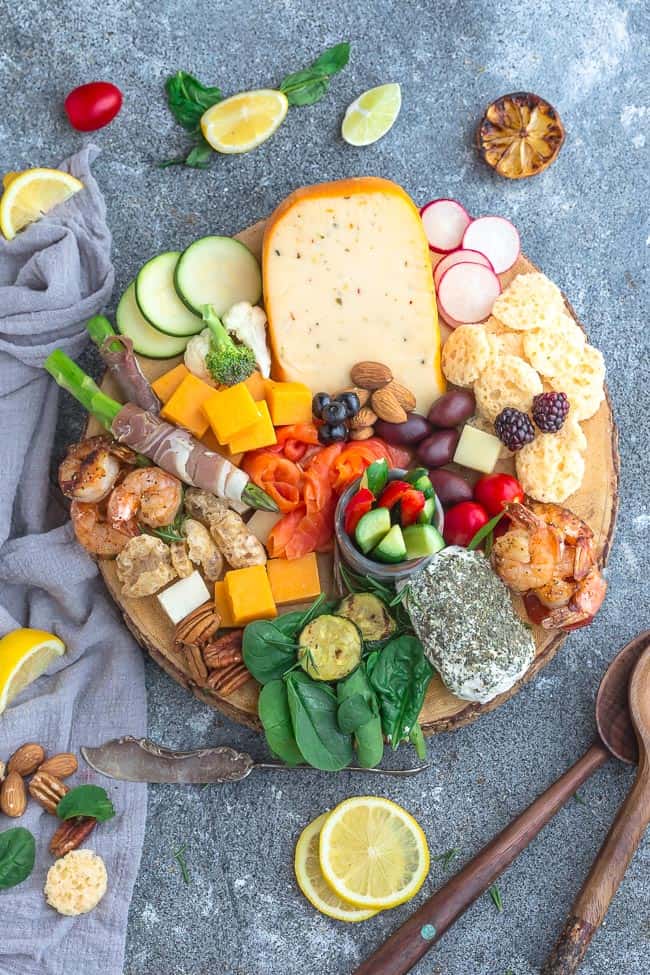 The Secret to a Perfect Cheese Board
A good cheese board is all about balance. There are so many different things you can put on yours(more on that in a minute), so you want to plan items that go well with each other. Try to pick meats, cheeses, and fruits that complement each other.
At the same time, you want a little variety. There should be a few different options, so that everyone can find something that they like.
Finally, always take time to consider the aesthetics. A good cheese board is one of the prettiest foods that you can make. Be sure to include a lot of different colors, as well as some different sizes and textures. Variety is the spice of life, and that's especially true when assembling a cheese board. 
Now, onto the six components of a dynamic cheese board.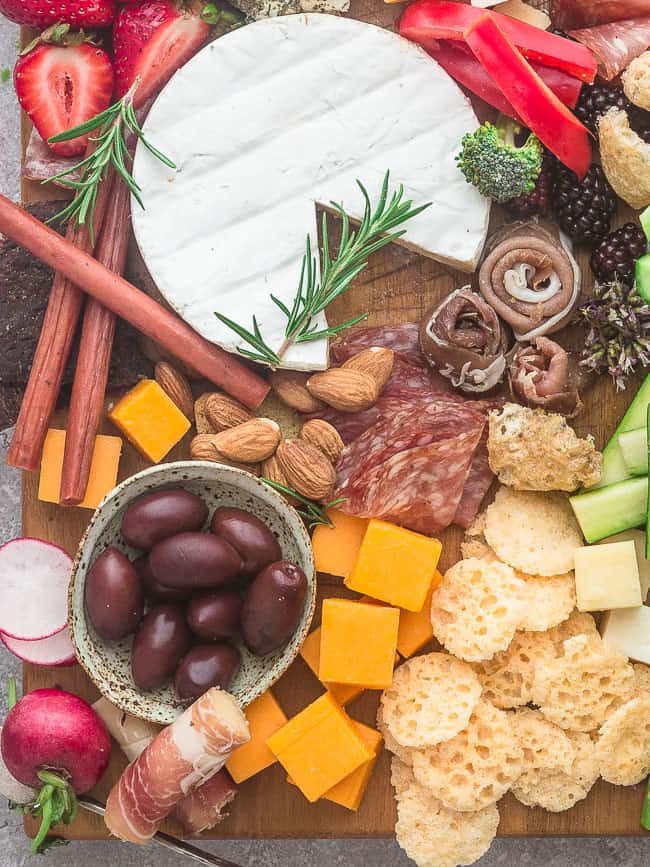 Pick Your Canvas
When most people think of a cheese board, they just think of the food. But in reality, the canvas matters quite a bit too. Pick your canvas based on utility first, and aesthetics second. The important thing is picking a base that can actually accommodate all of the ingredients you plan on using.
Here are some of my favorites: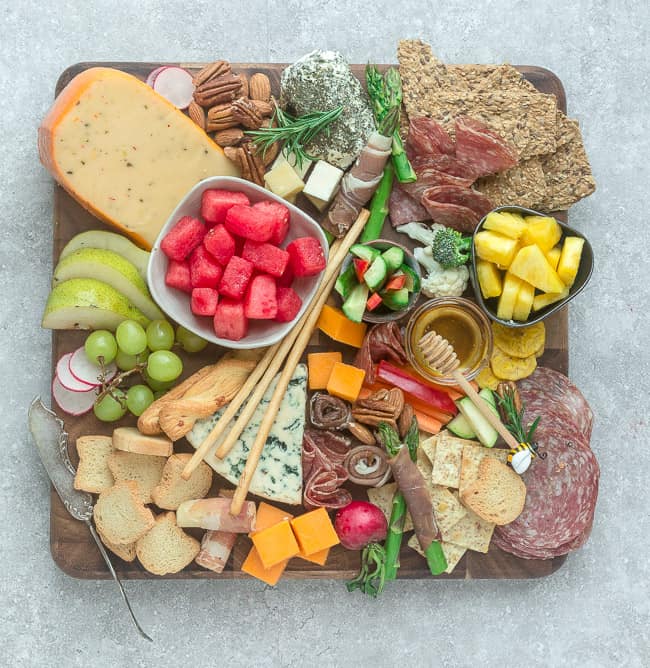 Pick Your Cheeses
Now we move onto the fun: the cheese. It probably goes without saying that cheese is a pretty important part of any cheese board … it's right there in the name! You should pick 3-5 cheeses, depending on the size of your dish. It's best to pick a variety of different styles, from soft to hard. 
The cheese is the star, so put it on first, and build around it. Here are some of our favorite cheeses for making cheese boards with:
Aged Cheddar
Brie 
Blue Cheese
Smoked Gouda 
Goat Cheese
It's a good idea to make sure that your cheese has been at room temperature for a while before serving.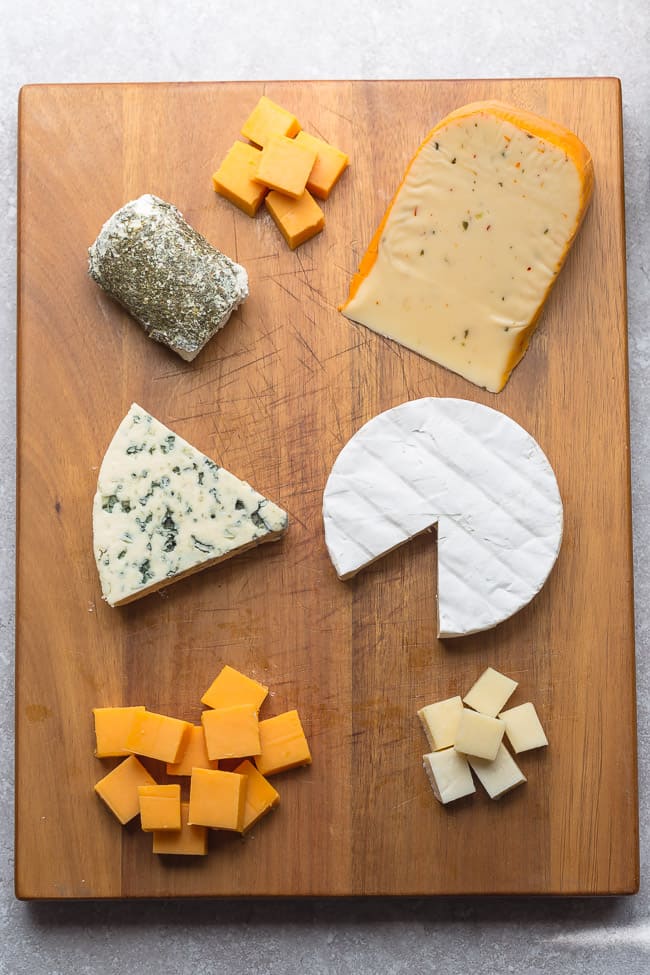 Pick Your Meats
Next you want to add the meat. There's no shortage of tasty meats that go well with a cheese board. Just like with the cheeses, you want to use a variety of cured meats and deli meats so that you get different textures and flavors. 
In my opinion, one of the most underrated cheese board meats is smoked salmon, which goes so well with fruits, veggies, and soft cheeses.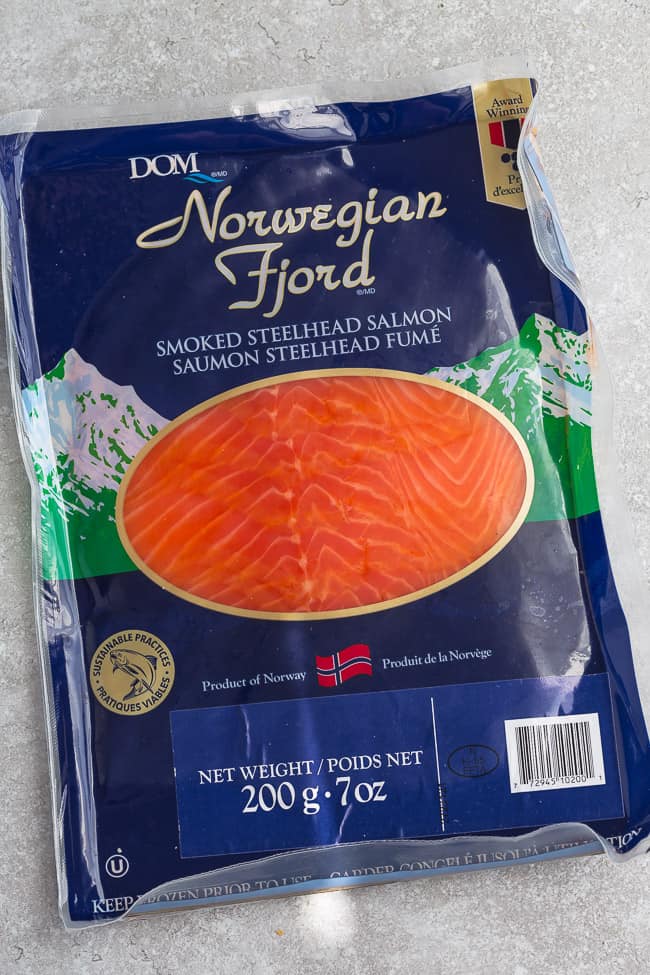 You really can't go wrong when picking meats. 
Pick Your Starch
Next it's time to find a starch that goes well with the meats and cheeses that you've picked. There are so many good starch options, from basic crackers, to flavored crackers, to breadsticks, to slices of fresh bread.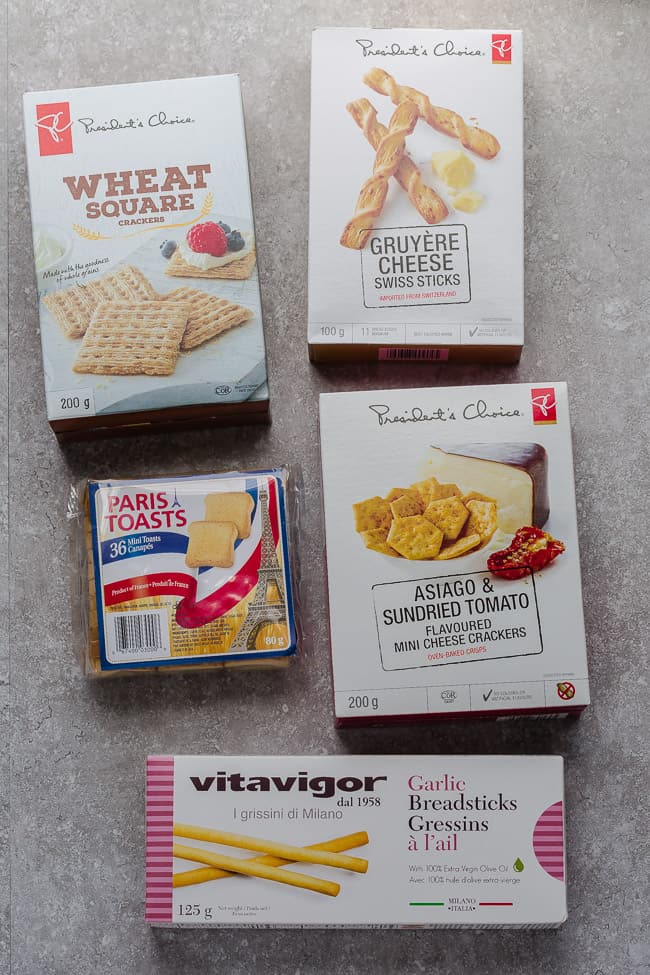 I like to place crackers and bread around the outside of the serving tray, almost as if it's a wall. That way it's easy to access, but not in the spotlight.
Pick Your Fruits and Veggies
Next you want to add your healthy bits: fruits and vegetables. This is a necessary addition because you need some color on your cheese board. Even just a small amount of fruits and vegetables will add life and vibrancy. I like to place my fruits and veggies right next to some of the meats and cheese so that there's a nice contrast.
You can even go with a fruit and veggie-based snack board if you're a vegetarian or a vegan.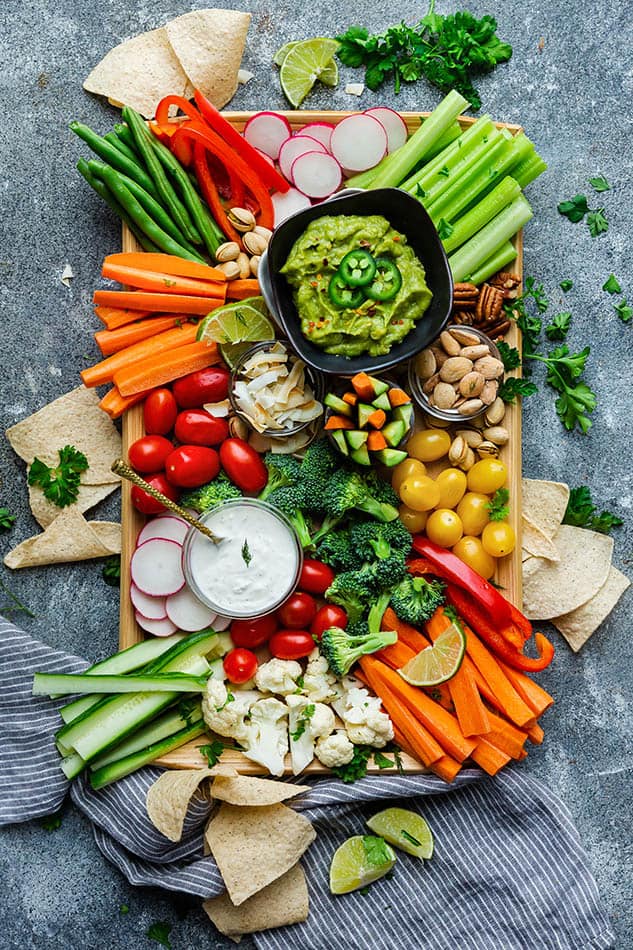 There are tons of fruits and vegetables that go well on a cheese board, and you can use whatever you have on hand. Here are some of my go-to options:
Dried Apricots
Fresh Berries
Broccoli 
Cauliflower 
Cucumbers 
Cherries
Figs
Freeze-Dried Raspberries 
Grapes
Olives 
Radishes 
Red Bell Peppers 
Pineapple
Plantain Chips
Tomatoes
Watermelon
Zucchini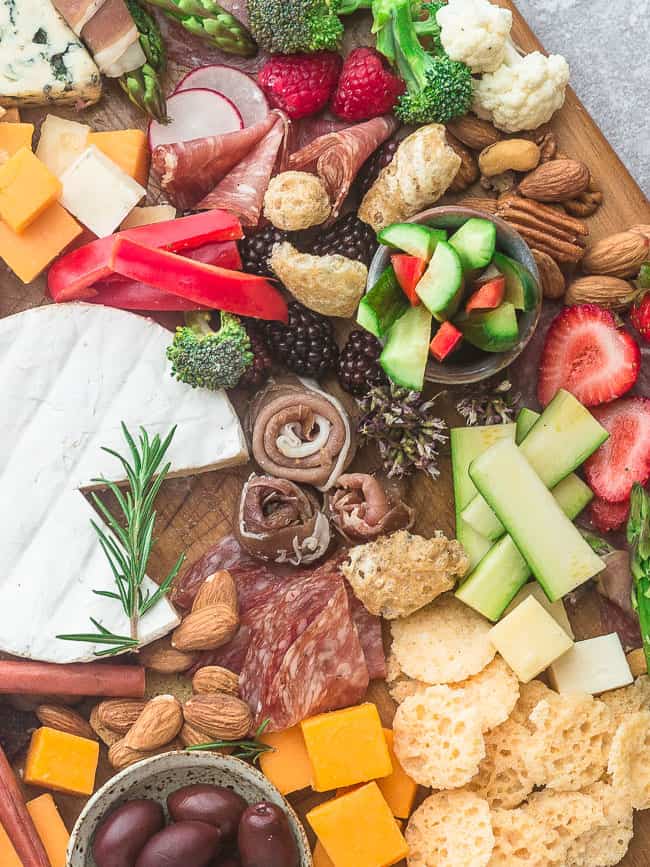 Pick Your Nuts and Condiments 
Finally we arrive at nuts and condiments, which can really tie together a cheese board. Nuts, such as almonds, pili nuts, and macadamia nuts, add some nice richness to the dish. I like to sometimes use candied nuts for sweetness, or seasoned nuts for some spice. 
Condiments can add a lot of flavor and a pretty look to your cheese board. Different mustards, honeys, and jams all go really well with cheese, meat, and fruits and veggies.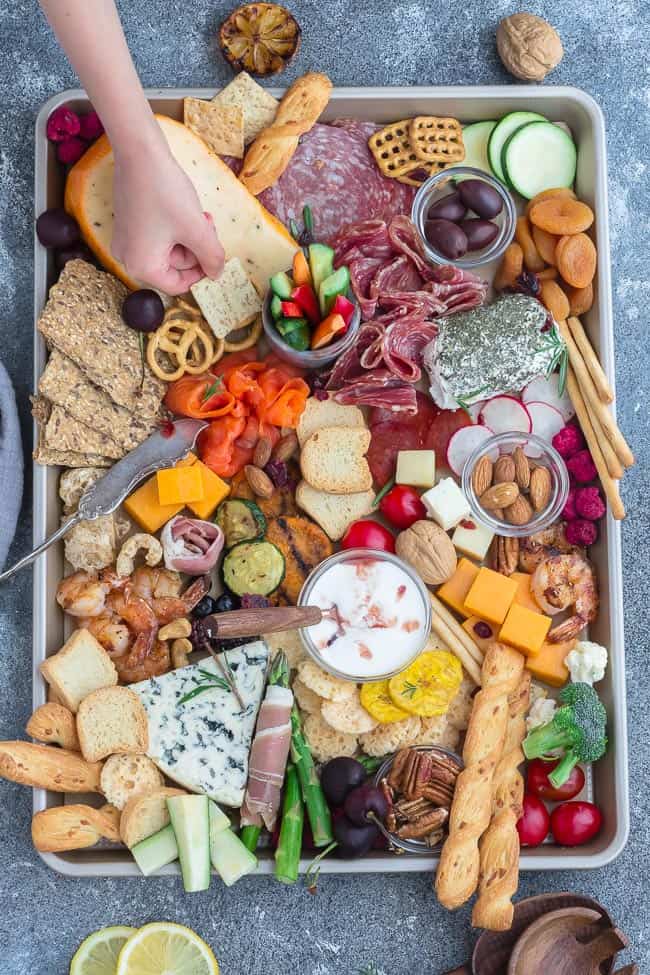 How to Assemble a Cheese Board
To assemble your cheese board, start with a canvas that's big enough for all your ingredients. Then place the cheese on it, followed by the meat and starch. Add some fruits and veggies around the meat and cheese, and finish off with the nuts and condiments. If there's too much empty space, top it off with some more of the ingredients.
Make sure there are cute knives for cutting, and keep napkins nearby. You might want to consider having toothpicks as well, so people can grab bits of meat and cheese without sticking their fingers into the cheese board.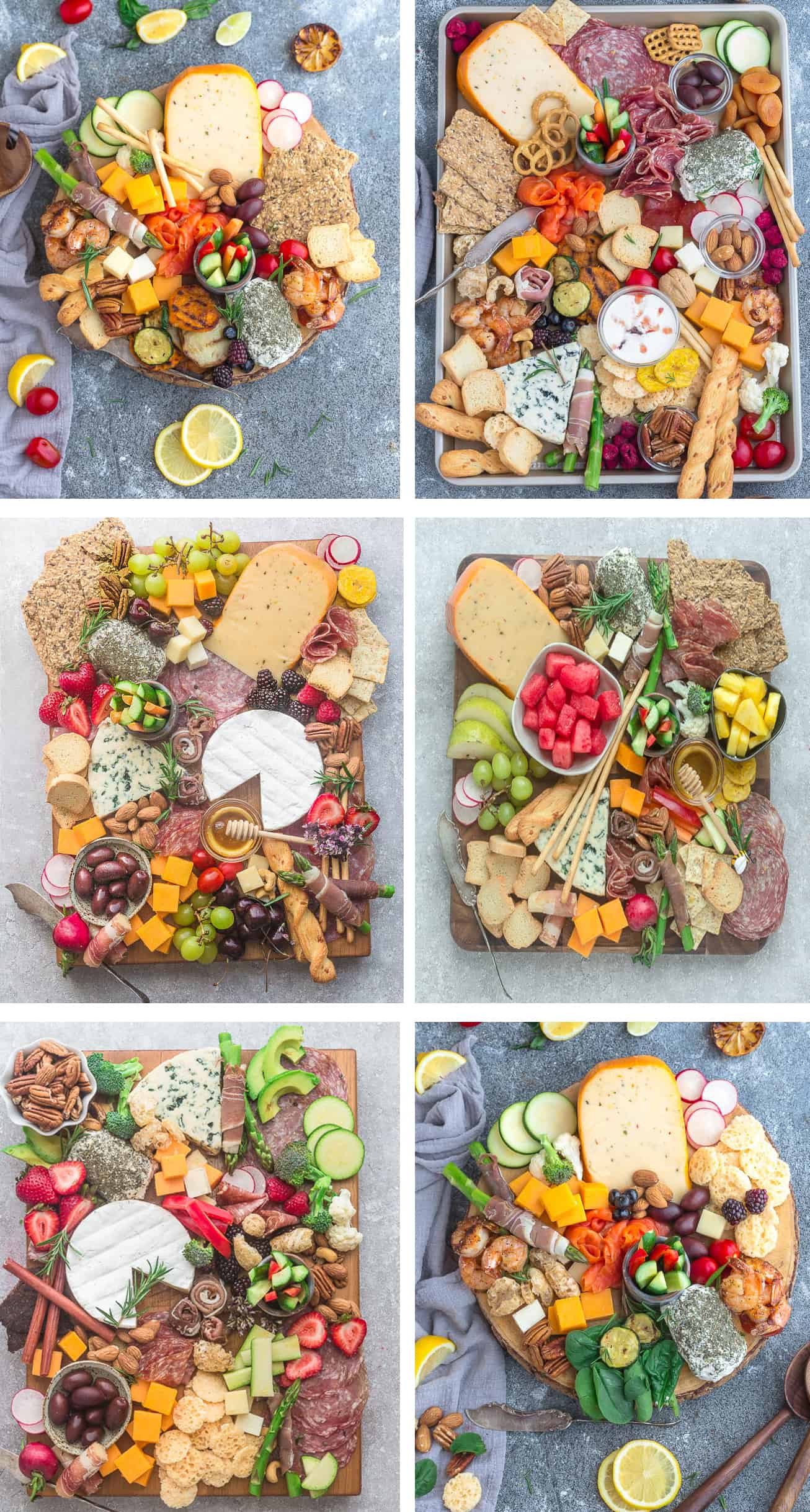 Some Popular Cheese and Snack Boards
If you need a little more inspiration, check out some of our favorite recipes for cheese boards and other snack boards. 
Pin HERE for later and follow my boards for more recipe ideas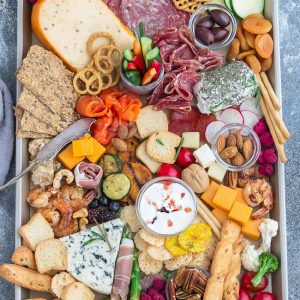 How to Make the Best Cheese Board
Cheese boards are an amazing addition to any party or event. There are endless combinations of meat, cheese, starches, vegetables, fruits, nuts, and condiments to play with.
Keyword:
charcuterie board, cheese board ideas, fruit and cheese platter, meat and cheese tray
Ingredients
CHEESE:
Brie

Blue Cheese

Cheddar

Goat Cheese

Smoked Gouda
PROTEIN:
Genoa Salami

Prosciutto

Smoked Salmon

Grilled Shrimp

Beef Jerky

Pepperoni Sticks
OTHER INGREDIENTS:
2-3

varieties of crackers, breadsticks, mini toast bites

FOR LOW CARB: Use Cheese Crisps (Whisps) and pork rinds
FRUITS & VEGETABLES:
Fresh vegetables

broccoli, cauliflower, carrots, cucumber, tomatoes, zucchini & red bell peppers

Dried fruits

apricots, cranberries, plaintain chips

Fresh berries or other fruits

strawberries, blueberries, blackberries, blueberries, pineapple & watermelon

2-3

types of nuts

almonds, pecans, walnuts, pili nuts, macadamia nuts etc.

Olives

Jams
Instructions
Place the cheeses on a large cookie sheet, platter, slate board or wooden cutting board.

Arrange the meats around the cheeses.


Add crackers or crispy snacks.

Fill in gaps with vegetables, fruits and nuts. Use small bowls or cups for extra dimension. Top with fresh herbs and flowers for a pop of color. Enjoy.