Learn how to make the perfect Holiday Cheese Board : Ingredients and tips to assemble an epic Christmas party appetizer tray with festive colors and flavors. No cooking required and takes less than 20 minutes.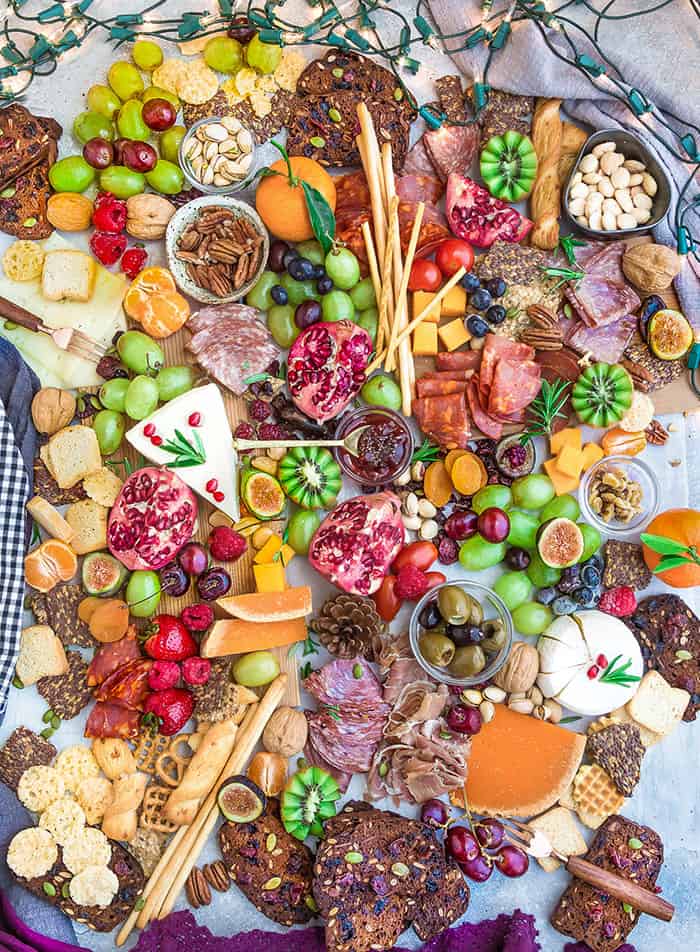 Pin HERE for later and follow my boards for more recipe ideas
The holidays are here in full swing and that means tons of entertaining and Christmas holiday parties to attend.
Cheese boards and charcuterie boards are the best for entertaining because they are quick and easy to put together and they are always a crowd-pleaser.
You can make your cheese board as simple as you like with just a few of your favorite pantry ingredients. Or make a stunning and extravagant centerpiece and pile on as many artisan spreads and crackers you've been saving.
Your guests will love having all the delicious choices to choose from. The best part about making cheeseboards is that there is no cooking and no baking required. Just perfect when you're trying to save that precious stove and oven space.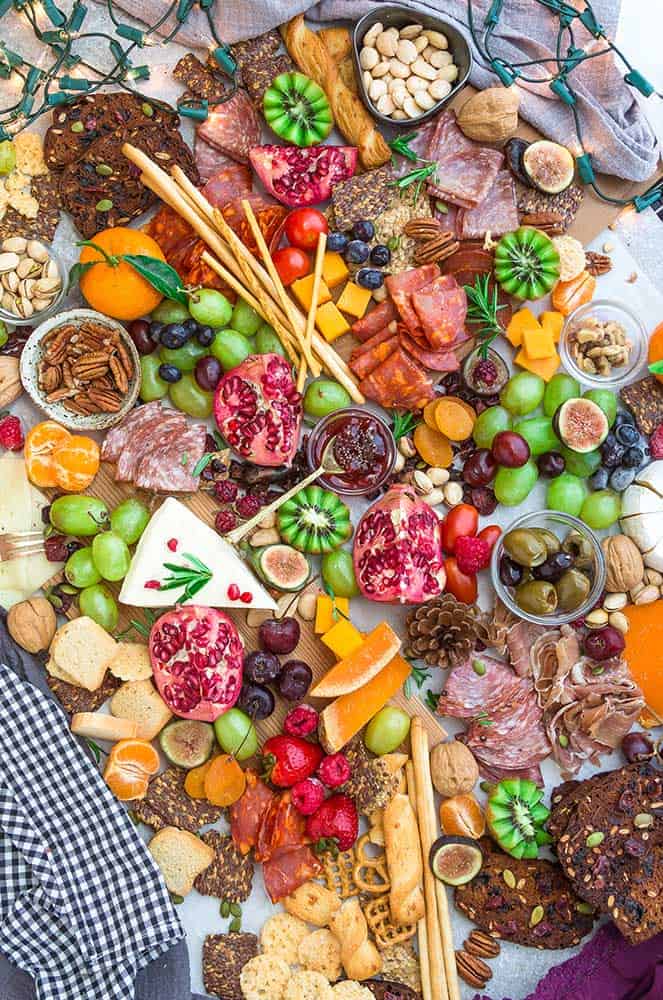 Having a variety of ingredients for your Christmas cheese board is key when you're feeding a crowd — that way there is something for everyone.
And if you're looking for more entertaining ideas, we've already got a few popular snack and cheeseboards on our site that you can check out here:
Low Carb Cheese Platters – 2 Ways
How to Make the Best Cheese Board – 6 Ways
How to Build the Perfect Fall Cheese Board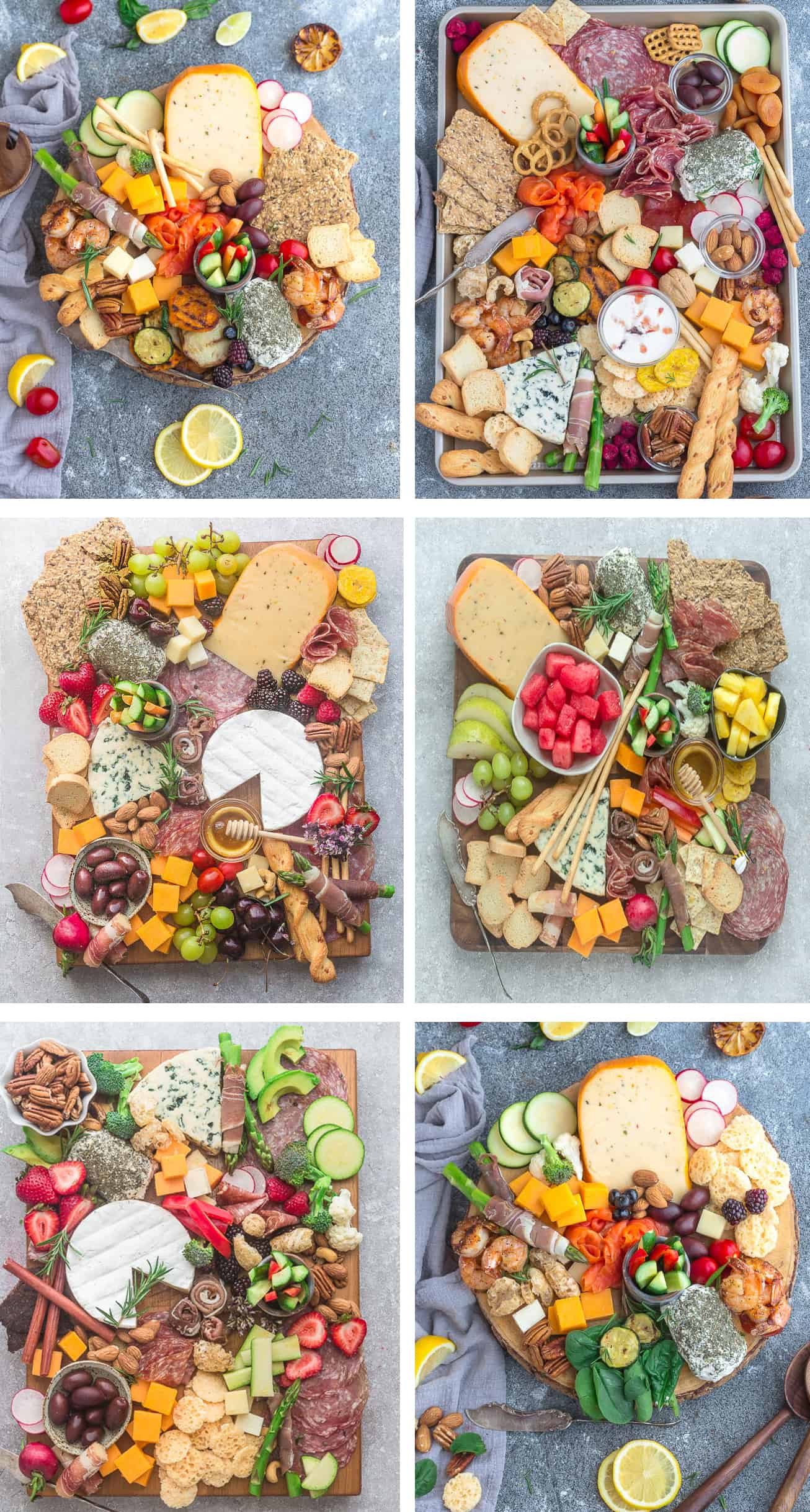 HOW TO ASSEMBLE THE ULTIMATE HOLIDAY CHEESE BOARD:
CHRISTMAS CHEESE BOARD INGREDIENTS:
1. THE CHEESE BOARD:
There are lots of items you can use as your cheese board: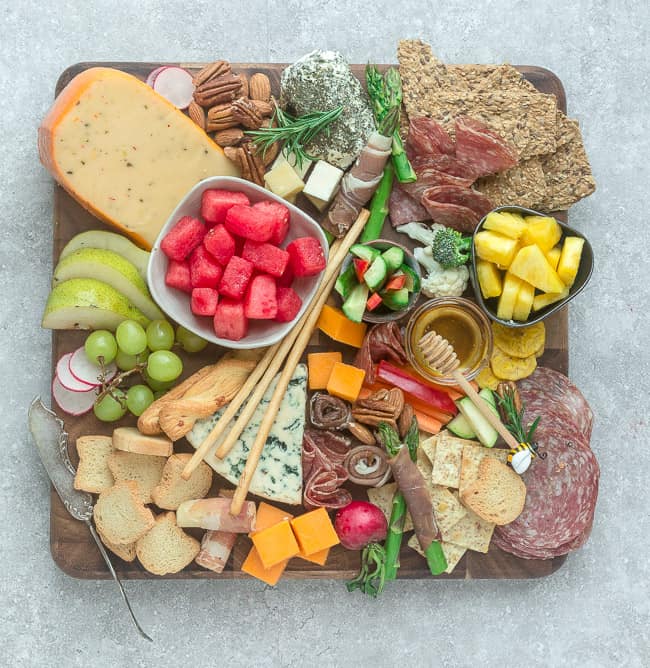 2. CHEESE
Cheese is and should be the star of any amazing holiday cheese board so be sure to pick up some good quality cheeses.
Pick a variety of about 3-5 cheeses depending on how large your board is.
Soft
crumbly
semi-soft
semi-hard cheese
hard cheese
It's a good idea to arrange the cheeses first on your cheese board and then start assembling the rest of the ingredients around then.
For these cheeseboards, we used:
Aged Cheddar
Brie – rich and creamy
Blue Cheese
Smoked Gouda – cut into cubes
Goat Cheese
Be sure to set the cheese out to come to room temp prior to serving.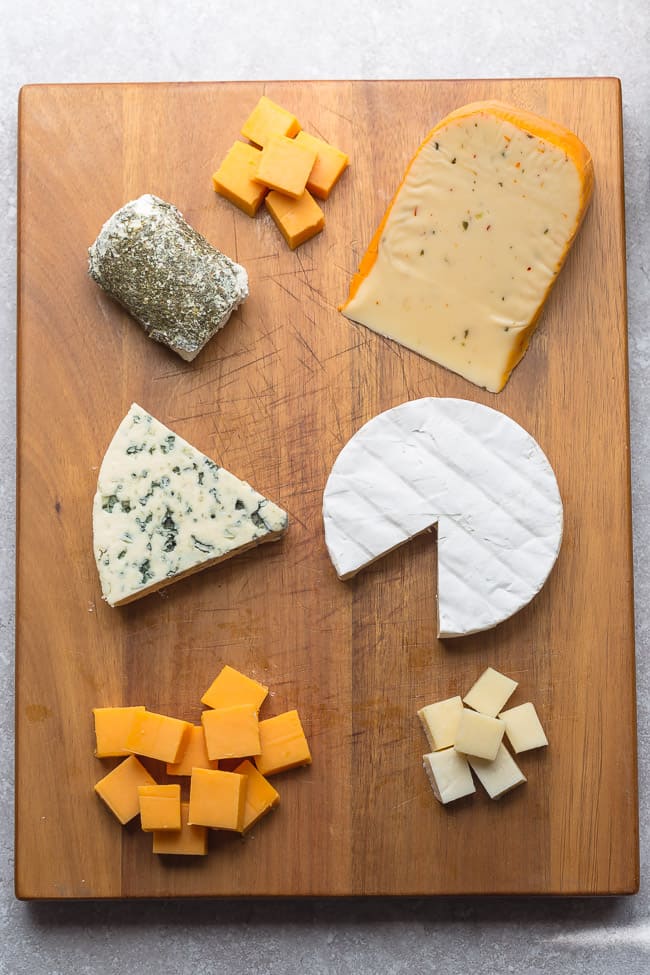 3. What type of Charcuterie / Meats should I use for the best Cheeseboard?
Use a variety of your favorite cured or deli meats with different textures.
Seafood (such as smoked salmon) makes a great option to add to give your guests more choices.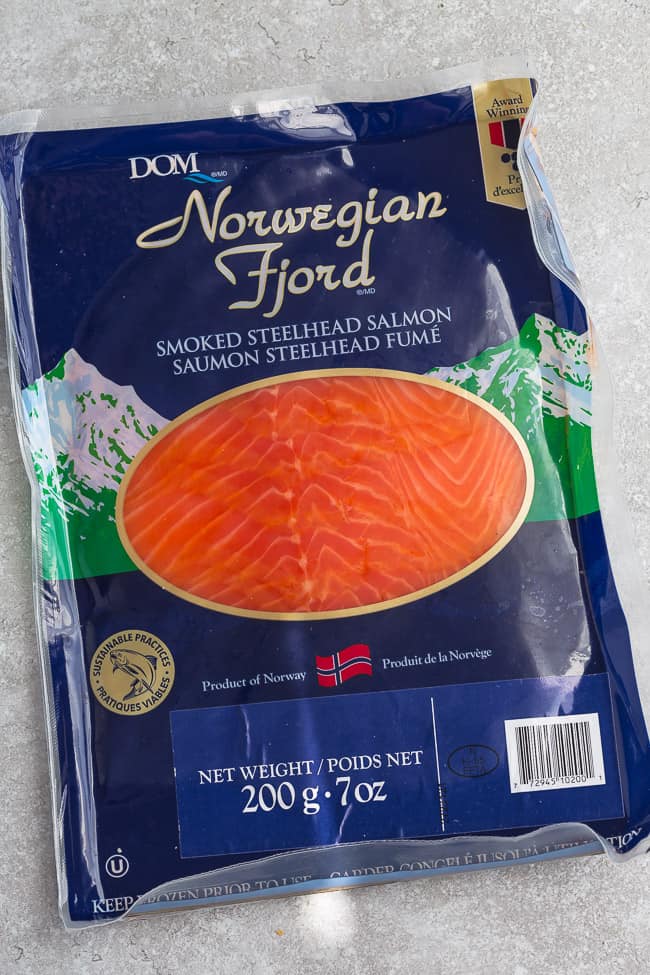 For the perfect Christmas cheeseboard, here are some great options you can easily find:
Proscuitto
Ham
Bacon
Pate
Pâté
Salami / Sausage
Smoked Salmon
Beef Jerky
Pepperoni Sticks
Grilled Shrimp
Since this is a Holiday Cheese Board, it would be a great idea to choose meats that are smoked with maple, sage and other flavors of the season.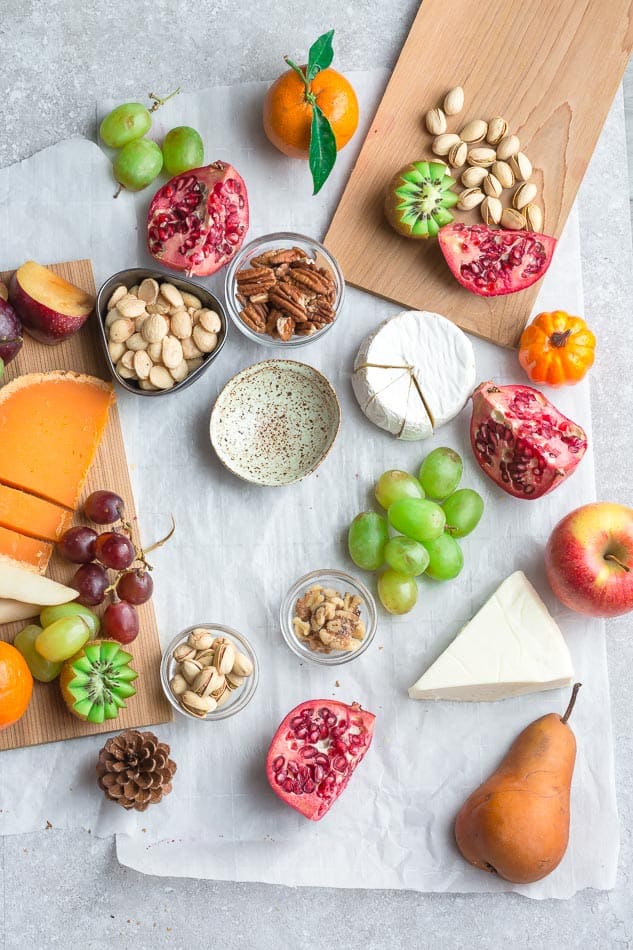 4. CRUNCHY SNACKS / CRACKERS FOR THE BEST FALL CHEESE BOARD:
I love using 2-3 different types of crackers. Some conventional square crackers to crunchy or long bread-sticks are some great breads to start off with.
Just lay them on the cheese board around the meet and wherever there are opening.
square crackers
crunchy breadsticks
cheese sticks
mini baguettes
cheese crisps
salty crackers
FOR LOW CARB / KETO -FRIENDLY – Leave out the crackers and use crispy cheese bites (Whisps) and pork rinds instead.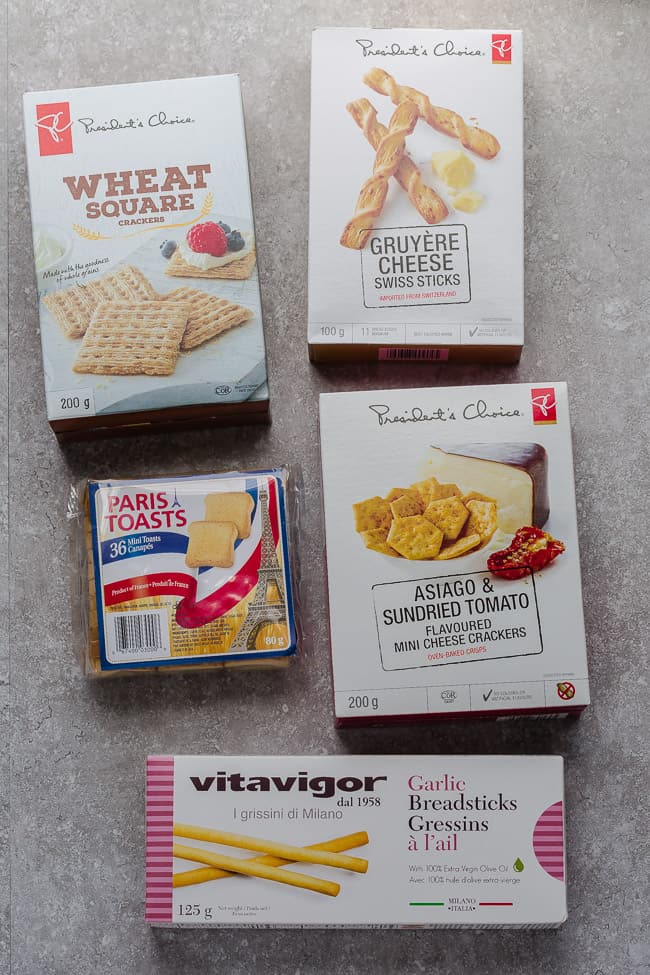 5. WHAT FRUITS & VEGGIES ARE BEST IN AN CHRISTMAS CHARCUTERIE BOARD?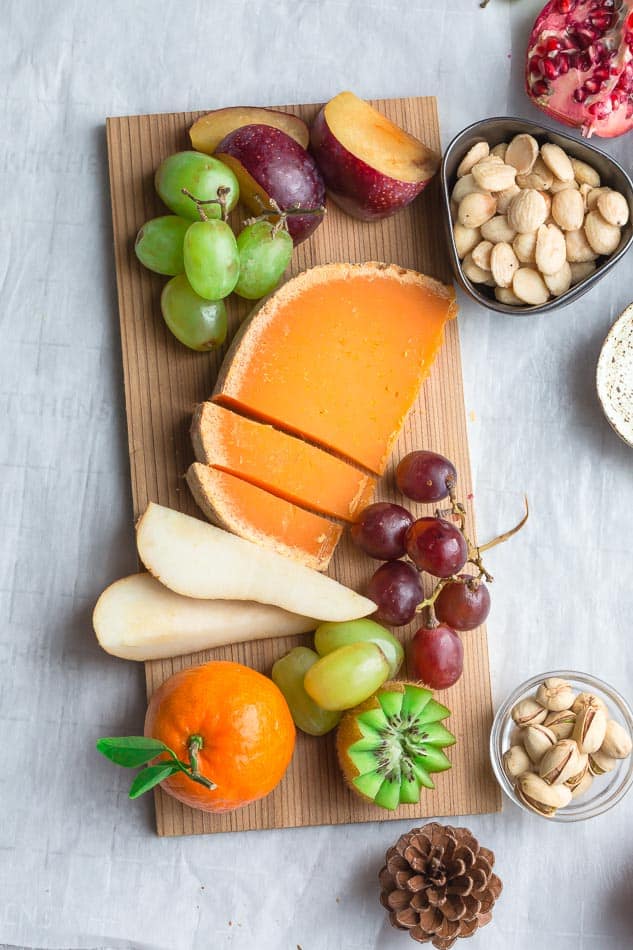 Adding seasonal fresh fruit and veggies not only adds a bright pop of color but they also add flavor and texture.
Use a variety of dried and fresh fruit you like or have on hand.
For a festive Christmas Cheese Board, you can try adding:
Clementines
Cranberries
Grapes
Kiwi
Orange – or other citrus
Pears – Bosc, Bartlett
Plums
Pomegranate
More options:
Dried Apricots
Fresh Berries (Strawberry, Blackberry, Blueberry, Raspberry)
Broccoli – low carb
Cauliflower – low carb
Cucumbers – low carb
Cherries
Freeze-Dried Raspberries – low carb
Olives – low carb
Radishes – low carb
Red Bell Peppers – low carb
Pineapple
Plaintain Chips
Tomatoes
Watermelon
Zucchini – low carb
7. Nuts and other extras / condiments
Use your favorite nuts, sauces and spreads.
almonds – low carb
pecans – low carb
pumpkin seeds
macadamia nuts – low carb
Pili nuts – low carb
honey
jam
chutney
apple butter
fig spread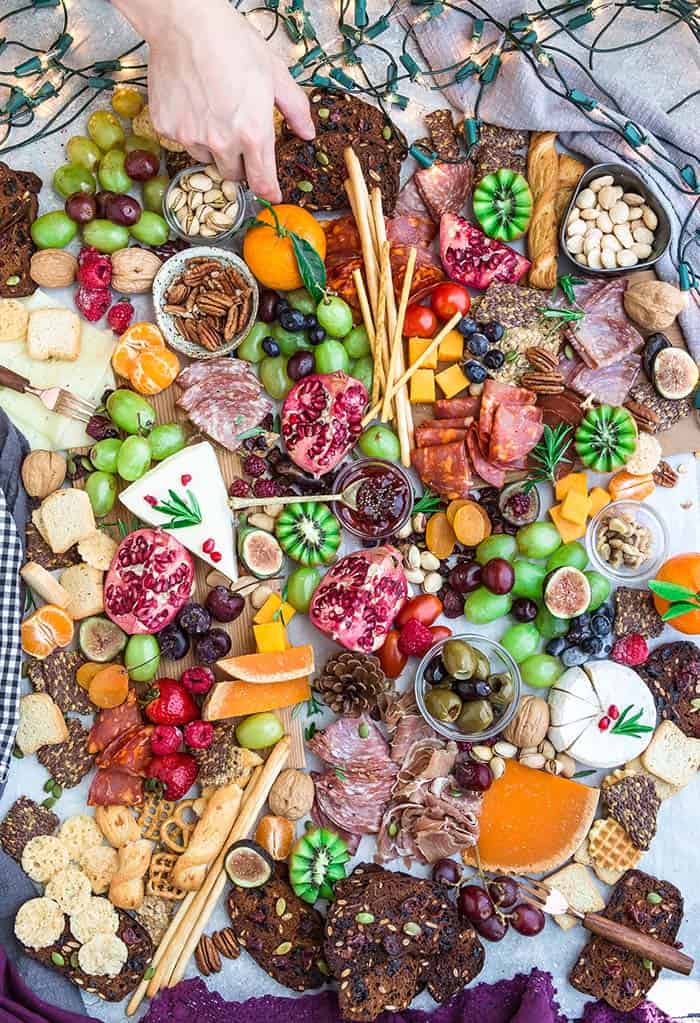 Holiday Cheese Board
Ingredients + tips to assemble the ultimate holiday cheese board for the perfect party appetizer tray. No cooking required! Assemble a cheeseboard in less than 20 minutes!
Keyword:
appetizer for parties, charcuterie board, cheese board, cheese platter, holiday cheese board
Ingredients
CHEESE:
Blue Cheese

Cheddar

Smoked Gouda

OTHER CHEESES:

Brie, Goat Cheese, Manchego, Havarti etc.
PROTEIN:
Genoa Salami

Prosciutto

Smoked Salmon
OTHER INGREDIENTS:
2-3

varieties of crackers breadsticks, mini toast bites
FOR LOW CARB: Use Cheese Crisps Whisps and pork rinds
FRUITS & VEGETABLES:
Seasonal vegetables broccoli cauliflower

carrots, cucumber, tomatoes & red bell peppers

Dried fruits: apricots cranberries

plaintain chips

Fresh berries or other fruits: apples, cranberries, pears

, grapes, pomegranates, clementine or other citrus, plums etc.

2-3

types of nuts, marcona almonds, pistachios, pecans, walnuts, pumpkin seeds, macadamia nuts etc.

Olives
SPREADS:
Apple Butter

Jams

Fig Spread
Instructions
Place the cheeses on a large cookie sheet, platter, slate board or wooden cutting board.

Arrange the meats around the cheeses.

Add crackers or crispy snacks.

Fill in gaps with vegetables, fruits and nuts. Use small bowls or cups for extra dimension. Top with fresh herbs and flowers for a pop of color. Enjoy.