Discover the ultimate tropical indulgence with this irresistible Mango Sorbet recipe. Made with frozen mango chunks, zesty lime juice, maple syrup, and a touch of creamy coconut milk, this refreshing dessert is a delightful way to beat the summer heat and satisfy your sweet tooth.

Updated July 2023
Mango Sorbet
Are you ready to cool down with a refreshing and tropical treat? Look no further than this mouthwatering Mango Sorbet recipe! Bursting with the luscious flavors of ripe mangoes and zesty lime, this frozen dessert is a delightful way to beat the summer heat. Whether you're hosting a backyard barbecue or simply craving a sweet and tangy indulgence, this recipe is sure to satisfy your taste buds.
This tropical frozen treat has the perfect balance of sweet mangoes and tangy lime and will transport your taste buds to a sunny paradise. This refreshing dessert is easy to make and guarantees a cooling sensation on even the hottest of days.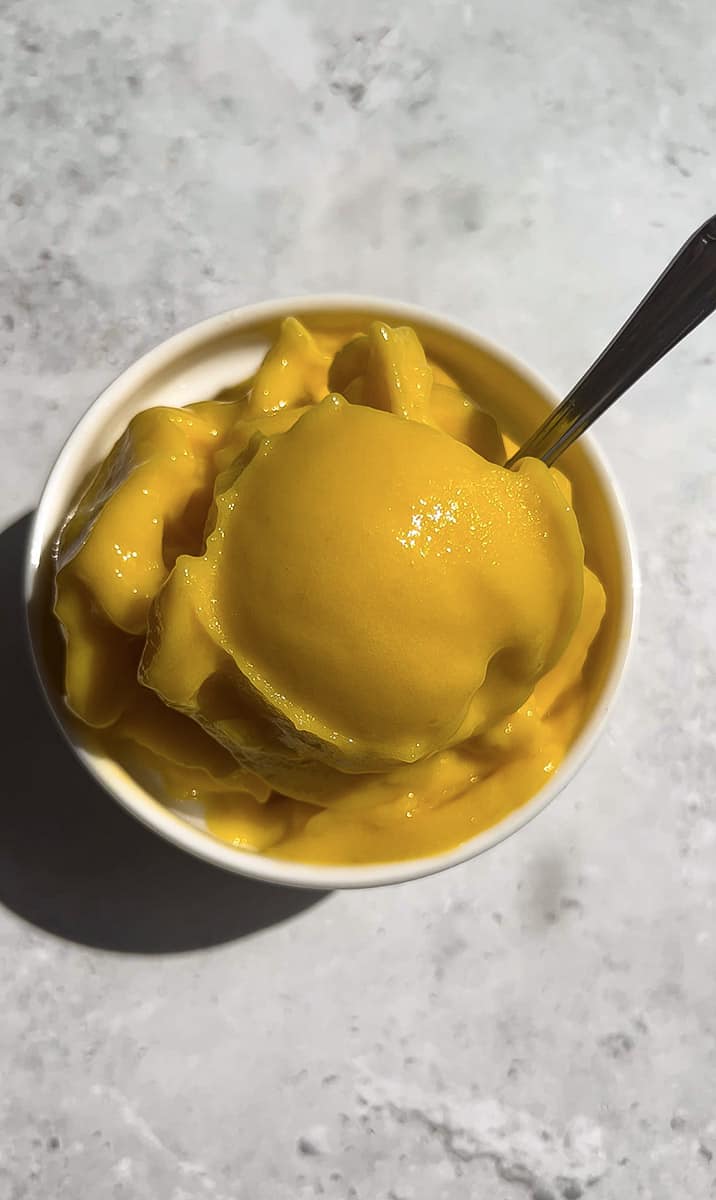 Recipe Ingredients
Frozen Mango Chunks: Mango takes center stage in this sorbet, providing its vibrant color and tropical sweetness. The frozen mango chunks lend a creamy texture and ensure that every spoonful is packed with fruity goodness.
Freshly Squeezed Lime Juice: Lime juice adds a tangy twist to balance the sweetness of the mangoes. Its bright and citrusy flavor enhances the overall taste profile, creating a harmonious blend of tropical notes.
Maple Syrup: Acting as a natural sweetener, maple syrup adds depth and complexity to the sorbet. The amount of maple syrup can be adjusted based on your preference and the ripeness of your mangoes. Feel free to add more if you desire a sweeter sorbet.
Unsweetened Canned Coconut Milk, Almond Milk, or Preferred Milk: This creamy component helps achieve the smooth and velvety consistency of the sorbet. You can choose between coconut milk, almond milk, or your preferred milk option, adjusting the quantity as needed until you reach the desired texture.
Instructions: How to make Mango Sorbet
Be sure to follow our tips and suggestions to create a sorbet that suits your preferences, whether you prefer it soft and creamy or frozen to perfection. Don't wait any longer—grab your ingredients and embark on a tropical sorbet adventure today!
Blend for Creamy Perfection: Begin by adding the frozen mango chunks, freshly squeezed lime juice, and maple syrup to a food processor. If you don't have a food processor, a high-speed blender will also do the trick. Process or blend the ingredients until they form a smooth and creamy mixture. Be patient, as this might take a few minutes. Make sure to scrape down the sides of the processor or blender occasionally to ensure everything is well incorporated. Add milk gradually as needed to achieve the ideal creamy consistency. Don't forget to give it a taste and adjust the lime or sweetener levels according to your preference.
Serve or Freeze: If the sorbet has reached a soft-serve consistency and you can't resist the temptation, transfer it to a bowl and serve it right away. The lusciousness of the mango flavors will tantalize your taste buds. However, if you prefer a more solid sorbet, transfer the mixture to a lidded airtight container or a loaf pan. Pop it into the freezer and allow it to solidify for approximately 1-2 hours, or until you've achieved the desired consistency.
Tips for Success
Optimal Mango Selection: For the best flavor, choose ripe mangoes. Ataúlfo mangoes, also known as Champagne mangoes, work particularly well in this recipe. Their creamy texture and sweet taste make them a perfect match for the sorbet.
Pre-freezing Fresh Mango: If you can't find frozen mango chunks, you can use fresh mangoes instead. Simply peel, deseed, and cut the mango into cubes. Arrange the cubes on a large baking sheet and freeze them until solid. Once frozen, you can proceed with the recipe as directed.
Storage and Freezer Instructions
To preserve the freshness and quality of your Mango Sorbet, store it in a lidded airtight container in the freezer. It will maintain its delicious taste for up to two weeks.
If the sorbet becomes too hard after prolonged freezing, allow it to sit at room temperature for a few minutes before scooping.
Serving Suggestions
Indulge in the tropical paradise of Mango Sorbet by serving it on its own or getting creative with garnishes and accompaniments. Here are some serving suggestions to elevate your sorbet experience:
Fresh Fruit Medley: Top your Mango Sorbet with a medley of freshly sliced tropical fruits, such as pineapple, kiwi, and passion fruit, for an explosion of flavors.
Toasted Coconut: Sprinkle some toasted coconut flakes over your sorbet to add a delightful crunch and a hint of nutty sweetness.
Mint Leaves: Garnish each scoop with a few fresh mint leaves to impart a refreshing aroma and a touch of visual appeal.
Variations and Substitutions
Mango Sorbet is incredibly versatile, allowing you to experiment with different flavors and ingredients. Here are a few ideas to customize your sorbet:
Tropical Twist: Add a splash of pineapple or orange juice to the mixture for an extra burst of tropical flavors.
Spicy Kick: For a tantalizing twist, incorporate a pinch of chili powder or a dash of cayenne pepper. The subtle heat will complement the sweetness of the mango.
Creamy Coconut: Substitute the milk with full-fat coconut milk to infuse the sorbet with a rich and creamy coconut flavor.
Vegan Option: To make this recipe vegan-friendly, use maple syrup or agave nectar as your preferred sweetener, ensuring it aligns with your dietary needs.
More mango recipes you will love: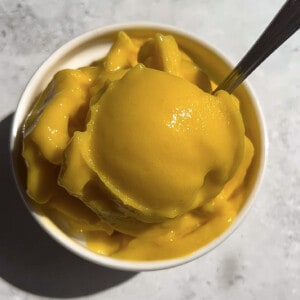 Mango Sorbet
Discover the ultimate tropical indulgence with this irresistible Mango Sorbet recipe. Made with frozen mango chunks, zesty lime juice, maple syrup, and a touch of creamy coconut milk, this refreshing dessert is a delightful way to beat the summer heat and satisfy your sweet tooth.
Keyword:
mango ice cream recipe, mango sorbet
Ingredients
4-5

cups

frozen mango chunks

can also use fresh ripe mango, peeled, deseeded and cut into cubes and frozen previously on a large baking sheet - about 5 large Ataúlfo mango

2 - 3

tbsp

freshly squeezed lime juice

2 - 6

tbsp

maple syrup

or preferred sticky liquid sweetener - add more to taste depending on how sweet / ripe your mango is
Optional
2-3

tbsp

unsweetened canned coconut milk

almond milk or preferred milk (more or less only as needed to reach creamy consistency)
Instructions
Add the mango, lime juice and maple syrup to a food processor (can also use a high-speed blender but it may take longer).

Process / blend / puree until completely smooth (this may take a few minutes), stopping to scrape down the sides in between, a few times as needed, to make sure everything is blended, and add optional milk (1-2 tsp at a time) only as needed. Taste and adjust lime or sweetener as needed.

If the texture is similar to a soft-serve consistency, transfer to a bowl and serve. Otherwise, transfer to a lidded airtight container or a loaf pan and freeze until solid, approximately 1-2 hours, or until desired consistency.
Nutrition Facts
Mango Sorbet
Amount Per Serving (1 scoop (1/8 recipe))
Calories 71
Calories from Fat 9
% Daily Value*
Fat 1g2%
Carbohydrates 16g5%
Protein 1g2%
* Nutrition facts are provided as a courtesy using the WPRM recipe calculator. It is best to make your own calculations to ensure accuracy. We expressly disclaim any and all liability of any kind with respect to any act or omission wholly or in part in reliance on anything contained in this website. Percent Daily Values are based on a 2000 calorie diet.
Disclaimer: This updated post was generated on May 20, 2023 by ChatGPT, an AI language model, and all info should be reviewed and validated by a human for accuracy and relevancy before implementation.