Mango Orange Coconut Green Smoothie is a healthy, tropical and delicious drink with loads of vitamins and nutrients from spinach, mango, a fresh orange and peach, coconut greek yogurt, flaxseed meal and ginger.
With all the busy summer activities going on, I like to start my mornings off with a green smoothie to give me the boost of energy I need to keep me going throughout the day.
This smoothie recipe is packed with tropical flavors and some hidden greens without looking like you're trying to hide any.
I have no problem with drinking monster green smoothies, but if you're like my husband or know someone else that is on team #wontdrinkanythinggreen then this is another smoothie recipe for you 🙂
Just like my other green smoothie I shared last week, this one has no added sugar but feel free to add honey, maple syrup or agave nectar if you'd like.
It is packed with frozen mango chunks, fresh orange and peach slices, ginger root, flaxseed meal, ground cinnamon and coconut greek yogurt. If you're not a fan of coconut, feel free to use plain or vanilla yogurt instead.
For the greens, I used baby spinach in here again for its mild flavor.
It's so easy to get a powerful dose of vitamins and minerals wrapped up in this yummy tropical package.
Just toss everything into your blender and you'll have the perfect healthy breakfast or afternoon pick-me-up.


Yields 2
Mango Orange Coconut Green Smoothie
A tropical and delicious smoothie with loads of vitamins and nutrients from spinach, mango, fresh orange, coconut greek yogurt, flaxseed meal and ginger.
Ingredients
* 1/2 cup spinach, loosely packed (see notes below)
* 1 orange, peeled and sliced
* 1 peach, sliced
* 1 small knob the size of a quarter of fresh ginger root, peeled
* 2 teaspoons of flaxseeds
* 1/2 teaspoon of ground cinnamon
* 1/2 cup coconut greek yogurt ( you can sub with plain or vanilla yogurt if you're not a fan of coconut)
* 1/2 cup water or any milk of your choice
* 2 cups of frozen mango chunks
* roasted coconut chips [img src="https://ir-na.amazon-adsystem.com/e/ir?t=lifmadswe09-20&l=as2&o=1&a=B00B13UFRI" width="1" height="1" border="0" alt="" style="border:none !important; margin:0px !important;"] for topping (optional)
Instructions
Place all the ingredients in your Blendtec or high speed blender in the order as they appear.
Blend on high until completely smooth or until desired consistency is reached. Feel free to add more or less water or milk depending on your preference of consistency.
Top with coconut chips if desired.
Notes
For a thicker smoothie, you can add ice or a frozen banana
* If you don't mind the green color, feel free to add more spinach or kale into your smoothie. When I'm making the smoothie just for myself and not my husband who isn't a fan of the green color, I usually add at least a cup or more of baby spinach.
7.6.4
82
https://lifemadesweeter.com/mango-orange-coconut-green-smoothie/
* This post contains affiliate links
You may also like: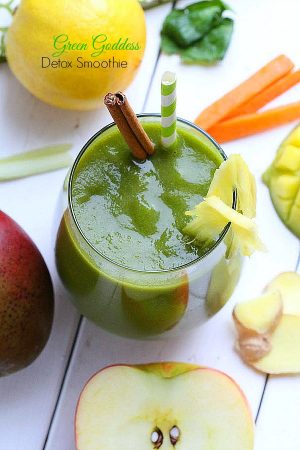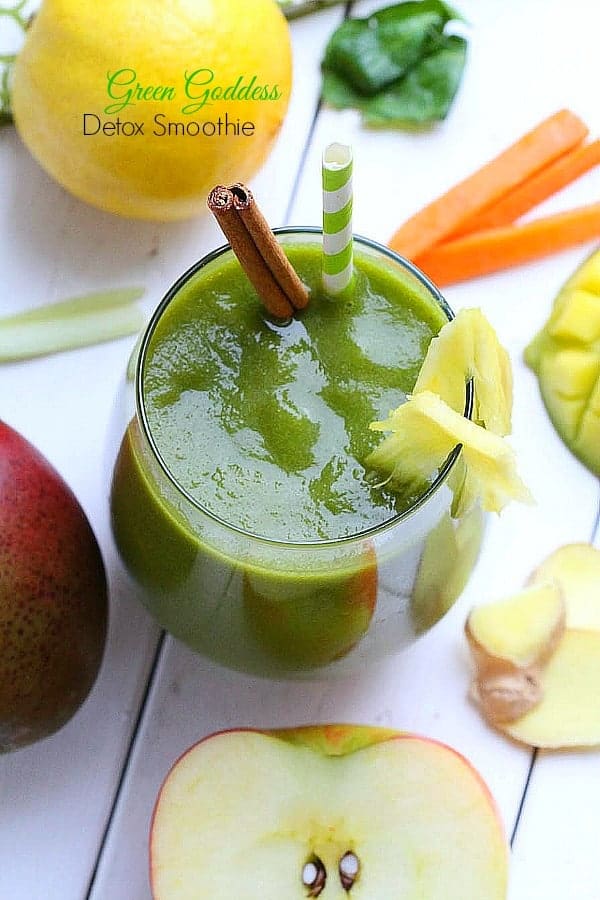 Blueberry Pineapple Detox Green Smoothie
Magnificent Mango-licious Ice Cream