This Strawberry Smoothie is deliciously creamy, nutritious and so easy to make with sweet strawberries, creamy banana, almond milk and full of fiber, protein. It's easy to throw together in 10 minutes or less. Vegan, gluten-free, keto, dairy-free, low carb, paleo and Whole30 compliant.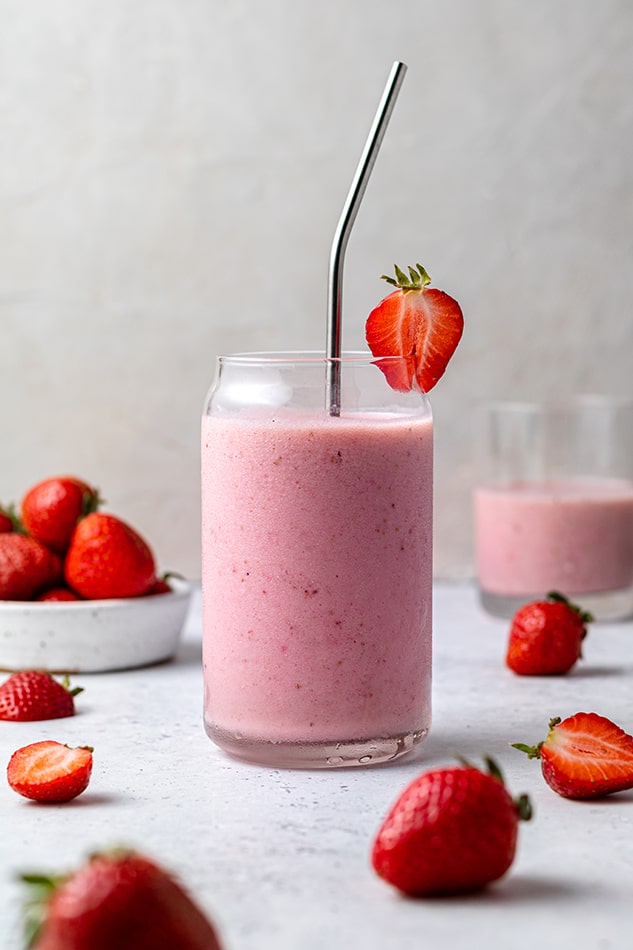 PIN HERE for later and follow my boards for more recipe ideas
Updated April 2023
Easy Strawberry Smoothie Recipe
Are you looking for a refreshing and healthy beverage that will satisfy your taste buds? Look no further than this delightful Strawberry Smoothie! Packed with wholesome ingredients and bursting with fruity flavors, this smoothie is perfect for a healthy breakfast, a midday snack, or even a post-workout treat.
And the great thing is that it's packed with strawberry flavor, and it has a super creamy texture that will keep you coming back for more. With this super easy smoothie recipe, you can enjoy your favorite summer flavors all year long. A single sip of this satisfying beverage is all it takes to fall in love!
Plus, this smoothie is made in just a few minutes, and it's great for taking on the go. You simply toss the ingredients into your blender and pulse! Once everything is combined, it's easy to fine-tune the flavor and consistency of your drink.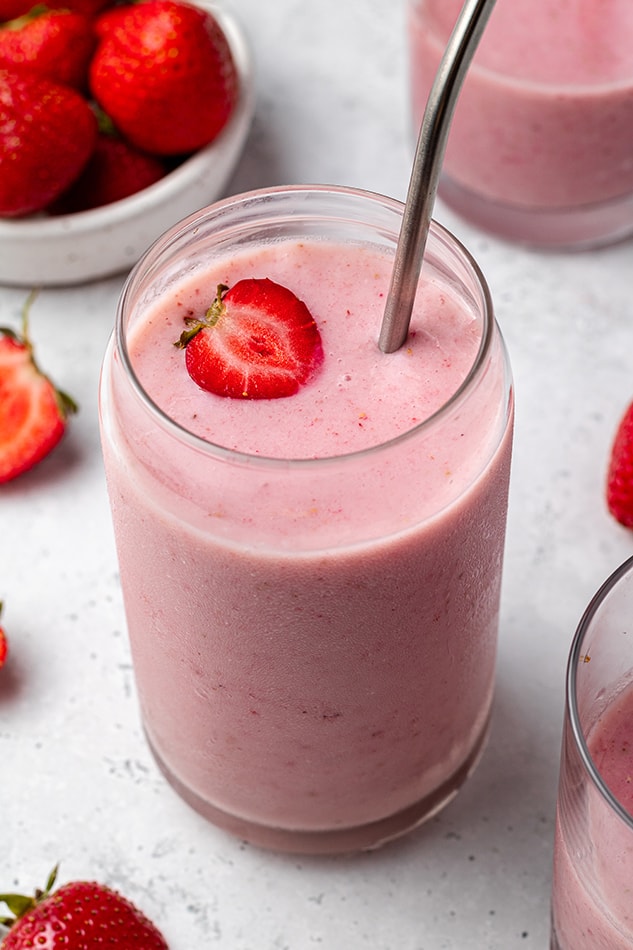 Are Strawberry Smoothies Healthy?
While smoothies are widely accepted as a healthy treat, they often contain undesirable ingredients like processed sugar. This recipe sticks with natural sweeteners to keep it nice and nutritious. In addition to being vegan and dairy-free, it's naturally keto, low-fat, Whole30 and paleo-friendly!
Thanks to the inclusion of coconut cream and cashew butter, this ultra-creamy smoothie packs a punch of protein. The berries contain plenty of fiber, vitamins, antioxidants and potassium to provide additional nourishment. Next time you need a healthy snack that will fill you up on the go, this simple strawberry smoothie is a must-make.
Looking for more smoothie recipes? Check out these 5 Healthy Smoothies with lots of delicious options.
What to put in a strawberry smoothie
Making a strawberry smoothie for kids at home is one of the easiest recipes ever since you can use whatever ingredients you have in your fridge or pantry. Simply swap in your favorite fruit, vegetables and other spices and add-ins you like:
Unsweetened Almond Milk: Almond milk serves as the smoothie's base, providing a creamy texture and a hint of nuttiness. You can use any non-dairy milk or milk of your choice to suit your preferences.
Dairy-free Greek-style Yogurt or Coconut Cream: This ingredient adds creaminess and a tangy flavor to the smoothie. If you follow a dairy-free, Whole30, or paleo diet, opt for the dairy-free Greek-style yogurt or coconut cream. Otherwise, regular Greek-style yogurt works perfectly.
Frozen Strawberries: The star ingredient! Frozen strawberries contribute a sweet and refreshing taste to the smoothie. If you don't have frozen strawberries on hand, you can freeze fresh berries yourself or use ice to achieve the desired consistency.
Small Frozen Banana: Frozen banana chunks enhance the creaminess of the smoothie while adding natural sweetness. For a low-carb or keto option, you can substitute the banana with creamy avocado chunks or frozen riced cauliflower.
Optional Ingredients: You can further customize your smoothie with these optional additions. Plant-based protein powder can be added for an extra protein boost. Unsalted creamy cashew butter or any other nut or seed butter adds healthy fats to the mix. Liquid sweeteners like date syrup, maple syrup, or honey can be used for added sweetness. Ground flax seeds, hemp seeds, or chia seeds provide additional fiber and protein. And a touch of pure vanilla extract enhances the overall flavor.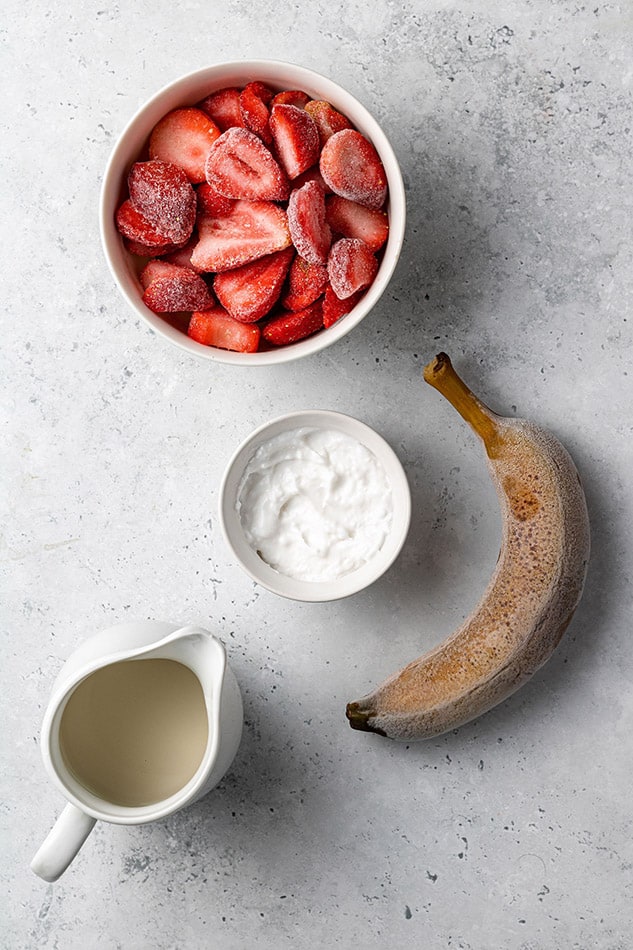 Instructions: How to Make Strawberry Smoothies
It's time to grab those ingredients and plug in your high-speed blender. This smoothie comes together with the press of a button!
Add Almond Milk & Coconut Cream to Blender: Begin by adding all the ingredients to a high-speed blender in the order listed.
Blend: Blend on high until the mixture becomes smooth and creamy. Pause occasionally to scrape down the sides of the blender if necessary.

Adjust Consistency & Flavor: Add more liquid (milk) to thin it out or incorporating extra frozen fruit, ice, avocado, or banana to thicken it according to your preference. Give the smoothie a taste and add a liquid sweetener if desired. This step is optional, especially if you're following the Whole30 program.Once you achieve the desired texture and taste, transfer the smoothie into a glass and get ready to indulge in its refreshing goodness.
Serve: Pour your smoothie into glasses, serve and enjoy!
Tips for Success
This strawberry smoothie is very forgiving and easy to control. The following tips offer more support for making it great!
Organic Berries are Best: Costco and Trader Joe's sell quality frozen strawberries year-round. I recommend purchasing yours there if it's not strawberry season.
Add Liquid Ingredients First: Always add the liquid ingredients to your blender first, then work your way up and finish with the frozen berries. This helps everything combine beautifully.
Adjust the Consistency: To add extra thickness and creaminess to your smoothie, throw in some more coconut cream or cashew butter. If you'd like to thin it out, pour in more almond milk. Make additions little by little and blend after each one until you're satisfied.
Frozen Cubes: For a frostier smoothie, use frozen almond milk cubes instead of regular liquid almond milk.
Tweak the Flavor: Experiment with different frozen fruits like blueberries, raspberries, or mangoes to add variety to your smoothie. We recommend adding your sweetener to taste after the smoothie is blended rather than pouring it in at the beginning. You may find that your drink is sweet enough as it is!
Storage and Freezer Instructions
This Strawberry Smoothie is best enjoyed fresh, but if you have leftovers, you can store them in an airtight container in the refrigerator for up to 24 hours. However, keep in mind that the smoothie's texture may change slightly upon refrigeration.
If you want to prepare the smoothie in advance, you can freeze it in individual portions. Pour the smoothie into freezer-safe containers, leaving some space for expansion, and store them in the freezer for up to three months. Thaw the frozen smoothie in the refrigerator overnight or on the counter for a few hours before enjoying. Give it a good stir before consuming to redistribute any settled ingredients.
Variations and Substitutions:
Feel free to get creative and personalize this Strawberry Smoothie to your liking. Here are a few ideas:
Experiment with different types of milk, such as oat milk, soy milk, or cow's milk, to suit your taste and dietary preferences.
Swap the strawberries for other frozen fruits like peaches, pineapple, or mixed berries.
Add a handful of spinach or kale to incorporate some leafy greens and boost the nutritional value of your smoothie.
If you enjoy a thicker consistency, try adding a spoonful of Greek-style yogurt or a scoop of your favorite protein powder.
Customize the sweetness by using your preferred liquid sweetener, or omit it altogether for a naturally sweet flavor.
Add-In Ideas
There are so many different things you can add to this smoothie to switch things up! Try incorporating one of the ingredients below.
Matcha Powder or Brewed Green Tea
Avocado
Chia Seeds, Hemp Seeds or Flax Seeds
Dried Dates
Vanilla Extract
Orange Juice
Cauliflower
Gluten-Free Oats
Fresh Grapes
Cocoa Powder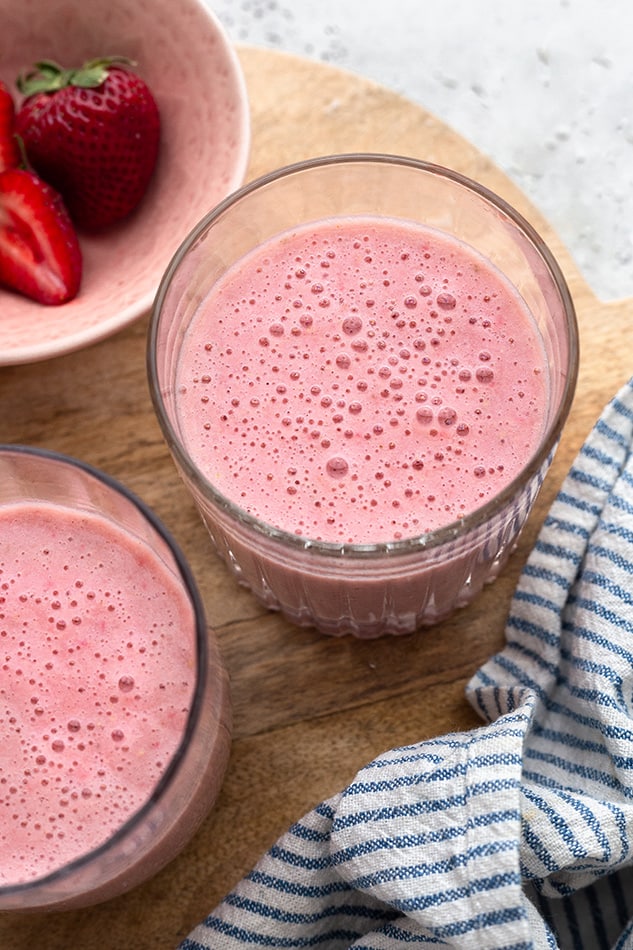 Serving Suggestions
Pour your Strawberry Smoothie into a beautiful glass and garnish it with a fresh strawberry or a sprinkle of chia seeds for an appealing presentation. This smoothie is a great standalone treat, but you can also pair it with a nutritious breakfast like oatmeal, granola, or a slice of whole-grain toast for a well-rounded meal.
For a complete breakfast, serve your smoothie with a hearty dish like this Low-Carb Breakfast Casserole or my Strawberry Baked Oatmeal. If you need something to take on the go with it, I recommend whipping up these 20-minute Breakfast Cookies the night beforehand.
Want to make your snack a little more substantial? Turn this strawberry smoothie into a Smoothie Bowl with your favorite fruit and granola. Yum!
Is This Smoothie Make-Ahead Friendly?
You can totally make this smoothie a day or two ahead of time if you'd like. Keep it in a sealed glass jar or another airtight container in the fridge. Shake or mix it well before enjoying it.
You can also freeze this smoothie for up to 3 months. Pour it into a freezer-safe container, leaving plenty of extra room for the liquid to expand as it solidifies. Thaw out your smoothie in the fridge and mix it well before drinking it. Alternatively, you can make it into popsicles!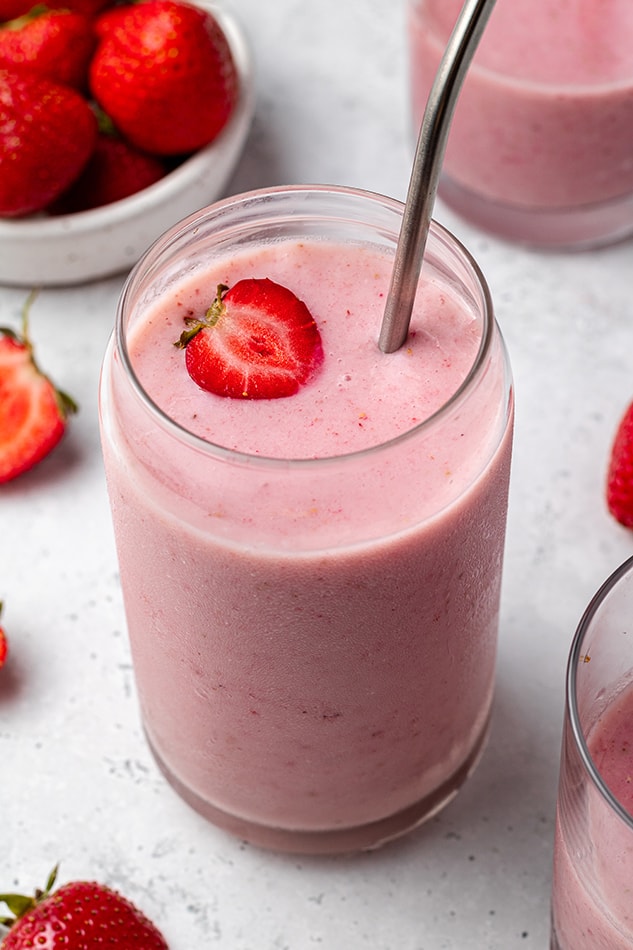 Now that you have all the necessary information, it's time to grab your blender and whip up this delightful Strawberry Smoothie. Whether you enjoy it as a quick breakfast or a refreshing afternoon pick-me-up, this smoothie is sure to become a favorite in your recipe collection. Cheers to a healthier and tastier way to savor the vibrant flavors of summer!
More Healthy Smoothie Ideas
Looking for other nutritious smoothie recipes to add to your weekly menu? Say no more!
25 + Healthy and Delicious Smoothies
Berry Mango Coconut Layered Smoothie Bowl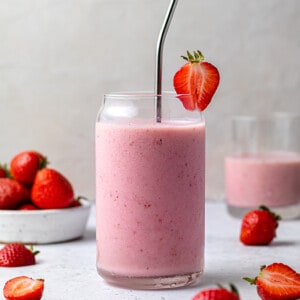 Strawberry Smoothie
This Strawberry Smoothie is deliciously creamy, nutritious and so easy to make with sweet strawberries, creamy banana, almond milk and full of fiber, protein. It's easy to throw together in 10 minutes or less. Vegan, gluten-free, keto, dairy-free, low carb, paleo and Whole30 compliant.
Keyword:
almond milk smoothie, berry smoothie, vegan smoothie
Ingredients
2/3

cup

unsweetened almond milk (or any non-dairy milk)

or any milk of choice

1/3

cup

dairy-free (or regular) Greek-style yogurt

or coconut cream for Whole30 / paleo.

1

small

banana

cut into slices or chunks and frozen. You can sub creamy avocado chunks or frozen riced cauliflower (cauliflower rice) for low carb, keto

1 1/2

cups

frozen sliced strawberries

, if you only have fresh berries on hand, simply remove the leaves and freeze them yourself or add ice as needed to reach desired consistency.
Optional
1-2

tbsps

plant-based protein powder

, for extra protein.

1/2

tablespoon

unsalted creamy cashew butter

or any other nut or seed butter - for added healthy fats

1 - 2

tsp

liquid sweetener of choice

such as date syrup, maple syrup, Lakanto liquid monk fruit sweetener, honey, agave, etc. leave out for Whole30

1 1/2

tsp

ground flax seeds, hemp seeds or chia seeds

to taste, for added fiber / protein

1

tsp

pure vanilla extract

or to taste
Instructions
Add all the ingredients to a high-speed blender in order that they appear.

Blend on high until smooth and creamy, stopping to scrape down the sides as needed. Add more liquid as needed to thin out or add more frozen fruit, ice, avocado or banana to thicken. Taste and add sweetener, if desired

Transfer to glass and enjoy.
Recipe Video
Recipe Notes
To Store: Refrigerate in a sealed glass jar or another airtight container for up to 2 days. Shake or mix well before enjoying.
To Freeze: Pour into freezer-safe container, leaving extra room for smoothie to expand as it solidifies. Thaw in the fridge and mix well before drinking.
Nutrition Facts
Strawberry Smoothie
Amount Per Serving (1 g)
Calories 138
Calories from Fat 27
% Daily Value*
Fat 3g5%
Carbohydrates 21g7%
Protein 6g12%
* Nutrition facts are provided as a courtesy using the WPRM recipe calculator. It is best to make your own calculations to ensure accuracy. We expressly disclaim any and all liability of any kind with respect to any act or omission wholly or in part in reliance on anything contained in this website. Percent Daily Values are based on a 2000 calorie diet.