A refreshing and nutritious smoothie with blueberries, pineapple, flaxseed meal, chia seeds and ginger.
It's been a busy and hot summer so we've been keeping cool with lots of frozen treats, no-bake goodies, salads and grilling most of our meals outside.
Smoothies have also made their way back into our daily morning routine after a hiatus during the cold winter we had.
I love making green smoothies since they are an easy and tasty way to get the hubs and my lil guy to consume more veggies and fruit.
They are also great for detoxing after a weekend of indulging or fending off germs when you start to feel those first signs of getting sick.
It's so easy to sneak some spinach or kale into these without my guys noticing that they are drinking their greens.
You would think that after years of my veggie sneakiness, the hubs would be used to drinking super green monster shakes but this dude – he is ONE stubborn cookie.
If the smoothie shows any hint of green, he won't touch it.
So I've had to come up with a few variations just for him and anyone on team #wontdrinkanythinggreen.
This one has no added sugar and is packed with frozen blueberries, fresh pineapple chunks, lemon juice, flaxseed meal, chia seeds, ginger root, ground cinnamon and turmeric.
For the greens, I usually alternate between baby spinach or kale but I used baby spinach this time.
Sometimes I even like to toss in some fresh parsley or mint for a refreshing and cool flavor.
If you use a fresh pineapple that is really ripe, the smoothie will be sweet enough that you won't need to add any honey or sugar.  You can definitely add any sweetener or your choice if you find this not sweet enough for you though.
Smoothies are awesome since you can customize them whatever way you like.
If you wanted to use fresh blueberries instead, just make sure to add ice or even toss in a frozen banana for a thicker smoothie. And instead of water, feel free to add juice or milk of your choice.
Just toss all the ingredients into your blender and whirl away!
Yields 2
Blueberry Pineapple Green Detox Smoothie
This is a refreshing smoothie with blueberry, pineapple, chia seeds and ginger. Perfect as a snack, breakfast, after a workout, or anytime you need a detox or pick me up!
Ingredients
* 1 cup baby spinach or can use baby kale, see notes below
* 1 cup *fresh really ripe pineapple, cored and cut into chunks
* 1/2 cup plain Greek yogurt (I used non-fat)
* 2 teaspoons of ground cinnamon
* dash of turmeric
* 1-2 teaspoons of chia seeds, flaxseed meal or both
* 1 small knob the size of a quarter of fresh ginger root
* juice from 1/2 lemon
* 1/2 cup water, milk or juice (I used water)
* 2 cups *frozen blueberries
Instructions
Place all the ingredients in your Blendtec or high speed blender in the order as they appear.
Blend on high until completely smooth or until desired consistency is reached. Feel free to add more or less water depending on your preference.
Notes
If you are using a fresh ripe pineapple, you may not need to add any extra sweeteners like honey or sugar. Feel free to add honey or agave nectar if you find this not sweet enough for you.
For a thicker smoothie, you can add ice or a frozen banana
If you decide to use fresh blueberries, make sure to add ice or a frozen banana for a thicker consistency
* If you don't mind the green color, feel free to add more spinach or kale into your smoothie. When I'm making the smoothie just for myself and not my husband who isn't a fan of the green color, I usually add at least a cup or more of baby spinach.
7.6.4
34
https://lifemadesweeter.com/blueberry-green-detox-smoothie/
And now for the fun giveaway!    
Giveaway is now closed.
Winner has been randomly selected and verified.  
The winner is entrant #1999 Patrick G.
Thank you all for entering!
Need more green smoothies?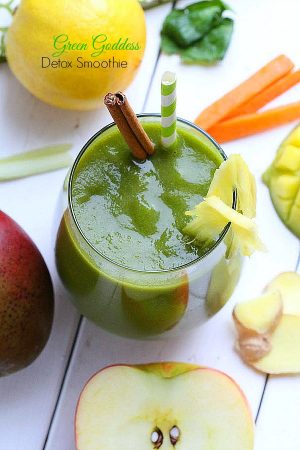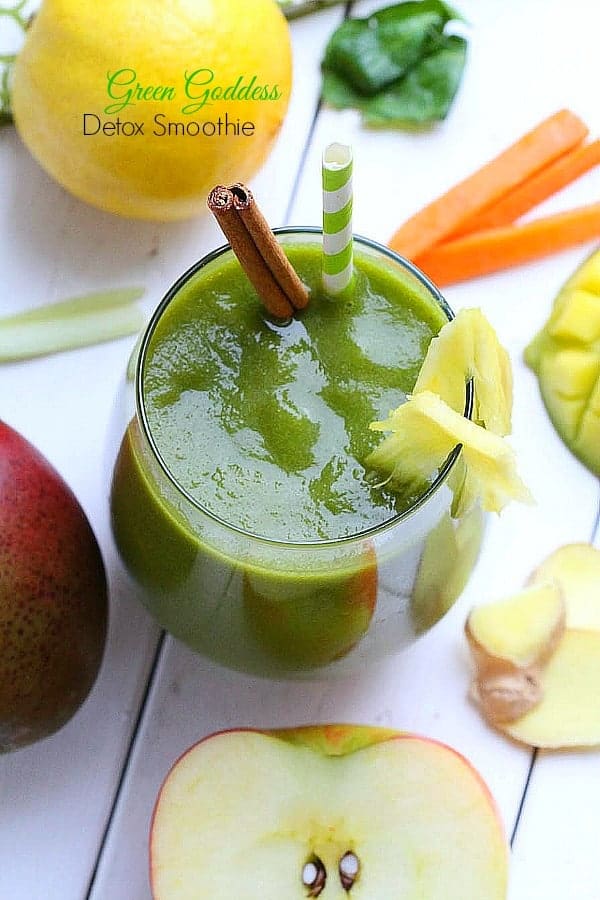 Mango Orange Coconut Green Smoothie