Indulge in the tropical bliss of this Pineapple Sorbet recipe, bursting with frozen pineapple chunks, zesty lime juice, and a hint of maple sweetness. This refreshing treat will transport your taste buds to a sunny paradise in just a few simple steps and perfect when you're craving a Dole Whip.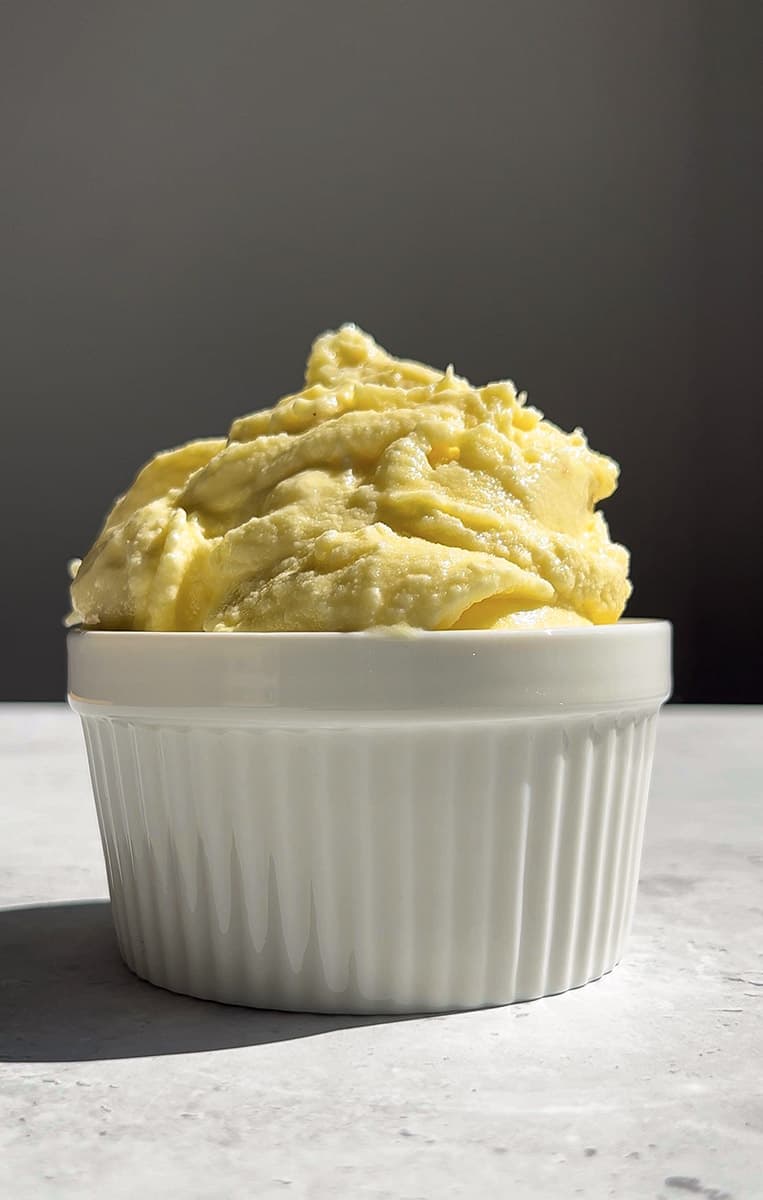 Delicious and Refreshing Pineapple Sorbet
Are you craving a cool and refreshing treat that will transport you to a tropical paradise? Look no further than this mouthwatering Pineapple Sorbet recipe. Made with just a few simple ingredients, this sorbet is bursting with the sweet and tangy flavors of juicy pineapple. Indulge guilt-free with our healthier Pineapple Sorbet recipe, a delightful alternative to the popular Dole Whip at Disney World.
Whether you're hosting a summer party or simply want to indulge in a guilt-free dessert, this gluten-free, dairy-free, vegan and paleo-friendly recipe is a must-try. So, grab your favorite fruit and get ready to embark on a delightful culinary adventure!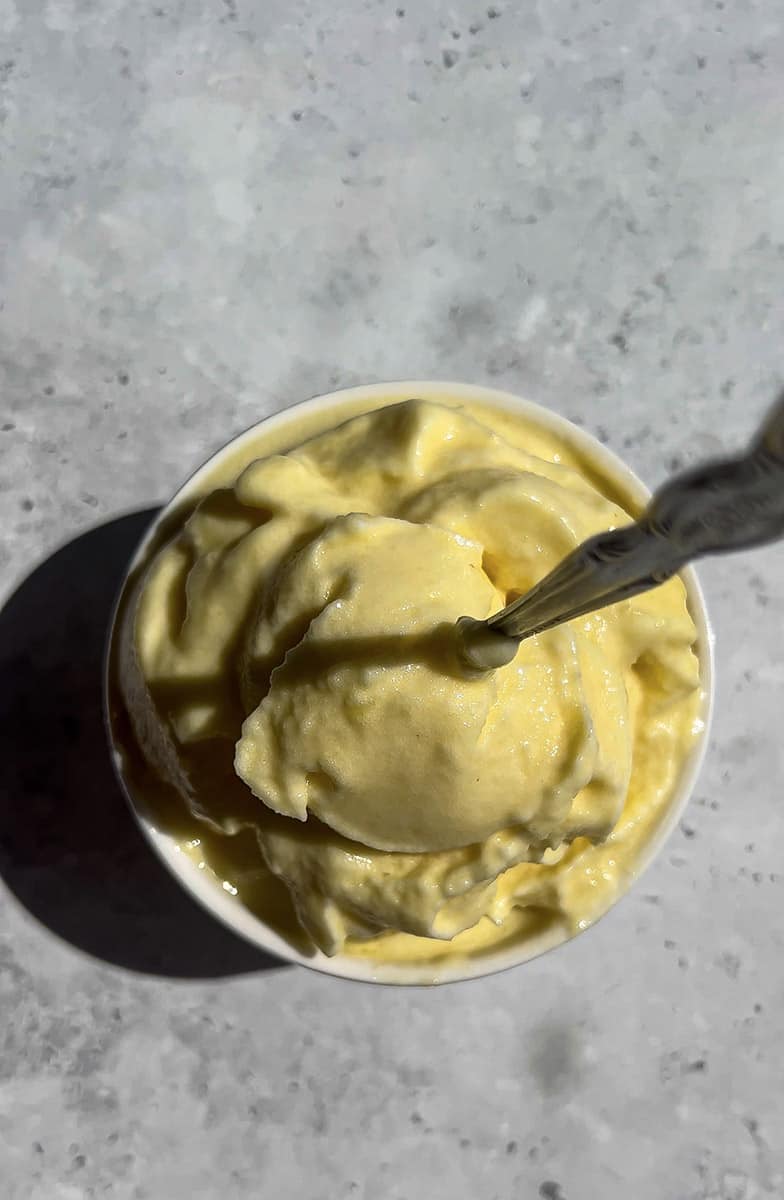 Recipe Ingredients
Let's take a closer look at the ingredients that make this Pineapple Sorbet so irresistibly delicious.
Frozen Pineapple Chunks: Pineapple is the star of this recipe, imparting its naturally sweet and tropical taste. Using frozen pineapple ensures a creamy and smooth sorbet texture. If you only have fresh pineapple, simply follow our tutorial for how to cut a pineapple by removing the rind and cutting it into chunks, then freezing it.
Freshly Squeezed Lime Juice: Lime juice adds a zesty kick to the sorbet, balancing out the sweetness of the pineapple and enhancing its vibrant flavors.
Maple Syrup: Maple syrup serves as a refined sugar-free sweetener, bringing a hint of natural sweetness to the sorbet. You can swap with your favorite sticky liquid sweetener of choice and the amount can be adjusted according to your preference and the ripeness of your pineapple.
Unsweetened Canned Coconut Milk, Almond Milk, or Preferred Milk: A small amount of milk is added to achieve a creamy consistency in the sorbet. You can choose your preferred non-dairy milk option to suit your taste and dietary needs.
Instructions: How to make Pineapple Sorbet
Blend the Ingredients: In a food processor or high-speed blender, combine the frozen pineapple chunks and maple syrup. Blend until the mixture becomes smooth and creamy, scraping down the sides as necessary. Add the lime juice and continue blending until well incorporated. Adjust the sweetness or tanginess by adding more maple syrup or lime juice to taste.
Check the Consistency: If the texture resembles soft-serve ice cream, transfer the sorbet to a bowl and serve immediately. If you prefer a firmer consistency, transfer the mixture to a lidded airtight container or a loaf pan.
Freeze until Desired Consistency: Place the container in the freezer for approximately 1-2 hours or until the sorbet reaches your desired level of firmness. Remember to check on it occasionally and give it a quick stir to prevent ice crystals from forming.
Tips for Success: Creating the Perfect Pineapple Sorbet
To ensure your Pineapple Sorbet turns out as luscious and refreshing as possible, here are some helpful tips:
Use ripe pineapples for the best flavor. Look for pineapples with a fragrant aroma and golden color. This will ensure a naturally sweet and tangy sorbet.
Freezing the pineapple chunks in advance is essential for achieving the desired sorbet consistency. Spread the pineapple cubes on a large baking sheet and freeze them until solid before blending.
If you don't have a food processor, a high-speed blender can be used as an alternative. Keep in mind that blending times may vary, and you may need to scrape down the sides of the blender a few times to ensure everything is well blended.
Storage and Freezer Instructions
If you're not planning to enjoy your Pineapple Sorbet immediately, follow these instructions for proper storage and freezing:
Transfer the sorbet to a lidded airtight container or a loaf pan.
Place it in the freezer and let it freeze until it reaches your desired consistency, which typically takes around 1-2 hours.
If you prefer a softer, more scoopable sorbet, let it sit at room temperature for a few minutes before serving.
Serving Suggestions
Now that your Pineapple Sorbet is ready, it's time to get creative with your serving options. Here are a few suggestions to enhance your sorbet experience:
Serve the sorbet in chilled glasses or bowls for an elegant presentation.
Garnish with fresh mint leaves or a sprinkle of toasted coconut flakes to add a touch of color and texture.
Create a tropical sundae by layering the Pineapple Sorbet with sliced bananas, coconut whipped cream, and a drizzle of chocolate sauce.
Variations and Substitutions
While this recipe is already a delightful treat on its own, you can explore some variations and substitutions to tailor it to your preferences:
Mango Sorbet: Add a ripe mango to the mix for a tropical twist. Simply replace the frozen pineapple with an equal amount of mango chunks.
Coconut Pineapple Sorbet: For an extra creamy and coconutty flavor, substitute the milk with canned coconut milk. This variation adds a rich and indulgent dimension to the sorbet.
Citrus Pineapple Sorbet: Experiment with different citrus fruits, such as orange or grapefruit, to give your sorbet a citrusy kick. Replace a small portion of the lime juice with your chosen citrus juice.
A Taste of Paradise: Enjoy Every Bite
Indulge in the pure pleasure of a tropical getaway with every spoonful of this Pineapple Sorbet. Its smooth and creamy texture, combined with the refreshing tang of pineapple and lime, will transport your taste buds to a sunny beachside paradise. Plus, with its simple preparation and minimal ingredients, this recipe is a breeze to make. So, grab your blender and let the tropical flavors whisk you away to a world of sweet serenity. Treat yourself to this delightful Pineapple Sorbet, and let the worries of the day melt away in a tropical bliss!
More delicious pineapple recipes: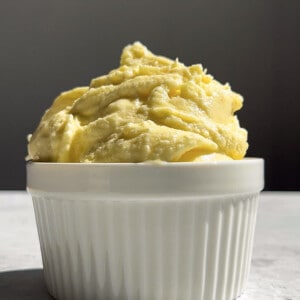 Pineapple Sorbet
Indulge in the tropical bliss of our Pineapple Sorbet recipe, bursting with frozen pineapple chunks, zesty lime juice, and a hint of maple sweetness. This refreshing treat will transport your taste buds to a sunny paradise in just a few simple steps
Keyword:
dole whip, pineapple sorbet
Ingredients
4-5

cups

frozen pineapple chunks

(can also use fresh pineapple, peeled, cored and cut into cubes and frozen previously on a large baking sheet - about 1 large pineapple)

1

tbsp

freshly squeezed lime juice

2 - 6

tbsp

maple syrup

or preferred sticky liquid sweetener - add more to taste depending on how sweet / ripe your mango is
Optional
2-3

tbsp

unsweetened canned coconut milk

, almond milk or preferred milk (more or less only as needed to reach creamy consistency)
Instructions
Add the pineapple and maple syrup to a food processor (can also use a high-speed blender but it may take longer).

Process / blend / puree  until completely smooth (this may take a few minutes), stopping to scrape down the sides in between, a few times as needed, to make sure everything is blended, and add milk as needed.

Taste and adjust lime or sweetener as needed. 

If the texture is similar to a soft-serve consistency, transfer to a bowl and serve. Otherwise, transfer to a lidded airtight container or a loaf pan and freeze until solid, approximately 1-2 hours, or until desired consistency. Before serving, remove from freezer and allow to sit on the counter for about 5-10 minutes, or more until desired consistency.
Nutrition Facts
Pineapple Sorbet
Amount Per Serving (1 scoop (1/8 recipe))
Calories 71
Calories from Fat 9
% Daily Value*
Fat 1g2%
Carbohydrates 16g5%
Protein 1g2%
* Nutrition facts are provided as a courtesy using the WPRM recipe calculator. It is best to make your own calculations to ensure accuracy. We expressly disclaim any and all liability of any kind with respect to any act or omission wholly or in part in reliance on anything contained in this website. Percent Daily Values are based on a 2000 calorie diet.
Disclaimer: This updated post was generated on July 18, 2023 by ChatGPT, an AI language model, and all info should be reviewed and validated by a human for accuracy and relevancy before implementation.